Abstract
This paper examines the relationship between turnover among chief executive officers (CEOs) and corporate sustainability performance (CSP) by identifying the influence of two major types of succession to the top job (internal or external promotion) and the reasons for change. Our model also integrates the firm's past prioritization of CSP and the impact of a company's participation in the Global Reporting Initiative (GRI). Upper echelons theory and agency theory frameworks are adopted to understand CSP. Using an analysis of panel data for 88 public companies across 13 years in France, we find that a change of chief executive has a positive and significant effect on CSP 5 years after the change. This positive effect is stronger when the new CEO is recruited from outside the firm. The impact on CSP is invariably positive and significant, except for voluntary departures. The arrival of a new CEO affects CSP less when the firm has already achieved a high standard of CSP and participates in the GRI. These results are obtained after controlling CSP determinants already validated in the literature (financial performance, size, profitability, etc.). The findings show that expectations of CEOs are not solely economic and financial but also concern CSP. In terms of governance, they should prompt shareholders looking to strengthen CSP to choose new CEOs from outside the firm and to encourage the firm to participate in the GRI.
Access options
Buy single article
Instant access to the full article PDF.
US$ 39.95
Tax calculation will be finalised during checkout.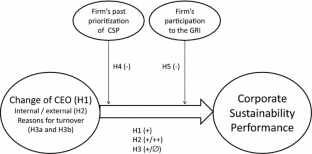 Notes
1.

2.

The leader is the chairman of the board of directors who has a more important role than the CEO in China.

3.

Changes in control (e.g. change of shareholders, mergers and acquisitions, buy-outs) and governance of the board (separation of chairman and chief executive functions); unintentional and negative change (e.g. health problems, financial difficulties, dismissal, legal battles); unintentional and ordinary changes (e.g. retirement, end of mandate); voluntary changes (e.g. personal reasons, resignation).

4.

5.

Hambrick and Finkelstein (1987) identify three factors determining the degree of managerial discretion.

6.

Observatoire de la Responsabilité Sociétale des Entreprises (ORSE) is an association bringing together firms, professional bodies, NGOs and portfolio management companies. It is an intelligence structure on questions affecting corporate social and environmental responsibility, sustainable development and ethical investment.

7.

We conducted empirical tests to evaluate the relevance of our model's specification. We first ran a Fischer test on the nullity of all the parameters. The value of the F test meant the null hypothesis of individual effects could be rejected at the 1 % level. Thus the fixed-effect estimation method was more appropriate than the simple pooled model. We also compared the fixed individual effect with the random effects model by the Hausman test. The fixed effects estimation method proved systematically preferable to the random effect estimation method. The statistical realization of the Hausman test implies rejection of the null hypothesis at the 1 % level, confirming the existence of fixed effects.

8.

We de-trended the CSP removing the best straight-line fit from CSP. We made further tests to ensure CSP increased mechanically over time for the sample of firms. We obtained similar results (available on request) to those presented in the manuscript. The new de-trended CSP variable is closely correlated with the CSP variable, the correlation coefficient is about 0.96. The general increase in CSP over time across all companies does not seem to affect our results.

9.

Details of results can be provided by the authors on request.
Abbreviations
CEO:

Chief executive officer

CFP:

Corporate financial performance

CSP:

Corporate sustainability performance

CSR:

Corporate social responsibility

GRI:

Global reporting initiative

NGO:

Non-governmental organization

ROA:

Return on assets
References
Agle, B. R., Mitchell, R. K., & Sonnenfeld, J. A. (1999). Who matters to CEOs? An investigation of stakeholder attributes and salience, corporate performance, and CEO values'. Academy of Management Journal, 42(1), 507–525.

Aguilera, R. V., Rupp, D. E., Williams, C. A., & Ganapathi, J. (2007). Putting the S back in corporate social responsibility: A multilevel theory of social change in organizations. Academy of Management Review, 32(3), 836–863.

Aguinis, H., & Glavas, A. (2012). What we know and don't know about corporate social responsibility: A review and research agenda. Journal of Management, 38(4), 932–968.

Andrews, K. R. (1971). The concept of corporate strategy. Homewood: Dow Jones-Irwin.

Ansari, I., Goergen, M., & Mira, S. (2014). The determinants of the CEO successor choice in family firms. Journal of Corporate Finance, 28, 6–25.

Artiach, T., Lee, D., Nelson, D., & Walker, J. (2010). The determinants of corporate sustainability performance. Accounting and Finance, 50, 31–51.

Barnea, A., & Rubin, A. (2010). Corporate social responsibility as a conflict between shareholders. Journal of Business Ethics, 97, 71–86.

Bertrand, M., & Schoar, A. (2003). Managing with style: The effect of managers on firm policies. Quarterly Journal of Economics, 4, 1169–1208.

Boeker, W. (1997). Strategic change: The influence of managerial characteristics and organizational growth. Academy of Management Journal, 40(1), 152–170.

Boeker, W., & Goodstein, J. (1993). Performance and successor choice: The moderating effects of governance and ownership. Academy of Management Journal, 36(1), 172–186.

Bonnier, K., & Bruner, R. F. (1989). An analysis of stock price reaction to management change in distressed firms. Journal of Accounting and Economics, 11, 95–106.

Bowen, H. R. (1953). Social responsibilities. New York: Harper.

Brady, G. F., & Helmich, D. C. (1984). Executive succession. Englewood Cliffs, NJ: Prentice-Hall.

Carroll, A. (1979). A three-dimensional conceptual model of corporate performance. Academy of Management Journal, 4(4), 497–505.

Chang, E. C., & Wong, M. L. (2009). Governance with multiple objectives: Evidence from top executive turnover in China. Journal of Corporate Finance, 15, 230–244.

Child, J. (1972). Organization structure, environment and performance, the role of strategic choice. Sociology, 6, 1–22.

Chin, M. K., Hambrick, D. C., & Treviño, L. K. (2013). Political ideologies of CEOs. The influence of executives' values on Corporate Social Responsibility. Administrative Science Quarterly, 58(2), 197–232.

Cowen, S., Ferreri, L., & Parker, L. (1987). The impact of corporate characteristics on social responsibility disclosure: A typology and frequency-based analysis. Accounting, Organisation and Society, 12(2), 111–122.

Davis, K. (1960). Can business afford to ignore social responsibilities? California Management Review, 2, 70–76.

Deckop, J. R., Merriman, K. K., & Gupta, S. (2006). The effects of CEO pay structure on corporate social performance. Journal of Management, 32, 329–342.

DiMaggio, P. J., & Powell, W. W. (1983). The iron cage revisited: Institutional isomorphism and collective rationality in organizational fields. American Sociological Review, 48(2), 147–160.

Filbeck, D. H. P., & Zhao, G. X. (2013). Barrons best CEOs: How did their firms fare? Global Journal of Management and Business Research, 13(7), 34–40.

Finkelstein, S., Hambrick, D. C., & Cannella, B. (2009). Strategic leadership: Theory and research on executives, top management teams, and boards. New York, NY: Oxford University Press.

Frederick, W. C. (1994). From CSR1 to CSR2 the maturing of business-and-society thought. Business and Society, 33(2), 150–164.

Freeman, R. E. (1984). Strategic management: A stakeholder approach. Boston: Pitman.

Friedman, S. D. (1991). Why hire from within? Causes and consequences of internal promotion systems. In: Proceedings of the academy of management meetings, Miami, FL, pp. 272–276.

Furtado, E. P. H., & Rozeff, M. S. (1987). The wealth effects of company initiated management changes. Journal of Financial Economics, 18(1), 147–160.

Girerd-Potin, I., Jimenez-Garcès, S., & Louvet, P. (2014). Which dimensions of social responsibility concern financial investors? Journal of Business Ethics, 121, 559–576.

Hambrick, D. C., & Finkelstein, S. (1987). Managerial discretion: A bridge between polar views of organizational outcomes. Research in organizational Behavior, 9, 369–406.

Hambrick, D. C., & Mason, P. (1984). Upper echelons: The organization as a reflection of its top managers. Academy of Management Review, 9, 193–206.

Harjoto, M. A., & Jo, H. (2011). Corporate governance and CSR nexus. Journal of Business Ethics, 100, 45–67.

Hemingway, C. A., & Maclagan, P. W. (2004). Managers' personal values as drivers of CSR. Administrative Science Quarterly, 17, 371–378.

Huang, S. K. (2013). The impact of CEO characteristics on Corporate Sustainable Development. Corporate Social Responsibility and Environmental Management, 20(4), 234–244.

Ioannou, I., & Serafeim, G. (2014). The consequences of mandatory corporate sustainability reporting: evidence from four countries. Harvard Business School Research Working Paper (11-100).

Jensen, M. C., & Meckling, W. H. (1976). Theory of the firm: Managerial behavior, agency costs, and ownership structure. Journal of Financial Economics, 3, 305–360.

Jian, M., & Lee, K.-W. (2015). CEO compensation and corporate social responsibility. Journal of Multinational Financial Management, 29, 46–65.

Johnson, R. A., & Greening, D. W. (1999). The effects of corporate governance and institutional ownership types on corporate social performance author. Academy of Management Journal, 42(5), 564–576.

Johnson, W. B., Magee, R. P., Nagarajan, N. J., & Newman, H. A. (1985). An analysis of the stock price reaction to sudden executive deaths: Implications for the managerial labor market. Journal of Accounting and Economics, 7(1–3), 151–174.

Kaplan, R. S., & Norton, D. P. (1992). The balanced scorecard: Measures that drive performance. Harvard Business Review, 83(7), 172.

Karaevli, A. (2007). Performance consequences of new CEO 'Outsiderness': Moderating effects of pre- and post-succession contexts. Strategic Management Journal, 28(7), 681–706.

Kesner, I. F., & Dalton, D. R. (1994). Top management turnover and CEO succession: An investigation of the effects of turnover on performance. Journal of Management Studies, 31(5), 701–713.

Khan, A., Muttakin, M. B., & Siddiqui, J. (2013). Corporate governance and corporate social responsibility disclosures: Evidence from an emerging economy. Journal of Business Ethics, 114, 207–223.

Leker, J., & Salomo, S. (2000). CEO turnover and corporate performance. Scandinavian Journal of Management, 16(3), 287–303.

Lourenço, I. C., & Branco, M. C. (2013). Determinants of corporate sustainability performance in emerging markets: The Brazilian case. Journal of Cleaner Production, 57, 134–141.

Lucier, C., Kocourek, P., & Habbel, R. (2006). CEO succession 2005, the crest of the wave. Strategy + Business 43.

Mahoney, L. S., & Thorn, L. (2006). An examination of the structure of executive compensation and corporate social responsibility: A Canadian investigation. Journal of Business Ethics, 69(2), 149–162.

Maignan, I., & Ralston, D. A. (2002). Corporate social responsibility in Europe and the US: Insights from businesses' self-presentations. Journal of International Business Studies, 33(3), 497–514.

Mallin, C. A., & Michelon, G. (2011). Board reputation attributes and corporate social performance: An empirical investigation of the U.S. best corporate citizens. Accounting and Business Research, 41, 119–144.

Manner, M. (2010). The impact of CEO characteristics on corporate social performance? Journal of Business Ethics, 57(93), 53–72.

Marom, I. Y. (2006). Toward a unified theory of the CSP-CFP link. Journal of Business Ethics, 67(2), 191–200.

Martin, T., & Lee, D. D. (2010). The determinants of corporate sustainability performance. Accounting & Finance, 50(1), 31–51.

Mattingly, J. E. (2015). Corporate social performance: A review of empirical research examining the corporation-society relationship using Kinder, Lydenberg, Dominici social ratings data. Business & Society. doi:10.1177/0007650315585761.

McGuire, J. W. (1963). Business and society. New York: McGraw-Hill.

McGuire, J. W. (1969). The changing nature of business responsibilities. Journal of Risk & Insurance, 36(1), 55–61.

Meng, X. H., Zeng, S. X., Tam, C. M., & Xu, X. D. (2013). Whether top executives' turnover influences environmental responsibility: From the perspective of environmental information disclosure. Journal of Business Ethics, 114, 341–353.

Nasi, J., Nasi, S., Phillips, N., & Zyglidopoulos, S. (1997). The evolution of corporate social responsiveness. Business and Society, 36(3), 296–321.

Neter, J., Wasserman, W., & Kutner, M. H. (1983). Applied linear regression models. Homewood, IL: Richard D. Erwin Inc.

Oh, W. Y., Chang, Y. K., & Martynov, A. (2011). The effect of ownership structure on corporate social responsibility: Empirical evidence from Korea. Journal of Business Ethics, 104, 283–297.

Pandey, V. (2014). Three essays on corporate sustainability. Ph. D.

Pant, P. N., & Lachman, R. (1998). Value incongruity and strategic choice. Journal of Management Studies, 35(2), 195–212.

Preston, L. E., & O'Bannon, D. P. (1997). The corporate social-financial performance relationship: A typology and analysis. Business and Society, 36, 419–429.

Purushothaman, M., Tower, G., Hancock, R., & Taplin, R. (2010). Determinants of corporate social reporting practices of listed Singapore companies. Pacific Accounting Review, 12(2), 101–133.

Reinganum, M. R. (1985). The effect of executive succession on stockholder wealth. Administrative Science Quarterly, 30(1), 46–60.

Roberts, R. W. (1992). Determinants of corporate social responsibility disclosure: An application of stakeholder theory. Accounting, Organizations and Society, 17(6), 595–612.

Ruf, B., Muralidhard, K., Brown, R. M., Janney, J. J., & Paul, K. (2001). Relationship between change in CSP and financial performance. Journal of Business Ethics, 32(2), 143–156.

Sethi, S. P. (1979). A conceptual framework for environmental analysis of social issues and evaluation of business response patterns. Academy of Management Review, 4(1), 63–74.

Sharma, S., Durand, R. M., & Gur-Arie, O. (1981). Identification and analysis of moderator variables. Journal of Marketing Research, 18(3), 291–300.

Venkatraman, N., & Ramanujam, V. (1986). Measurement of business performance in strategy research: A comparison of approaches. Academy of Management Review, 11(4), 801–814.

Waldman, D. A., Siegel, D. S., & Javidan, M. (2006). Components of CEO transformational leadership and corporate social responsibility. Journal of Management Studies, 43(8), 1703–1725.

Weisbach, M. S. (1988). Outside directors and CEO turnover. Journal of Financial Economics, 20, 431–460.

Wood, D. J. (1991). Corporate social performance revisited. Academy of Management Review, 16(4), 691–718.

Zajac, E. J. (1990). CEO selection, succession, compensation and firm performance: A theoretical integration and empirical analysis. Strategic Management Journal, 11, 217–230.

Zutshi, A., & Sohal, A. S. (2004). Adoption and maintenance of environmental management systems: Critical success factors. Management of Environmental Quality, 15(4), 399–419.
Acknowledgments
We are grateful to the Vigeo social rating agency for their generosity in providing the ratings they produce. We also thank the three Journal of Business Ethics anonymous reviewers for excellent and highly constructive comments that allowed us to improve our work substantially.
Funding
This study was funded by CREGO EA 7317 (Universities of Burgundy & Franche-Comté, France).
Ethics declarations
Ethical Statement
Our manuscript complies to the Ethical Rules applicable for the Journal of Business Ethics.
Conflict of interest
The authors declare that they have no conflict of interest.
Additional information
In our empirical study, the data for the dependant variable were supplied by Vigeo, a French extra-financial rating firm specializing in assessing companies' CSP. We undertook all necessary steps to guarantee the confidentiality of these data. We did not use these data for business aims.
We are aware of the contents and consent to the use of our names as authors of manuscript entitled "The effect of CEOs' turnover on the Corporate Sustainability Performance of French firms" that is to be considered for publication in the Journal of Business Ethics. We understand that the staff of the Journal will make every effort to keep such information confidential during the editorial review process. We also understand that if the manuscript is accepted, you will discuss with us the manner in which such information is to be communicated to the reader. We hereby grant permission for any such information, to be included with publication of the manuscript in the Journal of Business Ethics.
Appendix
Appendix
Vigeo's Methodology
Source: Vigeo's website (http://www.vigeo.com/csr-rating-agency/en/2-3-methodologie)
Vigeo's analysis model relies on three main elements:
a frame of reference of precise, opposable and balanced objectives of social responsibility;

a questioning segmented into different angles of analysis, all formalized and complementary;

a conventional rating scale, organized in a hierarchy of 4 differential score levels.
A Frame of Reference of Precise, Opposable and Balanced Objectives of Social Responsibility
The objectives of social responsibility are represented by 38 criteria coming from 6 different domains.
Human Resources Constant improvement of professional and labour relations, as well as of working conditions.

Human Rights at Workplaces Respect of trade unions' freedom and promotion of collective negotiation, non-discrimination and promotion of equality, eradication of banned working practices (Child and enforced labour), prevention of inhumane or humiliating treatments such as sexual harassment, protection of private life and personal data.

Environment Protection, safeguard, prevention of attacks on environment, implementation of an adequate managerial strategy, ecodesign, protection of biodiversity and reasonable control of environmental impacts on the overall life cycle of products and services.

Business Behaviour Taking into account of clients' rights and interests, integration of social and environmental standards both in the process of selection of suppliers and in the overall supplying chain, efficient prevention of corruption, and respect of competition laws.

Corporate Governance Efficiency and integrity, insurance of both independence and effectiveness of the Board of Directors, effectiveness and efficiency of audit and control systems and in particular inclusion of social responsibility risks, respect of shareholders' rights and most of all of the minorities, transparency and moderation in executive remuneration.

Community Involvement Effectiveness, managerial integration of commitment, contribution to economic and social development of the territories of establishment and their human communities, concrete commitment in favour of the control of societal impacts of products and services, transparent and participative contribution to causes of general interest.
They are evaluated according to 200 principles of action that enable Vigeo to question managerial systems.
Each standard is activated according to its sectorial relevance and is subject to a weighting that shows the relative impact of the social responsibility objectives it refers to.

A Questioning Segmented into Different Angles of Analysis
Vigeo analyses managerial systems on the basis of three "items". Its questioning is organized into nine elementary analysis angles. These combine the precise questions and observations on the basis of which Vigeo's analysts and auditor-consultants collect, select and qualify information to express their views.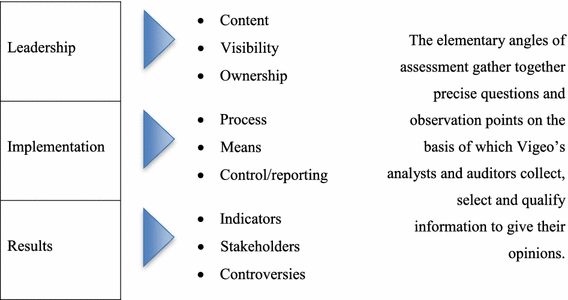 To set up a criterion's score, Vigeo consolidates different scores attributed to relevance of policies, coherence of implementation and results.
Note
The scores awarded to each angle of approach are reported, by consolidation, to their attached item.

The items' scores are then consolidated at the standard level to produce "standard scores", which are then all consolidated at the whole field level.

Given the heterogeneity of their subjects, domain scores are not consolidated.
A 4-Level Assessment Scale
Our ratings are recorded into a conventional scale organized into four levels of differential scores, whether it is a declaratory SRI questioning or an audit questioning.
| Little evidence of commitment | Commitment initiated | Consolidated commitment | Advanced commitment |
| --- | --- | --- | --- |
| Poor to very poor guarantee of risk management | Poor to moderate guarantee of risk management | Reasonable guarantee of risk management | Social responsibility objectives actively promoted |
About this article
Cite this article
Bernard, Y., Godard, L. & Zouaoui, M. The Effect of CEOs' Turnover on the Corporate Sustainability Performance of French Firms. J Bus Ethics 150, 1049–1069 (2018). https://doi.org/10.1007/s10551-016-3178-7
Received:

Accepted:

Published:

Issue Date:
Keywords
Corporate sustainability performance (CSP)

Turnover

CEO

GRI

Corporate governance