Abstract
American universities rely upon a large workforce of adjunct faculty—contract workers who receive low pay, no benefits, and no job security. Many news sources, magazines, and activists claim that adjuncts are exploited and should receive better pay and treatment. This paper never affirms nor denies that adjuncts are exploited. Instead, we show that any attempt to provide a significantly better deal faces unpleasant constraints and trade-offs. "Adjunct justice" would cost universities somewhere between an additional $15–50 billion per year. At most, universities can provide justice for a minority of adjuncts at the expense of the majority, as well as at the expense of poor students. Universities may indeed be exploiting adjuncts, but they cannot rectify this mistake without significant moral costs.
This is a preview of subscription content, log in to check access.
Access options
Buy single article
Instant access to the full article PDF.
US$ 39.95
Price includes VAT for USA
Subscribe to journal
Immediate online access to all issues from 2019. Subscription will auto renew annually.
US$ 199
This is the net price. Taxes to be calculated in checkout.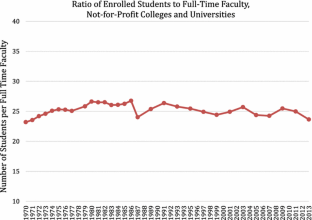 Notes
1.

Indeed, we could no find peer-reviewed articles on this topic beyond arguments to the effect that for-profit education was inherently wrong.

2.

Zwolinski (2007) makes a similar point about sweatshop workers. Sweatshop workers may have no good options, but when they choose to work in exploitative sweatshops over their other (bad) alternatives, this is evidence that exploitative sweatshop work is their best option. If so, simply removing the exploitative sweatshops fails to help them, unless they are given an even better option.

3.

In a competitive market, neither buyers nor sellers can exercise control over a price. Professors advising job candidates sometimes casually say, "The job market in academia is highly competitive, so to get a tenure-track job, one needs to stand out or be lucky." But this comment uses a different definition of "competitive."

4.

For a lengthier discussion of the unusual economics of higher education, see Winston (1999). In strongly cautioning against the application of standard economic principles to higher education, Winston notes a number of commonalities between universities and other non-profit enterprises that are still subject to budgetary trade-offs and, in particular, a non-distribution constraint upon their revenue intake.

5.

For instance, some universities have a two-tier permanent faculty system. Tenure-track faculty (assistant, associate, and full professors) teach fewer courses, have high research expectations, and receive higher pay. Non-tenure-track permanent faculty (lecturers, senior lecturers, teaching professors, professors of the practice, etc.) have no research expectations, teach more courses, and receive less pay than tenure-track faculty. Still, these teaching faculty often sign long-term (e.g., five-year) contracts with every expectation of renewal and enjoy full benefits.

6.

Arnold and Bowie (2003) argue for a similar position. In their view, multi-national corporations do not owe employment to potential workers and are not under a standing duty to maximize welfare. However, if an employer decides to hire a worker, then that employer must provide a living wage.

7.

The most recent Department of Education table reflecting highest degree attained dates to 2003 but reveals similar percentages as the more recent Coalition on the Academic Workforce survey. See U.S. Department of Education, Digest of Education Statistics 2014, Table 315.50.

8.

The literature on this subject is divided between studies that suggest teaching effectiveness is harmed by adjunct conditions, and studies that suggest contingent and/or adjunct faculty receive classroom evaluations that are comparable to or more favorable than their tenured colleagues. See in particular (Figlio et al. 2013; Wachtel 1998; Scheutz 2002, pp. 39–46; Bettinger and Long 2005; Ehrenberg 2005).
References
Ado, K. (2015). Hunger Strike Planned at SLU as Adjunct Professors Push for Higher Wages, St. Louis Post-Dispatch, Sep. 9. http://www.stltoday.com/news/local/education/hunger-strike-planned-at-slu-as-adjunct-professors-push-for/article_90d7228e-0711-584e-baa1-bd20a6e80f73.html

American Association of University Professors. (2006). Contingent Faculty Index, 2006, Table 2. http://www.aaup.org/aaup-contingent-faculty-index-2006.

Appiah, KA. (2015). What's the Point of College? New York Times Magazine, Sep 8. URL: http://www.nytimes.com/2015/09/13/magazine/what-is-the-point-of-college.html?_r=0.

Arnold, D., & Bowie, N. (2003). Sweatshops and respect for persons. Business Ethics Quarterly, 13, 221–243.

Baumol, W., & Bowen, W. (1966). Performing arts, the economic dilemma: A study of problems common to theater, opera, music, and dance. New York: Twentieth Century Fund.

Bettinger, E, & Long, BT. (2005). Help or hinder? Adjunct professors and student outcomes. The Research and planning group for California Community Colleges. http://rpgroup.org/resources/help-or-hinder-adjunct-professors-and-student-outcomes.

Cholo, AB. (2015). Are Adjunct Professors the New Fast Food Workers?, Pacific Standard, Feb. 26. http://www.psmag.com/business-economics/are-adjunct-professors-the-new-fast-food-workers

Christensen, C. (2008). The employment of part-time faculty at community colleges. No: New Directions for Higher Education. 143.

Coalition on the Academic Workforce. (2012). A Portrait of Part-time Faculty Members". http://www.academicworkforce.org/CAW_portrait_2012.pdf

Colander, D., & Zhuo, D. (2015). Where do PhDs in english get jobs? An economist's view of the english PhD market. Pedagogy, 15, 139–156.

Council on Graduate Schools. (2013). Graduate Enrollment and Degrees, 2002–2012, September 2013. http://cgsnet.org/ckfinder/userfiles/files/GEDReport_2012.pdf.

Ehrenberg, R. G. (2005). What's Happening to public higher education. Boulder: Rowman and Littlefield.

Figlio, DN., Schapiro, MO., & Soter, KB. 2013. "Are Tenure Track Professors Better Teachers?" NBER Working Paper Series No.19406.

Flaherty, C. (2015a). 15,000 per Course?, Inside Higher Ed, Feb 12. http://www.slate.com/articles/life/inside_higher_ed/2015/02/_15_000_per_course_the_seiu_s_faculty_forward_sets_a_goal_for_adjunct_professor.html

Flaherty, C. (2015b). Modest Gains in Faculty Pay, Inside Higher Ed, April 13, 2015. https://www.insidehighered.com/news/2015/04/13/aaup-full-time-faculty-salaries-22-percent-year

Flaherty, C. (2015c). Fight for 15 K, Inside Higher Ed, April 16. https://www.insidehighered.com/news/2015/04/16/adjuncts-participate-national-day-action-living-wage

Flaherty, C. (2015d). Developing Adjuncts, Inside Higher Ed, August 27. https://www.insidehighered.com/news/2015/08/27/non-tenure-track-faculty-members-say-they-want-more-professional-development

Flaherty, C., & Mulhere, K. (2015). Day of Protest, Inside Higher Ed, Feb 26. https://www.insidehighered.com/news/2015/02/26/adjuncts-deem-national-walkout-day-success

Frank, R. H. (1984). Are Workers paid their marginal products? American Economic Review, 74, 549–571.

Fruscione, J. When a college contracts adjunctivitis, it's the students who lose. PBS.org, July 25, 2014. http://www.pbs.org/newshour/making-sense/when-a-college-contracts-adjunctivitis-its-the-students-who-lose/

Fullerton, D., & Metcalf, G. E. (2014). Tax Incidence. In A. J. Auerbach & M. Feldstein (Eds.), The Handbook of Public Economics (pp. 1787–1872). Oxford: Elsevier.

Ginsberg, B. (2013). The Fall of the Faculty. Princeton: Princeton University Press.

Isen, A. (2015). Dying to Know: Are Workers Paid their Marginal Products?, working paper, Wharton School of Business.

Kendzior, S. (2013). Academia's Indentured Servants, Al Jazeera April 11. http://www.aljazeera.com/indepth/opinion/2013/04/20134119156459616.html

Krugman, P., & Wells, R. (2012). Microeconomics (3rd ed.). New York: Worth Publishers.

Larson, R. C., Ghaffarzadegan, N., & Xue, Y. (2014). Too many PhDs or too few academic job openings: The basic reproductive R0 in academia. Systems Research and Behavioral Science, 31, 745–750.

Lewin, T. (2013). Gap Widens for Faculty at Colleges, Report, Finds, New York Times April 8. http://www.nytimes.com/2013/04/08/education/gap-in-university-faculty-pay-continues-to-grow-report-finds.html?_r=2

Mankiw, N. G. (2014). Principles of Economics (7th ed.). New York: Cengage Learning.

McKenna, L. (2015). The College President to Adjunct Pay Ratio, The Atlantic Sep 24. http://www.theatlantic.com/education/archive/2015/09/income-inequality-in-higher-education-the-college-president-to-adjunct-pay-ratio/407029/

New Faculty Majority. (2015). NFM's 7 Goals. http://www.newfacultymajority.info/nfms-7-goals/

Ott, M., & Cisneros, J. (2015). Understanding the changing faculty workforce in higher education: A comparison of non-tenure track and tenure line experiences. Education Policy Analysis Archives, 23–90, 1–28.

Peltzman, S. (1973). The effect of government subsidies-in-kind of private expenditures: The case of higher education. Journal of Political Economy, 83, 1–27.

Quart, A. (2015). The Professor Charity Case, Pacific Standard, March 19. http://www.psmag.com/books-and-culture/professor-charity-case-adjuncts-precaricorps

Sacaro, M. (2014). Professors on Food Stamps: The Shocking True Story of Academia in 2014, Salon, Sep. 21. http://www.salon.com/2014/09/21/professors_on_food_stamps_the_shocking_true_story_of_academia_in_2014/

Sanchez, C. (2014). Part Time Professors Demand Higher Pay; Will Colleges Listen?, NPR, February 3. http://www.npr.org/2014/02/03/268427156/part-time-professors-demand-higher-pay-will-colleges-listen.

Schell, E. (2004). Gypsy Academics and Mother Teachers. New York: Heinemman.

Scheutz, P. (2002). Instructional practices of part-time and full-time faculty. New Directions for Community Colleges, 2002, 39–46.

Turner, N. (2012). Who benefits from student aid? The economic incidence of tax-based federal student aid. Economics of Education Review, 31, 463–481.

Turner, L. (2014). The road to pell is paved with good intentions: The economic incidence of federal student grant aid, University of Maryland, Department of Economics, College Park, MD, working paper.

U.S. Department of Education, Institute of Education Sciences, National Center for Education Statistics. (2013). Digest of Education Statistics, Table 310.5. https://nces.ed.gov/programs/digest/d14/tables/dt14_315.10.asp

Wachtel, H. K. (1998). Student evaluation of college teaching effectiveness: A brief review. Assessment and Evaluation in Higher Education, 23, 191–212.

Weiss, MD. (2015). Student Loan Debt: America's Next Big Crisis, USA Today, August 23. http://www.usatoday.com/story/money/personalfinance/2015/08/23/credit-dotcom-student-loan-crisis/32015421/

Winston, G. C. (1999). Subsidies, hierarchy and peers: The awkward economics of higher education. The Journal of Economic Perspectives, 13, 13–36.

Zwolinski, M. (2007). Sweatshops, choice, and exploitation. Business Ethics Quarterly, 17, 689–727.
About this article
Cite this article
Brennan, J., Magness, P. Estimating the Cost of Justice for Adjuncts: A Case Study in University Business Ethics. J Bus Ethics 148, 155–168 (2018). https://doi.org/10.1007/s10551-016-3013-1
Received:

Accepted:

Published:

Issue Date:
Keywords
Exploitation

Budget constraints

Opportunity costs

Academic ethics

Adjuncts' rights

Higher education