Abstract
Stakeholder theory has received greater scholarly and practitioner attention as organizations consider the interests of various groups affected by corporate operations, including employees. This study investigates two dimensions of psychological climate, specifically perceived pay equity and diversity climate, for one such stakeholder group: racioethnic minority professionals. We examined the main effect of U.S. professionals' of color pay equity perceptions, and the influence of perceived internal and external pay equity on turnover intentions. We also investigated the interactive effect of perceptions of pay equity and diversity climate on turnover intentions. Results indicated that pay equity perceptions were negatively associated with turnover intentions. Our findings showed that perceptions of internal pay equity influenced turnover intentions but perceptions of external equity did not. Further, perceptions of pay equity and the diversity climate interactively influenced turnover intentions. Participants who reported an unfavorable diversity climate and a low perceived pay equity were most likely to report turnover intentions. Simple slope analysis for moderate pay equity also was significant. When perceived pay equity was high, favorability of the diversity climate did not affect turnover intentions. The findings have useful practical implications. When pay was perceived as equitable, participants appeared to pay less attention to the diversity climate. Employee pay equity perceptions may be malleable; sharing information with employees about pay levels during performance reviews may enhance perceptions of pay equity. The findings suggest that, consistent with stakeholder theory, organizations should attend to perceptions of both pay equity and diversity climate when striving to minimize the turnover intentions of professionals of color.
Access options
Buy single article
Instant access to the full article PDF.
USD 39.95
Price includes VAT (USA)
Tax calculation will be finalised during checkout.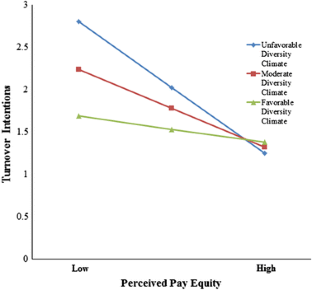 Abbreviations
CSR:

Corporate social responsibility

DC:

Diversity climate

TI:

Turnover intentions
References
Adams, J. S. (1963). Toward an understanding of inequity. Journal of Abnormal Social Psychology, 67(5), 422–436.

Adams, J. S. (1965). Inequity in social exchange. Advanced Experimental Social Psychology, 62, 335–343.

Aiken, L. S., & West, S. G. (1991). Multiple regression: Testing and interpreting interactions. Newbury Park, CA: Sage.

Anderson, R., & Billings-Harris, L. (2010). Trailblazers: How top business leaders are accelerating results through inclusion and diversity. Hoboken, NJ: Wiley.

Ashforth, B. E., & Mael, F. (1989). Social identity theory and the organization. Academy of Management Review, 14, 20–39.

Bacharach, S. B. (1989). Organizational theories: Some criteria for evaluation. Academy of Management Review, 14(4), 496–515.

Balissiano, M., & Salles, D. (2012). Perceptions of equity and justice and their implication on affective organizational commitment: A confirmatory study in a teaching and research institute. Brazilian Administration Review, 9(3), 268–286.

Bernstein, M., & Crosby, F. (1980). An empirical examination of relative deprivation theory. Journal of Experimental Social Psychology, 16, 442–456.

Bies, R., & Moag, J. S. (1986). Interactional justice: Communicating criteria of fairness. In B. Sheppard (Ed.), Research on negotiations in organization (Vol. 1, pp. 43–55). Greenwich, CT: JAI Press.

Brown, M. (2001). Unequal pay, unequal responses? Pay referents and their implications for pay level satisfaction. Journal of Management Studies, 38(6), 879–896.

Buttner, E. H., Lowe, K. B., & Billings-Harris, L. (2010). Diversity climate impact on employee of color outcomes: Does justice matter? Career Development International, 15(3), 239–258.

Bynum, L. A., Bentley, J. P., Holmes, E. R., & Bouldin, A. S. (2012). Organizational citizenship behaviors of pharmacy faculty: Modeling influences of equity sensitivity, psychological contract breach, and professional identity. Journal of Leadership, Accountability and Ethics, 9(5), 99–111.

Cammann, C., Fichman, M., Jenkins, D. & Klesh, J. (1979). The Michigan Organizational Assessment Questionnaire. Unpublished manuscript, Ann Arbor: University of Michigan.

Carroll, A. B. (1991). The pyramid of corporate social responsibility: Toward the moral management of organizational stakeholders. Business Horizons, 34, 39–48.

Cassell, C., Johnson, P., & Smith, K. (1997). Opening the black box: Corporate codes of ethics in their organizational context. Journal of Business Ethics, 16(10), 1077–1093.

Chavez, I. C., & Weisinger, J. Y. (2008). Beyond diversity training: A social infusion for cultural inclusion. Human Resource Management, 47, 331–350.

Chen, X. P., Liu, D., & Portnoy, R. (2012). A multilevel investigation of motivational cultural intelligence, organizational diversity climate, and cultural sales: Evidence from US real estate firms. Journal of Applied Psychology, 97(1), 93–106.

Chrobot-Mason, D., & Aramovich, N. P. (2013). The psychological benefits of creating an affirming climate for workplace diversity. Group and Organization Management, 6, 659–689.

Cohen, J. (1988). Statistical power analysis for the social sciences. Hillsdale, NJ: Lawrence Erlbaum Associates.

Cook, S. D., Hepworth, S. J., Wall, T. D., & Warr, P. B. (1981). The experience of work: A compendium and review of 249 measures and their uses. New York, NY: Academic Press.

Cropanzano, R., Bowen, D. E., & Gilliland, S. W. (2007). The management of organizational justice. Academy of Management Perspectives, 21(4), 34–48.

Crosby, F. (1976). A model of egotistical relative deprivation. Psychological Review, 83, 85–113.

Crosby, F. (1984). Relative deprivation organizational settings. In B. M. Staw & L. L. Cummings (Eds.), Research in organizational behavior (Vol. 6, pp. 51–93). Greenwich, CT: JAI Press.

Cuguero-Escofet, N., & Fortin, M. (2014). One justice or two? A model of reconciliation of normative justice theories and empirical research on organizational justice. Journal of Business Ethics, 124, 435–451.

Day, N. E. (2012). Pay equity as a mediator of the relationships among attitudes and communication about pay level determination and pay secrecy. Journal of Leadership and Organizational Studies, 19(4), 462–476.

Dollinger, S. J., & Malmquist, D. (2009). Reliability and validity of single-item self-reports: With special relevance to college students' alcohol use, religiosity, study, and social life. The Journal of General Psychology, 136(3), 231–242.

Dreyer, G. F. (1981). Predicting the salary satisfaction of exempt employees. Personnel Psychology, 34, 579–589.

European Commission on Employment and Social Affairs. (2003). Costs and benefits of diversity: A study on methods and indicators to measure the cost-effectiveness of diversity policies in enterprises. Retrieved from Jan 2, 2013 http://www.kartaroznorodnosci.pl/public/files/Komisja%20Europejska_costs%20and%20benefits%20of%20diversity_2003.pdf

Fassin, Y. (2012). Stakeholder management, reciprocity and stakeholder responsibility. Journal of Business Ethics, 109(1), 83–96.

Flood, P. C., Turner, T., Ramamoorthy, N., & Pearson, J. (2001). Causes and consequences of psychological contracts among knowledge workers in the high technology and financial services industries. International Journal of Human Resource Management, 12, 1152–1165.

Griffeth, R. W., Hom, P. W., & Gaertner, S. (2000). A meta-analysis of antecedents and correlates of employee turnover: Update, moderator tests, and research implications for the next millennium. Journal of Management, 26(3), 463–488.

Guillaume, Y. R. F., Dawson, J. F., Priola, V., Sacramento, C. A., Woods, S. A., Higson, H. E., et al. (2014). Managing diversity in organizations: An integrative model and agenda for future research. European Journal of Work and Organizational Psychology, 23(5), 783–802.

Harrison, J. S., & Freeman, R. E. (1999). Stakeholders, social responsibility, and performance: Empirical evidence and theoretical perspectives. Academy of Management Journal, 42(5), 479–485.

Haslam, S. A. (2004). Psychology in organizations: The social identity approach (2nd ed.). London: Sage.

Haslam, S. A., & Ellemers, N. (2011). Identity processes in organizations. In S. J. Schwartz, K. Luyckx, & V. L. Vignoles (Eds.), Handbook of identity theory and research (pp. 715–744). New York: Springer.

Hicks-Clarke, D., & Iles, P. (2000). Climate for diversity and its effects on career and organisational attitudes and perceptions. Personnel Review, 29, 324–345.

Hofhuis, J., Van der Zee, K. I., & Otten, S. (2012). Social identity patterns in culturally diverse organizations: The role of diversity climate. Journal of Applied Social Psychology, 42(4), 964–989.

Hofhuis, J., Van der Zee, K. I., & Otten, S. (2014). Comparing antecedents of voluntary turnover among majority and minority employees. Equality, Diversity and Inclusion: An International Journal, 33(8), 735–749.

Hom, P. W., Caranikas-Walker, F., Prussia, G. E., & Griffith, R. W. (1992). A meta-analytical structural equations analysis of a model of employee turnover. Journal of Applied Psychology, 77(6), 890–909.

Hom, P. W., & Griffeth, R. (1995). Employee turnover. Cincinnati: South-Western.

Hom, P. W., & Kinicki, A. J. (2001). Toward a greater understanding of how dissatisfaction drives employee turnover. Academy of Management Journal, 44(5), 975–987.

Hui, C., Wong, A., & Tjosvold, D. (2007). Turnover intention and performance in China: The role of positive affectivity, Chinese values, perceived organizational support and constructive controversy. Journal of Occupational and Organizational Psychology, 80, 735–751.

Jamali, D. (2008). A stakeholder approach to corporate social responsibility: A fresh perspective into theory and practice. Journal of Business Ethics, 82, 223–231.

James, L. R., Choi, C. C., Ko, C.-H., McNeil, P. K., Minton, M. K., Wright, M. A., & Kim, K. (2008). Organizational and psychological climate: A review of theory and research. European Journal of Work and Organizational Psychology, 17(1), 5–32.

Kossek, E., & Zonia, S. (1993). Assessing diversity climate: A field study of employer efforts to promote diversity. Journal of Organizational Behavior, 14, 61–82.

Kutaula, S., & Gould-Williams, J. S. (2013). Facet-based organization support, psychological contract and intention to quit: An empirical study. Academy of Management Proceedings, p. 12880.

Lawrence, B. S. (1997). The black box of organizational demography. Organization Science, 8(1), 1–22.

Longo, M., Mura, M., & Bonoli, A. (2005). Corporate social responsibility and corporate performance: The case of Italian SMEs. Corporate Governance, 5(4), 28–42.

McKay, P., & Avery, D. (2005). Warning! Diversity recruitment could backfire. Journal of Management Inquiry, 14, 330–336.

McKay, P. F., Avery, D. R., Tonidandel, S., Morris, M. A., Hernandez, M., & Hebl, M. (2007). Racial differences in employee retention: Are diversity climate perceptions the key? Personnel Psychology, 60, 35–62.

Mobley, W. H., Griffeth, R., Hand, H., & Meglino, B. (1979). Review and conceptual analysis of the employee turnover process. Psychological Bulletin, 86, 493–522.

Mor Barak, M. E., Cherin, D. A., & Berkman, S. (1998). Organizational and personal dimensions in diversity climate. Journal of Applied Behavioral Science, 34, 82–104.

Olson, J., Roese, N., Meen, J., & Robertson, D. (1995). The preconditions and consequences of relative deprivation: Two field studies. Journal of Applied Social Psychology, 25, 944–964.

Pettigrew, T. F. (2002). Summing up: Relative deprivation as a key social psychological concept. In I. Walker & H. Smith (Eds.), Relative deprivation: Specification, development and integration (pp. 351–374). New York, NY: Cambridge University Press.

Ph.D. Project. (2014). The Ph.D. project. Retrieved Dec 1, 2014 from http://www.phdproject.org/aboutus.html

Phinney, J. S. (1992). The multigroup ethnic identity measure: A new scale for use with diverse groups. Journal of Adolescent Research, 7(2), 156–176.

Rhodes, L., Eisenberger, R., & Armeli, S. (2001). Affective commitment to the organization: The contribution of perceived organizational support. Journal of Applied Psychology, 86(5), 825–836.

Robins, R. W., Hendin, H. M., & Trzesniewski, K. H. (2001). Measuring global self-esteem: Construct validation of a single-item measure and the Rosenberg Self-Esteem Scale. Personality and Social Psychology Bulletin, 27, 151–161.

Robinson, G., & Dechant, K. (1997). Building a business case for diversity. Academy of Management Executive, 11(3), 21–31.

Rousseau, D. M. (1989). Psychological and implied contracts in organizations. Employee Responsibilities and Rights Journal, 2, 131–139.

Schwartz, M. A., & Carroll, A. B. (2003). Corporate social responsibility: A three-domain approach. Business Ethics Quarterly, 13, 503–530.

Sels, L., Janssens, M., & Van Den Brande, I. (2004). Assessing the nature of psychological contracts: A validation of six dimensions. Journal of Organizational Behavior, 25(4), 461–488.

Shore, T. H., Tashchian, A., & Jourdan, L. (2006). Effects of internal and external pay comparisons on work attitudes. Journal of Applied Social Psychology, 36(10), 2578–2598.

Shurn-Hannah, P. (2000). Solving the minority retention mystery. Human Resource Professional, 13, 22–27.

Simmons, J. (2004). Managing in the post-managerialist era: Towards socially responsible corporate governance. Management Decisions, 32(3/4), 601–611.

Simons, T., Friedman, R., Liu, L. A., & McLean Parks, J. (2007). Racial differences in sensitivity to behavioral integrity: Attitudinal consequences, in-group effects and 'trickle down' among Black and non-Black employees. Journal of Applied Psychology, 92, 650–665.

Spector, P. E. (2006). Method variance in organizational research: Truth or urban legend? Organizational Research Methods, 9, 221–232.

Stewart, R., Volpone, S., McKay, P., & Avery, D. (2011). You support diversity, but are you ethical? Examining the interactive effects of diversity and ethical climate perceptions on turnover intentions. Journal of Business Ethics, 100, 581–593.

Summers, T. P., & Hendrix, W. H. (1991). Modelling the role of pay equity perceptions: A field study. Journal of Occupational Psychology, 64(2), 145–157.

Tajfel, H., & Turner, J. C. (1986). The social identity theory of intergroup behavior. In S. Worchel & W. G. Austin (Eds.), Psychology of intergroup relations (2nd ed., pp. 7–24). Chicago, IL: Nelson-Hall.

Thibault, J. W., & Walker, L. (1975). Procedural justice: A psychological analysis. Hillsdale, NJ: Erlbaum.

Thomas, K., & Wise, P. (1999). Organizational attractiveness and individual differences: Are diverse applicants attracted by different factors? Journal of Business and Psychology, 13, 375–390.

Torre, E. D., Pelagatti, M., & Solari, L. (2015). Internal and external equity in compensation systems, organizational absenteeism and the role of explained inequalities. Human Relations, 68(3), 409–440.

U. S. Census Bureau. (2014). National population projections: Summary tables. Retrieved March 23, 2015 from http://www.census.gov/population/projections/data/national/2012/summarytables.html

U. S. Equal Employment Opportunity Commission. (2013). Charge statistics: FY 1997 through FY 2012. Retrieved Jan 10, 2014 from http://www.eeoc.gov/eeoc/statistics/enforcement/race.cfm

Utsey, S. O., Chae, M. H., Brown, C. F., & Kelly, D. (2002). Effect of ethnic group membership on ethnic identity, race-related stress, and quality of life. Cultural Diversity and Ethnic Minority Psychology, 8(4), 366–377.

Wanous, J. P., Reichers, A. E., & Hudy, M. J. (1997). Overall job satisfaction: How good are single-item measures? Journal of Applied Psychology, 82, 247–252.
About this article
Cite this article
Buttner, E.H., Lowe, K.B. Addressing Internal Stakeholders' Concerns: The Interactive Effect of Perceived Pay Equity and Diversity Climate on Turnover Intentions. J Bus Ethics 143, 621–633 (2017). https://doi.org/10.1007/s10551-015-2795-x
Received:

Accepted:

Published:

Issue Date:
Keywords
Corporate social responsibility

Perceived pay equity

Diversity climate

Turnover intentions

Professionals of color