Abstract
Although virtues have gained a firm presence in the theory and practice of corporate management, humility is not ranked as one the chief virtues in the business world. In spite of this, it is an important virtue, contributing to the manager's moral and professional quality and the development of the company's human team. This paper explains the basic traits of humility in general and how they manifest in the manager's life and profession, and shows, within the ethics of virtues, that it is not just a personal desideratum but a fundamental quality of a good manager and good management.
This is a preview of subscription content, log in to check access.
Access options
Buy single article
Instant access to the full article PDF.
US$ 39.95
Price includes VAT for USA
Subscribe to journal
Immediate online access to all issues from 2019. Subscription will auto renew annually.
US$ 199
This is the net price. Taxes to be calculated in checkout.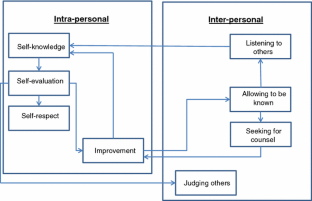 Notes
1.

Quoted by Burgess (1984, p. 47).

2.

Humility and its related virtues, such as modesty, have been the subject of many studies (Sedikides et al. 2007; Tangney 2009) approached from religious (Spiegel 2003; von Hildebrand 1997), philosophical (Driver 1989; Exline and Geyer 2004; Grenberg 2005; Hare 1996; Owens et al. 2011) or psychological rationales (Exline et al. 2004; Tangney 2000, 2005). However, there are not many academic publications about humility in business management; one exception is Llano (2004).

3.

4.

Some senses of the word refer precisely to this: for example, when it is defined as lowliness of birth or as submission to another person.

5.

Tangney (2005, p. 413) identifies six key elements of a definition of humility: an accurate assessment of one's abilities and achievements, the acknowledgment of one's mistakes, imperfections and limitations, openness to new ideas, contradictory information and advice, keeping one's abilities and accomplishments in perspective, relative low self-focus and an appreciation of the value of all things, as well as the many different ways that people and things can contribute to our world.

6.

And she strives to learn the reasons for her desires and drives, because it is vital for her personal improvement.

7.

Too much self-esteem may have negative consequences, creating over-confidence in one's own judgment or because of its tendency toward self-justification, which makes the person easier to influence.

8.

Whether this is an act of humility or, on the contrary, an act of pride, will depend on the agent's intention. If what he seeks is not self-satisfaction for the results achieved nor the recognition of others but to come closer to the ideal for the sake of the ideal or the virtue itself, his endeavor to improve in certain aspects of his life, including humility, will not be contrary to this virtue.

9.

It may be hard to define the line that separates recognition of one's limitations and mistakes from exaggerating them, particularly for an outside observer. In fact, it is practical wisdom or prudence that governs this line.

10.

Moral philosophers consider humility as a potential part of the cardinal virtue of temperance, which moderates the natural instinct to put oneself in front of others, to manifest superiority, category or pre-eminence (Aquinas 1981, II–II, q. 161, a. 4; Pieper 1965). Humility is often discussed jointly with modesty (Exline et al. 2004; Peterson and Seligman 2004; Rowatt et al 2006), even though the two virtues are not interchangeable. Likewise, humility and practical wisdom combine because prudence is the virtue that rules the others.

11.

"In modern western culture, positive self-appraisal is often equated with mental health and success. Counselors, self-help gurus, schools, and even governments have devoted extraordinary effort to maximize self-esteem and instill individual pride" (Brown et al. 2013, p. 57). This is grounded on a mistaken concept of humility. The attempt to create a positive outlook at whatever price does not confer a pondered, objective knowledge of reality, which is the rock on which an appropriate self-esteem is built. In any case, the relationship between the two qualities is ambiguous, insofar as self-esteem may correlate with narcissism or with a correct acceptance of self-reality (Exline and Geyer 2004).

12.

There are also other virtues or attitudes that come near to humility, such as modesty, moderation and straightforwardness, and vices that oppose it, such as arrogance, haughtiness, conceit, narcissism, smugness, ostentation, envy or certain forms of vanity. We will not dwell here on the similarities and differences between these moral attitudes.

13.

"Humility does not itself motivate salutary behavior the way justice and generosity provide particular goals for our pursuit. Neither does humility facilitate action. (…) In short, the satisfactions afforded by other virtues are not available through humility" (Kupfer 2003, pp. 265–266).

14.

Some empirical studies show the negative effects of lack of humility on interpersonal relationships, conflicts and the lack of social acceptance (Paulus 1998; Vazire and Funder 2006), and the positive effects of humble behavior (Exline et al 2004; Peters et al 2011), as well as the role of humility in the disposition to help and cooperate (Exline and Geyer 2004; Hilbig and Zettler 2009; LaBouff et al. 2012) .

15.

16.

For example, it is possible that a person's humility can be appreciated better among friends than with people she does not know, or in the family setting more than in a work environment. It is also possible that young people assume apparently arrogant demeanors when they want to make an impression among people with more experience.

17.

Owens (2009) show that the performance of students increased by three mechanisms, which also occur in firms: better awareness of strengths and weaknesses about the time and effort one would need to allocate to accomplish tasks, learning from strong performers and more receptivity to feedback leading to adaptability. Johnson et al (2011) found that self-reported honesty-humility predicted job performance among employees providing health care services.

18.

Humility, like all virtues, is acquired in ordinary decisions, not in exceptional actions.
References
Abbà, G. (1992). Felicidad, vida buena y virtud. Barcelona: Ediciones Internacionales Universitarias.

Aquinas, T. (1981). Summa theologica. New York, NY: Christian Classics.

Aristotle, (1953). Nicomachean ethics. New York, NY: Penguin.

Ben-Ze'ev, A. (1993). The virtue of modesty. American Philosophical Quarterly, 30(3), 235–246.

Brennan, J. (2007). Modesty without illusion. Philosophy and Phenomenological Research, 75(1), 111–128.

Brown, S. L., Chopra, P. K., & Schiraldi, G. R. (2013). Validation of the humility inventory (HI). A five-factor, self-report measure of humility. International Journal of Educational and Psychological Assessment, 12(2), 57–77.

Burgess, P. H. (1984). The sayings of Mahatma Gandhi. Singapore: Graham Brash.

Cameron, K. S., Dutton, J. E., & Quinn, R. E. (2003). Positive organizational scholarship: Foundations of a new discipline. San Francisco, CA: Berrett-Koehler.

Collins, J. (2001). Level 5 leadership: The triumph of humility and fierce resolve. Harvard Business Review, 79, 67–76.

Comte-Sponville, A. (2001). A small treatise of the great virtues. New York, NY: Henry Holt and Company.

Conger, J. A., & Kanungo, R. N. (1998). Charismatic leadership in organizations. Thousand Oaks, CA: Sage.

Davis, D. E., Hook, J. N., Worthington, E. L., Van Tongeren, D. R., Gartner, A. L., Jennings, D. J., et al. (2011). Relational humility: Conceptualizing and measuring humility as personality judgment. Journal of Personality Assessment, 93(3), 225–234.

Davis, D. E., Worthington, E. L., & Hook, J. N. (2010). Humility: A review of definitions and measurement strategies. Journal of Positive Psychology, 5(4), 243–252.

de Cervantes, M. (1613/1972). The dialog of dogs. In Exemplary stories. London: Penguin, (1972). (Original in Spanish, 1613).

Driver, J. (1989). The virtues of ignorance. The Journal of Philosophy, 86(7), 373–384.

Driver, J. (2001). Uneasy virtue. New York, NY: Oxford University Press.

Etzioni, A. (1989). Humble decision-making. Harvard Business Review, 67, 45–57.

Exline, J. J., Campbell, W. K., Baumeister, R. F., Joiner, T., & Krueger, J. (2004). Humility and modesty. In C. Peterson & M. Seligman (Eds.), The values in action (VIA) classification of strengths (pp. 461–475). Cincinnati, OH: Values in Action Institute.

Exline, J. J., & Geyer, A. L. (2004). Perceptions of humility: A preliminary study. Self and Identity, 3(2), 95–114.

Furey, R. J. (1986). So I'm not perfect: A psychology of humility. Alba House: New York, NY.

Gregg, A. P., Hart, C. M., Sedikides, C., & Kumashiro, M. (2008). Everyday conceptions of modesty: A prototype analysis. Personality and Social Psychology Bulletin, 34(7), 978–992.

Grenberg, J. M. (2005). Kant and the ethics of humility: A story of dependence, corruption and virtue. Cambridge, UK: Cambridge University Press.

Haidt, J. (2001). The emotional dog and its rational tail: A social intuitionist approach to moral judgment. Psychological Review, 108(4), 814–834.

Hare, S. (1996). The paradox of moral humility. American Philosophical Quarterly, 33(2), 235–241.

Hilbig, B. E., & Zettler, I. (2009). Pillars of cooperation: Honesty-humility, social value orientations, and economic behavior. Journal of Research in Personality, 43, 516–519.

Johnson, M. K., Rowatt, W. C., & Petrini, L. (2011). A new trait on the market: Honesty-Humility as a unique predictor of job performance. Personality and Individual Differences, 50(6), 857–862.

Kupfer, J. (2003). The moral perspective of humility. Pacific Philosophical Quarterly, 84(3), 249–269.

LaBouff, J. P., Ropwatt, W. C., Johnson, M. K., Tsang, J.-A., & Willerton, G. M. (2012). Humble persons are more helpful than less humble persons: Evidence from three studies. The Journal of Positive Psychology, 7(1), 16–29.

Lawrence, P. G. (2006). Neohumility/Humility and business leadership: Do they belong together? Journal of Business and Leadership, 2(1), 116–126.

Llano, C. (2004). Humildad y liderazgo. ¿Necesita el empresario ser humilde? Herberto Ruz, Mexico.

MacIntyre, A. (1984). After virtue (2nd ed.). Notre Dame, IN: Notre Dame University Press.

Melé, D. (2009). Business ethics in action. Palgrave Macmillan, Houndmills, UK.

Morris, J. A., Brotheridge, C.-M., & Urbanski, J. C. (2005). Bringing humility to leadership: Antecedents and consequences of leader humility. Human Relations, 58(10), 1323–1350.

Nielsen, R., Marrone, J. A., & Slay, H. S. (2010). A new look at humility: Exploring the humility concept and its role in socialized charismatic leadership. Journal of Leadership and Organizational Studies, 17(1), 33–43.

Owens, B. P. (2009). Humility in organizations: Establishing construct, nomological, and predictive validity. In Academy of management best papers proceedings. Briarcliff Manor, NY: Academy of Management.

Owens, B. P., & Hekman, D. R. (2012). Modeling how to grow: An inductive examination of humble leader behaviors, contingencies, and outcomes. Academy of Management Journal, 55(4), 787–818.

Owens, B. P., Johnson, M. D., & Mitchell, T. R. (2013). Expressed humility in organizations: Implications for performance, teams, and leadership. Organization Science, 24(5), 1517–1538.

Owens, B. P., Rowatt, W. C., & Wilkins, A. L. (2011). Exploring the relevance and implications of humility in organizations. In K. S. Cameron & G. S. Sprelitzer (Eds.), Handbook of positive organizational scholarship (pp. 260–272). Oxford, UK: Oxford University Press.

Paulus, D. L. (1998). Interpersonal and intrapsychic adaptiveness of trait senf-enhancement: A mixed blessing? Journal of Personality and Social Psychology, 74, 1197–1208.

Pérez López, J. A. (1991). Teoría de la acción humana en las organizaciones. Rialp, Madrid.

Pérez López, J. A. (1993). Fundamentos de la dirección de empresas. Madrid: Rialp.

Peters, A. S., Rowatt, W. C., & Johson, M. K. (2011). Associations between dispositional humility and social relationships quality. Psychology, 2(3), 155–161.

Peterson, C., & Seligman, M. (2004). Character strengths and virtues: A handbook and classification. New York, NY: Oxford University Press.

Pieper, J. (1965). The four cardinal virtues: prudence, justice, fortitude, temperance. New York, NY: Harcourt, Brace and World.

Rhonheimer, M. (2000). La perspectiva de la moral. Fundamentos de ética filosófica. Madrid: Rialp.

Richards, N. (1988). Is humility a virtue? American Philosophical Quarterly, 25(3), 253–259.

Rowatt, W. C., Powers, C., Targhetta, V., Comer, J., Kennedy, S., & Labouff, J. (2006). Development and initial validation of an implicit measure of humility relative to arrogance. The Journal of Positive Psychology, 1(4), 198–211.

Sahlman, W. A. (2010). Management and the financial crisis (We have met the enemy and he is us…). Economics, Management and Financial Markets, 5(4), 11–53.

Sedikides, C., Gregg, A. P., & Hart, C. M. (2007). The importance of being modest. In C. Sedikides & S. J. Spencer (Eds.), The self (pp. 163–184). New York, NY: Psychology Press.

Snow, N. E. (1995). Humility. The Journal of Value Inquiry, 29(2), 203–216.

Solomon, C. R. (1992). Ethics and excellence. Cooperation and integrity in business. New York, NY: Oxford University Press.

Spiegel, J. S. (2003). The moral irony of humility. Logos: A Journal of Catholic Thought and Culture, 6(1), 131–150.

Tangney, J. P. (2000). Humility: Theoretical perspectives, empirical findings and directions for future research. Journal of Social and Clinical Psychology, 19(1), 70–82.

Tangney, J. P. (2005). Humility. In C. R. Snyder & S. J. Lopez (Eds.), Handbook of Positive Psychology (pp. 411–429). New York, NY: Oxford University Press.

Tangney, J. P. (2009). Humility. In S. J. Lopez & C. R. Snyder (Eds.), Oxford handbook of positive psychology (pp. 483–490). New York, NY: Oxford University Press.

Taylor, W. C. (2011). Are you 'humbitious' enough to lead? Leader to Leader, 61, 23–28.

Teresa of Avila. (1577/1921). The interior castle or the mansions. 3rd edition, Thomas Baker, London.

Vazire, S., & Funder, D. C. (2006). Impulsitivity and the self-defeting behavior of narcissists. Personality and Social Psychology Review, 10, 154–165.

Vera, D., & Rodriguez-Lopez, A. (2004). Strategic virtue: Humility as a source of competitive advantage. Organizational Dynamics, 33(4), 393–408.

von Hildebrand, D. (1997). Humility: Wellspring of virtue. Manchester, NH: Sophia Institute Press.

Weick, K. E. (2001). Leadership as the legitimization of doubt. In B. F. Spreitzer & T. G. Cummings (Eds.), The future of leadership: Today's top leadership thinkers speak to tomorrow's leaders (pp. 91–102). San Francisco, CA: Jossey-Bass.
About this article
Cite this article
Argandona, A. Humility in Management. J Bus Ethics 132, 63–71 (2015). https://doi.org/10.1007/s10551-014-2311-8
Received:

Accepted:

Published:

Issue Date:
Keywords
Company

Firm

Humility

Leadership

Management

Virtues