Abstract
The under-representation of women on boards is a heavily discussed topic—not only in Germany. Based on critical mass theory and with the help of a hand-collected panel dataset of 151 listed German firms for the years 2000–2005, we explore whether the link between gender diversity and firm performance follows a U-shape. Controlling for reversed causality, we find evidence for gender diversity to at first negatively affect firm performance and—only after a "critical mass" of about 30 % women has been reached—to be associated with higher firm performance than completely male boards. Given our sample firms, the critical mass of 30 % women translates into an absolute number of about three women on the board and hence supports recent studies on a corresponding "magic number" of women in the boardroom.
Access options
Buy single article
Instant access to the full article PDF.
USD 39.95
Price includes VAT (USA)
Tax calculation will be finalised during checkout.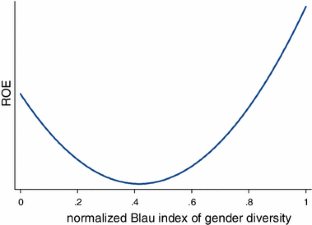 Notes
1.

The DAX reflects the segment of blue chips admitted to the Prime Standard segment and comprises the 30 largest and most actively traded companies which are listed at the Frankfurt Stock Exchange. The index portfolio of the MDAX comprises 50 mid-cap issues from traditional sectors which, in terms of market capitalization and trading volume, rank below the DAX. These companies are selected from the continuously traded companies in the Prime Standard segment. The SDAX comprises the next 50 issues from the traditional sectors within the Prime Standard segment that are ranked below the MDAX. The TecDAX tracks the 30 largest issues, in terms of market capitalization and trading volume, from the various technology sectors of the Prime Standard segment beneath the DAX.

2.

Owing to the internationalization of the German stock market, more and more German firms switched their financial reporting from the local German accounting standard HGB to the IFRS or U.S. GAAP during our period of observation.

3.

Outliners were defined as having an ROE of either more than 100 or less than −100.

4.

According to the Stock Cooperation Act (Aktiengesetz 2010), German supervisory boards have a minimum size of three and a maximum of 21 seats depending on statutory equity capital. A supervisory board consisting of only two members hints at a temporary vacancy.
References
Adams, R. B., & Ferreira, D. (2009). Women in the boardroom and their impact on governance and performance. Journal of Financial Economics, 94, 291–309.

Ahern, K. R., & Dittmar, A. K. (2012). The changing of the boards: The impact on firm valuation of mandated female board representation. The Quarterly Journal of Economics, 127, 137–197.

Aktiengesetz. (2010). http://bundesrecht.juris.de/aktg/index.html. Accessed 19 Nov 2012.

Alexander, J., Nuchols, B., Bloom, J., & Lee, S.-Y. D. (1995). Organizational demography and turnover: An examination of multiform and non-linear heterogeneity. Human Relations, 48(12), 1455–1480.

Apesteguia, J., Azmat, G., & Iriberri, N. (2012). The impact of gender composition on team performance and decision-making: Evidence from the field. Management Science, 58, 78–93.

Arnegger, M., Hofmann, C., Pull, K., & Vetter, K. (2010). Unterschiede in der fachlichen und demographischen Zusammensetzung deutscher Aufsichtsräte: Eine empirische Bestandsaufnahme für HDAX- und SDAX Unternehmen. Die Betriebswirtschaft, 70(3), 239–257.

Bear, S., Rahman, N., & Post, C. (2010). The impact of board diversity and gender composition on corporate social responsibility and firm reputation. Journal of Business Ethics, 97(2), 207–221.

Bermig, A., & Frick, B. (2010). Who is the better monitor? The impact of female board directors. Board composition, and board size on earnings management. XI. In Symposium zur Ökonomischen Analyse der Unternehmung GEABA Conference, Goethe-Universität, Frankfurt, pp. 1–28.

Bermig, A., & Frick, B. (2011a). Determinanten der 'Übergröße' deutscher Aufsichtsräte'. Journal of Applied Social Science, 131(1), 169–194.

Bermig, A., & Frick, B. (2011b). Mitbestimmung und Unternehmensperformance: Der Einfluss von Arbeitnehmervertretern im Aufsichtsrat auf den Unternehmenswert. Die Betriebswirtschaft, 71(3), 281–304.

Blau, P. (1977). Inequality and heterogeneity: A primitive theory of social structure. New York: Free Press.

Böhren, Ö., & Ström, R. Ö. (2010). Governance and politics: Regulating independence and diversity in the board room. Journal of Business Finance & Accounting, 37(9), 1281–1308.

Brammer, S., Millington, A., & Pavelin, S. (2009). Corporate reputation and women on the board. British Journal of Management, 20, 17–29.

Burgess, Z., & Tharenou, P. (2002). Women board directors: Characteristics of the few. Journal of Business Ethics, 37, 39–49.

Burke, R. J. (1997). Women on corporate boards of directors: A needed resource. Journal of Business Ethics, 16, 909–915.

Campbell, K., & Mínguez-Vera, A. (2008). Gender diversity in the boardroom and firm financial performance. Journal of Business Ethics, 83(3), 435–451.

Campbell, K., & Mínguez-Vera, A. (2010). Female board appointments and firm valuation: Short and long-term effects. Journal of Management and Governance, 14, 37–59.

Carter, D. A., Simkins, B. J., & Simpson, W. G. (2003). Corporate governance, board diversity and firm value. The Financial Review, 38(1), 33–53.

Celis, K., Childs, S., Kantola, J., & Krook, M. L. (2008). Rethinking women's substantive representation. Representation, 44, 99–110.

Charness, G., & Gneezy, U. (2012). Strong evidence for gender differences in risk taking. Journal of Economic Behavior & Organization, 83, 50–58.

Childs, S., & Krook, M. L. (2006). Should feminists give up on critical mass? A contingent yes. Pol Gender, 2(4), 522–530.

Childs, S., & Krook, M. L. (2008). Critical mass theory and women's political representation. Political Studies, 56, 725–736.

Childs, S., & Krook, M. L. (2009). Analysing women's substantive representation: From critical mass to critical actors. Government and Opposition, 44(2), 125–145.

Croson, R., & Gneezy, U. (2009). Gender differences in preferences. Journal of Economic Literature, 47(2), 1–27.

Deutsche Börse (Eds.). (2010). DAX International, Supersektoren und breite Branchenindizes. http://www.boerse-frankfurt.de/DE/index.aspx?pageID=44&-NewsID=2348. Accessed 12 Feb 2010.

Dittmann, I., Maug, E., & Schneider, C. (2010). Bankers on the boards of german firms: What they do, what they are worth, and why they are (still) there. Review of Finance, 14(1), 35–71.

Erhardt, N. L., Werbel, J. D., & Shrader, C. B. (2003). Board director diversity and firm financial performance. Corporate Governance, 11(2), 102–111.

Farrell, K. A., & Hersch, P. L. (2005). Additions to corporate boards: The effect of gender. Journal of Corporate Finance, 11, 85–106.

Fauver, L., & Fuerst, M. E. (2006). Does good corporate governance include employee representation? Evidence from German corporate boards. Journal of Financial Economics, 82(3), 673–710.

Fenwick, G. D., & Neal, D. J. (2001). Effect of gender composition on group performance. Gender, Work and Organization, 8(2), 205–225.

Fich, E. M., & Shivdasani, A. (2006). Are busy boards effective monitors? Journal of Finance, 61(2), 689–724.

GCGC. (2010). German Corporate Governance Code in the version of May 26th, 2010. http://www.corporate-governance-code.de/eng/download/kodex_2010/German-Corporate-Governance-Code-2010.pdf. Accessed 19 Nov 2012.

Grey, S. (2006). Numbers and beyond: The relevance of critical mass in gender research. Politics & Gender, 2(4), 491–530.

Grosvold, J., Brammer, S., & Rayton, B. (2007). Board diversity in the United Kingdom and Norway: An exploratory analysis. Business Ethics: A European Review, 16(4), 344–357.

Hambrick, D. C., Cho, T. S., & Chen, M. J. (1996). The influence of top management team heterogeneity on firms' competitive moves. Administrative Science Quarterly, 41(4), 659–684.

Haslam, S. A., Ryan, M. K., Kulich, C., Trojanowski, G., & Atkins, C. (2010). Investing with prejudice: The relationship between women's presence on company boards and objective and subjective measures of company performance. British Journal of Management, 21, 484–497.

He, J., & Huang, Z. (2011). Board informal hierarchy and firm financial performance: Exploring a tacit structure guiding boardroom interactions. Academy of Management Journal, 54(6), 1119–1139.

Holst, E., & Schimeta, J. (2011). 29 von 906: Weiterhin kaum Frauen in Top-Gremien großer Unternehmen. Wochenbericht des DIW, 3, 2–10.

Jianakoplos, N. A., & Bernasek, A. (1998). Are women more risk averse? Economic Inquiry, 36, 620–630.

Kanter, R. (1977a). Men and women of the organization (pp. 206–242). New York: Basic Books.

Kanter, R. (1977b). Some effects of proportions on group life: Skewed sex ratios and responses to token women. American Journal of Sociology, 82(5), 965–990.

Konrad, A. M., & Kramer, V. (2006). How many women do boards need? Harvard Business Review, 84(12), 22.

Konrad, A. M., Kramer, V., & Erkut, S. (2008). Critical mass: The impact of three or more women on corporate boards. Organizational Dynamics, 37(2), 145–164.

Lindstaedt, H., Wolff, M., & Fehre, K. (2011). Frauen in Führungspositionen-Auswirkungen auf den Unternehmenserfolg. German Federal Ministry of Family, Senior Citizens, Women and Youth, Aug 2011.

Lückerath-Rovers, M. (2011). Women on board and firm performance. Journal of Management & Governance, 1–19. doi:10.1007/s10997-011-9186-1.

Magjuka, R. J., & Baldwin, T. T. (1991). Team-based employee involvement programs: Effects of design and administration. Personnel Psychology, 44(4), 793–812.

Mahadeo, J. D., Soobaroyen, T., & Hanuman, V. O. (2012). Board composition and financial performance: Uncovering the effects of diversity in an emerging economy. Journal of Business Ethics, 105, 375–388.

Miller, T., & del Carmen Triana, M. (2009). Demographic diversity in the boardroom: Mediators of the board diversity-firm performance relationship. Journal of Management Studies, 46(5), 755–786.

Niederle, M., & Vesterlund, L. (2007). Do women shy away from competition? Do men compete too much? Quarterly Journal of Economics, 122(3), 1067–1101.

Oehmichen, J., Rapp, M. S., & Wolff, M. (2010). Der Einfluss der Aufsichtsratszusammensetzung auf die Präsenz von Frauen in Aufsichtsräten. Schmalenbachs Zeitschrift für betriebswirtschaftliche Forschung (ZFBF), 32, 503–532.

Randöy, T., Oxelheim, L., & Thomsen, S. (2006). A Nordic perspective on corporate board diversity. working paper, Nordic Innovation Centre, pp. 1–32.

Rhode, D., & Packel, A. K. (2010). Diversity on corporate boards: How much difference does difference make? Rock center for corporate governance working paper series 89 SSRN Journal, pp. 1–24. http://papers.ssrn.com/sol3/papers.cfm?abstract_id=1685615. Accessed 19 Nov 2012.

Rose, C. (2007). Does female board representation influence firm performance? The Danish evidence. Corporate Governance, 15(2), 404–413.

Sarkar, J., & Sarkar, S. (2009). Multiple board appointments and firm performance in emerging economies: Evidence from India. Pacific-Basin Finance Journal, 17(2), 271–293.

Shrader, C. B., Blackburn, V. B., & Iles, P. (1997). Women in management and firm financial performance: An exploratory study. Journal of Managerial Issues, 9(3), 355–376.

Siciliano, J. I. (1996). The relationship of board member diversity to organizational performance. Journal of Business Ethics, 15, 1313–1320.

Smith, N., Smith, V., & Verner, M. (2006). Do women in top management affect firm performance? A panel study of 2500 Danish firms. International Journal of Productivity and Performance Management, 55(7), 569–593.

Spangler, E., Gordon, M. A., & Pipkin, R. M. (1978). Token women: An empirical test of kantar's hypothesis. American Journal of Sociology, 84(1), 160–170.

Torchia, M., Calabrò, A., & Huse, M. (2011). Women directors on corporate boards: From tokenism to critical mass. Journal of Business Ethics, 102(2), 299–317.

Tsui, A. S. T., Egan, D., & O'Reilly, C. A. (1992). Being different: Relational demography and organizational attachment. Administrative Science Quarterly, 37, 549–579.

Webber, S. S., & Donahue, L. M. (2001). Impact of highly and less job-related diversity on work group cohesion and performance: A meta-analysis. Journal of Management, 27(2), 141–163.
About this article
Cite this article
Joecks, J., Pull, K. & Vetter, K. Gender Diversity in the Boardroom and Firm Performance: What Exactly Constitutes a "Critical Mass?". J Bus Ethics 118, 61–72 (2013). https://doi.org/10.1007/s10551-012-1553-6
Received:

Accepted:

Published:

Issue Date:
Keywords
Diversity

Gender

Supervisory board

Performance
JEL Classification