Abstract
We explore the language of leadership of global media mogul Rupert Murdoch in 2010, the year before the phone-hacking scandal in the UK came to public attention. Subsequent public enquiries in the UK exposed unethical conduct by staff of News Corporation, a global corporation whose Chairman and CEO was Rupert Murdoch. We focus on the ethical climate fashioned by 'A Letter from Rupert Murdoch' that appeared in the opening pages of the annual report of News Corporation for the year ended 30 June 2010. Plausibly, Murdoch's discourse in that letter helped condition the inapt, unethical conduct of News Corporation staff. We highlight the cultural and ethical signs that were embedded in Murdoch's letter and which reflected the company's tone at the top and ethical values. We identify signs of a perverse leadership thinking that possibly help explain the inappropriate cultural values and ethical behaviours that were revealed subsequently in evidence presented to public inquiries.
Access options
Buy single article
Instant access to the full article PDF.
USD 39.95
Price excludes VAT (USA)
Tax calculation will be finalised during checkout.
Notes
Montgomery (2008, p. 5), writing in the Harvard Business Review, asserts:

The CEO is the one who chooses a company's identity, who has responsibility for declining certain opportunities and pursuing others. In this sense he or she serves as the guardian of organizational purpose, watching over the entity, guiding its course … the vigil the CEO keeps must be a constant one.

In response to an earlier statement by Murdoch that he was 'humbled' to give an apology to one of the victim families of the phone hacking, Lane (2011) observed that 'Of all the words one never thought to find in the vicinity of Murdoch, "humble[d]", especially in the passive voice, would top the list'.

We raise the issue of 'deliberate ignorance' or 'willful blindness' to support our contention that the words of corporate leaders matter rhetorically and therefore require close scrutiny. Our interest is not in the legal status of such a rhetorical move because, as Heffernan (2011) observes, this does not constitute a legal defence.

For economy of exposition, we also refer to his letter hereafter simply as a CEO letter.

In companies in which the CEO and board Chair roles are vested in a single individual, especially a long-serving one, the possibility of insidious dysfunctions such as groupthink and its handmaiden, willful blindness, are ominously present (see Heffernan 2011). This seems likely to be ever more so given that Murdoch was the founder of the present News Corporation as a major global company. Centralizing power in the hands of one person is problematic enough, but (as a reviewer of this article observed) Murdoch is elderly. Thus issues of cognitive impairment and succession become especially salient for the company. This is where a strongly independent board would be ever more crucial.

The issue of who actually crafted of the letter was raised by a reviewer of this article, who offered the following argument to support Murdoch's authorship:

I think it is highly relevant to this particular case that Mr Murdoch commenced his career as a journalist … and is spoken of as having been a good journalist…. Because of his background as a journalist, he (more than most chairmen/CEOs) is more likely to write his CEO letter himself. Judging by his arrogance…in the CEO letter, and elsewhere, would he consider anyone else more competent to write the letter? I suspect not. …In this particular case, I wouldn't presume he crafted the letter with public relations, legal, and management assistants.

Although close readings are rarely exhaustive or objective, they are intended to serve as a springboard for much-needed countervailing perspectives on corporate power and accountability.

Murdoch's CEO letter is stylistically different from CEO letters published by most corporate leaders, and is somewhat akin to items usually published in the tabloid press. There is an excessive use of pronouns, contractions, and repetitions, including in the form of 'call-outs' or sidebars. Timuçin (2010) analyses the differences between tabloids and broadsheets, concluding that tabloids use more biased and involved/emotive language. A reviewer of this article noted that the letter's 'tabloidism' is unsurprising, given the journalistic background of Murdoch and his probable authorship of the letter, and that the tabloid style seems inconsistent with the purpose of a CEO letter in a corporate accountability context.

Instance #14 of the use of 'I' is replicated in a 'call-out', sidebar text that is shown in BLOCK CAPITALS in the Appendix. We do not count this use twice.
References
Abrahamson, E., & Amir, E. (1996). The association between the information contained in the president's letter to shareholders and accounting market variables. Journal of Business Finance and Accounting, 23, 1157–1182.

Amernic, J., & Craig, R. (2006). CEO-speak: The language of corporate leadership. Kingston: McGill-Queen's University Press.

Amernic, J. H., & Craig, R. J. (2010). Accounting as a facilitator of extreme narcissism. Journal of Business Ethics, 96, 79–93.

Amernic, J., Craig, R., & Tourish, D. (2007). The transformational leader as pedagogue, physician, architect, commander, and saint: Five root metaphors in Jack Welch's letters to stockholders of General Electric. Human Relations, 60(12), 1839–1872.

Amernic, J., Craig, R., & Tourish, D. (2010). Measuring and assessing 'tone at the top' using annual report CEO letters. Edinburgh: Institute of Chartered Accountants of Scotland.

Arsenault, A., & Castells, M. (2008). Switching power: Rupert Murdoch and the global business of media politics. International Sociology, 23(4), 488–513.

Babiak, P., & Hare, R. D. (2006). Snakes in suits: When psychopaths go to work. New York: Harper Collins.

Bettman, J. R., & Weitz, B. A. (1983). Attributions in the board room: Causal reasoning in corporate annual reports. Administrative Science Quarterly, 28(2), 165–183.

Boddy, C. R. (2011). The corporate psychopaths theory of the global financial crisis. Journal of Business Ethics, 102, 255–259.

Brennan, N., & Conroy, J. P. (2012). Executive hubris: The case of a bank CEO, Accounting, Auditing & Accountability Journal, 25(7).

Browne, J. (with P. Anderson). (2010). Beyond business: An inspirational memoir from a visionary leader. Oxford: Weidenfeld & Nicolson.

Cheney, G. (1998). It's the economy, stupid! A rhetorical-communicative perspective on today's market. Australian Journal of Communication, 25, 25–44.

Clark, T. (2012). Stay on message: Poetry and truthfulness in political speech. Melbourne: Australian Scholarly Publishing.

Collins, J. (2001). Good to great. New York: Harper Business.

Craig, R., & Amernic, J. (2004). Enron discourse: The rhetoric of a resilient capitalism. Critical Perspectives on Accounting, 15(6/7), 813–852.

Craig, R., & Amernic, J. (2011). Detecting linguistic traces of destructive narcissism at-a-distance in a CEO's letter to shareholders. Journal of Business Ethics, 101(4), 563–575.

Egan, M. (2012, June 13). Despite resistance, boards shift toward breaking up CEO. Chair Roles. Last visited September 2, 2012, from www.foxbusiness.com.

Hare, R. D. (1994). Predators: The disturbing world of the psychopaths among us. Psychology Today, 27(1), 54–61.

Hargie, O., Stapleton, K., & Tourish, D. (2010). Interpretations of CEO public apologies for the banking crisis: Attributions of blame and avoidance of responsibility. Organization, 17(6), 721–742.

Hart, R. P. (2000). DICTION 5.0. Austin, TX: Digitex.

Heffernan, M. (2011). Willful blindness. Canada: Doubleday.

House of Commons Culture, Media and Sport Committee. (2012). News international and phone-hacking. Eleventh Report of Session 2010–2012, Vol. I, April 30.

Jakobwitz, S., & Egan, V. (2006). The dark triad and normal personality traits. Personality and Individual Differences, 40, 331–339.

Jones, M. J., & Shoemaker, P. A. (1994). Accounting narrative: A review of empirical studies of content and readability. Journal of Accounting Literature, 13, 142–184.

Lakoff, G. (1993). The contemporary theory of metaphor. In A. Ortony (Ed.), Metaphor and thought (pp. 202–251). Cambridge: Cambridge University Press.

Lakoff, G. (1996). Moral politics. Chicago: University of Chicago Press.

Lakoff, G., & Johnson, M. (1980). Metaphors we live by. Chicago: University of Chicago Press.

Lane, A. (2011). Hack work. The New Yorker. August 1.

Mallick, H. (2011). Lack of knowledge an asset for the Murdoch's. The Star. Last visited July 20, 2011, from http://www.thestar.com/news/world/article/1027278-mallick-lack-of-knowledge-an-asset-for-the-murdochs.

Montgomery, C. A. (2008). Putting leadership back into strategy. Harvard Business Review, 86(1), 54–60.

Morris, J. A., Brotheridge, C. M., & Urbanski, J. C. (2005). Bringing humility to leadership: Antecedents and consequences of leader humility. Human Relations, 58(10), 1323–1350.

Nünning, A., Grabes, H., & Baumbach, S. (2009). Introduction: Metaphors as a way of worldmaking, or: Where metaphors and culture meet. In H. Grabes, A. Nünning, & S. Baumbach (Eds.), Metaphors shaping culture and theory (pp. xi–xxv). Tübingen: Gunter Narr Verlag.

Owen, D. (2011). Psychiatry and politicians—afterword: Commentary on … 'Psychiatry and politicians'. The Psychiatrist Online, 35, 145–148.

Owen, D., & Davidson, J. (2009). Hubris syndrome: An acquired personality disorder? A study of US presidents and UK prime ministers over the last 100 years. Brain, 132(5), 1396–1406.

Paulhus, D. L., & Williams, K. M. (2002). The dark triad of personality: Narcissism, Machiavellianism and psychopathy. Journal of Research in Personality, 36, 556–563.

Perelman, C., & Olbrechts-Tyteca, L. (1958). The new rhetoric: A treatise in argumentation. Notre Dame: University of Notre Dame Press. (Reprint 1969.)

Petersoo, P. (2007). What does 'we' mean? National deixis in the media. Journal of Language and Politics, 6(3), 419–436.

Raskin, R., & Shaw, R. (1988). Narcissism and the use of personal pronouns. Journal of Personality, 56(2), 393–404.

Russell, G. (2011). Psychiatry and politicians: The 'hubris syndrome'. The Psychiatrist Online, 35, 140–145.

Salancik, G. R., & Meindl, J. R. (1984). Corporate attributions as strategic illusions of management control. Administrative Science Quarterly, 29, 238–254.

Scheff, T. J. (1997). Emotions, the social bond, and human reality: Part/whole analysis. Cambridge: Cambridge University Press.

Seidler, M. S. (1974). American big business ideology: A content analysis of executives' speeches. American Sociological Review, 39, 802–815.

Shoemaker, S. (1968). Self-reference and self-awareness. Journal of Philosophy, 65(19), 555–567.

Smith, G. W. (2007). Gonzales pleads the Ken Lay defense. Huffington Post, March 14. last visited July 20, 2011, from http://www.huffingtonpost.com/glenn-w-smith/gonzales-pleads-the-ken-l_b_43426.html.

Su, L. I. (2002). What can metaphors tell us about culture? Language and Linguistics, 3(3), 589–613.

Timuçin, M. (2010). Different language styles in newspapers: An investigative framework. Journal of Language and Linguistic Studies, 6(2), 104–126.

Van Dijk, T. A. (2006). Ideology and discourse analysis. Journal of Political Ideologies, 11(2), 115–140.

Vignone, M. J. (2012). Family, buildings, and wars: Organizational conceptual metaphors. OD Practitioner, 44(1), 34–37.

Vo, T. T. (2010). To be or not to be both CEO and Board Chair. Brooklyn Law Review, 76, 65–129.

Welch, J. (with Byrne, J. A.) (2001). Jack: Straight from the gut. New York, NY: Warner.

Werth, P. (1994). Extended metaphor—A text-world account. Language and Literature, 3(2), 79–103.

Wu, Y. (2009). On the relationship between metaphor and cultural models—With data from Chinese and English language. metaphorik.de, 17, 115–134.
Appendix
Appendix
Rupert Murdoch's 2010 Annual Report 'Letter to Fellow Stockholders'
['Call-out' or sidebar text is shown in BLOCK CAPITALS]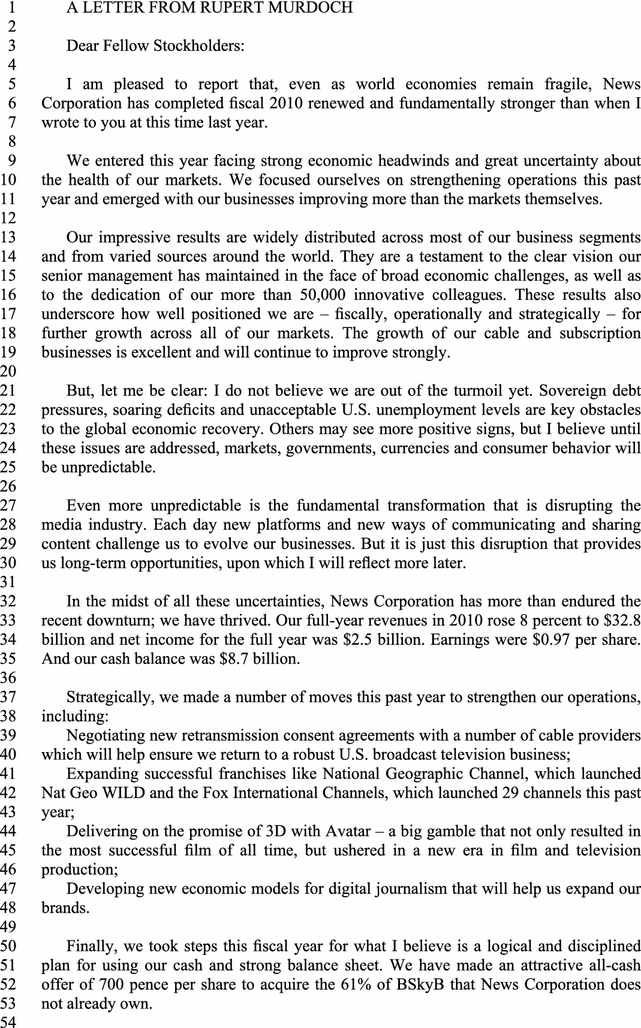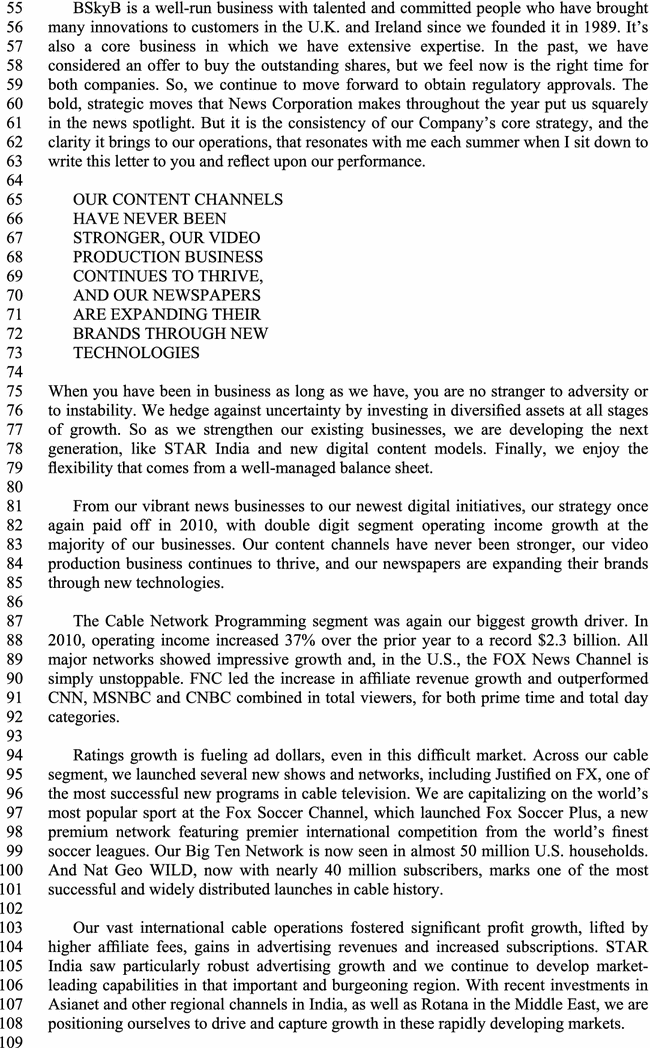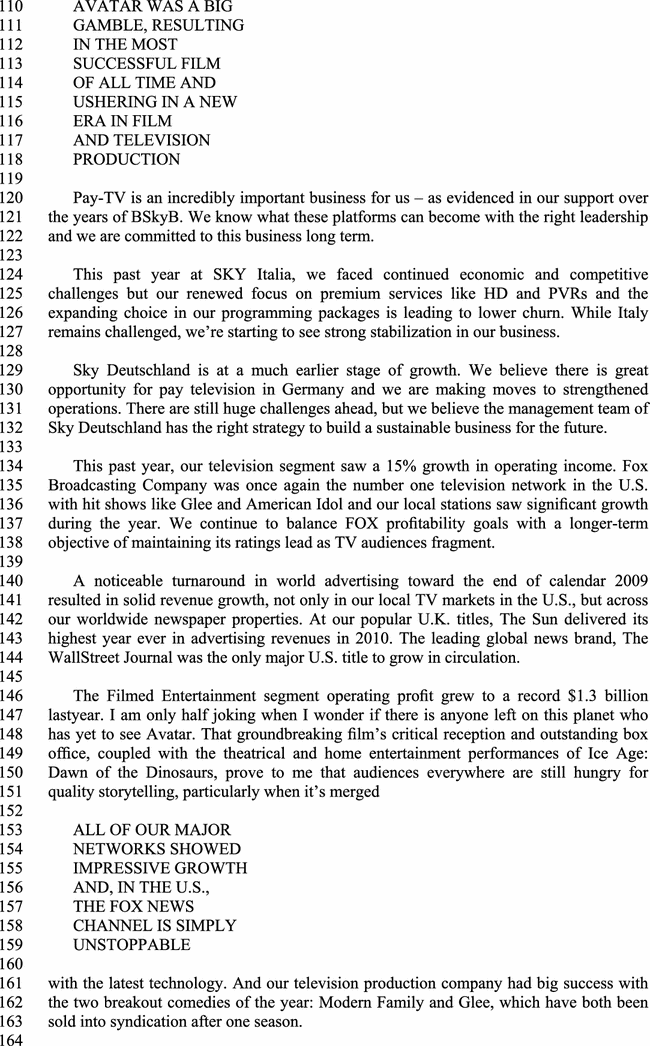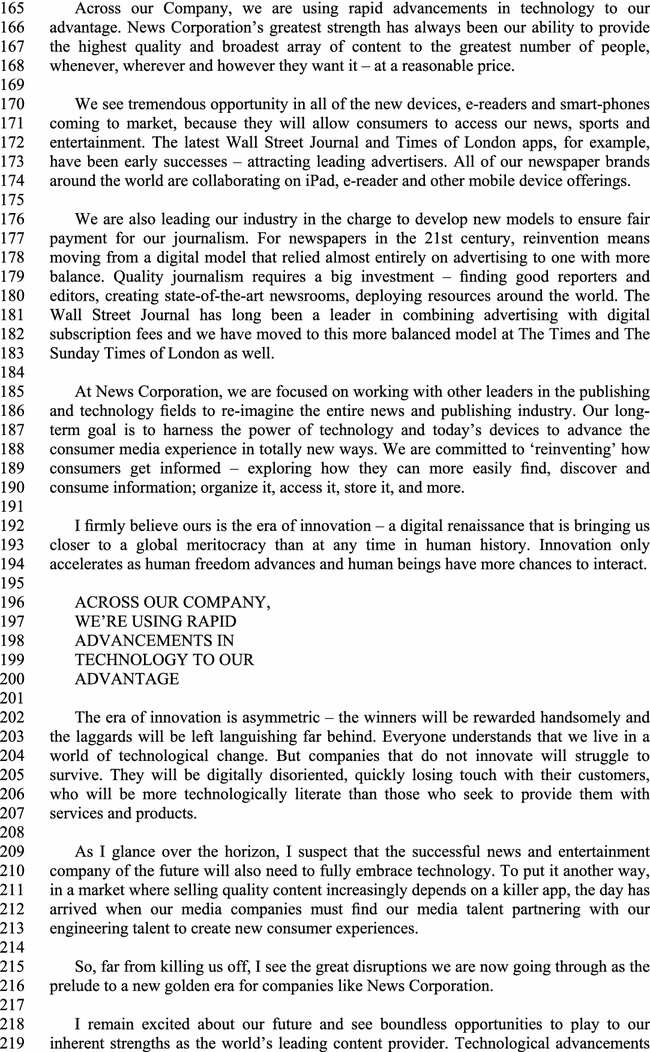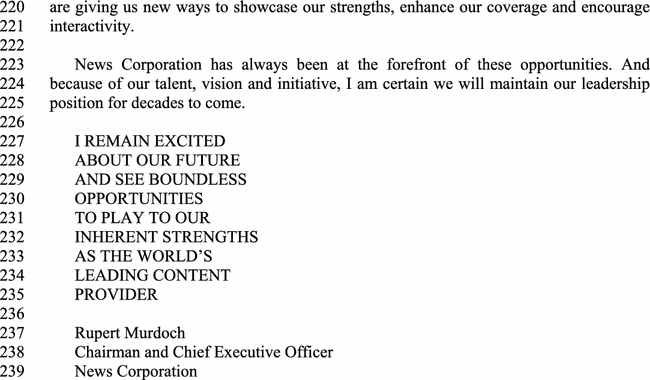 About this article
Cite this article
Amernic, J., Craig, R. Leadership Discourse, Culture, and Corporate Ethics: CEO-speak at News Corporation. J Bus Ethics 118, 379–394 (2013). https://doi.org/10.1007/s10551-012-1506-0
Received:

Accepted:

Published:

Issue Date:

DOI: https://doi.org/10.1007/s10551-012-1506-0
Keywords