Abstract
This article delves into a potential mindset that may be responsible for the recent financial meltdown. Research relating to this mindset from different perspectives is reviewed. The findings from this literature review are used to create a conceptual framework for the empirical, ethical, and corporate social responsibility study of financial professionals. Data were collected from a survey of the professional membership of a large national association of financial professionals. This article reports the results of the analysis of data relative to the relationships among the four constructs—financial professionals' perceived organizational value clusters, ethics, corporate social responsibility, and corporate performance. The findings indicate that organizational core values significantly affect corporate ethics, social responsibility, and financial performance. We propose that organizations in the financial industry can move toward being more ethical and socially responsible by adopting organic core values (e.g., democratic, open, trusting, enterprising, creative, stimulating) and moving away from mechanistic values (e.g., structured, regulated, procedural, authoritarian, closed, callous). We also found the adaptation of organic core values does not require the organization to suffer a loss in financial performance.
Access options
Buy single article
Instant access to the full article PDF.
US$ 39.95
Tax calculation will be finalised during checkout.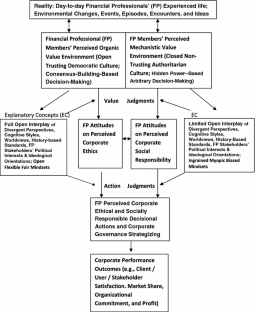 References
Adler, P. S., & Borys, B. (1996). Two types of bureaucracy: Enabling and coercive. Administrative Science Quarterly, 41, 61–89.

Beyer, J. M., & Trice, H. M. (1981). 'Managerial Ideologies and the Use of Discipline' Proceedings of the Annual Meeting of the Academy of Management. August 2–5. San Diego, CA.

Bonvin, J., & Dembinski, P. H. (2002). Ethical issues in financial activities. Journal of Business Ethics, 37(2), 187–192.

Byus, K., Deis, D., & Ouyang, B. (2010). Doing well by doing good: Corporate social responsibility and profitability. SAM Advanced Management Journal, 75(1), 44–55.

Carroll, A. B., & Shabana, K. M. (2010). The business case for corporate social responsibility: A review of concepts, research and practice. International Journal of Management Reviews, 12(1), 85–105.

Checkland, P., & Scholes, J. (1999). Soft systems methodology in action. Chichester: Wiley.

Chow, W. (2010). Banks and governance: Will the U.S. financial reform act restore trust in wall street? Retrieved from http://www.ethicalcorp.com/communications-reporting/banks-and-governance-will-us-financial-reform-act-restore-trust-wall-street. Accessed 2 Oct 2010.

Financial Crisis Inquiry Commission. (2010). The hearing on "the role of derivatives in the financial crisis". Washington, DC.

Forcht, K. A. (1987). Survey of college students concerning computer ethics: Practitioner's views' survey instrument. Harrisonburg: James Madison University.

Gill, A. (2008). Corporate governance as social responsibility: A research agenda. Berkeley Journal of International Law, 26(2), 452–478.

Harrison, R. (1988). Diagnosing organizational ideology. Study instrument. Wiltshire: Development Research Associates.

Hudson, M. (2010). The monster: How a gang of predatory lenders and Wall Street bankers fleeced America—And spawned a global crisis. New York: Times Books.

Jackson, K. T. (2010). The scandal beneath the financial crisis: Getting a view from a moral–Cultural mental model. Harvard Journal of Law & Public Policy, 33(2), 735–778.

Jin, K. G. (2000). Power-based arbitrary decisional actions in the resolution of MIS project issues: A project manager's action research perspective. Systemic Practice & Action Research, 13(3), 345–390.

Jin, K. G., & Drozdenko, R. (2003). Managers, organizational values and ethical attitudes in the direct marketing industry. Business & Professional Ethics Journal, 22(4), 43–66.

Jin, K. G., & Drozdenko, R. (2010). Relationships among perceived organizational core values, corporate social responsibility ethics, and organizational performance outcomes: An empirical study of information technology professionals. Journal of Business Ethics, 92(3), 341–359.

Karnani, A. (2011). Doing well by doing good: The grand illusion. California Management Review, 53(2), 69–86.

Keohane, J. (2010). How facts backfire: Researcher discover a surprising threat to democracy: our brains. Retrieved July 11, 2010, from http://www.boston.com.

Kurucz, E., Colbert, B., & Wheeler, D. (2008). The business case for corporate social responsibility. In A. Crane, A. McWilliams, D. Matten, J. Moon, & D. Siegel (Eds.), The oxford handbook of corporate social responsibility (pp. 83–112). Oxford: Oxford University Press.

Lewis, M. (1989). Liar's poker. New York: W.W. Norton & Company.

Lewis, M. (2010). The big short: Inside the doomsday machine. New York: W.W. Norton & Company.

Mackey, A., Mackey, T. B., & Barney, J. B. (2007). Corporate social responsibility and firm performance: Investor preferences and corporate strategies. Academy of Management Review, 32(3), 817–835.

Margolis, J. D., & Walsh, J. P. (2003). Misery loves companies: Rethinking social initiatives by business. Administrative Science Quarterly, 48(2), 268–305.

Perrini, F., & Minoja, M. (2008). Strategizing corporate social responsibility: Evidence from an Italian medium-sized, family-owned company. Business Ethics: A European Review, 17(1), 47–63.

Sjoberg, G., Vaughan, T. R., & Williams, N. (1984). Bureaucracy as a moral issue. The Journal of Applied Behavioral Science, 20(4), 441–453.

Sorkin, A. R. (2010). Too big to fail: The inside story of how Wall Street and Washington fought to save the financial system—And themselves. New York: Penguin Books.

Swamy, M. R. K. (2009). Financial management calls for ethical-based financial statement and analysis. Journal of Financial Management and Analysis, 22(2), 70–84.

Vickers, G. (1965). The art of judgment. London: Chapman & Hall.

Vitell, S. J., & Davis, D. L. (1990). Ethical beliefs of MIS professionals: The frequency and opportunity for unethical behavior. Journal of Business Ethics, 9, 63–70.
About this article
Cite this article
Jin, K.G., Drozdenko, R. & DeLoughy, S. The Role of Corporate Value Clusters in Ethics, Social Responsibility, and Performance: A Study of Financial Professionals and Implications for the Financial Meltdown. J Bus Ethics 112, 15–24 (2013). https://doi.org/10.1007/s10551-012-1227-4
Received:

Accepted:

Published:

Issue Date:
Keywords
Ethical mind-set

Moral, social, and cultural model

Financial meltdown

Corporate core value clusters

Corporate ethics/social responsibility/performance

Corporate governance