Abstract
The marketing of infant formula in third-world countries in the 1970s by Nestlé S.A. gave rise to a consumer boycott that came to be a widely taught case study in the field of Business Ethics. This article extends that case study by identifying three specific individuals who were associated with managing Nestlé's response to that boycott. It reveals their subsequent direct involvement in a number of additional "classic" 1980s business scandals (some of which ended with major criminal trials and the imprisonment of eminent business figures)—and describes tangential linkages to other business scandals of the time. The article discloses a behind-the-scenes pattern of business villainy, adding both depth and breadth to previous accounts of these scandals. The article offers a conceptual framework that goes beyond personal greed as an explanatory factor for such unethical behavior in the business world, suggesting the presence of personal and organizational networks of intrigue and opportunity. The linkages between the scandals suggest an epidemiological process with the plotters acting as "virus" carriers contaminating various corporate cultures.
Access options
Buy single article
Instant access to the full article PDF.
USD 39.95
Price includes VAT (USA)
Tax calculation will be finalised during checkout.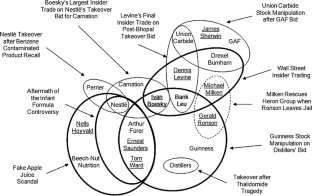 Notes
1.

This information comes from James Saunders' book about his father, Nightmare: the Ernest Saunders Story. The genesis of this book, published prior to Saunders' trial in the Guinness stock manipulation case, is described in "Ernest Saunders Markets His Innocence," Business Week, Aug. 14, 1989, pp. 92–93. Although the book is patently self-serving, there is no reason to doubt the validity of the record of background facts from the book that are selectively quoted within this article.

2.

3.

A 1991 search of Reuters Textline service revealed that in the UK press, for example, there was only one short reference linking the Guinness scandal to Nestlé's baby-milk controversy, printed in the Evening Standard (London), Jan. 16, 1987, p. 54. Also, there was but one short piece in the UK press linking Ward to the Beech-Nut scandal, printed in The Observer, Feb. 28, 1988, p. 33.

4.

There were rumors about Saunders' past at the time of the contested bid for Distillers, but this private mud-slinging seemed exclusively directed at his involvement in the Nestlé baby-milk controversy: "Unsolicited approaches were also made to Argyll with offers of information about Guinness. There were many allegations about Saunders' career at Nestlé and the baby milk scandal" (Kochan and Pym 1987, p. 127).

5.

Hoyvald later made a successful appeal against his sentence, on the grounds that the case had been tried in the wrong jurisdiction. The author is unable to determine the subsequent disposition of this case. Ethics professors may be intrigued by the fact that in the original trial Hoyvald's lawyer, Brendan Sullivan, proposed that his client should teach ethics seminars in colleges rather than serve time in prison. In his Barron's article "Juice Men: Ethics and the Beech-Nut Sentences," Joe Queenan takes a satirical look at the consequences of Hoyvald teaching ethics, had it occurred. He quotes imaginary ethics professors who fear for their jobs in competition with big-time crooks. In this scenario, he suggests that the classes might be filled with students trying to learn unethical behavior firsthand! (Queenan 1988) For a further odd twist on this theme, see footnote 6, which discloses that an unrepentant Ernest Saunders was invited to lecture about ethics to business school students after his bizarre release from jail.

6.

Other negative press comment included "Saunders Shows off Powers of Recovery," Sunday Times, Apr. 26, 1992; "Return to Health and Wealth," The Times, Mar. 14, 1992; "So, Just How Ill Were They?" Daily Telegraph, Mar. 10, 1992; and "Looking For Work In Earnest—Ernest Saunders Enjoys New Lease Of Life," Independent, Feb. 21, 1992. Saunders later defiantly appeared before an audience of business school students to give his version of the Guinness story—see "Ernest Saunders In Ethics Talk To Students" Daily Telegraph, Mar. 17, 1992.

7.

Strangely, given the magnitude of prior press coverage in the UK, there is no mention of the Guinness scandal or of Bank Leu in The Predators' Ball, the best-selling US book about "The Inside Story of Drexel Burnham Lambert" (Bruck, 1988).

8.

Stanley Adams suffered enormously as a result of blowing the whistle on Hoffman-La Roche. The EEC failed to keep his identity secret, and he was arrested when he re-entered Switzerland to visit his wife's relatives on New Year's Eve, 1984. He was charged with industrial espionage. He was released from custody 3 months later, following his wife's suicide. She had apparently been misled by police into thinking that he would receive a sentence of 20 years imprisonment. He later successfully sued the EEC for the damages caused by their failure to protect his anonymity.
References
Adams, S. (1985). Roche versus Adams. London: Fontana Paperbacks.

Bill, P. (2009). Never the English Gent: a clear picture of Ronson. Evening Standard (London), June 5. http://www.thisislondon.co.uk/standard-business/article-23704009-never-the-english-gent-a-clear-picture-of-ronson.do.

Boyd, C. (1992). Beech-Nut Nutrition Corporation (A) & (B) (Cases 392-056-1 & 392-057-1). Cranfield: European Case Clearing House.

Boyd, C. (1996). Beech-Nut Nutrition Corporation (A) & (B). In H. Schroeder (Ed.), Cases in business policy. Toronto: Nelson.

Bruck, C. (1988). The predator's ball. New York: Academic Lawyer/Simon and Schuster.

Bucholz, R. A., Evans, W. D., & Wagley, R. A. (1985). 'Nestlé Corporation: The baby bottle debate. In Management response to public issues: Concepts & cases in strategy formulation. Englewood Cliffs, NJ: Prentice Hall.

Constable, J. (1979). F. Hoffman-La Roche & Co. AG (Case 183-056-8). Cranfield: European Case Clearing House.

Consumer Reports. (1989, May). Bad apples: In the executive suite, pp. 294–296.

Economist. (1991, Aug. 3). When the bubble burst, pp. 67–68.

Frederick, W. C., Davies, K., & Post, J. E. (1992). Nestlé: Twenty years of infant formula conflict. In Business and society: Corporate strategy, public policy, ethics (7th ed., pp. 560–573). New York: McGraw Hill.

Freedman, A. M. (1989, July 6). Nestlé quietly seeks to sell beechnut, dogged by scandal of bogus apple juice. The Wall Street Journal, p. B1.

Heer, J. (1991). Nestlé: 125 years 1866–1991. Switzerland: Nestlé.

Kay, W. (1987, May 18). More trouble brewing: Guinness scandal leads to criminal charges. Barron's National Business and Financial Weekly, 67(20), 44–46.

Kets de Vries, M. F. R. (1988). Ernest Saunders: The Guinness affair. Fontainebleau: INSEAD. This original case study was revised, and subsequently published as Kets de Vries, M. F. R. (1990). Ernest Saunders and the Guinness affair (Case 490-014-1). Cranfield: European Case Clearing House.

Kirkland, R. I., Jr. (1987). Britain's own Boesky case. Fortune, 115(4), 85–86.

Kochan, N., & Pym, H. (1987). The Guinness affair: Anatomy of a scandal. London: Christopher Helm.

Kuhn, J. W., & Shriver, D. W. (1991). A minimal ethic of market-oriented responsibility: The Nestlé case. In Beyond success: Corporations and their critics in the 1990s (pp. 216–241). New York: Oxford University Press.

Levine, D. B., & Hoffer, W. (1991). Inside out: An insider's account of Wall Street. New York: Putnam.

Liman, A. L. (2002). U.S. v GAF: Good things don't always come in threes. In Lawyer: A life of counsel and controversy. New York: Public Affairs.

Mokhiber, R. (1988). Nestlé. In Corporate crime and violence (pp. 307–317). San Francisco: Sierra Club Books.

Monks, R. A., & Minow, N. (1989). The high cost of ethical retrogression. Directors and Boards, 13(2), 9–12.

Monopolies Commission. (1973). Chlordiazepoxide and diazepam—A report on the supply of chlordiazepoxide and diazepam. London: Her Majesty's Stationery Office.

Muller, M. (1974). The baby killer. London: War on Want. http://faculty.msb.edu/murphydd/cric/readings/Nestle-Baby-Killer%20by%20Mike%20Muller,%20War%20on%20Want,%201974.pdf.

Murray, J. A. (1981). Nestlé in the LDCs (Case 383-089-1). Cranfield: European Case Clearing House.

Newbigging, E. (1986). Hoffman-La Roche v. Stanley Adams: Corporate and individual ethics (Case 386-007-1). Cranfield: European Case Clearing House.

Post, J. E. (1985). Assessing the Nestlé boycott: Corporate accountability and human rights. California Management Review, 27, 2.

Private Eye. (1992, Feb. 14). The "Grovel" column, 787, p. 8.

Putka, B. G. (1987, Jan. 19). Overseas scandal: Guinness affair makes British likely to curb corporate acquisitions—Unusual stock buying aided firm in its bitter battle to take over distillers—The Ivan Boesky Connection. Wall Street Journal, p. 1.

Queenan, J. (1988). Juice men: Ethics and the Beech-Nut sentences. Barron's National Business and Financial Weekly, 68(25), 37–38.

Ronson, G., & Robinson, J. (2009). Leading from the front: My story. Edinburgh: Mainstream Publishing.

Saunders, J. (1989). Nightmare: The Ernest Saunders story. London: Hutchinson.

Sethi, S. P. (1994). Multinational corporations and the impact of public advocacy on corporate strategy: Nestle and the infant formula controversy. Boston: Kluwer.

Siler, J. F. (1990, Apr. 9). The Furor over formula is coming to a boil. Business Week, pp. 52–53.

Stewart, J. B. (1992). Den of thieves. New York: Touchstone.

The Times. (1987, Jan. 16). Guinness Ousts chairman, 2 directors in stock scandal, p. 21.

Welles, C. (1988, Feb. 22). What led Beech-Nut down the road to disgrace. Business Week, pp. 124–128.

Wong, B. (1989, March 31). Conviction of Nestlé unit's ex-president is overturned on appeal in juice case. The Wall Street Journal, p. B5.

YouTube. (2009). Gerald Ronson on Ernest Saunders & Alzheimer's (see statement at 1.00 minute point), at http://www.youtube.com/watch?v=eeRuwKaKzsI.
Acknowledgments
This article was originally produced in 1992, but unfortunately its path to eventual publication was frustrated at that time. This version is essentially the same as the one initially written, but with updates and revisions provided from post-1992 sources. I wish to thank William C. Frederick (Katz Graduate School of Business, University of Pittsburgh) for encouraging the paper's resurrection, and for his inevitably wise comments and reflections on the unethical behaviors described in the article.
About this article
Cite this article
Boyd, C. The Nestlé Infant Formula Controversy and a Strange Web of Subsequent Business Scandals. J Bus Ethics 106, 283–293 (2012). https://doi.org/10.1007/s10551-011-0995-6
Received:

Accepted:

Published:

Issue Date:
Keywords
Beech-Nut

Drexel Burnham

Ernest Saunders

Guinness

Infant formula

Insider trading

Nestlé