Abstract
Purpose
Rates of BRCA1 and BRCA2 prevalence among women with breast cancer vary by age, hormone receptor status, and family history. Recommendations for genetic testing have varied between overlapping guidelines, payor coverage policies, and have evolved over time, resulting in unclear implications for adoption into routine breast cancer care.
Methods
Using a large, private insurer database, we examined rates of BRCA1/BRCA2 genetic testing in women with newly diagnosed invasive breast cancer undergoing surgery from 2015 through 2019.
Results
Testing increased among women 50 years or older from 26 to 38%, remained stable at 66% in both 2015 and 2019 in the under 50 population, and was slightly decreased in women under age 45 years.
Conclusion
Among privately insured patients with breast cancer, rates are increasing in older women, but appear persistently underused in younger women.
Access options
Buy single article
Instant access to the full article PDF.
USD 39.95
Price excludes VAT (USA)
Tax calculation will be finalised during checkout.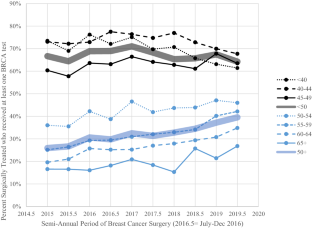 Data availability
The data underlying this article are held by a third party. Data for this project were accessed through Blue Cross Blue Shield Axis as part of the Blue Cross Blue Shield Alliance for Health Research. Restrictions apply to the availability of these data, which were used for the current study, and so they are not publicly available. Data are available from the authors upon reasonable request and with permission of Blue Cross Blue Shield Axis.
References
Huszno J, Kołosza Z, Grzybowska E (2019) BRCA1 mutation in breast cancer patients: analysis of prognostic factors and survival. Oncol Lett 17(2):1986–1995

Peto J, Collins N, Barfoot R et al (1999) Prevalence of BRCA1 and BRCA2 gene mutations in patients with early-onset breast cancer. J Natl Cancer Inst 91(11):943–949

Armstrong J, Lynch K, Virgo KS et al (2021) Utilization, timing, and outcomes of BRCA genetic testing among women with newly diagnosed breast cancer from a national commercially insured population: the ABOARD study. JCO Oncol Pract 17(2):e226–e235

Petrova D, Cruz M, Sánchez MJ (2021) BRCA1/2 testing for genetic susceptibility to cancer after 25 years: a scoping review and a primer on ethical implications. Breast (Edinburgh, Scotland) 61:66–76

Pujol P, Barberis M, Beer P et al (2021) Clinical practice guidelines for BRCA1 and BRCA2 genetic testing. Eur J Cancer 146:30–47

Manahan ER, Kuerer HM, Sebastian M et al (2019) Consensus guidelines on genetic` testing for hereditary breast cancer from the American Society of Breast Surgeons. Ann Surg Oncol 26(10):3025–3031

Tung NM, Garber JE (2018) BRCA1/2 testing: therapeutic implications for breast cancer management. Br J Cancer 119(2):141–152

Robson M, Im SA, Senkus E et al (2017) Olaparib for metastatic breast cancer in patients with a germline BRCA mutation. N Engl J Med 377(6):523–533

Grindedal EM, Heramb C, Karsrud I et al (2017) Current guidelines for BRCA testing of breast cancer patients are insufficient to detect all mutation carriers. BMC Cancer 17(1):438–438

McClain MR, Palomaki GE, Nathanson KL, Haddow JE (2005) Adjusting the estimated proportion of breast cancer cases associated with BRCA1 and BRCA2 mutations: public health implications. Genet Med 7(1):28–33

Beitsch PD, Whitworth PW, Hughes K et al (2019) Underdiagnosis of hereditary breast cancer: are genetic testing guidelines a tool or an obstacle? J Clin Oncol 37(6):453–460

Daly MB, Pal T, Berry MP et al (2021) Genetic/familial high-risk assessment: breast, ovarian, and pancreatic, version 2.2021, NCCN Clinical Practice Guidelines in Oncology. J Natl Compreh Cancer Netw 19(1):77–102

Kurian AW, Ward KC, Howlader N et al (2019) Genetic testing and results in a population-based cohort of breast cancer patients and ovarian cancer patients. J Clin Oncol 37(15):1305–1315

Nattinger AB, Laud PW, Bajorunaite R, Sparapani RA, Freeman JL (2004) An algorithm for the use of Medicare claims data to identify women with incident breast cancer. Health Serv Res 39(6 Pt 1):1733–1749
Funding
The authors declare that no funds, grants, or other support were received during the preparation of this manuscript.
Ethics declarations
Competing interest
Author Cary Gross has received research funding from the NCCN Foundation (Astra-Zeneca) and Genentech, as well as funding from Johnson and Johnson to help devise and implement new approaches to sharing clinical trial data.
Additional information
Publisher's Note
Springer Nature remains neutral with regard to jurisdictional claims in published maps and institutional affiliations.
Appendices
Appendix I
HCPCS codes used to identify women who underwent breast cancer surgery.
| Surgery Type | HCPCS |
| --- | --- |
| Mastectomy | 19180, 19182, 19200, 19220, 19240, 19303, 19304, 19305, 19306, 19307 |
| Breast Conserving Surgery | 19160, 19162, 19301, 19302 |
| Excisional Biopsy | 19110, 19120, 19125, 19126 |
Appendix II
HCPCS codes used to detect receipt of genetic tests.
| HCPCS | BRCA Testing Type |
| --- | --- |
| 81162 | BRCA1 (BRCA1, DNA repair associated), BRCA2 (BRCA2, DNA repair associated) (e.g., hereditary breast and ovarian cancer) gene analysis; full sequence analysis and full duplication/deletion analysis (ie, detection of large gene rearrangements) |
| 81163 | BRCA1 (BRCA1, DNA repair associated), BRCA2 (BRCA2, DNA repair associated) (e.g., hereditary breast and ovarian cancer) gene analysis; full sequence analysis |
| 81164 | BRCA1 (BRCA1, DNA repair associated), BRCA2 (BRCA2, DNA repair associated) (e.g., hereditary breast and ovarian cancer) gene analysis; full duplication/deletion analysis (ie, detection of large gene rearrangements) |
| 81165 | BRCA1 (BRCA1, DNA repair associated) (e.g., hereditary breast and ovarian cancer) gene analysis; full sequence analysis) |
| 81166 | BRCA1 (BRCA1, DNA repair associated) (e.g., hereditary breast and ovarian cancer) gene analysis; full duplication/deletion analysis (ie, detection of large gene rearrangements) |
| 81167 | BRCA2 (BRCA2, DNA repair associated) (e.g., hereditary breast and ovarian cancer) gene analysis; full duplication/deletion analysis (ie, detection of large gene rearrangements) |
| 81211 | Brca1, brca2 (breast cancer 1 and 2) (e.g., hereditary breast and ovarian cancer) gene analysis; full sequence analysis and common duplication/deletion variants in brca1 (ie, exon 13 del 3.835 kb, exon 13 dup 6 kb, exon 14–20 del 26 kb, exon 22 del 510 bp, exon 8–9 del 7.1 kb) |
| 81212 | BRCA 1 (BRCA1, DNA repair associated), BRCA2 (BRCA2, DNA repair associated) (e.g., hereditary breast and ovarian cancer) gene analysis; 185delAG, 5385insC, 6174delT variants |
| 81213 | Brca1, brca2 (breast cancer 1 and 2) (e.g., hereditary breast and ovarian cancer) gene analysis; uncommon duplication/deletion variants |
| 81214 | Brca1 (breast cancer 1) (e.g., hereditary breast and ovarian cancer) gene analysis; full sequence analysis and common duplication/deletion variants (ie, exon 13 del 3.835 kb, exon 13 dup 6 kb, exon 14–20 del 26 kb, exon 22 del 510 bp, exon 8–9 del 7.1 kb) |
| 81215 | BRCA1 (BRCA1, DNA repair associated) (e.g., hereditary breast and ovarian cancer) gene analysis; known familial variant |
| 81216 | BRCA2 (BRCA2, DNA repair associated) (e.g., hereditary breast and ovarian cancer) gene analysis; full sequence analysis |
| 81217 | BRCA2 (BRCA2, DNA repair associated) (e.g, hereditary breast and ovarian cancer) gene analysis; known familial variant |
| 81432 | Hereditary breast cancer-related disorders (e.g, hereditary breast cancer, hereditary ovarian cancer, hereditary endometrial cancer); genomic sequence analysis panel, must include sequencing of at least 10 genes, always including BRCA1, BRCA2, CDH1, MLH1, MSH2, MSH6, PALB2, PTEN, STK11, and TP53 |
| 81433 | Hereditary breast cancer-related disorders (e.g., hereditary breast cancer, hereditary ovarian cancer, hereditary endometrial cancer); duplication/deletion analysis panel, must include analyses for BRCA1, BRCA2, MLH1, MSH2, and STK11 |
Appendix III
Sample construction timeframe diagram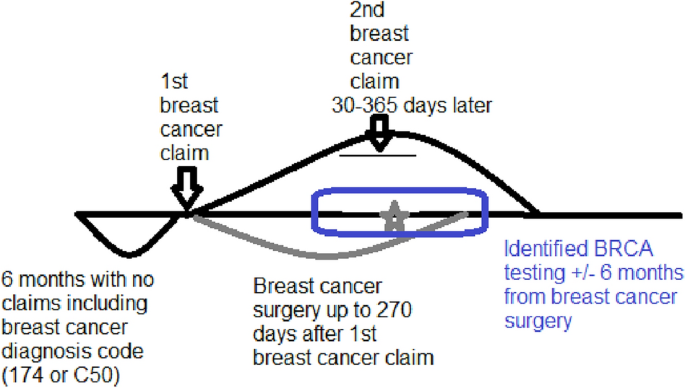 About this article
Cite this article
Dinan, M.A., Pitafi, S., Greenup, R.A. et al. Genetic testing in privately insured women with surgically treated breast cancer. Breast Cancer Res Treat 198, 177–181 (2023). https://doi.org/10.1007/s10549-022-06829-4
Received:

Accepted:

Published:

Issue Date:

DOI: https://doi.org/10.1007/s10549-022-06829-4
Keywords
BRCA1

BRCA2

Breast cancer

Genetic testing