Abstract
Purpose
Polygenic risk scores (PRS) for breast cancer may help guide screening decisions. However, few studies have examined whether PRS are associated with risk of short-term or poor prognosis breast cancers. The study purpose was to evaluate the association of the 313 SNP breast cancer PRS with 2-year risk of poor prognosis breast cancer.
Methods
We evaluated the association of breast cancer PRS with breast cancer overall, ER + and ER- breast cancer, and poor prognosis breast cancer diagnosed within 2 years of a negative mammogram among a cohort of 3657 women using logistic regression adjusted for age, breast density, race/ethnicity, year of screening, and genetic ancestry principal components. Breast cancers were considered poor prognosis if they were metastatic, positive lymph nodes, ER/PR + HER2− and > 2 cm, ER/PR/HER2−, or HER2 + and > 1 cm.
Results
Of the 308 breast cancers, 137 (44%) were poor prognosis. The overall breast cancer PRS was significantly associated with breast cancer diagnosis within 2 years (OR 1.39, 95% CI 1.23–1.57, p < 0.001). The breast cancer PRS was also associated specifically with diagnosis of poor prognosis disease (OR 1.24, 95% CI 1.03–1.49, p = 0.018), but was more strongly associated with good prognosis cancer (OR 1.52 95% CI 1.29–1.80 p = 3.60 × 10–7) The ER + PRS was significantly associated with ER/PR + breast cancer (OR 1.41, 95% CI 1.24–1.61, p < 0.001) and the ER− PRS was significantly associated with ER− breast cancer (OR 1.48, 95% CI 1.08–2.02, p = 0.015).
Conclusion
Breast cancer PRS was independently and significantly associated with diagnosis of both breast cancer overall and poor prognosis breast cancer within 2 years of a negative mammogram, suggesting PRS may help guide decisions about screening intervals and supplemental screening.
Access options
Buy single article
Instant access to the full article PDF.
USD 39.95
Price excludes VAT (USA)
Tax calculation will be finalised during checkout.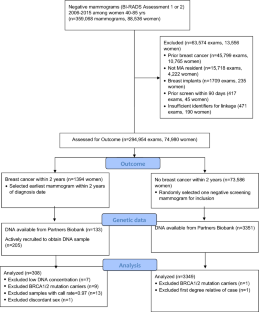 Data availability
The datasets generated during and/or analyzed during the current study are not publicly available due to patient privacy protections, but de-identified data are available from the corresponding author on reasonable request and with institutional approval.
References
Nelson HD, Tyne K, Naik A, Bougatsos C, Chan BK, Humphrey L (2009) Screening for breast cancer: an update for the U.S. preventive services task force. Ann Intern Med 151(10):727–737

Henderson LM, Miglioretti DL, Kerlikowske K, Wernli KJ, Sprague BL, Lehman CD (2015) breast cancer characteristics associated with digital versus film-screen mammography for screen-detected and interval cancers. AJR Am J Roentgenol 205(3):676–684

Shieh Y, Eklund M, Madlensky L, Sawyer SD, Thompson CK, Stover Fiscalini A, Ziv E, Van't Veer LJ, Esserman LJ, Tice JA (2017) Breast cancer screening in the precision medicine era: risk-based screening in a population-based trial. J Natl Cancer Inst. https://doi.org/10.1093/jnci/djw290

Gierach GL, Choudhury PP, García-Closas M (2020) Toward risk-stratified breast cancer screening: considerations for changes in screening guidelines. JAMA Oncol 6(1):31–33

Bakker MF, de Lange SV, Pijnappel RM, Mann RM, Peeters PHM, Monninkhof EM, Emaus MJ, Loo CE, Bisschops RHC, Lobbes MBI et al (2019) Supplemental MRI screening for women with extremely dense breast tissue. N Engl J Med 381(22):2091–2102

Phi XA, Houssami N, Obdeijn IM, Warner E, Sardanelli F, Leach MO, Riedl CC, Trop I, Tilanus-Linthorst MM, Mandel R et al (2015) Magnetic resonance imaging improves breast screening sensitivity in BRCA mutation carriers age ≥ 50 years: evidence from an individual patient data meta-analysis. J Clin Oncol 33(4):349–356

Warner E, Hill K, Causer P, Plewes D, Jong R, Yaffe M, Foulkes WD, Ghadirian P, Lynch H, Couch F et al (2011) Prospective study of breast cancer incidence in women with a BRCA1 or BRCA2 mutation under surveillance with and without magnetic resonance imaging. J Clin Oncol 29(13):1664–1669

Melnikow J, Fenton JJ, Whitlock EP, Miglioretti DL, Weyrich MS, Thompson JH, Shah K (2016) Supplemental screening for breast cancer in women with dense breasts: a systematic review for the U.S. Preventive Services Task Force. Ann Intern Med 164(4):268–278

Ghoussaini M, Pharoah PDP, Easton DF (2013) Inherited genetic susceptibility to breast cancer: the beginning of the end or the end of the beginning? Am J Pathol 183(4):1038–1051

Michailidou K, Lindström S, Dennis J, Beesley J, Hui S, Kar S, Lemaçon A, Soucy P, Glubb D, Rostamianfar A et al (2017) Association analysis identifies 65 new breast cancer risk loci. Nature 551(7678):92–94

Milne RL, Kuchenbaecker KB, Michailidou K, Beesley J, Kar S, Lindström S, Hui S, Lemaçon A, Soucy P, Dennis J et al (2017) Identification of ten variants associated with risk of estrogen-receptor-negative breast cancer. Nat Genet 49(12):1767–1778

Mavaddat N, Michailidou K, Dennis J, Lush M, Fachal L, Lee A, Tyrer JP, Chen TH, Wang Q, Bolla MK et al (2019) Polygenic risk scores for prediction of breast cancer and breast cancer subtypes. Am J Hum Genet 104(1):21–34

Lilyquist J, Ruddy KJ, Vachon CM, Couch FJ (2018) Common genetic variation and breast cancer risk-past, present, and future. Cancer Epidemiol Biomarkers Prev 27(4):380–394

Kapoor PM, Mavaddat N, Choudhury PP, Wilcox AN, Lindström S, Behrens S, Michailidou K, Dennis J, Bolla MK, Wang Q et al (2021) Combined associations of a polygenic risk score and classical risk factors with breast cancer risk. J Natl Cancer Inst 113(3):329–337

Kerlikowske K, Bissell MCS, Sprague BL, Buist DSM, Henderson LM, Lee JM, Miglioretti DL (2021) Advanced breast cancer definitions by staging system examined in the breast cancer surveillance consortium. J Natl Cancer Inst 113(7):909–916

McCarthy AM, Ehsan S, Appel S, Welch M, He W, Bahl M, Chen J, Lehman CD, Armstrong K (2021) Risk factors for an advanced breast cancer diagnosis within 2 years of a negative mammogram. Cancer 127(18):3334–3342

Kapoor PM, Mavaddat N, Choudhury PP, Wilcox AN, Lindstrom S, Behrens S, Michailidou K, Dennis J, Bolla MK, Wang Q et al (2021) Combined associations of a polygenic risk score and classical risk factors with breast cancer risk. J Natl Cancer Inst 113(3):329–337

Holm J, Li J, Darabi H, Eklund M, Eriksson M, Humphreys K, Hall P, Czene K (2016) Associations of breast cancer risk prediction tools with tumor characteristics and metastasis. J Clin Oncol 34(3):251–258

Eriksson M, Czene K, Strand F, Zackrisson S, Lindholm P, Lång K, Förnvik D, Sartor H, Mavaddat N, Easton D et al (2020) Identification of women at high risk of breast cancer who need supplemental screening. Radiology 297(2):327–333

Li J, Holm J, Bergh J, Eriksson M, Darabi H, Lindström LS, Törnberg S, Hall P, Czene K (2015) Breast cancer genetic risk profile is differentially associated with interval and screen-detected breast cancers. Ann Oncol 26(3):517–522

Evans DGR, Harkness EF, Brentnall AR, van Veen EM, Astley SM, Byers H, Sampson S, Southworth J, Stavrinos P, Howell SJ et al (2019) Breast cancer pathology and stage are better predicted by risk stratification models that include mammographic density and common genetic variants. Breast Cancer Res Treat 176(1):141–148

van den Broek JJ, Schechter CB, van Ravesteyn NT, Janssens A, Wolfson MC, Trentham-Dietz A, Simard J, Easton DF, Mandelblatt JS, Kraft P et al (2021) Personalizing breast cancer screening based on polygenic risk and family History. J Natl Cancer Inst 113(4):434–442
Funding
This work was supported by the Susan G. Komen Foundation (PI McCarthy CCR17480662).
Ethics declarations
Conflict of interest
Dr. Lehman reports that her institution, Massachusetts General Hospital, receives research support from GE Healthcare and Hologic, Inc. and that she is a co-founder and serves as a consultant to Clairity, Inc. The other authors report no conflicts of interest.
Research involving human and animal rights
The authors confirm that human research participants provided informed consent for their genetic information and data to be used for research purposes.
Additional information
Publisher's Note
Springer Nature remains neutral with regard to jurisdictional claims in published maps and institutional affiliations.
Appendix
Appendix
Rights and permissions
Springer Nature or its licensor holds exclusive rights to this article under a publishing agreement with the author(s) or other rightsholder(s); author self-archiving of the accepted manuscript version of this article is solely governed by the terms of such publishing agreement and applicable law.
About this article
Cite this article
McCarthy, A.M., Manning, A.K., Hsu, S. et al. Breast cancer polygenic risk scores are associated with short-term risk of poor prognosis breast cancer. Breast Cancer Res Treat 196, 389–398 (2022). https://doi.org/10.1007/s10549-022-06739-5
Received:

Accepted:

Published:

Issue Date:

DOI: https://doi.org/10.1007/s10549-022-06739-5
Keywords
Breast cancer

Polygenic risk score

Poor prognosis