Abstract
Purpose
For estrogen receptor (ER)-positive breast cancer, neoadjuvant endocrine therapy (NET) has been shown to be as effective as neoadjuvant chemotherapy (NACT). We evaluated the prognostic significance of Preoperative Endocrine Prognostic Index (PEPI).
Methods
We conducted a prospective, multi-center, non-randomized, controlled trial that enrolled postmenopausal early-stage strongly ER-positive (≥ 50%) and HER2-negative breast cancer patients. All patients were given 4-month NET before surgery. The primary objective was to investigate the 5-year recurrence-free survival (RFS) in patients who had PEPI 0–1 or pathological complete response (pCR) without chemotherapy. Patients who had PEPI 0–1 or pCR were recommended to receive adjuvant endocrine therapy only and patients had PEPI ≥ 2 may receive adjuvant chemotherapy at the discretion of the treating physician.
Results
A total of 410 patients were included and 352 patients constituted the per-protocol population. Overall, 9 patients (2.5%) had pCR (ypT0/is ypN0), 128 patients (36.4%) had PEPI = 0, and 56 patients (15.9%) had PEPI = 1. After a median follow-up of 60 months (4–104 months), patients who had PEPI 0–1 or pCR showed an improved 5-year RFS [99.5% (95% CI 98.5–99.9%) for PEPI 0–1 or pCR group vs. 93.7% (95% CI 89.6–97.8%) for PEPI ≥ 2 group, P = 0.028]. No survival difference was detected between patients received adjuvant chemotherapy vs. no chemotherapy among PEPI ≥ 2 cases.
Conclusion
PEPI 0–1 or pCR may be used to define a group of ER-positive and HER2-negative postmenopausal early breast cancer patients with low relapse risk for whom adjuvant chemotherapy can be safely withheld. Studies on the identification and alternative treatment options for endocrine-resistant tumors are warranted.
Clinical trial registration
NCT01613560.
Access options
Buy single article
Instant access to the full article PDF.
USD 39.95
Price excludes VAT (USA)
Tax calculation will be finalised during checkout.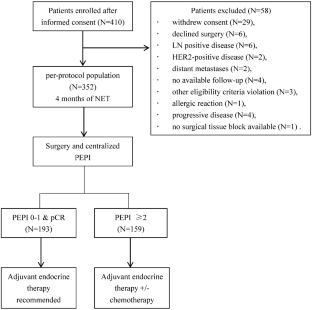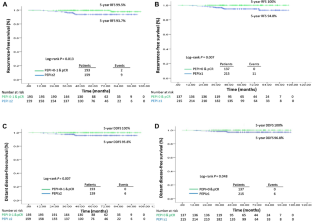 Data availability
Datasets generated during and/or analyzed in this study can be made available upon reasonable request. Please contact the corresponding author for more information.
Abbreviations
ALND:

Axillary lymph node dissection

BCS:

Breast-conserving surgery

DDFS:

Distant disease-free survival

ER:

Estrogen receptor

FISH:

Fluorescence in situ hybridization

HER2:

Human Epidermal Growth Factor Receptor 2

NACT:

Neoadjuvant chemotherapy

NET:

Neoadjuvant endocrine therapy

pCR:

Pathological complete response

PEPI:

Preoperative Endocrine Prognostic Index

RFS:

Recurrence-free survival

SLNB:

Sentinel lymph node biopsy
References
Parker JS, Mullins M, Cheang MC, Leung S, Voduc D, Vickery T, Davies S, Fauron C, He X, Hu Z, Quackenbush JF, Stijleman IJ, Palazzo J, Marron JS, Nobel AB, Mardis E, Nielsen TO, Ellis MJ, Perou CM, Bernard PS (2009) Supervised risk predictor of breast cancer based on intrinsic subtypes. J Clin Oncol 27:1160–1167

Preece PE, Wood RA, Mackie CR, Cuschieri A (1982) Tamoxifen as initial sole treatment of localised breast cancer in elderly women: a pilot study. Br Med J (Clin Res Ed) 284:869–870

Spring LM, Gupta A, Reynolds KL, Gadd MA, Ellisen LW, Isakoff SJ, Moy B, Bardia A (2016) Neoadjuvant endocrine therapy for estrogen receptor-positive breast cancer: a systematic review and meta-analysis. JAMA Oncol 2:1477–1486

Ellis MJ, Suman VJ, Hoog J, Lin L, Snider J, Prat A, Parker JS, Luo J, DeSchryver K, Allred DC, Esserman LJ, Unzeitig GW, Margenthaler J, Babiera GV, Marcom PK, Guenther JM, Watson MA, Leitch M, Hunt K, Olson JA (2011) Randomized phase II neoadjuvant comparison between letrozole, anastrozole, and exemestane for postmenopausal women with estrogen receptor-rich stage 2 to 3 breast cancer: clinical and biomarker outcomes and predictive value of the baseline PAM50-based intrinsic subtype–ACOSOG Z1031. J Clin Oncol 29:2342–2349

Eiermann W, Paepke S, Appfelstaedt J, Llombart-Cussac A, Eremin J, Vinholes J, Mauriac L, Ellis M, Lassus M, Chaudri-Ross HA, Dugan M, Borgs M (2001) Preoperative treatment of postmenopausal breast cancer patients with letrozole: a randomized double-blind multicenter study. Ann Oncol 12:1527–1532

Smith IE, Dowsett M, Ebbs SR, Dixon JM, Skene A, Blohmer JU, Ashley SE, Francis S, Boeddinghaus I, Walsh G (2005) Neoadjuvant treatment of postmenopausal breast cancer with anastrozole, tamoxifen, or both in combination: the Immediate Preoperative anastrozole, tamoxifen, or combined with tamoxifen (IMPACT) multicenter double-blind randomized trial. J Clin Oncol 23:5108–5116

Ellis MJ, Coop A, Singh B, Mauriac L, Llombert-Cussac A, Jänicke F, Miller WR, Evans DB, Dugan M, Brady C, Quebe-Fehling E, Borgs M (2001) Letrozole is more effective neoadjuvant endocrine therapy than tamoxifen for ErbB-1- and/or ErbB-2-positive, estrogen receptor-positive primary breast cancer: Evidence from a phase III randomized trial. J Clin Oncol 19:3808–3816

Davey MG, Ryan ÉJ, Boland MR, Barry MK, Lowery AJ, Kerin MJ (2021) Clinical utility of the 21-gene assay in predicting response to neoadjuvant endocrine therapy in breast cancer: a systematic review and meta-analysis. Breast 58:113–120

Carey LA, Dees EC, Sawyer L, Gatti L, Moore DT, Collichio F, Ollila DW, Sartor CI, Graham ML, Perou CM (2007) The triple negative paradox: primary tumor chemosensitivity of breast cancer subtypes. Clin Cancer Res 13:2329–2334

Cortazar P, Zhang L, Untch M, Mehta K, Costantino JP, Wolmark N, Bonnefoi H, Cameron D, Gianni L, Valagussa P, Swain SM, Prowell T, Loibl S, Wickerham DL, Bogaerts J, Baselga J, Perou C, Blumenthal G, Blohmer J, Mamounas EP, Bergh J, Semiglazov V, Justice R, Eidtmann H, Paik S, Piccart M, Sridhara R, Fasching PA, Slaets L, Tang S, Gerber B, Geyer CE Jr, Pazdur R, Ditsch N, Rastogi P, Eiermann W, von Minckwitz G (2014) Pathologic complete response and long-term clinical beneft in breast cancer: the CTNeoBC pooled analysis. Lancet 384:164–172

Liedtke C, Mazouni C, Hess KR, André F, Tordai A, Mejia JA, Symmans WF, Gonzalez-Angulo AM, Hennessy B, Green M, Cristofanilli M, Hortobagyi GN, Pusztai L (2008) Response to neoadjuvant therapy and long term survival in patients with triple negative breast cancer. J Clin Oncol 26:1275–1281

Ellis MJ, Tao Y, Luo J, A'Hern R, Evans DB, Bhatnagar AS, Chaudri Ross HA, von Kameke A, Miller WR, Smith I, Eiermann W, Dowsett M (2008) Outcome prediction for estrogen receptor-positive breast cancer based on postneoadjuvant endocrine therapy tumor characteristics. J Natl Cancer Inst 100:1380–1388

Ellis MJ (2017) Lessons in precision oncology from neoadjuvant endocrine therapy trials in ER+ breast cancer. Breast 34(Suppl 1):S104–S107

Pariser AC, Sedghi T, Soulos PR, Killelea B, Gross CP, Mougalian SS (2019) Utilization, duration, and outcomes of neoadjuvant endocrine therapy in the United States. Breast Cancer Res Treat 178:419–426

Dowsett M, Nielsen TO, A'Hern R, Bartlett J, Coombes RC, Cuzick J, Ellis M, Henry NL, Hugh JC, Lively T, McShane L, Paik S, Penault-Llorca F, Prudkin L, Regan M, Salter J, Sotiriou C, Smith IE, Viale G, Zujewski JA, Hayes DF (2011) Assessment of Ki67 in breast cancer: recommendations from the International Ki67 in Breast Cancer working group. J Natl Cancer Inst 103:1656–1664

Nielsen TO, Leung SCY, Rimm DL, Dodson A, Acs B, Badve S, Denkert C, Ellis MJ, Fineberg S, Flowers M, Kreipe HH, Laenkholm AV, Pan H, Penault-Llorca FM, Polley MY, Salgado R, Smith IE, Sugie T, Bartlett JMS, McShane LM, Dowsett M, Hayes DF (2021) Assessment of Ki67 in breast cancer: updated recommendations from the International Ki67 in Breast Cancer Working Group. J Natl Cancer Inst 113:808–819

Miller AB, Hoogstraten B, Staquet M, Winkler A (1981) Reporting results of cancer treatment. Cancer 47:207–214

Ogston KN, Miller ID, Payne S, Hutcheon AW, Sarkar TK, Smith I, Schofield A, Heys SD (2003) A new histological grading system to assess response of breast cancers to primary chemotherapy: prognostic significance and survival. Breast 12:320–327

Ying M, He Y, Qi M, Dong B, Lu A, Li J, Xie Y, Wang T, Lin B, Ouyang T (2013) Value of pre-treatment biomarkers in prediction of response to neoadjuvant endocrine therapy for hormone receptor-positive postmenopausal breast cancer. Chin J Cancer Res 25:397–404

von Minckwitz G, Huang CS, Mano MS, Loibl S, Mamounas EP, Untch M, Wolmark N, Rastogi P, Schneeweiss A, Redondo A, Fischer HH, Jacot W, Conlin AK, Arce-Salinas C, Wapnir IL, Jackisch C, DiGiovanna MP, Fasching PA, Crown JP, Wülfing P, Shao Z, Rota Caremoli E, Wu H, Lam LH, Tesarowski D, Smitt M, Douthwaite H, Singel SM, Geyer CE Jr (2019) Trastuzumab emtansine for residual invasive HER2-positive breast cancer. N Engl J Med 380:617–628

Masuda N, Lee SJ, Ohtani S, Im YH, Lee ES, Yokota I, Kuroi K, Im SA, Park BW, Kim SB, Yanagita Y, Ohno S, Takao S, Aogi K, Iwata H, Jeong J, Kim A, Park KH, Sasano H, Ohashi Y, Toi M (2017) Adjuvant capecitabine for breast cancer after preoperative chemotherapy. N Engl J Med 376:2147–2159

Ellis MJ, Suman VJ, Hoog J, Goncalves R, Sanati S, Creighton CJ, DeSchryver K, Crouch E, Brink A, Watson M, Luo J, Tao Y, Barnes M, Dowsett M, Budd GT, Winer E, Silverman P, Esserman L, Carey L, Ma CX, Unzeitig G, Pluard T, Whitworth P, Babiera G, Guenther JM, Dayao Z, Ota D, Leitch M, Olson JA Jr, Allred DC, Hunt K (2017) Ki67 proliferation Index as a tool for chemotherapy decisions during and after neoadjuvant aromatase inhibitor treatment of breast cancer: results From the American College of Surgeons Oncology Group Z1031 Trial (Alliance). J Clin Oncol 35:1061–1069

Ueno T, Saji S, Masuda N, Kuroi K, Sato N, Takei H, Yamamoto Y, Ohno S, Yamashita H, Hisamatsu K, Aogi K, Iwata H, Yamanaka T, Sasano H, Toi M (2018) Impact of clinical response to neoadjuvant endocrine therapy on patient outcomes: a follow-up study of JFMC34-0601 multicentre prospective neoadjuvant endocrine trial. ESMO Open 3(2):e000314

Kurozumi S, Matsumoto H, Inoue K, Tozuka K, Hayashi Y, Kurosumi M, Oyama T, Fujii T, Horiguchi J, Kuwano H (2018) Impact of combining the progesterone receptor and preoperative endocrine prognostic index (PEPI) as a prognostic factor after neoadjuvant endocrine therapy using aromatase inhibitors in postmenopausal ER positive and HER2 negative breast cancer. PLoS ONE 13:e0201846

Suman VJ, Ellis MJ, Ma CX (2015) The ALTERNATE trial: assessing a biomarker driven strategy for the treatment of post-menopausal women with ER+/Her2- invasive breast cancer. Chin Clin Oncol 4:34

Fisher B, Jeong JH, Bryant J, Anderson S, Dignam J, Fisher ER, Wolmark N (2004) Treatment of lymph-node-negative, oestrogen-receptor-positive breast cancer: long-term findings from National surgical adjuvant breast and bowel project randomised clinical trials. Lancet 364:858–868

Loibl S, Jackisch C, Lederer B, Untch M, Paepke S, Kümmel S, Schneeweiss A, Huober J, Hilfrich J, Hanusch C, Gerber B, Eidtmann H, Denkert C, Costa SD, Blohmer JU, Nekljudova V, Mehta K, von Minckwitz G (2015) Outcome after neoadjuvant chemotherapy in young breast cancer patients: a pooled analysis of individual patient data from eight prospectively randomized controlled trials. Breast Cancer Res Treat 152:377–387

Baxter DE, Kim B, Hanby AM, Verghese ET, Sims AH, Hughes TA (2018) Neoadjuvant endocrine therapy in breast cancer upregulates the cytotoxic drug pump ABCG2/BCRP, and may lead to resistance to subsequent chemotherapy. Clin Breast Cancer 18:481–488

Johnston SRD, Harbeck N, Hegg R, Toi M, Martin M, Shao ZM, Zhang QY, Martinez Rodriguez JL, Campone M, Hamilton E, Sohn J, Guarneri V, Okada M, Boyle F, Neven P, Cortés J, Huober J, Wardley A, Tolaney SM, Cicin I, Smith IC, Frenzel M, Headley D, Wei R, San Antonio B, Hulstijn M, Cox J, O'Shaughnessy J, Rastogi P (2020) Abemaciclib combined with endocrine therapy for the adjuvant treatment of HR+, HER2-, node-positive, high-risk, early breast cancer (monarchE). J Clin Oncol 38:3987–3998

Palmieri C, Cleator S, Kilburn LS, Kim SB, Ahn SH, Beresford M, Gong G, Mansi J, Mallon E, Reed S, Mousa K, Fallowfield L, Cheang M, Morden J, Page K, Guttery DS, Rghebi B, Primrose L, Shaw JA, Thompson AM, Bliss JM, Coombes RC (2014) NEOCENT: a randomised feasibility and translational study comparing neoadjuvant endocrine therapy with chemotherapy in ER-rich postmenopausal primary breast cancer. Breast Cancer Res Treat 148:581–590

Fontein DB, Charehbili A, Nortier JW, Meershoek-Klein Kranenbarg E, Kroep JR, Putter H, van Riet Y, Nieuwenhuijzen GA, de Valk B, Terwogt JM, Algie GD, Liefers GJ, Linn S, van de Velde CJ (2014) Efficacy of six month neoadjuvant endocrine therapy in postmenopausal, hormone receptor-positive breast cancer patients–a phase II trial. Eur J Cancer 50:2190–2200

Goldhirsch A, Ingle JN, Gelber RD, Coates AS, Thürlimann B, Senn HJ (2009) Thresholds for therapies: highlights of the St Gallen International Expert Consensus on the primary therapy of early breast cancer 2009. Ann Oncol 20:1319–1329

Korde LA, Somerfield MR, Carey LA, Crews JR, Denduluri N, Hwang ES, Khan SA, Loibl S, Morris EA, Perez A, Regan MM, Spears PA, Sudheendra PK, Symmans WF, Yung RL, Harvey BE, Hershman DL (2021) Neoadjuvant chemotherapy, endocrine therapy, and targeted therapy for breast cancer: ASCO guideline. J Clin Oncol 39:1485–1505
Funding
This study was supported by Novartis. The funder was not involved in the collection, analysis, or interpretation of the data, nor in the decision to submit for publication. The corresponding author confirms that he had access to all data and had final responsibility for the decision to submit for publication.
Ethics declarations
Conflict of interest
The authors declare no competing interest.
Ethical approval
The study was conducted in accordance with the Declaration of Helsinki and Good Clinical Practice guidelines and was approved by the institutional review board of all participating centers. All patients gave written informed consent.
Additional information
Publisher's Note
Springer Nature remains neutral with regard to jurisdictional claims in published maps and institutional affiliations.
Rights and permissions
Springer Nature or its licensor holds exclusive rights to this article under a publishing agreement with the author(s) or other rightsholder(s); author self-archiving of the accepted manuscript version of this article is solely governed by the terms of such publishing agreement and applicable law.
About this article
Cite this article
Wang, X., Fan, Z., Wang, X. et al. Neoadjuvant endocrine therapy for strongly hormone receptor-positive and HER2-negative early breast cancer: results of a prospective multi-center study. Breast Cancer Res Treat 195, 301–310 (2022). https://doi.org/10.1007/s10549-022-06686-1
Received:

Accepted:

Published:

Issue Date:

DOI: https://doi.org/10.1007/s10549-022-06686-1
Keywords
Neoadjuvant endocrine therapy

Breast cancer

Pathological response

Survival