Abstract
Purpose
A major question when treating HR+/HER2− metastatic breast cancer (MBC) is whether early introduction of chemotherapy (CT) increases endocrine resistance. We aimed to describe progression-free survival (PFS) under first endocrine therapy (ET) depending on whether given before or after CT in a large nationwide cohort, in the pre-CDK era.
Methods
The real-life retrospective ESME database includes all patients with MBC whose first-line treatment was initiated between 2008 and 2014 in one of the 18 French Comprehensive Cancer Centres. Our primary objective was to compare PFS from start of first ET in patients with HR+/HER2− MBC who received ET or CT first.
Results
We identified 6293 patients who received at least one ET line during their first two therapeutic lines for MBC. As first-line therapy, 3832 (60.9%) received ET alone (ET1 1st group), whilst 2461 (39.1%) received CT, including 2024 patients (32.2%) with maintenance ET after CT (ET1 after CT group). Median PFS under first ET was 12.4 months (95% CI 11.9–13.1) in ET 1st group vs. 12.6 months in ET1 after CT group (95% CI 12.1–13.4), HR 0.96 (95% CI 0.90–1.01, P = 0.1277).
Conclusions
PFS under first ET appears identical whether prescribed before or after chemotherapy. These data suggest chemotherapy does not promote endocrine resistance.
Access options
Buy single article
Instant access to the full article PDF.
USD 39.95
Price includes VAT (USA)
Tax calculation will be finalised during checkout.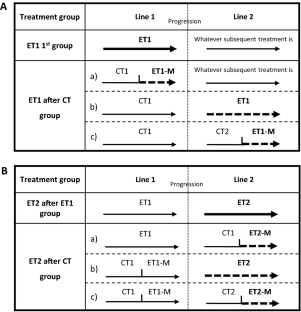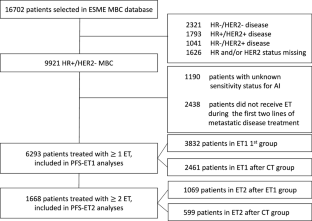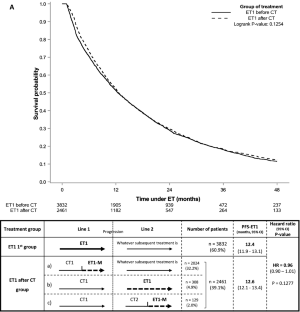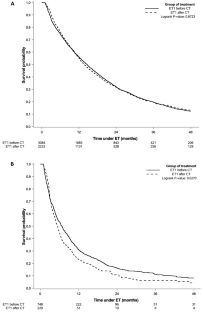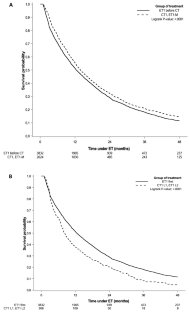 Data availability
All data are contained in the ESME data warehouse, which is managed by Unicancer. However, the ESME database is not publicly available for the following reason: in the ESME Research programme, public data sharing is not automatic to ensure that only trained users can analyse the ESME datasets. The analysis datasets will be made available only under data transfer and use agreements executed between Unicancer, and the potential licensee. Interested parties should contact the corresponding author.
References
1.

Ghoncheh M, Pournamdar Z, Salehiniya H (2016) Incidence and mortality and epidemiology of breast cancer in the world. Asian Pac J Cancer Prev 17(S3):43–46

2.

Ferlay J, Colombet M, Soerjomataram I, Dyba T, Randi G, Bettio M et al (2018) Cancer incidence and mortality patterns in Europe: estimates for 40 countries and 25 major cancers in 2018. Eur J Cancer 1(103):356–387

3.

Howlader N, Altekruse SF, Li CI, Chen VW, Clarke CA, Ries LAG et al (2014) US incidence of breast cancer subtypes defined by joint hormone receptor and HER2 status. JNCI. https://doi.org/10.1093/jnci/dju055

4.

Cortesi L, Toss A, Cirilli C, Marcheselli L, Braghiroli B, Sebastiani F et al (2015) Twenty-years experience with de novo metastatic breast cancer. Int J Cancer 137(6):1417–1426

5.

Deluche E, Antoine A, Bachelot T, Lardy-Cleaud A, Dieras V, Brain E et al (1990) Contemporary outcomes of metastatic breast cancer among 22,000 women from the multicentre ESME cohort 2008–2016. Eur J Cancer Oxf Engl 2020(129):60–70

6.

Cardoso F, Senkus E, Costa A, Papadopoulos E, Aapro M, André F et al (2018) 4th ESO-ESMO international consensus guidelines for advanced breast cancer (ABC 4). Ann Oncol 29(8):1634–1657

7.

Gradishar WJ, Anderson BO, Blair SL, Burstein HJ, Cyr A, Elias AD et al (2014) Breast cancer version 3.2014. J Natl Compr Cancer Netw 12(4):542–90

8.

Wilcken N, Hornbuckle J, Ghersi D (2003) Chemotherapy alone versus endocrine therapy alone for metastatic breast cancer. Cochrane Database Syst Rev 2021:CD002747

9.

Jacquet E, Lardy-Cléaud A, Pistilli B, Franck S, Cottu P, Delaloge S et al (1990) Endocrine therapy or chemotherapy as first-line therapy in hormone receptor-positive HER2-negative metastatic breast cancer patients. Eur J Cancer Oxf Engl 2018(95):93–101

10.

Bonotto M, Gerratana L, Di Maio M, De Angelis C, Cinausero M, Moroso S et al (2017) Chemotherapy versus endocrine therapy as first-line treatment in patients with luminal-like HER2-negative metastatic breast cancer: a propensity score analysis. Breast Edinb Scotl 31:114–120

11.

Le Saux O, Lardy-Cleaud A, Frank S, Debled M, Cottu PH, Pistilli B et al (2019) Assessment of the efficacy of successive endocrine therapies in hormone receptor-positive and HER2-negative metastatic breast cancer: a real-life multicentre national study. Eur J Cancer Oxf Engl 1990(118):131–141

12.

Lobbezoo DJA, van Kampen RJW, Voogd AC, Dercksen MW, van den Berkmortel F, Smilde TJ et al (2016) In real life, one-quarter of patients with hormone receptor-positive metastatic breast cancer receive chemotherapy as initial palliative therapy: a study of the Southeast Netherlands Breast Cancer Consortium. Ann Oncol Off J Eur Soc Med Oncol 27(2):256–262

13.

Watanabe J, Hayashi T, Tadokoro Y, Nishimura S, Takahashi K (2017) Clinical pattern of primary systemic therapy and outcomes of estrogen receptor-positive, HER2-negative metastatic breast cancer: a review of a single institution. Breast Cancer Res Treat 166(3):911–917

14.

Kim HK, Lee S-H, Kim YJ, Park SE, Lee HS, Lim SW et al (2019) Does guideline non-adherence result in worse clinical outcomes for hormone receptor-positive and HER2-negative metastatic breast cancer in premenopausal women?: result of an institution database from South Korea. BMC Cancer 19(1):84

15.

Walbaum B, Acevedo F, Medina L, Bravo ML, Merino T, Camus M et al (2020) First-line endocrine therapy for advanced breast cancer. a real-world study at a Latin American university health institution. Curr Med Res Opin 36:1195–1199

16.

UNICANCER—Key figures [Internet]. [cited 2021 May 9]. http://www.unicancer.fr/en/unicancer-group/key-figures

17.

Pérol M, Carton M, Debieuvre D, Quantin X, Girard N, Audigier-Vallette C et al (2021) Programme épidémio-stratégie médicoéconomique: une base nationale de données de vie réelle pour mieux comprendre la prise en charge du cancer bronchopulmonaire en France. Rev Mal Respir Actual 13(1):121

18.

Romeo C, Meeus P, Rodrigues M, Leblanc E, Floquet A, Pautier P et al (2019) EP967 Natural history of patients with BRCA-mutated high grade epithelial ovarian cancer (HGEOC) before the era of PARP inhibitors maintenance in 1st line treatment. Int J Gynecol Cancer. https://doi.org/10.1136/ijgc-2019-ESGO.1013

19.

Pérol D, Robain M, Arveux P, Mathoulin-Pélissier S, Chamorey E, Asselain B et al (2019) The ongoing French metastatic breast cancer (MBC) cohort: the example-based methodology of the epidemiological strategy and medical economics (ESME). BMJ Open 9(2):e023568

20.

Public Policy Committee, International Society of Pharmacoepidemiology (2016) Guidelines for good pharmacoepidemiology practice (GPP). Pharmacoepidemiol Drug Saf 25(1):2–10

21.

ADELF, ADEREST, AEEMA, EPITER (2008) Recommendations for professional standards and good epidemiological practices (version France 2007). Rev Epidemiol Sante Publique 56:S121–S175

22.

Finn RS, Martin M, Rugo HS, Jones S, Im S-A, Gelmon K et al (2016) Palbociclib and letrozole in advanced breast cancer. N Engl J Med 375(20):1925–1936

23.

Hortobagyi GN, Stemmer SM, Burris HA, Yap YS, Sonke GS, Paluch-Shimon S et al (2018) Updated results from MONALEESA-2, a phase III trial of first-line ribociclib plus letrozole versus placebo plus letrozole in hormone receptor-positive, HER2-negative advanced breast cancer. Ann Oncol Off J Eur Soc Med Oncol 29(7):1541–1547

24.

Tripathy D, Im S-A, Colleoni M, Franke F, Bardia A, Harbeck N et al (2018) Ribociclib plus endocrine therapy for premenopausal women with hormone-receptor-positive, advanced breast cancer (MONALEESA-7): a randomised phase 3 trial. Lancet Oncol 19(7):904–915

25.

Johnston S, Martin M, Di Leo A, Im S-A, Awada A, Forrester T et al (2019) MONARCH 3 final PFS: a randomized study of abemaciclib as initial therapy for advanced breast cancer. NPJ Breast Cancer 5:5

26.

Cristofanilli M, Turner NC, Bondarenko I, Ro J, Im S-A, Masuda N et al (2016) Fulvestrant plus palbociclib versus fulvestrant plus placebo for treatment of hormone-receptor-positive, HER2-negative metastatic breast cancer that progressed on previous endocrine therapy (PALOMA-3): final analysis of the multicentre, double-blind, phase 3 randomised controlled trial. Lancet Oncol 17(4):425–439
Acknowledgements
The authors thank all patients who participated to the ESME MBC real-life cohort. They also thank the 18 French Comprehensive Cancer Centres for providing the data and each ESME local coordinator for managing the project at the local level. Moreover, they thank the ESME Scientific Group and Strategic Committee for their ongoing support
18 Participating French Comprehensive Cancer Centres (FCCC): I. Curie, Paris/Saint-Cloud; G. Roussy, Villejuif; I. Cancérologie de l'Ouest, Angers/Nantes; C. F. Baclesse, Caen; ICM Montpellier; C. L. Bérard, Lyon; C. G-F Leclerc, Dijon; C. H. Becquerel, Rouen; I. C. Regaud, Toulouse; C. A. Lacassagne, Nice; Institut de Cancérologie de Lorraine, Nancy; C. E. Marquis, Rennes; I. Paoli-Calmettes, Marseille; C. J. Perrin, Clermont Ferrand; I. Bergonié, Bordeaux; C. P. Strauss, Strasbourg; I. J. Godinot, Reims; C. O. Lambret, Lille
ESME central coordinating staff: Programme director: Anne-Laure Martin. Data Management team: Coralie Courtinard, Emilie Nguyen, Olivier Payen, Irwin Piot, Dominique Schwob and Olivier Villacroux. Operational team: Nathalie Bouyer, Michaël Chevrot, Daniel Couch, Patricia D'Agostino, Pascale Danglot, Levent Dinc, Tahar Guesmia, Elodie Kupfer, Harmonie Oulie, Frédéric Roy, Gaëtane Simon and Toihiri Said. Software designer Team: Matou Diop, Blaise Fulpin, Fréja Messo, José Paredes and Alexandre Vanni
ESME local coordinators: Thomas Bachelot, Delphine Berchery, Etienne Brain, Mathias Breton, Loïc Campion, Emmanuel Chamorey, Sandrine Dabakuyo, Valérie Dejean, Stéphanie Delaine, Anne-Valérie Guizard, Anne Jaffré, Lilian Laborde, Carine Laurent, Marie-Paule Lebitasy, Agnès Loeb, Damien Parent, Geneviève Perrocheau, Marie-Ange Mouret-Reynier and Michel Velten.
Funding
This work was supported by R&D UNICANCER. The ESME MBC database is supported by an industrial consortium (Roche, Pierre Fabre, Pfizer, AstraZeneca, MSD, Eisai and Daiichi Sankyo). No Grant Numbers apply. Data collection, analyses and publications are managed entirely by UNICANCER independently of the industrial funding partners.
Ethics declarations
Conflict of interest
Dr Ledu has received compensation for her advisory role for Novartis, Lilly, Pfizer, Seatlle Genetics, Daiichi and Roche. She also has received research support from Pfizer, AstraZeneca, Novartis and Daiichi. Dr Frenel has received compensation for his advisory role for Novartis, Pfizer, Astra Zeneca, Lilly, Roche, Biocad, Daiichi, Tessaro, GSK and Pierre Fabre. Dr Bachelot has received compensation for his advisory role for Astra Zeneca, Novartis, Pfizer, Roche and SeaGen. He also has received research support from Roche, Pfizer, SeaGen and Astra Zeneca. Dr Corbaux, A. Lardy-Cléaud, Dr Alexandre, Dr Fontanilles, Dr Lévy, Dr Viansone, Dr Mailliez, Dr Debled, Dr Goncalves, Dr Lerebours, Dr Ferrero, Dr Eymard, Dr Mouret-Reynier, Dr Petit, Dr Dalenc, C. Courtinard and Dr Chaix declare no potential competing interests.
Ethical approval
The ESME database received approval from the French Data Protection Authority (Commission Nationale de l'Informatique et des Libertés, registration ID 1704113, authorization N DE-2013.-117). This work was approved by an independent ethics committee (Comité de Protection des Personnes Sud-Est II- 2015-79) which waived the requirement for dedicated informed consent. Approval of all patients for the use of their electronically recorded data had previously been obtained.
Additional information
Publisher's Note
Springer Nature remains neutral with regard to jurisdictional claims in published maps and institutional affiliations.
Supplementary Information
Below is the link to the electronic supplementary material.
About this article
Cite this article
Corbaux, P., Lardy-Cleaud, A., Alexandre, M. et al. Progression-free survival on endocrine therapy, before or after chemotherapy, in hormone receptor-positive HER2-negative metastatic breast cancer. Breast Cancer Res Treat (2021). https://doi.org/10.1007/s10549-021-06382-6
Received:

Accepted:

Published:
Keywords
Advanced breast cancer

HR+/HER2−

Endocrine therapy

Chemotherapy

Progression-free survival

Real-word data