Abstract
Background
Cancer-associated fibroblasts (CAFs) are recruited to the tumor microenvironment (TME) and are critical drivers of breast cancer (BC) malignancy. Circulating tumor cells (CTCs) travel through hematogenous routes to establish metastases. CTCs circulate both individually and, more rarely, in clusters with other cell types. Clusters of CTCs have higher metastatic potential than single CTCs. Previously, we identified circulating CAFs (cCAFs) in patients with BC and found that while healthy donors had no CTCs or cCAFs, both were present in most Stage IV patients. cCAFs circulate individually, as cCAF–cCAF homotypic clusters, and in heterotypic clusters with CTCs.
Methods
In this study, we evaluate CTCs, cCAFs, and heterotypic cCAF-CTC clusters in patients with stage I–IV BC. We evaluate the association of heterotypic clusters with BC disease progression and metastasis in a spontaneous mouse model. Using previously established primary BC and CAF cell lines, we examine the metastatic propensity of heterotypic cCAF-CTC clusters in orthotopic and tail vein xenograft mouse models of BC. Using an in vitro clustering assay, we determine factors that may be involved in clustering between CAF and BC cells.
Results
We report that the dissemination of CTCs, cCAFs, and clusters is an early event in BC progression, and we find these clusters in all clinical stages of BC. Furthermore, cCAFs-CTC heterotypic clusters have a higher metastatic potential than homotypic CTC clusters in vivo. We also demonstrate that the adhesion and stemness marker CD44, found on a subset of CTCs and CAF cells, is  involved in heterotypic clustering of these cells.
Conclusion
We identify a novel subset of circulating tumor cell clusters that are enriched with stromal CAF cells in BC patient blood and preclinical mouse models of BC metastasis. Our data suggest that clustering of CTCs with cCAFs augments their metastatic potential and that CD44 might be an important mediator of heterotypic clustering of cCAFs and BC cells.
Access options
Buy single article
Instant access to the full article PDF.
USD 39.95
Price excludes VAT (USA)
Tax calculation will be finalised during checkout.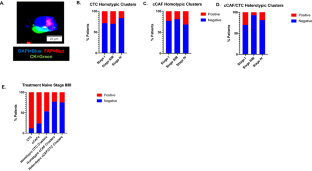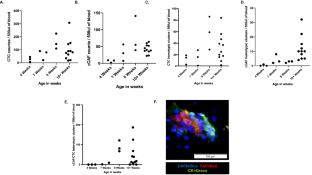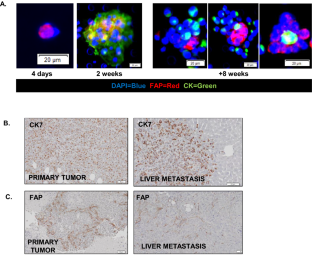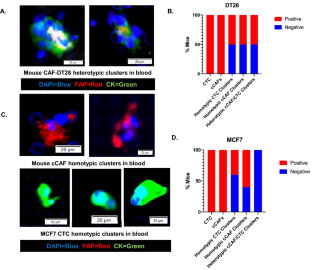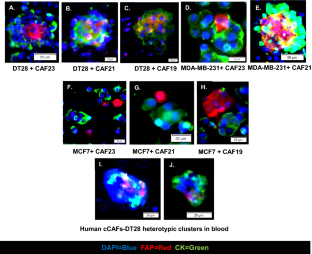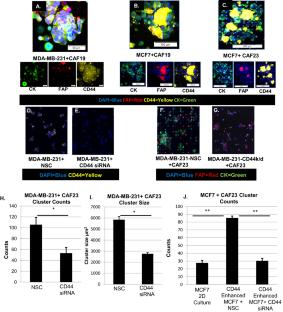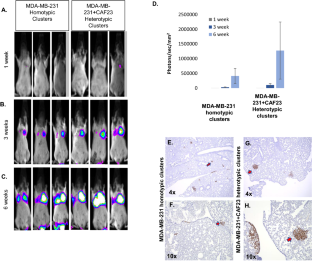 Data availability
The datasets generated during and/or analyzed during the current study are available from the corresponding author on reasonable request.
Abbreviations
CAF:

Cancer-associated fibroblast

TME:

Tumor microenvironment

BC:

Breast cancer

CTC:

Circulating tumor cell

cCSC:

Circulating cancer stem cell-like cell

cCAF:

Circulating cancer-associated fibroblast

MSC:

Mesenchymal stem cell

B-FGF:

Basic fibroblast growth factor

FAP:

Fibroblast activation protein

EMT:

Epithelial to mesenchymal transition

ECM:

Extracellular matrix

CSC:

Cancer stem cell

FBS:

Fetal bovine serum

NSG:

NOD-scid-gamma

IHC:

Immunohistochemistry

IF:

Immunofluorescence

MMTV PYMT:

FVB/N-Tg (MMTV-PyVT)634Mul/Jc

CK7:

Cytokeratin 7

ER:

Estrogen receptor

PR:

Progesterone receptor

AR:

Androgen receptor
References
Tlsty TD (2001) Stromal cells can contribute oncogenic signals. Semin Cancer Biol 11(2):97–104

Allinen M, Beroukhim R, Cai L, Brennan C, Lahti-Domenici J, Huang H, Porter D, Hu M, Chin L, Richardson A et al (2004) Molecular characterization of the tumor microenvironment in breast cancer. Cancer Cell 6(1):17–32

Nguyen DX, Bos PD, Massague J (2009) Metastasis: from dissemination to organ-specific colonization. Nat Rev Cancer 9(4):274-U265

Hanahan D, Weinberg RA (2011) Hallmarks of cancer: the next generation. Cell 144(5):646–674

Chen X, Song E (2019) Turning foes to friends: targeting cancer-associated fibroblasts. Nat Rev Drug Discov 18(2):99–115

Kalluri R (2016) The biology and function of fibroblasts in cancer. Nat Rev Cancer 16:582

Chan T-S, Shaked Y, Tsai KK (2019) Targeting the interplay between cancer fibroblasts, mesenchymal stem cells, and cancer stem cells in desmoplastic cancers. Front Oncol 9:688–688

Kalluri R, Zeisberg M (2006) Fibroblasts in cancer. Nat Rev Cancer 6(5):392–401

Orimo A, Gupta PB, Sgroi DC, Arenzana-Seisdedos F, Delaunay T, Naeem R, Carey VJ, Richardson AL, Weinberg RA (2005) Stromal fibroblasts present in invasive human breast carcinomas promote tumor growth and angiogenesis through elevated SDF-1/CXCL12 secretion. Cell 121(3):335–348

Straussman R, Morikawa T, Shee K, Barzily-Rokni M, Qian ZR, Du J, Davis A, Mongare MM, Gould J, Frederick DT et al (2012) Tumour micro-environment elicits innate resistance to RAF inhibitors through HGF secretion. Nature 487(7408):500–504

Shekhar MP, Santner S, Carolin KA, Tait L (2007) Direct involvement of breast tumor fibroblasts in the modulation of tamoxifen sensitivity. Am J Pathol 170(5):1546–1560

Huang M, Li Y, Zhang H, Nan F (2010) Breast cancer stromal fibroblasts promote the generation of CD44+CD24- cells through SDF-1/CXCR4 interaction. J Exp Clin Cancer Res 29(1):80

Lazennec G, Lam PY (2016) Recent discoveries concerning the tumor—mesenchymal stem cell interactions. Biochim et Biophys Acta (BBA) 186(2):290–299

Mishra PJ, Humeniuk R, Medina DJ, Alexe G, Mesirov JP, Ganesan S, Glod JW, Banerjee D (2008) Carcinoma-associated fibroblast-like differentiation of human mesenchymal stem cells. Cancer Res 68(11):4331–4339

Shinagawa K, Kitadai Y, Tanaka M, Sumida T, Kodama M, Higashi Y, Tanaka S, Yasui W, Chayama K (2010) Mesenchymal stem cells enhance growth and metastasis of colon cancer. Int J Cancer 127(10):2323–2333

Mi Z, Bhattacharya SD, Kim VM, Guo H, Talbot LJ, Kuo PC (2011) Osteopontin promotes CCL5-mesenchymal stromal cell-mediated breast cancer metastasis. Carcinogenesis 32(4):477–487

Calon A, Tauriello DVF, Batlle E (2014) TGF-beta in CAF-mediated tumor growth and metastasis. Semin Cancer Biol 25:15–22

Avery D, Govindaraju P, Jacob M, Todd L, Monslow J, Puré E (2018) Extracellular matrix directs phenotypic heterogeneity of activated fibroblasts. Matrix Biol 67:90–106

Lo A, Li CP, Buza EL, Blomberg R, Govindaraju P, Avery D, Monslow J, Hsiao M, Puré E (2017) Fibroblast activation protein augments progression and metastasis of pancreatic ductal adenocarcinoma. JCI Insight. https://doi.org/10.1172/jci.insight.92232

Sahai E, Astsaturov I, Cukierman E, DeNardo DG, Egeblad M, Evans RM, Fearon D, Greten FR, Hingorani SR, Hunter T et al (2020) A framework for advancing our understanding of cancer-associated fibroblasts. Nat Rev Cancer 20:174–186

Tchou J, Kossenkov AV, Chang L, Satija C, Herlyn M, Showe LC, Pure E (2012) Human breast cancer associated fibroblasts exhibit subtype specific gene expression profiles. BMC Med Genom 5:39

Santos AM, Jung J, Aziz N, Kissil JL, Puré E (2009) Targeting fibroblast activation protein inhibits tumor stromagenesis and growth in mice. J Clin Investig 119(12):3613–3625

Park JE, Lenter MC, Zimmermann RN, Garin-Chesa P, Old LJ, Rettig WJ (1999) Fibroblast activation protein, a dual specificity serine protease expressed in reactive human tumor stromal fibroblasts. J Biol Chem 274(51):36505–36512

Suetsugu A, Osawa Y, Nagaki M, Saji S, Moriwaki H, Bouvet M, Hoffman RM (2011) Imaging the recruitment of cancer-associated fibroblasts by liver-metastatic colon cancer. J Cell Biochem 112(3):949–953

Pantel K, Speicher MR (2016) The biology of circulating tumor cells. Oncogene 35(10):1216–1224

Aceto N, Toner M, Maheswaran S, Haber DA (2015) En route to metastasis: circulating tumor cell clusters and epithelial-to-mesenchymal transition. Trends in Cancer 1(1):44–52

Chiang SPH, Cabrera RM, Segall JE (2016) Tumor cell intravasation. Am J Physiol Cell Physiol 311(1):C1–C14

Racila E, Euhus D, Weiss AJ, Rao C, McConnell J, Terstappen LWMM, Uhr JW (1998) Detection and characterization of carcinoma cells in the blood. Proc Natl Acad Sci 95(8):4589

Fehm T, Sagalowsky A, Clifford E, Beitsch P, Saboorian H, Euhus D, Meng S, Morrison L, Tucker T, Lane N et al (2002) Cytogenetic evidence that circulating epithelial cells in patients with carcinoma are malignant. Clin Cancer Res 8(7):2073

Yu Y, Xiao CH, Tan LD, Wang QS, Li XQ, Feng YM (2013) Cancer-associated fibroblasts induce epithelial–mesenchymal transition of breast cancer cells through paracrine TGF-β signalling. Br J Cancer 110:724

Kraman M, Bambrough PJ, Arnold JN, Roberts EW, Magiera L, Jones JO, Gopinathan A, Tuveson DA, Fearon DT (2010) Suppression of antitumor immunity by stromal cells expressing fibroblast activation protein–α. Science 330(6005):827

Cirri P, Chiarugi P (2011) Cancer associated fibroblasts: the dark side of the coin. Am J Cancer Res 1(4):482–497

Gaggioli C, Hooper S, Hidalgo-Carcedo C, Grosse R, Marshall JF, Harrington K, Sahai E (2007) Fibroblast-led collective invasion of carcinoma cells with differing roles for RhoGTPases in leading and following cells. Nat Cell Biol 9(12):1392–1400

Glentis A, Oertle P, Mariani P, Chikina A, El Marjou F, Attieh Y, Zaccarini F, Lae M, Loew D, Dingli F et al (2017) Cancer-associated fibroblasts induce metalloprotease-independent cancer cell invasion of the basement membrane. Nat Commun 8(1):924

McCarthy JB, El-Ashry D, Turley EA (2018) Hyaluronan, cancer-associated fibroblasts and the tumor microenvironment in malignant progression. Front Cell Dev Biol 6:48–48

Brentnall TA (2012) Arousal of cancer-associated stromal fibroblasts: palladin-activated fibroblasts promote tumor invasion. Cell Adhes Migr 6(6):488–494

Cannon AR, Owen MK, Guerrero MS, Kerber ML, Goicoechea SM, Hemstreet KC, Klazynski B, Hollyfield J, Chang EH, Hwang RF et al (2015) Palladin expression is a conserved characteristic of the desmoplastic tumor microenvironment and contributes to altered gene expression. Cytoskeleton 72(8):402–411

Phillips KG, Kolatkar A, Rees KJ, Rigg R, Marrinucci D, Luttgen M, Bethel K, Kuhn P, McCarty OJ (2012) Quantification of cellular volume and sub-cellular density fluctuations: comparison of normal peripheral blood cells and circulating tumor cells identified in a breast cancer patient. Front Oncol 2:96

Stathopoulou A, Vlachonikolis I, Mavroudis D, Perraki M, Kouroussis C, Apostolaki S, Malamos N, Kakolyris S, Kotsakis A, Xenidis N et al (2002) Molecular detection of cytokeratin-19-positive cells in the peripheral blood of patients with operable breast cancer: evaluation of their prognostic significance. J Clin Oncol 20(16):3404–3412

Hayes DF, Cristofanilli M, Budd GT, Ellis MJ, Stopeck A, Miller MC, Matera J, Allard WJ, Doyle GV, Terstappen LWWM (2006) Circulating tumor cells at each follow-up time point during therapy of metastatic breast cancer patients predict progression-free and overall survival. Clin Cancer Res 12(14):4218–4224

Cristofanilli M, Budd GT, Ellis MJ, Stopeck A, Matera J, Miller MC, Reuben JM, Doyle GV, Allard WJ, Terstappen LWMM et al (2004) Circulating tumor cells, disease progression, and survival in metastatic breast cancer. N Engl J Med 351(8):781–791

Liu X, Taftaf R, Kawaguchi M, Chang Y-F, Chen W, Entenberg D, Zhang Y, Gerratana L, Huang S, Patel DB et al (2019) Homophilic CD44 interactions mediate tumor cell aggregation and polyclonal metastasis in patient-derived breast cancer models. Cancer Discov 9(1):96–113

Aceto N, Bardia A, Miyamoto DT, Donaldson MC, Wittner BS, Spencer JA, Yu M, Pely A, Engstrom A, Zhu H et al (2014) Circulating tumor cell clusters are oligoclonal precursors of breast cancer metastasis. Cell 158(5):1110–1122

Wang C, Mu Z, Chervoneva I, Austin L, Ye Z, Rossi G, Palazzo JP, Sun C, Abu-Khalaf M, Myers RE et al (2017) Longitudinally collected CTCs and CTC-clusters and clinical outcomes of metastatic breast cancer. Breast Cancer Res Treat 161(1):83–94

Wei R-r, Sun D-n, Yang H, Yan J, Zhang X, Zheng X-I, Fu X-h, Geng M-y, Huang X, Ding J (2018) CTC clusters induced by heparanase enhance breast cancer metastasis. Acta Pharmacol Sin 39(8):1326–1337

Gkountela S, Castro-Giner F, Szczerba BM, Vetter M, Landin J, Scherrer R, Krol I, Scheidmann MC, Beisel C, Stirnimann CU et al (2019) Circulating tumor cell clustering shapes DNA methylation to enable metastasis seeding. Cell 176(1):98-112.e114

Agnoletto C, Corrà F, Minotti L, Baldassari F, Crudele F, Cook WJJ, Di Leva G, d'Adamo AP, Gasparini P, Volinia S (2019) Heterogeneity in circulating tumor cells: the relevance of the stem-cell subset. Cancers 11(4):483

Bulfoni M, Turetta M, Del Ben F, Di Loreto C, Beltrami AP, Cesselli D (2016) Dissecting the heterogeneity of circulating tumor cells in metastatic breast cancer: going far beyond the needle in the haystack. Int J Mol Sci 17(10):1775

Ao Z, Shah SH, Machlin LM, Parajuli R, Miller PC, Rawal S, Williams AJ, Cote RJ, Lippman ME, Datar RH et al (2015) Identification of cancer-associated fibroblasts in circulating blood from patients with metastatic breast cancer. Cancer Res 75(22):4681–4687

Szczerba BM, Castro-Giner F, Vetter M, Krol I, Gkountela S, Landin J, Scheidmann MC, Donato C, Scherrer R, Singer J et al (2019) Neutrophils escort circulating tumour cells to enable cell cycle progression. Nature 566(7745):553–557

Liu C, Zhang Y, Lim S, Hosaka K, Yang Y, Pavlova T, Alkasalias T, Hartman J, Jensen L, Xing X et al (2017) A zebrafish model discovers a novel mechanism of stromal fibroblast-mediated cancer metastasis. Clin Cancer Res 23(16):4769–4779

De Angelis ML, Francescangeli F, Zeuner A (2019) Breast cancer stem cells as drivers of tumor chemoresistance, dormancy and relapse: new challenges and therapeutic opportunities. Cancers 11(10):1569

French R, Tornillo G (2019) Heterogeneity of mammary stem cells. In: Birbrair A (ed) Stem Cells heterogeneity in different organs. Springer International Publishing, Cham, pp 119–140

Liu S, Cong Y, Wang D, Sun Y, Deng L, Liu Y, Martin-Trevino R, Shang L, McDermott Sean P, Landis Melissa D et al (2014) Breast cancer stem cells transition between epithelial and mesenchymal states reflective of their normal counterparts. Stem Cell Rep 2(1):78–91

Senbanjo LT, Chellaiah MA (2017) CD44: a multifunctional cell surface adhesion receptor is a regulator of progression and metastasis of cancer cells. Front Cell Dev Biol 5:18–18

Kinugasa Y, Matsui T, Takakura N (2014) CD44 expressed on cancer-associated fibroblasts is a functional molecule supporting the stemness and drug resistance of malignant cancer cells in the tumor microenvironment. Stem Cells 32(1):145–156

Baccelli I, Schneeweiss A, Riethdorf S, Stenzinger A, Schillert A, Vogel V, Klein C, Saini M, Bäuerle T, Wallwiener M et al (2013) Identification of a population of blood circulating tumor cells from breast cancer patients that initiates metastasis in a xenograft assay. Nat Biotechnol 31:539

Drews-Elger K, Brinkman JA, Miller P, Shah SH, Harrell JC, da Silva TG, Ao Z, Schlater A, Azzam DJ, Diehl K et al (2014) Primary breast tumor-derived cellular models: characterization of tumorigenic, metastatic, and cancer-associated fibroblasts in dissociated tumor (DT) cultures. Breast Cancer Res Treat 144(3):503–517

Guy CT, Cardiff RD, Muller WJ (1992) Induction of mammary tumors by expression of polyomavirus middle T oncogene: a transgenic mouse model for metastatic disease. Mol Cell Biol 12(3):954–961

Lin HK, Zheng S, Williams AJ, Balic M, Groshen S, Scher HI, Fleisher M, Stadler W, Datar RH, Tai YC et al (2010) Portable filter-based microdevice for detection and characterization of circulating tumor cells. Clin Cancer Res 16(20):5011–5018

Zheng S, Lin H, Liu J-Q, Balic M, Datar R, Cote RJ, Tai Y-C (2007) Membrane microfilter device for selective capture, electrolysis and genomic analysis of human circulating tumor cells. J Chromatogr A 1162(2):154–161

Lin EY, Jones JG, Li P, Zhu L, Whitney KD, Muller WJ, Pollard JW (2003) Progression to malignancy in the polyoma middle T oncoprotein mouse breast cancer model provides a reliable model for human diseases. Am J Pathol 163(5):2113–2126

Christenson JL, Butterfield KT, Spoelstra NS, Norris JD, Josan JS, Pollock JA, McDonnell DP, Katzenellenbogen BS, Katzenellenbogen JA, Richer JK (2017) MMTV-PyMT and derived Met-1 mouse mammary tumor cells as models for studying the role of the androgen receptor in triple-negative breast cancer progression. Horm Cancer 8(2):69–77

Orimo A, Weinberg RA (2006) Stromal fibroblasts in cancer: a novel tumor-promoting cell type. Cell Cycle 5(15):1597–1601

Gao MQ, Kim BG, Kang S, Choi YP, Park H, Kang KS, Cho NH (2010) Stromal fibroblasts from the interface zone of human breast carcinomas induce an epithelial-mesenchymal transition-like state in breast cancer cells in vitro. J Cell Sci 123(Pt 20):3507–3514

Iorns E, Drews-Elger K, Ward TM, Dean S, Clarke J, Berry D, Ashry DE, Lippman M (2012) A new mouse model for the study of human breast cancer metastasis. Plos One 7(10):e47995

Clarke R, Brünner N, Katzenellenbogen BS, Thompson EW, Norman MJ, Koppi C, Paik S, Lippman ME, Dickson RB (1989) Progression of human breast cancer cells from hormone-dependent to hormone-independent growth both in vitro and in vivo. Proc Natl Acad Sci 86(10):3649

Liu Y, Yu C, Wu Y, Sun X, Su Q, You C, Xin H (2017) CD44+ fibroblasts increases breast cancer cell survival and drug resistance via IGF2BP3-CD44-IGF2 signalling. J Cell Mol Med 21(9):1979–1988

Ottewell PD, Coleman RE, Holen I (2005) From genetic abnormality to metastases: murine models of breast cancer and their use in the development of anticancer therapies. Breast Cancer Res Treat 96(2):101

Rashid OM, Nagahashi M, Ramachandran S, Dumur CI, Schaum JC, Yamada A, Aoyagi T, Milstien S, Spiegel S, Takabe K (2013) Is tail vein injection a relevant breast cancer lung metastasis model? J Thorac Dis 5(4):385–392

Kagan M, Howard D, Bendele T, Mayes J, Silvia J, Repollet M, Doyle J, Allard J, Tu N, Bui T et al (2002) A sample preparation and analysis system for identification of circulating tumor cells. J Clin Ligand Assay 25:104–110

Budd GT, Cristofanilli M, Ellis MJ, Stopeck A, Borden E, Miller MC, Matera J, Repollet M, Doyle GV, Terstappen LWMM et al (2006) Circulating tumor cells versus imaging—predicting overall survival in metastatic breast cancer. Clin Cancer Res 12(21):6403–6409

Au SH, Storey BD, Moore JC, Tang Q, Chen Y-L, Javaid S, Sarioglu AF, Sullivan R, Madden MW, O'Keefe R et al (2016) Clusters of circulating tumor cells traverse capillary-sized vessels. Proc Natl Acad Sci 113(18):4947

Jones ML, Siddiqui J, Pienta KJ, Getzenberg RH (2013) Circulating fibroblast-like cells in men with metastatic prostate cancer. Prostate 73(2):176–181

Chen X, Song E (2019) Turning foes to friends: targeting cancer-associated fibroblasts. Nat Rev Drug Discov 18(2):99–115
Acknowledgements
The authors thank the University of Miami Sylvester Cancer Center IVIS imaging core and University Imaging Center at the University of Minnesota for expert assistance with in vivo imaging and data analysis. They thank the University of Miami Clinical Research Services and S. Khadaran for navigating patient recruitment and sample acquisition. They thank L Machlin, T Yeasky, D Koyuncu, BJ Wasserlauf, SM Bare, and S Copley for technical assistance.
Funding
This work was supported in part by Breast Cancer Research Foundation BCRF-19-099 (ME Lippman), Prevent Cancer Foundation (D El-Ashry), and Sylvester Comprehensive Cancer Center, University of Miami and Masonic Cancer Center, University of Minnesota institutional funds (D El-Ashry).
Ethics declarations
Conflict of interests
The authors declare that they have no competing interests.
Ethical approval
This study was approved by the Institutional Review Board at the University of Miami (protocol numbers 20130312 and 20160356).
Consent to participate
All study participants provided written informed consent prior to study enrollment. Animal work was done in accordance with approved protocols from the Institutional Animal Care and Use Committee at the University of Miami and the University of Minnesota.
Additional information
Publisher's Note
Springer Nature remains neutral with regard to jurisdictional claims in published maps and institutional affiliations.
Supplementary Information
Below is the link to the electronic supplementary material.
About this article
Cite this article
Sharma, U., Medina-Saenz, K., Miller, P.C. et al. Heterotypic clustering of circulating tumor cells and circulating cancer-associated fibroblasts facilitates breast cancer metastasis. Breast Cancer Res Treat 189, 63–80 (2021). https://doi.org/10.1007/s10549-021-06299-0
Received:

Accepted:

Published:

Issue Date:

DOI: https://doi.org/10.1007/s10549-021-06299-0
Keywords
Breast Cancer

Metastasis

Tumor microenvironment

Circulating tumor cells

Cancer-associated fibroblasts

Breast cancer stem cells

Animal models of cancer