Abstract
Purpose
Racial/ethnic disparities in breast cancer outcomes may be related to quality of care and reflected in emergency department (ED) visits following primary treatment. We examined racial/ethnic variation in ED visits following breast cancer surgery.
Methods
Using linked data from the California Cancer Registry and California Office of Statewide Health Planning and Development, we identified 151,229 women diagnosed with stage 0-III breast cancer between 2005 and 2013 who received surgical treatment. Differences in odds of having at least one breast cancer-related ED visit within 90 days post-surgery were estimated with logistic regression controlling for clinical and sociodemographic variables. Secondary analyses examined health care-related moderators of disparities.
Results
Hispanics and non-Hispanic (NH) Blacks had an increased likelihood of having an ED visit within 90 days of surgery compared to NH Whites [OR = 1.11 (1.04–1.18), p = 0.0016; OR = 1.38 (1.27–1.50), p < 0.0001, respectively]; the likelihood was reduced in Asian/Pacific Islanders [aOR = 0.77 (0.71–0.84), p < 0.0001]. Medicaid and Medicare (vs. commercial insurance) increased the likelihood of ED visit for NH Whites, and to a lesser degree for Hispanics and NH Blacks (p < 0.0001 for interaction). Receipt of surgery at an NCI-designated Comprehensive Cancer Center or at a for-profit (vs. non-profit) hospital was associated with reduced likelihood of ED visits for all groups.
Conclusion
Racial/ethnic disparities in ED visits following breast cancer surgery persist after controlling for clinical and sociodemographic variables. Improving quality of care following breast cancer surgery could improve outcomes for all groups.
Access options
Buy single article
Instant access to the full article PDF.
US$ 39.95
Tax calculation will be finalised during checkout.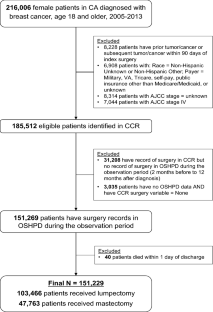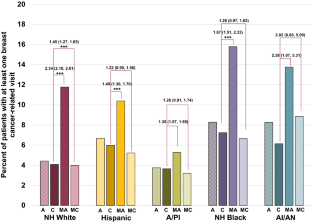 References
1.

ACS (2020) American Cancer Society. Cancer Facts & Figures 2020. American Cancer Society, Atlanta

2.

Ko NY, Hong S, Winn RA, Calip GS (2020) Association of insurance status and racial disparities with the detection of early-stage breast cancer. JAMA Oncol 6:385–392

3.

Scott LC, Mobley LR, Kuo TM, Il'yasova D (2019) Update on triple-negative breast cancer disparities for the United States: A population-based study from the United States Cancer Statistics database, 2010 through 2014. Cancer 125:3412–3417

4.

Fedewa SA, Ward EM, Stewart AK, Edge SB (2010) Delays in adjuvant chemotherapy treatment among patients with breast cancer are more likely in African American and Hispanic populations: a national cohort study 2004–2006. J Clin Oncol 28:4135–4141

5.

Bleicher RJ, Ruth K, Sigurdson ER, Beck JR, Ross E, Wong YN, Patel SA et al (2016) Time to surgery and breast cancer survival in the United States. JAMA Oncol 2:330–339

6.

de Melo Gagliato D, Lei X, Giordano SH, Valero V, Barcenas CH, Hortobagyi GN, Chavez-MacGregor M (2020) Impact of delayed neoadjuvant systemic chemotherapy on overall survival among patients with breast cancer. Oncologist 25(9):749–757

7.

Keating NL, Kouri EM, He Y, Freedman RA, Volya R, Zaslavsky AM (2016) Location isn't everything: proximity, hospital characteristics, choice of hospital, and disparities for breast cancer surgery patients. Health Serv Res 51:1561–1583

8.

Wolfson JA, Sun C-L, Wyatt LP, Hurria A, Bhatia S (2015) Impact of care at comprehensive cancer centers on outcome: results from a population-based study. Cancer 121:3885–3893

9.

Shariff-Marco S, Ellis L, Yang J, Koo J, John EM, Keegan THM, Cheng I et al (2020) Hospital characteristics and breast cancer survival in the California Breast Cancer Survivorship Consortium. JCO Oncol Pract 16:e517–e528

10.

Villagra VG, Bhuva B, Coman E, Smith DO, Fifield J (2019) Health insurance literacy: disparities by race, ethnicity, and language preference. Am J Manag Care 25:e71–e75

11.

Han SD, Barnes LL, Leurgans S, Yu L, Bennett DA, Boyle PA (2020) Literacy mediates racial differences in financial and healthcare decision making in older adults. J Am Geriatr Soc 68:1279–1285

12.

Hendren S, Chin N, Fisher S, Winters P, Griggs J, Mohile S, Fiscella K (2011) Patients' barriers to receipt of cancer care, and factors associated with needing more assistance from a patient navigator. J Natl Med Assoc 103:701–710

13.

Katz SJ, Wallner LP, Abrahamse PH, Janz NK, Martinez KA, Shumway DA, Hamilton AS et al (2017) Treatment experiences of Latinas after diagnosis of breast cancer. Cancer 123:3022–3030

14.

White-Means SI, Osmani AR (2017) Racial and ethnic disparities in patient-provider communication with breast cancer patients: evidence from 2011 MEPS and experiences with cancer supplement. Inquiry 54:46958017727104

15.

Thind A, Diamant A, Liu Y, Maly R (2009) Factors that determine satisfaction with surgical treatment of low-income women with breast cancer. Arch Surg 144:1068–1073

16.

Hawley ST, Janz NK, Hamilton A, Griggs JJ, Alderman AK, Mujahid M, Katz SJ (2008) Latina patient perspectives about informed treatment decision making for breast cancer. Patient Educ Couns 73:363–370

17.

Farias AJ, Ochoa CY, Toledo G, Bang SI, Hamilton AS, Du XL (2020) Racial/ethnic differences in patient experiences with health care in association with earlier stage at breast cancer diagnosis: findings from the SEER-CAHPS data. Cancer Causes Control 31:13–23

18.

Rose C-H, Jennifer M, Diana B, Greta F-S (2010) Doctors' and nurses' explanations for racial disparities in medical treatment. J Health Care Poor Underserved 21:386–400

19.

Handley NR, Schuchter LM, Bekelman JE (2018) Best practices for reducing unplanned acute care for patients with cancer. J Oncol Pract 14:306–313

20.

Earle CC, Park ER, Lai B, Weeks JC, Ayanian JZ, Block S (2003) Identifying potential indicators of the quality of end-of-life cancer care from administrative data. J Clin Oncol 21:1133–1138

21.

Knox-Rice T, Xuan L, Wadsworth H, Halm EA, Rhodes RL (2019) Examining the association between healthcare utilization and clinical characteristics among cancer patients in a Safety Net Health System. J Palliat Med 22:80–83

22.

Nasser JS, Huetteman HE, Chung TT, Chung KC (2018) Unplanned emergency department visits within 30 days of mastectomy and breast reconstruction. Plast Reconstr Surg 142:1411–1420

23.

Westley T, Syrowatka A, Henault D, Rho YS, Khazoom F, Chang SL, Tamblyn R et al (2018) Patterns and predictors of emergency department visits among older patients after breast cancer surgery: a population-based cohort study. J Geriatr Oncol 9:204–213

24.

Akinyemiju TF, Vin-Raviv N, Chavez-Yenter D, Zhao X, Budhwani H (2015) Race/ethnicity and socio-economic differences in breast cancer surgery outcomes. Cancer Epidemiol 39:745–751

25.

Mets EJ, Chouairi FK, Gabrick KS, Avraham T, Alperovich M (2019) Persistent disparities in breast cancer surgical outcomes among Hispanic and African American patients. Eur J Surg Oncol 45:584–590

26.

Collier W, Scheefer Van Boerum M, Kim J, Kwok AC (2019) Are 30-day outcomes enough? Late infectious readmissions following prosthetic-based breast reconstruction. Plast Reconstr Surg 144:360e–368e

27.

NAACCR (2009) NAACCR Latino Research Work Group. NAACCR Guideline for Enhancing Hispanic/Latino Identification: Revised NAACCR Hispanic/Latino Identification Algorithm [NHIA v2.2]. North American Association of Central Cancer Registries, Springfield

28.

Yang J, Schupp C, Harrati A, Clarke C, Keegan T, Gomez S (2014) Developing an area-based socioeconomic measure from American Community Survey data. Cancer Prevention Institute of California, Fremont. https://cancerregistry.ucsf.edu/sites/g/files/tkssra1781/f/wysiwyg/Yang%1720et%1720al.%202014_CPIC_ACS_SES_Index_Documentation_202013-202010-202014.pdf

29.

Yin D, Morris C, Allen M, Cress R, Bates J, Liu L (2010) Does socioeconomic disparity in cancer incidence vary across racial/ethnic groups? Cancer Causes Control 21:1721–1730

30.

Yost K, Perkins C, Cohen R, Morris C, Wright W (2001) Socioeconomic status and breast cancer incidence in California for different race/ethnic groups. Cancer Causes Control 12:703–711

31.

Gomez SL, Clarke CA, Shema SJ, Chang ET, Keegan THM, Glaser SL (2010) Disparities in Breast Cancer Survival Among Asian Women by Ethnicity and Immigrant Status: A Population-Based Study. Am J Public Health 100:861–869

32.

Appendix 1: CCR Stage at Diagnosis. In California Cancer Registry Data Dictionary. https://www.ccrcal.org/wpfd_file/california-cancer-registry-research-data-dictionary-march-2020_v1-1/

33.

Lichtensztajn DY, Giddings BM, Morris CR, Parikh-Patel A, Kizer KW (2017) Comorbidity index in central cancer registries: the value of hospital discharge data. Clin Epidemiol 9:601–609

34.

Haneuse S, Dominici F, Normand SL, Schrag D (2018) Assessment of between-hospital variation in readmission and mortality after cancer surgical procedures. JAMA Netw Open 1:e183038

35.

James TA, Kasumova G, Alapati A, Mamtani A (2019) Unplanned readmissions following breast cancer surgery. Am J Surg 218:988–992

36.

Dawes AJ, Sacks GD, Russell MM, Lin AY, Maggard-Gibbons M, Winograd D, Chung HR et al (2014) Preventable readmissions to surgical services: lessons learned and targets for improvement. J Am Coll Surg 219:382–389

37.

Onega T, Weiss J, Kerlikowske K, Wernli K, Buist DS, Henderson LM, Goodrich M et al (2014) The influence of race/ethnicity and place of service on breast reconstruction for Medicare beneficiaries with mastectomy. Springerplus 3:416

38.

Guller U, Safford S, Pietrobon R, Heberer M, Oertli D, Jain NB (2005) High hospital volume is associated with better outcomes for breast cancer surgery: analysis of 233,247 patients. World J Surg 29:994–999; discussion 999–1000

39.

Wasp GT, Alam SS, Brooks GA, Khayal IS, Kapadia NS, Carmichael DQ, Austin AM et al (2020) End-of-life quality metrics among medicare decedents at minority-serving cancer centers: a retrospective study. Cancer Med 9:1911–1921
Funding
This work was supported by the National Institutes of Health (R35 CA197461 to C.L.) and the Population Research Core and Data Science Core of the USC Norris Comprehensive Cancer Center (P30 CA014089 to USC Norris Comprehensive Cancer Center). The collection of cancer incidence data used in this study was supported by the California Department of Public Health pursuant to California Health and Safety Code section 103885; Centers for Disease Control and Prevention's (CDC) National Program of Cancer Registries, under cooperative agreement 5NU58DP006344; the National Cancer Institute's Surveillance, Epidemiology and End Results Program under contract HHSN261201800032I awarded to the University of California, San Francisco, contract HHSN261201800015I awarded to the University of Southern California, and contract HHSN261201800009I awarded to the Public Health Institute. The ideas and opinions expressed herein are those of the author(s) and do not necessarily reflect the opinions of the State of California, Department of Public Health, the National Cancer Institute, and the Centers for Disease Control and Prevention or their Contractors and Subcontractors.
Ethics declarations
Conflict of interest
Dr. Kang is on the speaker's bureau and served as a consultant for Puma Biotechnology, and has participated in an advisory board for Bristol-Myers Squibb. The other authors report nothing to disclose.
Ethical approval
This study was approved by the University of California Institutional Review Board.
Informed consent
Informed consent was waived for this retrospective analysis of deidentified data.
Additional information
Publisher's Note
Springer Nature remains neutral with regard to jurisdictional claims in published maps and institutional affiliations.
Supplementary Information
Below is the link to the electronic supplementary material.
About this article
Cite this article
Falcone, M., Liu, L., Farias, A. et al. Evidence for racial/ethnic disparities in emergency department visits following breast cancer surgery among women in California: a population-based study. Breast Cancer Res Treat 187, 831–841 (2021). https://doi.org/10.1007/s10549-021-06119-5
Received:

Accepted:

Published:

Issue Date:
Keywords
Breast cancer

Health disparities

Emergency department visits