Abstract
Purpose
The role of sentinel lymph node biopsy (SLNB) in breast cancer patients who undergo neoadjuvant chemotherapy (NAC) remains controversial. This study aims to investigate if axillary lymph node dissection (ALND) could be safely omitted after a negative SLNB in cN1/2 patients who become cN0 after NAC.
Methods
We retrospectively assessed T1–4, cN1/2 patients who were submitted to NAC between 2010 and 2016. T1–T3 patients who achieved complete axillary clinical response underwent SLNB. Those whose SLNs were negative were not subjected to additional ALND. The oncological outcomes of the patients were analyzed.
Results
Fifty-nine T1–T3 patients (45.0%) achieved a complete axillary response (cN0), and were selected to undergo SLNB. SLNs were detected in 55 of them (93.2%). Seventeen of those patients (30.9%) had SLN metastases detected and subsequently underwent ALND. In contrast, 38 patients (69.1%) had no nodal metastases detected and were managed without complementary ALND. After a mean follow-up of 55.8 months, only one patient (2.6%) submitted to SLNB without a complementary ALND had axillary recurrence as compared with three patients (3.2%) in the ALND group (p = 0.71). Distant recurrence occurred more frequently among patients submitted to ALND (92.1%) than among those only submitted to SLNB (7.9%) (p < 0.0006). Overall survival and disease-free survival were significantly better in patients who were not submitted to ALND.
Conclusion
SLNB could be successfully used in guiding a more selective axillary approach in cN+ patients that became cN0 after NAC. Omitting ALND in CN0 patients with negative SLNs did not seem to compromise disease control and oncological outcomes.
Access options
Buy single article
Instant access to the full article PDF.
US$ 39.95
Tax calculation will be finalised during checkout.
Subscribe to journal
Immediate online access to all issues from 2019. Subscription will auto renew annually.
US$ 119
Tax calculation will be finalised during checkout.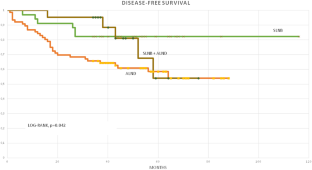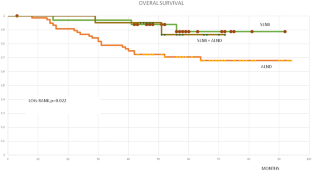 References
1.

Morrow M, Khan AJ (2020) Locoregional management after neoadjuvant chemotherapy. J Clin Oncol 38:2281–2289

2.

Surgical axillary staging. National Comprehensive Cancer Network (NCCN). Version 6.2020—September 8, 2020. BINV-D

3.

Cardoso F, Senkus E, Costa A et al (2018) 4th ESO-ESMO International Consensus Guidelines for Advanced Breast Cancer (ABC 4)†. Ann Oncol 29:1634–1657

4.

Balic M, Thomssen C, Würstlein R, Gnant M, Harbeck N (2019) St. Gallen/Vienna 2019: a brief summary of the consensus discussion on the optimal primary breast cancer treatment. Breast Care 14:103–110

5.

Boughey JC, Suman VJ, Mittendorf EA et al (2013) Sentinel lymph node surgery after neoadjuvant chemotherapy in patients with node-positive breast cancer: the ACOSOG Z1071 (Alliance) clinical trial. JAMA 310:1455–1461

6.

Kuehn T, Bauerfeind I, Fehm T et al (2013) Sentinel-lymph-node biopsy in patients with breast cancer before and after neoadjuvant chemotherapy (SENTINA): a prospective, multicentre cohort study. Lancet Oncol 14:609–618

7.

Boileau JF, Poirier B, Basik M et al (2015) Sentinel node biopsy after neoadjuvant chemotherapy in biopsy-proven node-positive breast cancer: the SN FNAC study. J Clin Oncol 33:258–264

8.

Classe JM, Loaec C, Gimbergues P et al (2019) Sentinel lymph node biopsy without axillary lymphadenectomy after neoadjuvant chemotherapy is accurate and safe for selected patients: the GANEA 2 study. Breast Cancer Res Treat 173:343–352

9.

Cavalcante FP, Millen EC, Zerwes FP, Novita GG (2020) Role of axillary surgery after neoadjuvant chemotherapy. JCO Glob Oncol 6:238–241

10.

Simons JM, Koppert LB, Luiten EJT et al (2020) De-escalation of axillary surgery in breast cancer patients treated in the neoadjuvant setting: a Dutch population-based study. Breast Cancer Res Treat 180(3):725–733

11.

Galimberti V, Fontana SKR, Maisonneuve P et al (2016) Sentinel node biopsy after neoadjuvant treatment in breast cancer: five-year follow-up of patients with clinically node-negative or node-positive disease before treatment. Eur J Surg Oncol 42:361–368

12.

Tee SR, Devane LA, Evoy D et al (2018) Meta-analysis of sentinel lymph node biopsy after neoadjuvant chemotherapy in patients with initial biopsy-proven nodepositive breast cancer. Br J Surg 105:1541–1552

13.

von Minckwitz G, Untch M, Nuesch E et al (2011) Impact of treatment characteristics on response of different breast cancer phenotypes: pooled analysis of the German neo-adjuvant chemotherapy trials. Breast Cancer Res Treat 125(1):145–156

14.

Goorts B, van Nijnatten TJ, de Munck L et al (2017) Clinical tumor stage is the most important predictor of pathological complete response rate after neoadjuvant chemotherapy in breast cancer patients. Breast Cancer Res Treat 163:83–91

15.

Ling DC, Iarrobino NA, Champ CE et al (2020) Regional recurrence rates with or without complete axillary dissection for breast cancer patients with node-positive disease on sentinel lymph node biopsy after neoadjuvant chemotherapy. Adv Radiat Oncol 5:163–170

16.

Langer I, Guller U, Berclaz G et al (2007) Morbidity of sentinel lymph node biopsy (sln) alone versus sln and completion axillary lymph node dissection after breast cancer surgery: a prospective Swiss multicenter study on 659 patients. Ann Surg 245:452–461

17.

von Minckwitz G, Blohmer JU, Costa SD et al (2013) Response-guided neoadjuvant chemotherapy for breast cancer. J Clin Oncol 31:3623–3630

18.

Spring LM, Fell G, Arfe A et al (2020) Pathological complete response after neoadjuvant chemotherapy and impact on breast cancer recurrence and survival: a comprehensive meta-analysis. Clin Cancer Res 26:2838–2848

19.

Boughey JC, Ballman KV, McCall LM et al (2017) Tumor biology and response to chemotherapy impact breast cancer-specific survival in node-positive breast cancer patients treated with neoadjuvant chemotherapy: long-term follow-up from ACOSOG Z1071 (Alliance). Ann Surg 266:667–676

20.

Peppe A, Wilson R, Pope R et al (2017) The use of ultrasound in the clinical re-staging of the axilla after neoadjuvant chemotherapy (NACT). Breast 35:104–108

21.

Di Micco R, Zuber V, Fiacco E et al (2019) Sentinel node biopsy after primary systemic therapy in node positive breast cancer patients: time trend, imaging staging power and nodal downstaging according to molecular subtype. Eur J Surg Oncol 45:969–975

22.

Helfgott R, Mittlbőck M, Miesbauer M et al (2019) The influence of breast cancer subtypes on axillary ultrasound accuracy: a retrospective single center analysis of 583 women. Eur J Surg Oncol 45:538–543

23.

Hieken TJ, Boughey JC, Jones KN et al (2013) Imaging response and residual metastatic axillary lymph node diseases after neoadjuvant chemotherapy for primary breast cancer. Ann Surg Oncol 20:3199–3204
Funding
The authors have no financial relationships relevant to this article to disclose.
Ethics declarations
Conflict of interest
The authors declare that they have no conflict of interest.
Ethical approval
All procedures performed in studies involving human participants followed the ethical standards of the institutional and national research committee and the 1964 Helsinki declaration and its later amendments or comparable ethical standards.
Informed consent
All information was obtained from the electronic hospital records. Additional informed consent was also obtained from the hospital, where information and databases were collected. The researchers are committed to preserving the privacy of patients, and they also agree that the information was used exclusively to study. Research involving human participants for the retrospective cohort study, individual formal consent is not required.
Additional information
Publisher's Note
Springer Nature remains neutral with regard to jurisdictional claims in published maps and institutional affiliations.
About this article
Cite this article
Damin, A.P., Zancan, M., Melo, M.P. et al. Sentinel lymph node biopsy after neoadjuvant chemotherapy in patients with node-positive breast cancer: guiding a more selective axillary approach. Breast Cancer Res Treat 186, 527–534 (2021). https://doi.org/10.1007/s10549-020-06011-8
Received:

Accepted:

Published:

Issue Date:
Keywords
Breast cancer

Sentinel lymph node

Neo-adjuvant chemotherapy

Axillary lymph node dissection

Axillary staging