Abstract
Purpose
Chemotherapy-induced alopecia (CIA) negatively affects psychosocial health and quality of life (QoL). Currently, there are no approved pharmacologic agents to prevent CIA. Here, we evaluated the safety, tolerability, and potential signal of efficacy of topical calcitriol (BPM31543) on CIA prevention.
Materials and methods
This Phase 1 trial included 23 female patients with breast cancer, gynecologic cancer, or sarcomas receiving a taxane-based chemotherapy. Patients received a 3 + 3 dose-escalation regimen at 5, 10, 20, 40, 60, and 80 μg/mL, with 3–6 patients per group. Patients applied topical BPM31543 to the scalp twice a day for 2 weeks prior to chemotherapy and continued until chemotherapy treatment was completed. The maximum tolerated dose (MTD) during first 28 day application was determined. Adverse event (AE) monitoring, pharmacokinetics, blinded photographic assessments, and patient self-assessment were evaluated.
Results
Out of 23 patients treated with BPM31543, 8 patients experienced at least 1 treatment-related adverse event (AE). The majority of AEs were mild to moderate in severity. Only 1 patient experienced SAEs (vomiting, nausea, fever, and flank pain) considered treatment related. Alopecia < 50% from baseline was observed in 8 patients at Week 7, and, of which 2 patients had < 50% alopecia maintained at Week 15. There were no detectable effects of topical BPM31543 on serum levels of calcitriol.
Conclusions
BPM31543 applied topically twice daily to the scalp is safe and well tolerated in patients receiving taxane-based chemotherapy. No DLT was observed at up to 80 µg/mL, and MTD was not reached. Based on the data from this trial, BPM31543 represents a promising therapy and warrants further investigation in Phase 2/3 trials.
This is a preview of subscription content, log in to check access.
Access options
Buy single article
Instant access to the full article PDF.
US$ 39.95
Tax calculation will be finalised during checkout.
Subscribe to journal
Immediate online access to all issues from 2019. Subscription will auto renew annually.
US$ 199
Tax calculation will be finalised during checkout.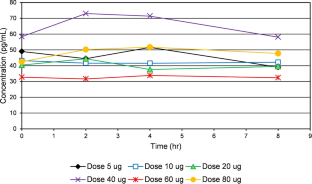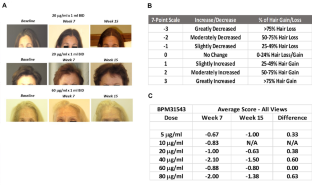 References
1.

Trüeb RM (2010) Chemotherapy-induced alopecia. Curr Opin Support Palliat Care 4(4):281–284

2.

Kim IR, Cho J, Choi EK et al (2012) Perception, attitudes, prepardedness and experience of chemotherapy-induced alopecia among breast cancer patients: a qualitative study. Asian Pac J Cancer Prev 13(4):1383–1388

3.

Wang J, Lu Z, Au JL (2006) Protection against chemotherapy-induced alopecia. Pharm Res 23(11):2505–2514

4.

West H (2017) Chemotherapy-induced hair loss (alopecia). JAMA Oncol 3(8):1147

5.

Lombardi D, Crivellari D, Scuderi C et al (2004) Long-term, weekly one-hour infusion of paclitaxel in patients with metastatic breast cancer: a phase II monoinstitutional study. Tumori 90(3):285–288

6.

Gasparini G, Gion M, Mariani L et al (2007) Randomized Phase II trial of weekly paclitaxel alone versus trastuzumab plus weekly paclitaxel as first-line therapy of patients with Her-2 positive advanced breast cancer. Breast Cancer Res Treat 101(3):355–365

7.

Kang D, Kim IR, Choi EK et al (2019) Permanent chemotherapy-induced alopecia in patients with breast cancer: a 3-year prospective cohort study. Oncologist 24(3):414–420

8.

Nangia J, Wang T, Osborne C et al (2017) Effect of a scalp cooling device on alopecia in women undergoing chemotherapy for breast cancer: the SCALP randomized clinical trial. JAMA 317(6):596–605

9.

Kruse M, Abraham J (2018) Management of chemotherapy-induced alopecia with scalp cooling. J Oncol Pract 14(3):149–154

10.

Xie Z, Komuves L, Yu QC et al (2002) Lack of the vitamin D receptor is associated with reduced epidermal differentiation and hair follicle growth. J Invest Dermatol 118(1):11–16

11.

Verstuyf A, Carmeliet G, Bouillon R, Mathieu C (2010) Vitamin D: a pleiotropic hormone. Kidney Int 78(2):140–145

12.

Hoot J, Sadeghpour EJC (2018) Nonscarring alopecia associated with vitamin D deficiency. Cutis 102(1):53–55

13.

Bikle DD, Elalieh H, Chang S et al (2006) Development and progression of alopecia in the vitamin D receptor null mouse. J Cell Physiol 207(2):340–353

14.

Lisse TS, Saini V, Zhao H et al (2014) The vitamin D receptor is required for activation of cWnt and hedgehog signaling in keratinocytes. Mol Endocrinol 28(10):1698–1706

15.

Kong J, Li XJ, Gavin D et al (2002) Targeted expression of human vitamin D receptor in the skin promotes the initiation of the postnatal hair follicle cycle and rescues the alopecia in vitamin D receptor null mice. J Invest Dermatol 118(4):631–638

16.

Brown AJ, Slatopolsky E (2008) Vitamin D analogs: Therapeutic applications and mechanisms for selectivity. Mol Aspects Med 29:433–452

17.

Jimenez JJ, Yunis AA (1992) Protection from chemotherapy-induced alopecia by 1,25-dihydroxy vitamin D3. Cancer Res 52(18):413–415

18.

Hidalgo M, Rinaldi D, Medina G et al (1999) A phase I trial of topical topitriol (calcitriol, 1,25-dihydroxyvitamin D3) to prevent chemotherapy-induced alopecia. Anticancer Drugs 10:393–395

19.

Bleiker TO, Nicolaou N, Traulsen J et al (2005) "Atrophic telogen effluvium" from cytotoxic drugs and a randomized controlled trial to investigate the possible protective effect of pretreatment with a topical vitamin D analogue in humans. Br J Dermatol 153(1):103–112
Funding
MEL and SBG have received research funding for this study from Berg LLC (Clinical Trial ID: NCT01588522) and are supported in part by the NIH/NCI Cancer Center Support Grant P30 CA008748.
Ethics declarations
Conflict of interest
MEL and SBG declare no conflicts of interest. HD, ST, KT, EMG, EB, NT, SL, ND, NRN, RS, and EG are former/current employees of BERG and have stock/stock options. BB and JJJ are current members of BERG's Scientific Advisory Board.
Ethical approval
All procedures performed involving human participants were in accordance with the ethical standards of the institutional and/or national research committee and with the 1964 Helsinki declaration and its later amendments or comparable ethical standards.
Informed consent
Informed consent was obtained from all individual participants included in the study.
Additional information
Publisher's Note
Springer Nature remains neutral with regard to jurisdictional claims in published maps and institutional affiliations.
Electronic supplementary material
Below is the link to the electronic supplementary material.
About this article
Cite this article
Lacouture, M.E., Dion, H., Ravipaty, S. et al. A phase I safety study of topical calcitriol (BPM31543) for the prevention of chemotherapy-induced alopecia. Breast Cancer Res Treat (2020). https://doi.org/10.1007/s10549-020-06005-6
Received:

Accepted:

Published:
Keywords
Chemotherapy-induced alopecia

Quality of life

Alopecia

Calcitriol