Abstract
Introduction
The Ontario High Risk Breast Screening program follows women aged 30–69 at an increased risk of breast cancer, using a yearly mammography and breast MRI. The aim of this study is to determine the clinical outcomes for the enrolled women.
Methods
Observational cohort study following 2081 participants in the high-risk screening program 2011–2017. The participants were divided into three subgroup according to their risk criteria: (a) known carriers of pathogenic variants (PV) in hereditary breast cancer genes. (b) Previous chest radiotherapy. (c) Estimated life time risk (ELR) ≥ 25%, calculated using the International Breast Cancer Intervention Study (IBIS) tool, with no known mutation or previous radiation. All Breast Cancer (BC) diagnosed during the follow-up time were recorded.
Results
673 women carried PVs in hereditary breast cancer genes, 159 had a history of chest radiotherapy, and 1249 had an ELR ≥ 25%. The total cohort of screening years was 8126. Median age at BC diagnosis was 41 for the first group, 47 for the second group and 51 for the third. BC incidence rate was 18.2 for PV mutation carriers, 17.9 for the chest radiotherapy group and 6.2 for ELR ≥ 25%. Hazard ratio was similar for the first two groups, but significantly lower for the ELR ≥ 25% group. When stratifying by age, the incidence rate in the ELR ≥ 25% increased over time, until it became similar to that of the other subgroups after age 50.
Conclusion
Our findings question the need to screen women with an elevated lifetime risk using the same screening practices used for women who are PV mutation carriers, or with a history of chest radiation, prior to the age of 50.
Access options
Buy single article
Instant access to the full article PDF.
US$ 39.95
Tax calculation will be finalised during checkout.
Subscribe to journal
Immediate online access to all issues from 2019. Subscription will auto renew annually.
US$ 119
Tax calculation will be finalised during checkout.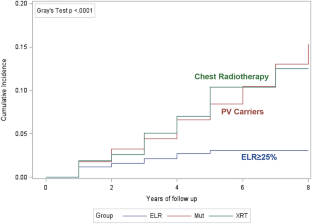 References
1.

Saadatmand S, Bretveld R, Siesling S, Tilanus-Linthorst MM (2015) Influence of tumour stage at breast cancer detection on survival in modern times: population based study in 173 797 patients. BMJ 6(351):h4901

2.

Myers ER, Moorman P, Gierisch JM, Crowley MJ, McCrory DC, Kendrick A et al (2015) Benefits and harms of breast cancer screening: a systematic review. Jama 314(15):1615–34

3.

Paci E (2012) Summary of the evidence of breast cancer service screening outcomes in Europe and first estimate of the benefit and harm balance sheet. J Med Screen 19(1_suppl):5–13

4.

Nyström L, Bjurstam N, Jonsson H, Zackrisson S, Frisell J (2017) Reduced breast cancer mortality after 20+ years of follow-up in the Swedish randomized controlled mammography trials in Malmö, Stockholm, and Göteborg. J Med Screen 24(1):34–42

5.

Monticciolo DL, Newell MS, Moy L, Niell B, Monsees B, Sickles EA (2018) Breast cancer screening in women at higher-than-average risk: recommendations from the ACR. J Am Coll Radiol 15(3):408–414

6.

Mann RM, Balleyguier C, Baltzer PA et al (2015) Breast MRI: EUSOBI recommendations for women's information. Eur Radiol 25(12):3669–3678

7.

National Collaborating Centre for Cancer (UK) (2013) Familial breast cancer: classification and care of people at risk of familial breast cancer and management of breast cancer and related risks in people with a family history of breast cancer. National Collaborating Centre for Cancer (UK), Cardiff UK

8.

National Comprehensive Cancer Network, Breast Cancer Screening and Diagnosis (version 1.2019) https://www.nccn.org/professionals/physician_gls/pdf/breast-screening.pdf. Accessed 2/7/2019

9.

Cancer Care Ontario, Ontario Breast Screening Program Information for Healthcare Providers; October 2015 https://www.cancercareontario.ca/sites/ccocancercare/files/assets/OBSPHealthcareProviders.pdfAccessed 2/7/2019

10.

Lowry KP, Lee JM, Kong CY et al (2012) Annual screening strategies in BRCA1 and BRCA2 gene mutation carriers: a comparative effectiveness analysis. Cancer 118(8):2021–2030

11.

Passaperuma K, Warner E, Causer PA et al (2012) Long-term results of screening with magnetic resonance imaging in women with BRCA mutations. Br J Cancer 107(1):24

12.

Warner E, Hill K, Causer P et al (2011) Prospective study of breast cancer incidence in women with a BRCA1 or BRCA2 mutation under surveillance with and without magnetic resonance imaging. J Clin Oncol 29(13):1664

13.

Gareth ED, Nisha K, Yit L et al (2014) MRI breast screening in high-risk women: cancer detection and survival analysis. Breast Cancer Res Treat 145(3):663–72

14.

Freitas V, Scaranelo A, Menezes R, Kulkarni S, Hodgson D, Crystal P (2013) Added cancer yield of breast magnetic resonance imaging screening in women with a prior history of chest radiation therapy. Cancer 119(3):495–503

15.

Tieu MT, Cigsar C, Ahmed S et al (2014) Breast cancer detection among young survivors of pediatric Hodgkin lymphoma with screening magnetic resonance imaging. Cancer 120(16):2507–2513

16.

Saadatmand S, Geuzinge HA, Rutgers EJ et al (2019) MRI versus mammography for breast cancer screening in women with familial risk (FaMRIsc): a multicentre, randomised, controlled trial. Lancet Oncol. 20:1136–1147

17.

Phi XA, Houssami N, Hooning MJ et al (2017) Accuracy of screening women at familial risk of breast cancer without a known gene mutation: Individual patient data meta-analysis. Eur J Cancer 1(85):31–38

18.

Bick U, Engel C, Krug B et al (2019) High-risk breast cancer surveillance with MRI: 10-year experience from the German consortium for hereditary breast and ovarian cancer. Breast Cancer Res Treat 175(1):217–228

19.

Kuhl C, Weigel S, Schrading S et al (2010) Prospective multicenter cohort study to refine management recommendations for women at elevated familial risk of breast cancer: the EVA trial. J Clin Oncol 28(9):1450–1457

20.

Gray RJ (1988) A class of K sample tests for comparing the cumulative incidence of a competing risk. Ann Stat 16(3):1141–1154

21.

Canadian Cancer Statistics Advisory Committee. Canadian Cancer Statistics 2018. Toronto, ON: Canadian Cancer Society; June 2018. https://www.cancer.ca/Canadian-Cancer-Statistics-2018-EN. Accessed 2/7/2019

22.

Amir E, Freedman OC, Seruga B, Evans DG (2010) Assessing women at high risk of breast cancer: a review of risk assessment models. JNCI 102(10):680–91

23.

Terry MB, Liao Y, Whittemore AS et al (2019) 10-year performance of four models of breast cancer risk: a validation study. Lancet Oncol 20(4):504–517

24.

Brentnall AR, Cuzick J, Buist DS, Bowles EJ (2018) Long-term accuracy of breast cancer risk assessment combining classic risk factors and breast density. JAMA Oncol 4(9):e180174

25.

Lo LL, Milne RL, Liao Y, Cuzick J, Terry MB, Phillips KA (2018) Validation of the IBIS breast cancer risk evaluator for women with lobular carcinoma in-situ. Br J Cancer 119(1):36

26.

Menes TS, Kerlikowske K, Lange J, Jaffer S, Rosenberg R, Miglioretti DL (2017) Subsequent breast cancer risk following diagnosis of atypical ductal hyperplasia on needle biopsy. JAMA Oncol 3(1):36–41

27.

Quante AS, Whittemore AS, Shriver T, Hopper JL, Strauch K, Terry MB (2015) Practical problems with clinical guidelines for breast cancer prevention based on remaining lifetime risk. J Natl Cancer Inst. 107(7):djv124. https://doi.org/10.1093/jnci/djv124

28.

Surveillance, Epidemiology, and End Results (SEER) Program (www.seer.cancer.gov) SEER*Stat Database: Table 1.11 Median Age of Cancer Patients at Diagnosis, 2012–2016. https://seer.cancer.gov/csr/1975_2016/results_single/sect_01_table.11_2pgs.pdf#search=median%2520age%2520at%2520diagnosis. Accessed 2/7/2019

29.

National Comprehensive Cancer Network, Breast Cancer (version 3.2020) https://www.nccn.org/professionals/physician_gls/pdf/breast.pdf Accessed 20/3/20
Ethics declarations
Conflict of interest
The authors declare that they have no conflicts of interest.
Ethical approval
This article does not contain any studies with human participants or animals performed by any of the authors.
Additional information
Publisher's Note
Springer Nature remains neutral with regard to jurisdictional claims in published maps and institutional affiliations.
About this article
Cite this article
Hermann, N., Klil-Drori, A., Angarita, F.A. et al. Screening women at high risk for breast cancer: one program fits all?. Breast Cancer Res Treat 184, 763–770 (2020). https://doi.org/10.1007/s10549-020-05895-w
Received:

Accepted:

Published:

Issue Date:
Keywords
Breast cancer screening

High risk screening