Abstract
Background
Black and Hispanic patients participate in clinical trials at lower rates than white patients nationally; lack of diversity in clinical trials prevents appropriate safety and efficacy testing of new treatments in these populations.
Methods
The Oncology Welcomes New Haven into Trials (OWN IT) initiative at the Yale Cancer Center used a multi-tiered approach to improve breast cancer minority clinical trial accrual through community focus groups, ongoing community outreach, institutional executive council representation, grand rounds presentation, and didactic lectures with healthcare providers. Eligibility criteria of breast cancer trials at Smilow Cancer Center were reviewed using clinicaltrials.gov. Also, an anonymous, 5-min survey was conducted at regular visits with Smilow Breast Center patients to gauge awareness of and access to clinical trials. Survey data were compared to the Yale Cancer Center Clinical Trials Office, Connecticut Tumor Registry, and U.S. Census records. Two-tailed Fisher's tests were used for all analyses.
Results
There was a significant increase in the number of minority patients who participated in clinical trials at Smilow Cancer Center from 2016 (95/750) to 2018 (155/944) (p = 0.0325). Two hundred patients participated in the survey; response rate 92%. There was no significant difference in the rate at which patients were invited to participate in clinical trials or the rate at which they declined to participate based on race or ethnicity. Black and Hispanic patients were significantly less likely to be aware of clinical trials than white patients (p < .001). The review of eligibility criteria showed that over half of the studies reviewed had restrictions regarding increased liver function tests, and many restricted the participation of patients with other chronic conditions.
Conclusions
Low participation in clinical trials among black and Hispanic patients is likely multifaceted. This study indicated that there are likely structural factors at work which can be modified with institutional effort. The role of patient education regarding clinical trials and accrual should be studied further as should eligibility criteria as a potential barrier to participation.
Access options
Buy single article
Instant access to the full article PDF.
US$ 39.95
Tax calculation will be finalised during checkout.
Subscribe to journal
Immediate online access to all issues from 2019. Subscription will auto renew annually.
US$ 119
Tax calculation will be finalised during checkout.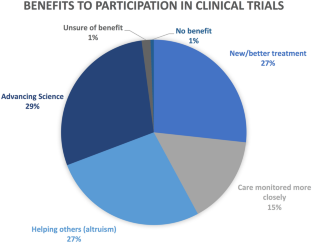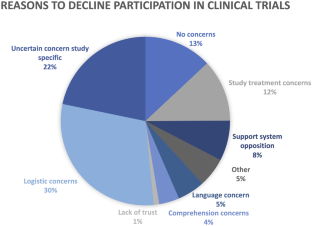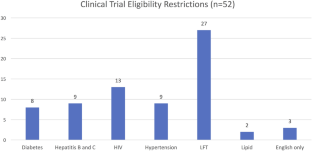 Data Availability
The datasets used and/or analyzed during the current study are available from the corresponding author on reasonable request.
References
1.

Carson P, Ziesche S, Johnson G, Cohn JN (1999) Racial differences in response to therapy for heart failure: analysis of the vasodilator-heart failure trials. Vasodilator-heart failure trial study group. J Card Fail 5(3):178–187

2.

Ramamoorthy A, Pacanowski MA, Bull J, Zhang L (2015) Racial/ethnic differences in drug disposition and response: review of recently approved drugs. Clin Pharmacol Ther 97(3):263–273

3.

Wright JT Jr, Dunn JK, Cutler JA, Davis BR, Cushman WC, Ford CE et al (2005) Outcomes in hypertensive black and nonblack patients treated with chlorthalidone, amlodipine, and lisinopril. JAMA 293(13):1595–1608

4.

McCarthy CR (1994) Historical background of clinical trials involving women and minorities. Acad Med 69(9):695–698

5.

Coakley M, Fadiran EO, Parrish LJ, Griffith RA, Weiss E, Carter C (2012) Dialogues on diversifying clinical trials: successful strategies for engaging women and minorities in clinical trials. J Womens Health (Larchmt) 21(7):713–716

6.

Murthy VH, Krumholz HM, Gross CP (2004) Participation in cancer clinical trials: race-, sex-, and age-based disparities. JAMA 291(22):2720–2726

7.

Newman LA, Roff NK, Weinberg AD (2008) Cancer clinical trials accrual: missed opportunities to address disparities and missed opportunities to improve outcomes for all. Ann Surg Oncol 15(7):1818–1819

8.

Duma N, Vera Aguilera J, Paludo J, Haddox CL, Gonzalez Velez M, Wang Y et al (2018) Representation of minorities and women in oncology clinical trials: review of the past 14 years. J Oncol Pract 14(1):e1–e10

9.

Albano JD, Ward E, Jemal A, Anderson R, Cokkinides VE, Murray T et al (2007) Cancer mortality in the united states by education level and race. JNCI: J Nat Cancer Instit 99(18):1384–94

10.

Ward E, Jemal A, Cokkinides V, Singh GK, Cardinez C, Ghafoor A et al (2004) Cancer disparities by race/ethnicity and socioeconomic status. CA: A Cancer J Clin 54(2):78–93

11.

Parker SL, Davis KJ, Wingo PA, Ries LAG, Heath CW Jr (1998) Cancer statistics by race and ethnicity. CA: A Cancer J Clin 48(1):31–48

12.

Caplan A, Friesen P (2017) Health disparities and clinical trial recruitment: is there a duty to tweet? PLoS Biol 15(3):e2002040

13.

Clark LT, Watkins L, Pina IL, Elmer M, Akinboboye O, Gorham M et al (2019) Increasing diversity in clinical trials: overcoming critical barriers. Curr Probl Cardiol 44(5):148–172

14.

Ford JG, Howerton MW, Lai GY, Gary TL, Bolen S, Gibbons MC et al (2008) Barriers to recruiting underrepresented populations to cancer clinical trials: a systematic review. Cancer 112(2):228–242

15.

Hamel LM, Penner LA, Albrecht TL, Heath E, Gwede CK, Eggly S (2016) Barriers to clinical trial enrollment in racial and ethnic minority patients with cancer. Cancer Control 23(4):327–337

16.

Qualtrics software (2019) Qualtrics and all other Qualtrics product or service names are registered trademarks or trademarks of Qualtrics. Provo, UT, USA. https://www.qualtrics.com/

17.

The Connecticut Tumor Registry (2016) Female Breast Cancer in CT by Race/Ethnicity and Stage at Diagnosis, Surveillance, Epidemiology, and End Results (SEER) Program, National Cancer Institute, DCCPS, Surveillance Research Program. https://portal.ct.gov/DPH/Tumor-Registry/CTR-Home. Accessed Oct 2018

18.

Loree JM, Anand S, Dasari A, Unger JM, Gothwal A, Ellis LM et al (2019) Disparity of race reporting and representation in clinical trials leading to cancer drug approvals from 2008 to 2018. JAMA Oncol 2019:e191870

19.

Nazha B, Mishra M, Pentz R, Owonikoko TK (2019) Enrollment of racial minorities in clinical trials: old problem assumes new urgency in the age of immunotherapy. Am Soc Clin Oncol Educ Book 39:3–10

20.

Howerton MW, Gibbons MC, Baffi CR, Gary TL, Lai GY, Bolen S et al (2007) Provider roles in the recruitment of underrepresented populations to cancer clinical trials. Cancer 109(3):465–476

21.

Occa A, Morgan SE, Potter JE (2018) Underrepresentation of hispanics and other minorities in clinical trials: recruiters' perspectives. J Racial Ethn Health Disparities 5(2):322–332

22.

Winter SS, Page-Reeves JM, Page KA, Haozous E, Solares A, Nicole Cordova C et al (2018) Inclusion of special populations in clinical research: important considerations and guidelines. J Clin Transl Res 4(1):56–69

23.

Davis TC, Arnold CL, Mills G, Miele L (2019) A qualitative study exploring barriers and facilitators of enrolling underrepresented populations in clinical trials and biobanking. Front Cell Dev Biol 7:74

24.

Vaughan AS, Rosenberg E, Shouse RL, Sullivan PS (2014) Connecting race and place: a county-level analysis of White, Black, and Hispanic HIV prevalence, poverty, and level of urbanization. Am J Public Health 104(7):e77–84

25.

Spanakis EK, Golden SH (2013) Race/ethnic difference in diabetes and diabetic complications. Curr Diab Rep 13(6):814–823

26.

Lackland DT (2014) Racial differences in hypertension: implications for high blood pressure management. Am J Med Sci 348(2):135–138

27.

Forde KA, Tanapanpanit O, Reddy KR (2014) Hepatitis B and C in African Americans: current status and continued challenges. Clin Gastroenterol Hepatol 12(5):738–748

28.

Marchesini G, Moscatiello S, Di Domizio S, Forlani G (2008) Obesity-associated liver disease. J Clin Endocrinol Metabol 93(1):74–80

29.

Forlani G, Di Bonito P, Mannucci E, Capaldo B, Genovese S, Orrasch M et al (2008) Prevalence of elevated liver enzymes in Type 2 diabetes mellitus and its association with the metabolic syndrome. J Endocrinol Invest 31(2):146–152

30.

Kim ES, Bruinooge SS, Roberts S, Ison G, Lin NU, Gore L et al (2017) Broadening eligibility criteria to make clinical trials more representative: american society of clinical oncology and friends of cancer research joint research statement. J Clin Oncol 35(33):3737–3744

31.

Behring M, Hale K, Ozaydin B, Grizzle WE, Sodeke SO, Manne U. (2019) Inclusiveness and ethical considerations for observational, translational, and clinical cancer health disparity research. Cancer

32.

Egleston BL, Pedraza O, Wong YN, Dunbrack RL Jr, Griffin CL, Ross EA et al (2015) Characteristics of clinical trials that require participants to be fluent in English. Clin Trials 12(6):618–626
Ethics declarations
Conflict of interest
The authors declare that they have no conflict of interests.
Ethical Approval
The study protocol was reviewed and approved by the Institutional Review Board of record at Yale University
Informed Consent
Informed consent form was provided to all participants prior to enrollment.
Additional information
Publisher's Note
Springer Nature remains neutral with regard to jurisdictional claims in published maps and institutional affiliations.
About this article
Cite this article
Trant, A.A., Walz, L., Allen, W. et al. Increasing accrual of minority patients in breast cancer clinical trials. Breast Cancer Res Treat 184, 499–505 (2020). https://doi.org/10.1007/s10549-020-05873-2
Received:

Accepted:

Published:

Issue Date:
Keywords
Breast cancer

Clinical trials

Health disparities

Eligibility criteria