Abstract
Purpose
TTC-352 is a selective human estrogen receptor (ER) partial agonist developed for treatment of hormone-refractory ER + breast cancer.
Methods
This was an accelerated dose escalation study with the primary endpoint of maximum tolerated dose that evaluated five dose levels of TTC-352 in breast cancer progressing after at least two lines of hormonal therapy including one in combination with a CDK4/6 inhibitor. The secondary objectives were to determine treatment tolerability, pharmacokinetics of TTC-352, best response, progression-free survival (PFS), and PKCα expression in tumors.
Results
The study enrolled 15 patients. No dose-limiting toxicity was observed. Patients experienced the following grade 3 toxicities: asymptomatic pulmonary embolism, diarrhea, aspartate transaminase elevation, and myalgia, and one grade 4 toxicity of gamma glutamyltransferase elevation. Pharmacokinetic half-life was 7.6–14.3 h. The intra- and inter-individual variability for AUC0-∞ hampered assessment of the relationship between dose and AUC0-∞. Median PFS was 58 days (95% CI = 28,112). Higher PKCα expression in tumor stroma was associated with a trend toward longer PFS.
Conclusions
TTC-352 demonstrates safety and early clinical evidence of antitumor activity against heavily pretreated hormone-refractory breast cancer. Based upon TTC-352 plasma concentrations and tolerability, the 180 mg twice a day is recommended for further testing.
(ClinicalTrials.gov Identifier: NCT03201913)
Access options
Buy single article
Instant access to the full article PDF.
USD 39.95
Price excludes VAT (USA)
Tax calculation will be finalised during checkout.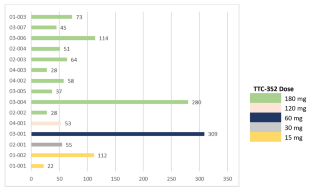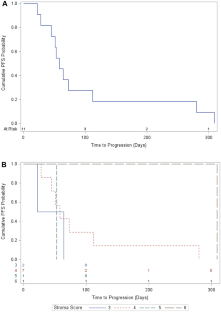 Data availability
For the data supporting the presented results please contact the corresponding author. Supplementary information is available at the British Journal of Cancer's website.
Abbreviations
AI:

Aromatase inhibitors

CEE:

Conjugated equine estrogens

Cmax :

Maximum plasma concentration

CTCAE:

Cancer Institute Common Terminology Criteria for Adverse Events

DES:

Diethylstilbestrol

DLT:

Dose-limiting toxicity

E2:

17β-Estradiol

ECOG:

Eastern Cooperative Oncology Group

ER:

Estrogen receptor

ER + :

Estrogen receptor positive

HER2-:

Human epidermal growth factor receptor 2 negative

HDE:

High-dose estrogens

IHC:

Immunohistochemistry

MTD:

Maximum tolerated dose

PFS:

Progression-free survival

PI3K:

Phosphoinositide-3-kinase

PKCα:

Protein kinase C alpha SEMs

SEMs:

Selective estrogen mimics

ShERPA:

Selective human ER partial agonist

SRERD:

Selective estrogen receptor downregulator

t1/2-λz :

Terminal half-life

TTF:

Time-to-treatment failure
References
Messina C, Cattrini C, Buzzatti G, Cerbone L, Zanardi E, Messina M, Boccardo F (2018) CDK4/6 inhibitors in advanced hormone receptor-positive/HER2-negative breast cancer: a systematic review and meta-analysis of randomized trials. Breast Cancer Res Treat 172(1):9–21

Li J, Wang Z, Shao Z (2019) Fulvestrant in the treatment of hormone receptor-positive/human epidermal growth factor receptor 2-negative advanced breast cancer: A review. Cancer Med 8(5):1943–1957

Iorfida M, Mazza M, Munzone E (2020) Fulvestrant in Combination with CDK4/6 Inhibitors for HER2- Metastatic Breast Cancers: Current Perspectives. Breast Cancer (Dove Med Press) 12:45–56

Molloy ME, White BE, Gherezghiher T, Michalsen BT, Xiong R, Patel H, Zhao H, Maximov PY, Jordan VC, Thatcher GR et al (2014) Novel selective estrogen mimics for the treatment of tamoxifen-resistant breast cancer. Mol Cancer Ther 13(11):2515–2526

Xiong R, Patel HK, Gutgesell LM, Zhao J, Delgado-Rivera L, Pham TND, Zhao H, Carlson K, Martin T, Katzenellenbogen JA et al (2016) Selective Human Estrogen Receptor Partial Agonists (ShERPAs) for Tamoxifen-Resistant Breast Cancer. J Med Chem 59(1):219–237

Mackay HJ, Twelves CJ (2003) Protein kinase C: a target for anticancer drugs? Endocr Relat Cancer 10(3):389–396

Assender JW, Gee JM, Lewis I, Ellis IO, Robertson JF, Nicholson RI (2007) Protein kinase C isoform expression as a predictor of disease outcome on endocrine therapy in breast cancer. J Clin Pathol 60(11):1216–1221

Lonne GK, Cornmark L, Zahirovic IO, Landberg G, Jirstrom K, Larsson C (2010) PKCalpha expression is a marker for breast cancer aggressiveness. Mol Cancer 9:76

Yao K, Lee ES, Bentrem DJ, England G, Schafer JI, O'Regan RM, Jordan VC (2000) Antitumor action of physiological estradiol on tamoxifen-stimulated breast tumors grown in athymic mice. Clin Cancer Res 6(5):2028–2036

Chisamore MJ, Ahmed Y, Bentrem DJ, Jordan VC, Tonetti DA (2001) Novel antitumor effect of estradiol in athymic mice injected with a T47D breast cancer cell line overexpressing protein kinase Calpha. Clin Cancer Res 7(10):3156–3165

Services USDoHaH: Common Terminology Criteria for Adverse Events (CTCAE) Version 4.0 https://www.evsncinihgov/ftp1/CTCAE/CTCAE_403 June 14, 2010.

Eisenhauer EA, Therasse P, Bogaerts J, Schwartz LH, Sargent D, Ford R, Dancey J, Arbuck S, Gwyther S, Mooney M et al (2009) New response evaluation criteria in solid tumours: revised RECIST guideline (version 1.1). Eur J Cancer 45(2):228–247

Tonetti DA, Morrow M, Kidwai N, Gupta A, Badve S (2003) Elevated protein kinase C alpha expression may be predictive of tamoxifen treatment failure. Br J Cancer 88(9):1400–1402

Tonetti DA, Gao W, Escarzaga D, Walters K, Szafran A, Coon JS (2012) PKCalpha and ERbeta Are Associated with Triple-Negative Breast Cancers in African American and Caucasian Patients. Int J Breast Cancer 2012:740353

Allred DC, Clark GM, Elledge R, Fuqua SA, Brown RW, Chamness GC, Osborne CK, McGuire WL (1993) Association of p53 protein expression with tumor cell proliferation rate and clinical outcome in node-negative breast cancer. J Natl Cancer Inst 85(3):200–206

Spring LM, Wander SA, Andre F, Moy B, Turner NC, Bardia A (2020) Cyclin-dependent kinase 4 and 6 inhibitors for hormone receptor-positive breast cancer: past, present, and future. Lancet 395(10226):817–827

Costa C, Wang Y, Ly A, Hosono Y, Murchie E, Walmsley CS, Huynh T, Healy C, Peterson R, Yanase S et al (2020) PTEN Loss Mediates Clinical Cross-Resistance to CDK4/6 and PI3Kalpha Inhibitors in Breast Cancer. Cancer Discov 10(1):72–85

Ellis MJ, Gao F, Dehdashti F, Jeffe DB, Marcom PK, Carey LA, Dickler MN, Silverman P, Fleming GF, Kommareddy A et al (2009) Lower-dose vs high-dose oral estradiol therapy of hormone receptor-positive, aromatase inhibitor-resistant advanced breast cancer: a phase 2 randomized study. JAMA 302(7):774–780

Ingle JN (2002) Estrogen as therapy for breast cancer. Breast Cancer Res 4(4):133–136

Peethambaram PP, Ingle JN, Suman VJ, Hartmann LC, Loprinzi CL (1999) Randomized trial of diethylstilbestrol vs. tamoxifen in postmenopausal women with metastatic breast cancer. An updated analysis. Breast Cancer Res Treat 54(2):117–122

Matelski H, Greene R, Huberman M, Lokich J, Zipoli T (1985) Randomized trial of estrogen vs tamoxifen therapy for advanced breast cancer. Am J Clin Oncol 8(2):128–133

Jordan VC (2015) The new biology of estrogen-induced apoptosis applied to treat and prevent breast cancer. Endocr Relat Cancer 22(1):R1–31

Chlebowski RT, Aragaki AK, Anderson GL (2015) Menopausal Hormone Therapy Influence on Breast Cancer Outcomes in the Women's Health Initiative. J Natl Compr Canc Netw 13(7):917–924

Zucchini G, Armstrong AC, Wardley AM, Wilson G, Misra V, Seif M, Ryder WD, Cope J, Blowers E, Howell A et al (2015) A phase II trial of low-dose estradiol in postmenopausal women with advanced breast cancer and acquired resistance to aromatase inhibition. Eur J Cancer 51(18):2725–2731

Coelingh Bennink HJ, Verhoeven C, Dutman AE, Thijssen J (2017) The use of high-dose estrogens for the treatment of breast cancer. Maturitas 95:11–23

Roberts MS, Magnusson BM, Burczynski FJ, Weiss M (2002) Enterohepatic circulation: physiological, pharmacokinetic and clinical implications. Clin Pharmacokinet 41(10):751–790

Davies NM, Takemoto JK, Brocks DR, Yanez JA (2010) Multiple peaking phenomena in pharmacokinetic disposition. Clin Pharmacokinet 49(6):351–377

Ogungbenro K, Pertinez H, Aarons L (2015) Empirical and semi-mechanistic modelling of double-peaked pharmacokinetic profile phenomenon due to gastric emptying. AAPS J 17(1):227–236

Rossi L, Biagioni C, McCartney A, Migliaccio I, Curigliano G, Sanna G, Moretti E, Minisini AM, Cinieri S, Tondini C et al (2019) Clinical outcomes after palbociclib with or without endocrine therapy in postmenopausal women with hormone receptor positive and HER2-negative metastatic breast cancer enrolled in the TREnd trial. Breast Cancer Res 21(1):71

Lin X, Yu Y, Zhao H, Zhang Y, Manela J, Tonetti DA (2006) Overexpression of PKCalpha is required to impart estradiol inhibition and tamoxifen-resistance in a T47D human breast cancer tumor model. Carcinogenesis 27(8):1538–1546

Wallace JA, Pitarresi JR, Sharma N, Palettas M, Cuitino MC, Sizemore ST, Yu L, Sanderlin A, Rosol TJ, Mehta KD et al (2014) Protein kinase C Beta in the tumor microenvironment promotes mammary tumorigenesis. Front Oncol 4:87

Ponten F, Jirstrom K, Uhlen M (2008) The Human Protein Atlas–a tool for pathology. J Pathol 216(4):387–393
Acknowledgements
We are thankful to James P. Zacny, PhD for his editorial support with the clinical protocol and manuscript.
Funding
We acknowledge funding from TTC Oncology, LLC, and the Engdahl Family Foundation.
Ethics declarations
Conflicts of interest
AZD serves as Chief Medical Officer and obtained honoraria from TTC Oncology and Vanquish Oncology. AZD has received honoraria for consulting work from EMD Serono. AZD has equity in TTC Oncology, IGF Oncology, Squarex, and Martell Diagnostic Laboratories. AZD reports research funding to institutions from Merck, and Eli Lilly. DAT and GRJT have equity in TTC Oncology. RPV has received honoraria from TTC Oncology. RMO serves as an advisor for Lilly, PUMA, Novartis, Genomic Health and Biotheranostics and receives grant support from PUMA, Novartis, Seattle Genetics, and Eisai. All other authors declare no competing interests.
Ethical approval
This clinical trial was approved by the Institutional Review Board at the participating institutions. It was conducted in accordance with the Declaration of Helsinki.
Informed consent
All participants provided written informed consent.
Additional information
Publisher's Note
Springer Nature remains neutral with regard to jurisdictional claims in published maps and institutional affiliations.
Electronic supplementary material
Below is the link to the electronic supplementary material.
About this article
Cite this article
Dudek, A.Z., Liu, L.C., Fischer, J.H. et al. Phase 1 study of TTC-352 in patients with metastatic breast cancer progressing on endocrine and CDK4/6 inhibitor therapy. Breast Cancer Res Treat 183, 617–627 (2020). https://doi.org/10.1007/s10549-020-05787-z
Received:

Accepted:

Published:

Issue Date:

DOI: https://doi.org/10.1007/s10549-020-05787-z
Keywords