Abstract
Background
A PARP inhibitor is effective in breast cancer patients with BRCA1/2 germline mutations, and in cell lines with BRCA1 promoter methylation. However, its efficacy in breast cancer patients with BRCA1 promoter methylation is still unknown.
Methods
Biopsy samples were obtained from 32 triple-negative breast cancer (TNBC) patients treated with eribulin/olaparib combination therapy in a clinical trial (UMINID: 000009498) and analyzed for their mutations by FoundationOne CDx. DNA methylation was evaluated by quantitative methylation-specific PCR and bisulfite sequencing, and its level was adjusted for tumor cell fraction.
Results
Among 20 TNBC patients evaluable for both methylation and mutations, one (5%) and five (25%) patients had a high (> 80%) and low (30–80%) BRCA1 promoter methylation levels, respectively. One patient with a high methylation level, also having a BRCA2 mutation of unknown significance, displayed complete response. Among the 5 patients with low methylation levels, only one patient with a BRCA2 mutation of unknown significance displayed long-lasting disease control (24 weeks). Patients with a BRCA1 or BRCA2 mutation, or high BRCA1 promoter methylation showed better 6-month progression-free survival (PFS) compared with the other patients (P = 0.009).
Conclusion
Quantitative methylation analysis suggested that addition of homozygous BRCA1 promoter methylation to mutations may more accurately identify TNBC patients who would benefit from olaparib/eribulin combination therapy. (209 words)
Access options
Buy single article
Instant access to the full article PDF.
US$ 39.95
Tax calculation will be finalised during checkout.
Subscribe to journal
Immediate online access to all issues from 2019. Subscription will auto renew annually.
US$ 119
Tax calculation will be finalised during checkout.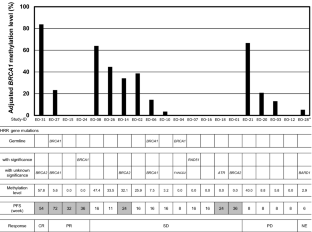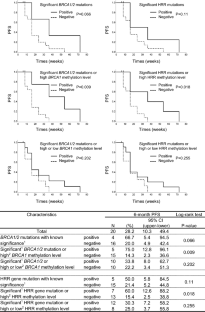 Acknowledgements
We would like to acknowledge the study staff, Hiroyuki Yasojima, Norikazu Masuda, Kenjiro Aogi, Masato Takahashi, Yoichi Naito, Satoru Shimizu, Rikiya Nakamura, Jun Hashimoto, Harukaze Yamamoto, Hirofumi Michimae, Akinobu Hamada, Teruhiko Yoshida, Tamie Sukigara.
Funding
The research described in this report was funded by the Program for Promoting Platform of Genomics based Drug Discovery (Grant No. 18kk0305004h0003) from the Japan Agency for Medical Research and Development, AMED. This research was conducted with support from an Externally Sponsored Research Program of AstraZeneca.
Ethics declarations
Conflict of interest
The authors declare no conflict of interest.
Additional information
Publisher's Note
Springer Nature remains neutral with regard to jurisdictional claims in published maps and institutional affiliations.
Electronic supplementary material
Below is the link to the electronic supplementary material.
About this article
Cite this article
Kawachi, A., Yamashita, S., Okochi-Takada, E. et al. BRCA1 promoter methylation in breast cancer patients is associated with response to olaparib/eribulin combination therapy. Breast Cancer Res Treat 181, 323–329 (2020). https://doi.org/10.1007/s10549-020-05647-w
Received:

Accepted:

Published:

Issue Date:
Keywords
BRCA1
RAD51C

DNA methylation

Triple-negative breast cancer

PARP inhibitor