Abstract
Purpose
Nuclear grade is an important indicator of the biological behaviour of ductal carcinoma in situ (DCIS). De-escalation of treatment has been suggested for low-grade DCIS. Our aim is to estimate the relative rate of progression of DCIS by nuclear grade by analysing the distribution of nuclear grade by detection at initial or subsequent screening.
Methods
We asked International Cancer Screening Network sites to complete, based on their screening and clinical databases, an aggregated data file on DCIS detection, diagnosis and treatment.
Results
Eleven screening programs reported 5068 screen-detected pure DCIS in nearly 7 million screening tests in women 50–69 years of age. For all programs combined, low-grade DCIS were 20.1% (range 11.4–31.8%) of graded DCIS, intermediate grade 31.0% and high grade 48.9%. Detection rates decreased more steeply from initial to subsequent screening in low compared to high-grade DCIS: the ratios of subsequent to initial detection rates were 0.39 for low grade, 0.51 for intermediate grade, and 0.75 for high grade (p < 0.001).
Conclusions
These results suggest that the duration of the preclinical detectable phase is longer for low than for high-grade DCIS. The findings from this large multi-centre, international study emphasize that the management of low-grade DCIS should be carefully scrutinized in order to minimize overtreatment of screen-detected slow-growing or indolent lesions. The high variation by site in the proportion of low grade suggests that further pathology standardization and training would be beneficial.
Access options
Buy single article
Instant access to the full article PDF.
USD 39.95
Price excludes VAT (USA)
Tax calculation will be finalised during checkout.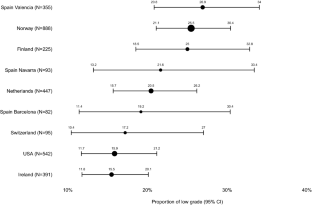 References
Duffy SW, Dibden A, Michalopoulos D et al (2016) Screen detection of ductal carcinoma in situ and subsequent incidence of invasive interval breast cancers: a retrospective population-based study. Lancet Oncol 17(1):109–114

Jacklyn G, Morrel S, McGeechan K et al (2018) Carcinoma in situ of the breast in New South Wales, Australia: current status and trends over the last 40 year. The Breast 37:170–178

van Luijt PA, Heijnsdijk EAM, Fracheboud J et al (2016) The distribution of ductal carcinoma in situ grade in 4232 women and its impact on overdiagnosis in breast cancer screening. Breast Cancer Res 18:47

Ozanne EM, Shieh Y, Barnes J et al (2011) Characterizing the impact of 25 years of DCIS treatment. Breast Cancer Res Treat 129:165–173

Nicholson S, Hanby A, Clements K et al (2015) Variations in the management of the axilla in screen-detected ductal carcinoma in situ: evidence from the UK HHS Breast Screening Programme audit of screen detected DCIS. Eur J Surg Oncol 41:86–93

Mokbel K, Cutuli B (2006) Heterogeneity of ductal carcinoma in situ and its effects on management. Lancet 7:756–765

Wallis MG, Clements K, Kearins O et al (2012) The effect of DCIS grade on rate, type and time to recurrence after 15 years of follow-up of screen-detected DCIS. Br J Cancer 106:1611–1617

Onega T, Weaver DL, Frederick PD et al (2017) The diagnostic challenge of low-grade ductal carcinoma in situ. Eur J Cancer 80:39–47

Esserman L, Yau C (2015) Rethinking the standard for ductal carcinoma in situ treatment. JAMA Oncol 1(7):881–883

Gagliardi AR, Wright FC, Look Hong NJ et al (2019) National consensus recommendations on patient-centred care for ductal carcinoma in situ. Breast Cancer Res Treat 174:561–570

Freeman J, Hutchinson GB (1980) Prevalence, incidence and duration. Am J Epidemiol 112:707–723

Morrison AS (1985) Screening in chronic disease, 1st edn. Oxford University Press, New York and Oxford, p 38

Lynge E, Ponti A, James T et al (2014) Variation in the detection of ductal carcinoma in situ (DCIS) during screening mammography. A survey within the International Cancer Screening Network (ICSN). Eur J Cancer 50(1):185–192

Ponti A, Lynge E, James T et al (2014) International variation in management of screen-detected ductal carcinoma in situ of the breast. Eur J Cancer 50(15):2695–2704

Holland R, Peterse JL, Millis RR et al (1994) Ductal carcinoma in situ: a proposal for a new classification. Semin Diagn Pathol 11(3):167–180

Silverstein MJ, Lagios MD, Craig PH et al (1996) A prognostic index for ductal carcinoma in situ of the breast. Cancer 77:2267–2274

Weigel S, Khil L, Hense HW et al (2018) Detection rates of ductal carcinoma in situ with biennal digital mammography screening: radiologic findings support pathologic model of tumor progression. Radiology 286:424–432

Weigel S, Heindel W, Heidinger O (2013) Digital mammography screening: association between detection rate and nuclear grade of ductal carcinoma in situ. Radiology 271:38–44

Weigel S, Hense HW, Heidrich J et al (2016) Does age influence the detection rates of low, intermediate and high grade ductal carcinoma in situ? Radiology 278:707–713

Sagara Y, Mallory MA, Wong S et al (2015) Survival benefit of breast surgery for low-grade ductal carcinoma in situ: a population-based cohort study. JAMA Surg 150(8):739–745

Segnan N, Minozzi S, Armaroli P et al (2016) Epidemiologic evidence of slow growing, non-progressive or regressive breast cancer: a systematic review. Int J Cancer 139(3):554–573

van Dooijeweert C, van Diest PJ, Willems SM et al (2019) Significant inter- and intra-laboratory variation in grading of ductal carcinoma in situ of the breast: a nationwide study of 4901 patients in the Netherlands. Breast Cancer Res Treat 174(2):479–488
Acknowledgements
The authors thank the members of the ICSN DCIS Working group, the national and regional screening programs coordinators, and all professionals involved in breast cancer screening and treatment in participating centres for their contribution to this study.
Funding
No specific funding was made available for this study, but the US National Cancer Institute (NCI) provided co-ordination of the project and secretarial support. The content of this paper is solely the responsibility of the authors and does not represent the official view of the NCI or the National Institutes of Health.
Ethics declarations
Conflict of interest
All authors declare that they have no conflict of interest.
Ethical approval
This article does not contain any studies with human participants or animals performed by any of the authors.
Additional information
Publisher's Note
Springer Nature remains neutral with regard to jurisdictional claims in published maps and institutional affiliations.
About this article
Cite this article
Ponti, A., Ronco, G., Lynge, E. et al. Low-grade screen-detected ductal carcinoma in situ progresses more slowly than high-grade lesions: evidence from an international multi-centre study. Breast Cancer Res Treat 177, 761–765 (2019). https://doi.org/10.1007/s10549-019-05333-6
Received:

Accepted:

Published:

Issue Date:

DOI: https://doi.org/10.1007/s10549-019-05333-6
Keywords
Breast cancer screening

Ductal carcinoma in situ

Low-grade DCIS

Overtreatment