Abstract
Purpose
Little is known about how a breast cancer diagnosis and treatment affects job-related outcomes in young women with breast cancer, who are an integral part of the workforce. We sought to describe employment trends among young breast cancer survivors.
Methods
911 women with non-metastatic breast cancer were surveyed about employment-related outcomes 1 year post-diagnosis. Participants were enrolled in the Young Women's Breast Cancer Study an ongoing, multi-center cohort of women diagnosed with breast cancer at age ≤ 40.
Results
Among 911 women, median age at diagnosis was 36 years (range 17–40). Most women (80%, n = 729) were employed 1 year post-diagnosis. Among the 7% (n = 62) employed before diagnosis but who reported unemployment at 1 year, approximately half reported they were unemployed for health reasons. Among employed women, 7% said treatment affected their ability to perform their job. Women with stage-three disease (vs. stage 1 disease, odds ratio (OR): 3.73, 95% CI 1.39–9.97) and those who reported having money to pay bills after cutting back or difficulty paying bills at baseline (vs. having enough money for special things, OR 2.70, 95% CI 1.32–5.52) at baseline were more likely to have transitioned out of the workforce.
Conclusions
Our results suggest an impact of disease burden and socioeconomic status on employment in young breast cancer survivors. There is a need to ensure young survivors who leave the workforce following diagnosis are sufficiently supported given the potential adverse psychosocial and financial impacts of unemployment on survivors, their families, communities, and society.
Access options
Buy single article
Instant access to the full article PDF.
USD 39.95
Price excludes VAT (USA)
Tax calculation will be finalised during checkout.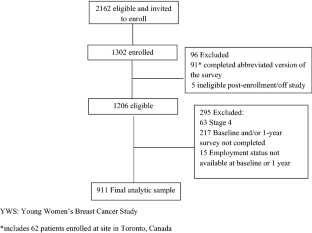 References
de Moor JS, Mariotto AB, Parry C, Alfano CM, Padgett L, Kent EE, Forsythe L, Scoppa S, Hachey M, Rowland JH (2013) Cancer survivors in the United States: prevalence across the survivorship trajectory and implications for care. Cancer Epidemiol Biomark Prev 22(4):561–570

Siegel RL, Miller KD, Jemal A (2019) Cancer statistics. CA Cancer J Clin 69(1):7–34

National Research Council (2005) 6 Employment, insurance, and economic issues. From cancer patient to cancer survivor: lost in transition. The National Academies Press, Washington, DC

Amir Z, Brocky J (2009) Cancer survivorship and employment: epidemiology. Occup Med (Lond) 59(6):373–377

Blinder V, Eberle C, Patil S, Gany FM, Bradley CJ (2017) Women with breast cancer who work for accommodating employers more likely to retain jobs After treatment. Health Aff (Millwood) 36(2):274–281

Jagsi R, Hawley ST, Abrahamse P, Li Y, Janz NK, Griggs JJ, Bradley C, Graff JJ, Hamilton A, Katz SJ (2014) Impact of adjuvant chemotherapy on long-term employment of survivors of early-stage breast cancer. Cancer 120(12):1854–1862

Jagsi R, Abrahamse PH, Lee KL, Wallner LP, Janz NK, Hamilton AS, Ward KC, Morrow M, Kurian AW, Friese CR, Hawley ST, Katz SJ (2017) Treatment decisions and employment of breast cancer patients: results of a population-based survey. Cancer 123(24):4791–4799

Bouknight RR, Bradley CJ, Luo Z (2006) Correlates of return to work for breast cancer survivors. J Clin Oncol 24(3):345–353

Wang L, Hong BY, Kennedy SA, Chang Y, Hong CJ, Craigie S, Kwon HY, Romerosa B, Couban RJ, Reid S, Khan JS, McGillion M, Blinder V, Busse JW (2018) Predictors of unemployment after breast cancer surgery: a systematic review and meta-analysis of observational studies. J Clin Oncol 36(18):1868–1879

Noeres D, Park-Simon TW, Grabow J, Sperlich S, Koch-Giesselmann H, Jaunzeme J, Geyer S (2013) Return to work after treatment for primary breast cancer over a 6-year period: results from a prospective study comparing patients with the general population. Support Care Cancer 21(7):1901–1909

de Boer AG, Taskila T, Ojajarvi A, van Dijk FJ, Verbeek JH (2009) Cancer survivors and unemployment: a meta-analysis and meta-regression. JAMA 301(7):753–762

Stone DS, Ganz PA, Pavlish C, Robbins WA (2017) Young adult cancer survivors and work: a systematic review. J Cancer Surviv 11(6):765–781

Bradley CJ, Neumark D, Luo Z, Bednarek HL (2007) Employment-contingent health insurance, illness, and labor supply of women: evidence from married women with breast cancer. Health Econ 16(7):719–737

Lilliehorn S, Hamberg K, Kero A, Salander P (2013) Meaning of work and the returning process after breast cancer: a longitudinal study of 56 women. Scand J Caring Sci 27(2):267–274

Peugniez C, Fantoni S, Leroyer A, Skrzypczak J, Duprey M, Bonneterre J (2011) Return to work after treatment for breast cancer: single center experience in a cohort of 273 patients. Bull Cancer 98(7):E69–E79

Narod SA (2012) Breast cancer in young women. Nat Rev Clin Oncol 9(8):460–470

SEER Cancer Statistics Review, 1975-2009 (Vintage 2009 Populations), http://seer.cancer.gov/csr/1975_2009_pops09/, based on November 2011 SEER data submission, posted to the SEER web site, 2012., 2012

Howard-Anderson J, Ganz PA, Bower JE, Stanton AL (2012) Quality of life, fertility concerns, and behavioral health outcomes in younger breast cancer survivors: a systematic review. J Natl Cancer Inst 104(5):386–405

Guy GP Jr, Yabroff KR, Ekwueme DU, Smith AW, Dowling EC, Rechis R, Nutt S, Richardson LC (2014) Estimating the health and economic burden of cancer among those diagnosed as adolescents and young adults. Health Aff (Millwood) 33(6):1024–1031

The Office for National Statistics UK (2010) SOC2010 volume 3: the national statistics socio-economic classification (NS-SEC rebased on the SOC2010) user manual. The Office for National Statistics UK, London

Sonnega A, Faul JD, Ofstedal MB, Langa KM, Phillips JW, Weir DR (2014) Cohort profile: the health and retirement study (HRS). Int J Epidemiol 43(2):576–585

Gierisch JM, Earp JA, Brewer NT, Rimer BK (2010) Longitudinal predictors of nonadherence to maintenance of mammography. Cancer Epidemiol Biomark Prev 19(4):1103–1111

van Muijen P, Weevers NL, Snels IA, Duijts SF, Bruinvels DJ, Schellart AJ, van der Beek AJ (2013) Predictors of return to work and employment in cancer survivors: a systematic review. Eur J Cancer Care (Engl) 22(2):144–160

Lauzier S, Maunsell E, Drolet M, Coyle D, Hebert-Croteau N, Brisson J, Masse B, Abdous B, Robidoux A, Robert J (2008) Wage losses in the year after breast cancer: extent and determinants among Canadian women. J Natl Cancer Inst 100(5):321–332

Carlsen K, Ewertz M, Dalton SO, Badsberg JH, Osler M (2014) Unemployment among breast cancer survivors. Scand J Public Health 42(3):319–328

Mujahid MS, Janz NK, Hawley ST, Griggs JJ, Hamilton AS, Graff J, Katz SJ (2011) Racial/ethnic differences in job loss for women with breast cancer. J Cancer Surviv 5(1):102–111

Hedayati E, Johnsson A, Alinaghizadeh H, Schedin A, Nyman H, Albertsson M (2013) Cognitive, psychosocial, somatic and treatment factors predicting return to work after breast cancer treatment. Scand J Caring Sci 27(2):380–387

Paraponaris A, Teyssier LS, Ventelou B (2010) Job tenure and self-reported workplace discrimination for cancer survivors 2 years after diagnosis: does employment legislation matter? Health Policy 98(2–3):144–155

Barnes AJ, Robert N, Bradley CJ (2014) Job attributes, job satisfaction and the return to health after breast cancer diagnosis and treatment. Psychooncology 23(2):158–164

Lindbohm ML, Kuosma E, Taskila T, Hietanen P, Carlsen K, Gudbergsson S, Gunnarsdottir H (2014) Early retirement and non-employment after breast cancer. Psychooncology 23(6):634–641

Hassett MJ, O'Malley AJ, Keating NL (2009) Factors influencing changes in employment among women with newly diagnosed breast cancer. Cancer 115(12):2775–2782

Drolet M, Maunsell E, Mondor M, Brisson C, Brisson J, Masse B, Deschenes L (2005) Work absence after breast cancer diagnosis: a population-based study. CMAJ 173(7):765–771

Hoving JL, Broekhuizen ML, Frings-Dresen MH (2009) Return to work of breast cancer survivors: a systematic review of intervention studies. BMC Cancer 9:117
Acknowledgements
Thank you to the young women with breast cancer who participated in our study.
Funding
Dr. Rosenberg is supported by Grant No. K01HS023680 from the Agency for Healthcare Research and Quality. The content is solely the responsibility of the authors and does not necessarily represent the official views of the Agency for Healthcare Research and Quality. The funding agreement ensured the authors' independence in designing the study, interpreting the data, writing, and publishing the report. Dr. Partridge is supported by grants for efforts focused on young women with breast cancer from Susan G. Komen (Grant No. SAC1000008), Breast Cancer Research Foundation (Grant No. BCRF17-121), and U.S. Centers for Disease Control (Grant No. CDC-U58DP005385). Dr. Vaz-Luis is supported by Grants from Susan G. Komen (Grant No. CCR17483507), ARC, and Odyssea.
Ethics declarations
Conflict of interest
Dr. Partridge: Royalties from UpToDate. Dr. Vaz-Luis: Novartis, Astra-Zeneca, Ipsen (paid speaker). No other authors report relevant disclosures.
Ethical approval
All procedures performed in studies involving human participants were in accordance with the ethical standards of the institutional and/or national research committee and with the 1964 Helsinki declaration and its later amendments or comparable ethical standards.
Informed consent
Informed consent was obtained from all individual participants included in the study.
Additional information
Publisher's Note
Springer Nature remains neutral with regard to jurisdictional claims in published maps and institutional affiliations.
About this article
Cite this article
Rosenberg, S.M., Vaz-Luis, I., Gong, J. et al. Employment trends in young women following a breast cancer diagnosis. Breast Cancer Res Treat 177, 207–214 (2019). https://doi.org/10.1007/s10549-019-05293-x
Received:

Accepted:

Published:

Issue Date:

DOI: https://doi.org/10.1007/s10549-019-05293-x
Keywords
Employment

Breast cancer

Survivorship

Outcomes