Abstract
Purpose
The safety of immediate breast reconstruction (IBR) in older women is largely unknown. This study aimed to determine the 30-day postoperative complication rates following IBR (implant-based or autologous) in older women (≥ 70 years) with breast cancer and to compare them to younger women (18–69 years).
Methods
The National Surgical Quality Improvement Program (NSQIP) database was used to identify women with in situ or invasive breast cancer who underwent IBR (2005–2016). Outcomes included 30-day postoperative morbidity and mortality, which were compared across age groups stratified by type of reconstruction.
Results
Of 28,850 women who underwent implant-based and 9123 who underwent autologous reconstruction, older women comprised 6.5% and 5.7% of the sample, respectively. Compared to younger women, older women had more comorbidities, shorter operative times, and longer length of hospital stay. In the implant-based reconstruction group, the 30-day morbidity rate was significantly higher in older women (7.5% vs 5.3%, p < 0.0001) due to higher rates of infectious, pulmonary, and venous thromboembolic events. Wound morbidity and prosthesis failure occurred equally among age groups. In the autologous reconstruction group, there was no statistically significant difference in the 30-day morbidity rates (older 9.5% vs younger 11.6%, p = 0.15). Both wound morbidity and flap failure rates were similar between the two age groups. For both reconstruction techniques, mortality within 30 days of breast surgery was rare.
Conclusion
Immediate breast reconstruction is safe in older women. These data support the notion that surgeons should discuss IBR as a safe and integral part of cancer treatment in well-selected older women.
Access options
Buy single article
Instant access to the full article PDF.
USD 39.95
Price excludes VAT (USA)
Tax calculation will be finalised during checkout.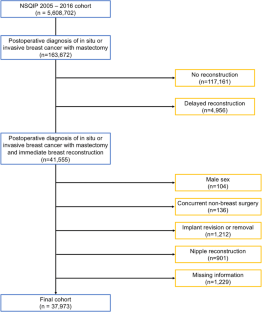 Abbreviations
ASA:

American Society of Anesthesiology

BMI:

Body mass index

CHF:

Congestive heart failure

COPD:

Chronic obstructive pulmonary disease

CPT:

Current procedural terminology

DCIS:

Ductal carcinoma in situ

DM:

Diabetes mellitus

IBR:

Immediate breast reconstruction

ICD-9:

International Classification of Diseases Ninth Revision

LN:

Lymph node

NSQIP:

National Surgical Quality Improvement Program

PACE:

Preoperative Assessment of Cancer in the Elderly

PCI:

Percutaneous coronary intervention

PUF:

Participant user data file

SSI:

Surgical site infection

SURPAS:

Surgical Risk Preoperative Assessment System
References
Smith BD, Smith GL, Hurria A, Hortobagyi GN, Buchholz TA (2009) Future of cancer incidence in the United States: burdens upon an aging, changing nation. J Clin Oncol 27:2758–2765

Biganzoli L, Wildiers H, Oakman C et al (2012) Management of elderly patients with breast cancer: updated recommendations of the International Society of Geriatric Oncology (SIOG) and European Society of Breast Cancer Specialists (EUSOMA). Lancet Oncol 13:e148–e160

Eltahir Y, Werners LL, Dreise MM et al (2013) Quality-of-life outcomes between mastectomy alone and breast reconstruction: comparison of patient-reported BREAST-Q and other health-related quality-of-life measures. Plast Reconstr Surg 132:201e–209e

Atisha D, Alderman AK, Lowery JC, Kuhn LE, Davis J, Wilkins EG (2008) Prospective analysis of long-term psychosocial outcomes in breast reconstruction: two-year postoperative results from the Michigan Breast Reconstruction Outcomes Study. Ann Surg 247:1019–1028

Nano MT, Gill PG, Kollias J, Brochner MA, Malycha P, Winefield HR (2005) Psychological impact and cosmetic outcome of surgical breast cancer strategies. ANZ J Surg 75:940–947

Oh DD, Flitcorft K, Brennan ME, Spillane AJ (2016) Patterns and outcomes of breast reconstruction in older women—a systematic review of the literature. Eur J Surg Oncol 42:604–615

Girotto JA, Schreiber J, Nahabedian MY (2003) Breast reconstruction in the elderly: preserving excellent quality of life. Ann Plast Surg 50:572–578

Figueiredo MI, Cullen J, Hwang YT, Rowland JH, Mandelblatt JS (2004) Breast cancer treatment in older women: does getting what you want improve your long-term body image and mental health? J Clin Oncol 22:4002–4009

Godfrey PM, Godfrey NV, Romita MC (1995) Immediate autogenous breast reconstruction in clinically advanced disease. Plast Reconstr Surg 95:1039–1044

Bowman CC, Lennox PA, Clugston PA, Courtemanche DJ (2006) Breast reconstruction in older women: should age be an exclusion criterion? Plast Reconstr Surg 118:16–22

Song D, Slater K, Papsdorf M et al (2016) Autologous breast reconstruction in women older than 65 years versus women younger than 65 years: a multi-center analysis. Ann Plast Surg 76:155–163

Johnson DB, Lapin B, Wang C et al (2016) Advanced age does not worsen recovery or long-term morbidity after postmastectomy breast reconstruction. Ann Plast Surg 76:164–169

Sisco M, Johnson DB, Wang C, Rasinski K, Rundell VL, Yao KA (2015) The quality-of-life benefits of breast reconstruction do not diminish with age. J Surg Oncol 111:663–668

Sabino J, Lucas DJ, Shriver CD, Vertees AE, Valerio IL, Singh DP (2016) NSQIP analysis: increased immediate reconstruction in the treatment of breast cancer. Am Surg 82:540–545

Hoskin TL, Hieken TJ, Degnim AC, Jakub JW, Jacobson SR, Boughey JC (2016) Use of immediate breast reconstruction and choice for contralateral prophylactic mastectomy. Surgery 159:1199–1209

Habermann EB, Thomsen KM, Hieken TJ, Boughey JC (2014) Impact of availability of immediate breast reconstruction on bilateral mastectomy rates for breast cancer across the United States: data from the nationwide inpatient sample. Ann Surg Oncol 21:3290–3296

Holley DT, Toursarkissian B, Vasconez HC et al (1995) The ramifications of immediate reconstruction in the management of breast cancer. Am Surg 61:60–65

Wilkins EG, Cederna PS, Lowery JC et al (2000) Prospective analysis of psychosocial outcomes in breast reconstruction: one-year postoperative results from the Michigan Breast Reconstruction Outcome Study. Plast Reconstr Surg 106:1014–1025

Sullivan SR, Fletcher DR, Isom CD, Isik FF (2008) True incidence of all complications following immediate and delayed breast reconstruction. Plast Reconstr Surg 122:19–28

Butler PD, Nelson JA, Fischer JP et al (2016) Racial and age disparities persist in immediate breast reconstruction: an updated analysis of 48,564patients from the 2005 to 2011. Am J Surg 212:96–101

Brennan ME, Spillane AJ (2013) Uptake and predictors of post-mastectomy reconstruction in women with breast malignancy–systematic review. Eur J Surg Oncol 39:527–541

In H, Jiang W, Lipsitz SR, Neville BA, Weeks JC, Greenberg CC (2013) Variation in the utilization of reconstruction following mastectomy in elderly women. Ann Surg Oncol 20:1872–1879

Morrow M, Mujahid M, Lantz PM et al (2005) Correlates of breast reconstruction: results from a population-based study. Cancer 104:2340–2346

Christian CK, Niland J, Edge SB, Ottesen RA, Hughes ME, Theriault R et al (2006) A multi-institutional analysis of the socioeconomic determinants of breast reconstruction: a study of the National Comprehensive Cancer Network. Ann Surg 243:241–249

Alderman AK, McMahon L, Wilkins EG (2003) The national utilization of immediate and early delayed breast reconstruction and the effect of sociodemographic factors. Plast Reconstr Surg 111:695

Agarwal S, Pappas L, Neumayer L, Agarwal J (2011) An analysis of immediate postmastectomy breast reconstruction frequency using the Surveillance, Epidemiology, and End Results Database. Breast J 17:352–358

Reaby LL (1998) Reasons why women who have mastectomy decide to have or not to have breast reconstruction. Plast Reconstr Surg 101:1810–1818

Handel N, Silverstein MJ, Waisman E, Waisman JR (1990) Reasons why mastectomy patients do not have breast reconstruction. Plast Reconstr Surg 86:1118–1125

Howard-McNatt M, Forsberg C, Levine EA, DeFranzo A, Marks M, David L (2011) Breast cancer reconstruction in the elderly. Am Surgeon 77:1640–1643

Kamali P, Curiel D, van Veldhuisen CL et al (2017) Trends in immediate breast reconstruction and early complication rates among older women: a big data analysis. J Surg Oncol 115:870–877

Hershman DL, Richards CA, Kalinsky K, Wilde ET, Lu YS, Ascherman JA et al (2012) Influence of health insurance, hospital factors and physician volume on receipt of immediate post-mastectomy reconstruction in women with invasive and non-invasive breast cancer. Breast Cancer Res Treat 136:535–545

Agarwal S, Kidwell KM, Kraft CT et al (2015) Defining the relationship between patient decisions to undergo breast reconstruction and contralateral prophylactic mastectomy. Plast Reconstr Surg 135:661–670

August DA, Wilkins E, Rea T (1994) Breast reconstruction in older women. Surgery 115:663–668

Muss HB (2010) Coming of age: breast cancer in Seniors. Oncologist 15(suppl 5):57–65

Oeffinger KC, Fontham ET, Etzioni R et al (2015) Breast cancer screening for women at average risk: 2015 guideline update from the American Cancer Society. JAMA 314:1599–1614

American College of Surgeons (2016) User Guide for the ACS NSQIP Participant Use Data File (PUF). https://www.facs.org/~/media/files/quality%20programs/nsqip/nsqip_puf_userguide_2016.ashx. Accessed 11 Marh 2019

Meguid RA, Bronsert MR, Juarez-Colunga E, Hammermeister KE, Henderson WG (2016) Surgical Risk Preoperative Assessment System (SURPAS): I. Parsimonious, clinically meaningful groups of postoperative complications by factor analysis. Ann Surg 263:1042–1048

McCarthy CM, Mehrara BJ, Riedel E et al (2008) Predicting complications following expander/implant breast reconstruction: an outcomes analysis based on preoperative clinical risk. Plast Reconstr Surg 121:1886–1892

Sinha I, Pusic AL, Wilkins EG et al (2017) Late surgical-site infection in immediate implant-based breast reconstruction. Plast Reconstr Surg 139:20–28

Carminati M, Sempf D, Bonfirraro PP et al (2018) Immediate implant-based breast reconstruction with acellular dermal matrix compared with tissue-expander breast reconstruction: rate of infection. Plast Reconstr Surg Glob Open 6:e1949

Throckmorton AD, Boughey JC, Boostrom SY et al (2009) Postoperative prophylactic antibiotics and surgical site infection rates in breast surgery patients. Ann Surg Oncol 16:2464–2469

Massenburg BB, Sanati-Mehrizy P, Ingargiola MJ, Rosa JH, Taub PJ (2015) Flap failure and wound complications in autologous breast reconstruction: a national perspective. Aesthetic Plast Surg 39:902–909

Sorensen LT, Horby J, Friis E, Pilsgaard B, Jorgensen T (2002) Smoking as a risk factor for wound healing and infection in breast cancer surgery. Eur J Surg Oncol 28:815–820

Bertin ML, Crowe J, Gordon SM (1998) Determinants of surgical site infection after breast surgery. Am J Infect Control 26:61–65

Hart A, Funderburk CD, Chu CK et al (2017) The impact of diabetes mellitus on wound healing in breast reconstruction. Ann Plast Surg 78:260–263

de Blacam C, Ogunleye AA, Momoh AO et al (2012) High body mass index and smoking predict morbidity in breast cancer surgery: a multivariate analysis of 26,988 patients from the national surgical quality improvement program database. Ann Surg 255:551–555

Bergey M, Kovach S, Selber J, Serletti J, Sonnad S, Wu L (2009) Free flap breast reconstruction in advanced age: is it safe? Plast Reconstr Surg 124:1015–1022

Angarita FA, Acuna SA, Cordeiro E et al (2018) Thirty-day postoperative morbidity and mortality in elderly women with breast cancer: an analysis of the NSQIP database. Breast Cancer Res Treat 170:373–379

Noda S, Eberlein TJ, Eriksson E (1994) Breast reconstruction. Cancer 74:376–380

Disa JJ, Ad-El DD, Cohen SM, Cordeiro PG, Hidalgo DA (1999) The premature removal of tissue expanders in breast reconstruction. Plast Reconstr Surg 104:1662–1665

Rifkin WJ, Kantar RS, Cammarata MJ et al (2019) Impact of diabetes on 30-day complications in mastectomy and implant-based breast reconstruction. J Surg Res 235:148–159

Fischer JP, Wes AM, Tuggle CT 3rd, Serletti JM, Wu LC (2013) Risk analysis of early implant loss after immediate breast reconstruction: a review of 14,585 patients. J Am Coll Surg 217:983–990

Fischer JP, Nelson JA, Serletti JM, Wu LC (2013) Peri-operative risk factors associated with early tissue expander (TE) loss following immediate breast reconstruction (IBR): a review of 9305 patients from the 2005-2010 ACS-NSQIP datasets. J Plast Reconstr Aesthet Surg 66:1504–1512

Piper ML, Roussel L, Koltz PF et al (2017) Characterizing infections in prosthetic breast reconstruction: a validity assessment of national health databases. J Plast Reconstr Aesthet Surg 70:1345–1353
Ethics declarations
Conflict of interest
The authors have no conflict of interests to declare.
Ethical approval
This article does not contain any studies with human participants performed by any of the authors.
Additional information
Publisher's Note
Springer Nature remains neutral with regard to jurisdictional claims in published maps and institutional affiliations.
About this article
Cite this article
Angarita, F.A., Dossa, F., Zuckerman, J. et al. Is immediate breast reconstruction safe in women over 70? An analysis of the National Surgical Quality Improvement Program (NSQIP) database. Breast Cancer Res Treat 177, 215–224 (2019). https://doi.org/10.1007/s10549-019-05273-1
Received:

Accepted:

Published:

Issue Date:

DOI: https://doi.org/10.1007/s10549-019-05273-1
Keywords
Aged

Breast neoplasm

Breast reconstruction

Postoperative outcomes