Abstract
Purpose
Mammographic density is an established breast cancer risk factor within many ethnically different populations. The distribution of mammographic density has been shown to be significantly lower in Western Australian Aboriginal women compared to age- and screening location-matched non-Aboriginal women. Whether mammographic density is a predictor of breast cancer risk in Aboriginal women is unknown.
Methods
We measured mammographic density from 103 Aboriginal breast cancer cases and 327 Aboriginal controls, 341 non-Aboriginal cases, and 333 non-Aboriginal controls selected from the BreastScreen Western Australia database using the Cumulus software program. Logistic regression was used to examine the associations of percentage dense area and absolute dense area with breast cancer risk for Aboriginal and non-Aboriginal women separately, adjusting for covariates.
Results
Both percentage density and absolute dense area were strongly predictive of risk in Aboriginal women with odds per adjusted standard deviation (OPERAS) of 1.36 (95% CI 1.09, 1.69) and 1.36 (95% CI 1.08, 1.71), respectively. For non-Aboriginal women, the OPERAS were 1.22 (95% CI 1.03, 1.46) and 1.26 (95% CI 1.05, 1.50), respectively.
Conclusions
Whilst mean mammographic density for Aboriginal women is lower than non-Aboriginal women, density measures are still higher in Aboriginal women with breast cancer compared to Aboriginal women without breast cancer. Thus, mammographic density strongly predicts breast cancer risk in Aboriginal women. Future efforts to predict breast cancer risk using mammographic density or standardize risk-associated mammographic density measures should take into account Aboriginal status when applicable.
Access options
Buy single article
Instant access to the full article PDF.
US$ 39.95
Tax calculation will be finalised during checkout.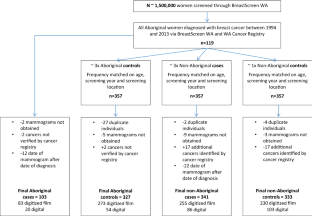 Data availability
The datasets generated and analysed during the current study are not publically available but can be made available upon request (and pending approval) from Western Australia's Department of Health Data Linkage Branch and BreastScreen Western Australia.
Abbreviations
ARIA:

Accessibility/remoteness index of Australia

BMI:

Body mass index

CI:

Confidence interval

DA:

Dense area

FFDM:

Full-field digital mammogram

HT:

Hormone therapy

MD:

Mammographic density

OPERA:

Odds per adjusted standard deviation

OR:

Odd ratio

PDA:

Percent dense area

SD:

Standard deviation

SE:

Standard error

SEIFA:

Socio-economic indexes for areas

SES:

Socio-economic status

TA:

Total area (of the breast)

WA:

Western Australia
References
1.

Hopper JL (2015) Odds per adjusted standard deviation: comparing strengths of associations for risk factors measured on different scales and across diseases and populations. Am J Epidemiol 182(10):863–867. https://doi.org/10.1093/aje/kwv193

2.

McCormack VA, dos Santos Silva I (2006) Breast density and parenchymal patterns as markers of breast cancer risk: a meta-analysis. Cancer Epidemiol Biomark Prev 15(6):1159–1169. https://doi.org/10.1158/1055-9965.EPI-06-0034

3.

Evans DG, Astley S, Stavrinos P, Harkness E, Donnelly LS, Dawe S, Jacob I, Harvie M, Cuzick J, Brentnall A, Wilson M, Harrison F, Payne K, Howell A (2016) In: Improvement in risk prediction, early detection and prevention of breast cancer in the NHS Breast Screening Programme and family history clinics: a dual cohort study. Programme Grants for Applied Research. Southampton (UK). https://doi.org/10.3310/pgfar04110

4.

Evans DG, Donnelly LS, Harkness EF, Astley SM, Stavrinos P, Dawe S, Watterson D, Fox L, Sergeant JC, Ingham S, Harvie MN, Wilson M, Beetles U, Buchan I, Brentnall AR, French DP, Cuzick J, Howell A (2016) Breast cancer risk feedback to women in the UK NHS breast screening population. Br J Cancer 114(9):1045–1052. https://doi.org/10.1038/bjc.2016.56

5.

Stone J (2018) Should breast cancer screening programs routinely measure mammographic density? J Med Imaging Radiat Oncol 62(2):151–158. https://doi.org/10.1111/1754-9485.12652

6.

Burton A, Maskarinec G, Perez-Gomez B, Vachon C, Miao H, Lajous M, Lopez-Ridaura R, Rice M, Pereira A, Garmendia ML, Tamimi RM, Bertrand K, Kwong A, Ursin G, Lee E, Qureshi SA, Ma H, Vinnicombe S, Moss S, Allen S, Ndumia R, Vinayak S, Teo SH, Mariapun S, Fadzli F, Peplonska B, Bukowska A, Nagata C, Stone J, Hopper J, Giles G, Ozmen V, Aribal ME, Schuz J, Van Gils CH, Wanders JOP, Sirous R, Sirous M, Hipwell J, Kim J, Lee JW, Dickens C, Hartman M, Chia KS, Scott C, Chiarelli AM, Linton L, Pollan M, Flugelman AA, Salem D, Kamal R, Boyd N, Dos-Santos-Silva I, McCormack V (2017) Mammographic density and ageing: a collaborative pooled analysis of cross-sectional data from 22 countries worldwide. PLoS Med 14(6):e1002335. https://doi.org/10.1371/journal.pmed.1002335

7.

McLean K, Darcey E, Cadby G, Lund H, Pilkington L, Redfern A, Thompson S, Saunders C, Wylie E, Stone J (2019) The distribution and determinants of mammographic density measures in Western Australian aboriginal women. Breast Cancer Res 21(1):33. https://doi.org/10.1186/s13058-019-1113-4

8.

Roder D, Webster F, Zorbas H, Sinclair S (2012) Breast screening and breast cancer survival in aboriginal and torres strait Islander women of Australia. Asian Pacific J Cancer Prev 13(1):147–155

9.

Christensen D, Davis G, Draper G, Mitrou F, McKeown S, Lawrence D, McAullay D, Pearson G, Rikkers W, Zubrick SR (2016) Evidence for the use of an algorithm in resolving inconsistent and missing indigenous status in administrative data collections. Aust J Soc Issues 49(4):423–443

10.

Statistics ABo (2018). http://www.abs.gov.au/websitedbs/censushome.nsf/home/seifa

11.

Statistics ABo (2018). http://www.abs.gov.au/websitedbs/d3310114.nsf/home/remoteness+structure

12.

Byng JW, Boyd NF, Fishell E, Jong RA, Yaffe MJ (1994) The quantitative analysis of mammographic densities. Phys Med Biol 39(10):1629–1638

13.

Stone J, Ding J, Warren RM, Duffy SW, Hopper JL (2010) Using mammographic density to predict breast cancer risk: dense area or percentage dense area. Breast Cancer Res 12(6):R97. https://doi.org/10.1186/bcr2778

14.

Burton A, Byrnes G, Stone J, Tamimi RM, Heine J, Vachon C, Ozmen V, Pereira A, Garmendia ML, Scott C, Hipwell JH, Dickens C, Schuz J, Aribal ME, Bertrand K, Kwong A, Giles GG, Hopper J, Perez Gomez B, Pollan M, Teo SH, Mariapun S, Taib NA, Lajous M, Lopez-Riduara R, Rice M, Romieu I, Flugelman AA, Ursin G, Qureshi S, Ma H, Lee E, Sirous R, Sirous M, Lee JW, Kim J, Salem D, Kamal R, Hartman M, Miao H, Chia KS, Nagata C, Vinayak S, Ndumia R, van Gils CH, Wanders JO, Peplonska B, Bukowska A, Allen S, Vinnicombe S, Moss S, Chiarelli AM, Linton L, Maskarinec G, Yaffe MJ, Boyd NF, Dos-Santos-Silva I, McCormack VA (2016) Mammographic density assessed on paired raw and processed digital images and on paired screen-film and digital images across three mammography systems. Breast Cancer Res 18(1):130. https://doi.org/10.1186/s13058-016-0787-0

15.

Meijer M, Bloomfield K, Engholm G (2013) Neighbourhoods matter too: the association between neighbourhood socioeconomic position, population density and breast, prostate and lung cancer incidence in Denmark between 2004 and 2008. J Epidemiol Community Health 67(1):6–13. https://doi.org/10.1136/jech-2011-200192

16.

Robert SA, Strombom I, Trentham-Dietz A, Hampton JM, McElroy JA, Newcomb PA, Remington PL (2004) Socioeconomic risk factors for breast cancer: distinguishing individual- and community-level effects. Epidemiology 15(4):442–450

17.

Webster TF, Hoffman K, Weinberg J, Vieira V, Aschengrau A (2008) Community- and individual-level socioeconomic status and breast cancer risk: multilevel modeling on Cape Cod, Massachusetts. Environ Health Perspect 116(8):1125–1129. https://doi.org/10.1289/ehp.10818
Acknowledgements
The authors would like to acknowledge BreastScreen Western Australia, The Aboriginal Women's Reference Group and the Government of Western Australia Department of Health Data Linkage Branch.
Funding
This work was supported by Cancer Council Western Australia and Cancer Australia (APP1085750). Author JS is a National Breast Cancer Foundation Research Fellow.
Ethics declarations
Conflict of interest
The authors declare that they have no conflict of interest.
Ethical approval
All procedures performed in studies involving human participants were in accordance with the ethical standards of the institutional and/or national research committee (Western Australian Department of Health Human Research Ethics Committee (Project #2014/50) and the Western Australian Aboriginal Health Ethics Committee (Project 581)) and with the 1964 Helsinki declaration and its later amendments or comparable ethical standards.
Informed consent
A waiver of informed consent was received to obtain access to de-identified linked data.
Additional information
Publisher's Note
Springer Nature remains neutral with regard to jurisdictional claims in published maps and institutional affiliations.
Electronic supplementary material
Below is the link to the electronic supplementary material.
About this article
Cite this article
Darcey, E., Lloyd, R., Cadby, G. et al. The association between mammographic density and breast cancer risk in Western Australian Aboriginal women. Breast Cancer Res Treat 176, 235–242 (2019). https://doi.org/10.1007/s10549-019-05225-9
Received:

Accepted:

Published:

Issue Date:
Keywords
Breast cancer risk

Mammographic breast density

Ethnicity

Aboriginal women

Mammographic screening