Abstract
Purpose
Oncologists, clinical trialists, and guideline developers need tools that enable them to efficiently review the settings and results of previous studies testing metastatic breast cancer (MBC) drug therapies.
Methods
We searched the literature to identify clinical trials testing MBC drug therapies. Key eligibility criteria included at least 90% of patients enrolled in the trial having MBC, therapeutic clinical trials, and Phase II–III studies. Studies were stratified based on patients' tumor receptor statuses and prior exposure to therapy. Survival and toxicity of each drug therapy were estimated from randomized controlled trials using network meta-analysis and from all studies using meta-analysis. These results, along with estimated drug costs, are presented in a web-based visualization tool.
Results
We included 1865 studies containing 2676 treatment arms and 184,563 patients in the tool (http://www.cancertrials.info). Meta-analysis-based efficacy and toxicity estimates are available for 85 HER-2-directed therapies, 84 hormonal therapies, and 442 undirected therapies. Network meta-analysis-based estimates are available for 16 HER-2-directed therapies, 26 hormonal therapies, and 131 undirected therapies.
Conclusions
In this era of increasing choices of MBC therapeutic agents and no superior approach to choosing a treatment regimen, the ability to compare multiple therapies based on survival, toxicity and cost would enable treating physicians to optimize therapeutic choices for patients. For investigators, it can point them in research directions that were previously non-obvious and for guideline designers, enable them to efficiently review the MBC clinical trial literature and visualize how regimens compare in the key dimensions of clinical benefit, toxicity, and cost.
This is a preview of subscription content, log in to check access.
Access options
Buy single article
Instant access to the full article PDF.
US$ 39.95
Price includes VAT for USA
Subscribe to journal
Immediate online access to all issues from 2019. Subscription will auto renew annually.
US$ 199
This is the net price. Taxes to be calculated in checkout.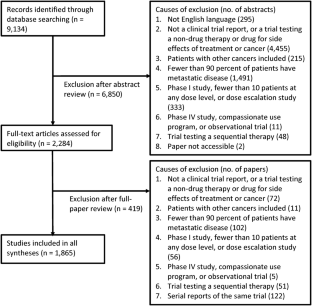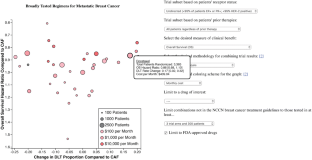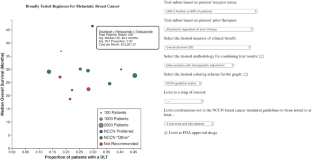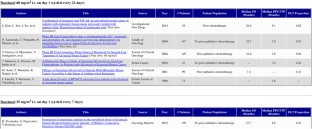 Data Availability
The datasets analyzed during the current study are available online at cancertrials.info.
Notes
1.

Assistance in the literature review and data extraction was provided by former MIT graduate students Allison O'Hair and Stephen Relyea and by MIT and Wellesley undergraduate students Emily Chen, Michael Chen, Shahrin Islam, Siva Nagarajan, David Sukhin, Pei Tao, Roza Trilesskaya, Victoria Wang, Mimi Williams, and Joanna Yeh.
References
1.

Schnipper L, Davidson N, Wollins D et al (2016) Updating the American Society of Clinical Oncology value framework: revisions and reflections in response to comments received. J Clin Oncol 34(24):2925–2934

2.

National Comprehensive Cancer Network (2016) NCCN clinical practice guidelines in oncology (NCCN Guidelines®) with NCCN Evidence Blocks™. https://www.nccn.org/EvidenceBlocks/. Accessed 28 December 2016

3.

Ge L, Tang Y, Zhang Q et al (2017) A network meta-analysis on the efficacy of targeted agents in combination with chemotherapy for treatment of advanced/metastatic triple-negative breast cancer. Oncotarget 8(35):59539–59551

4.

Wilson F, Varu A, Mitra D, Cameron C, Iyer S (2017) Systematic review and network meta-analysis comparing palbociclib with chemotherapy agents for the treatment of postmenopausal women with HR-positive and HER2-negative advanced/metastatic breast cancer. Breast Cancer Res Treat 166(1):167–177

5.

Leung HWC, Leung JH, Chan ALF (2018) Efficacy and safety of a combination of HER2-targeted agents as first-line treatment for metastatic HER2-positive breast cancer: a network meta-analysis. Expert Opin Drug Saf 17(1):1–7

6.

Trotti A, Colevas AD, Setser A et al (2003) CTCAE v3.0: development of a comprehensive grading system for the adverse effects of cancer treatment. Semin Radiat Oncol 13(3):176–181

7.

Parmar MK, Torri V, Stewart L (1998) Extracting summary statistics to perform meta-analysis of the published literature for survival endpoints. Stat Med 17(24):2815–2834

8.

Silberholz J (2015) Analytics for improved cancer screening and treatment. Dissertation, MIT

9.

Bertsimas D, O'Hair A, Relyea S, Silberholz J (2016) An analytics approach to designing combination chemotherapy regimens for cancer. Manage Sci 62(5):1511–1531

10.

National Comprehensive Cancer Network (2016) NCCN clinical practice guidelines in oncology: breast cancer, version 2.2016

11.

DerSimonian R, Laird N (1986) Meta-analysis in clinical trials. Control Clin Trials 7:177–188

12.

Higgins J, Thompson S, Deeks J, Altman D (2003) Measuring inconsistency in meta-analyses. BMJ 327(7414):557–560

13.

Tibshirani R (1996) Regression shrinkage and selection via the lasso. J R Statist Soc B 58(1):267–288

14.

Rücker G, Schwarzer G (2014) Reduce dimension or reduce weights? Comparing two approaches to multi-arm studies in network meta-analysis. Stat Med 33(25):4353–4369

15.

Schmid P, Adams S, Rugo HS et al (2018) Atezolizumab and Nab-Paclitaxel in Advanced Triple-Negative Breast Cancer. N Engl J Med 379(22):2108–2121

16.

Masuda N, Nishimura R, Takahashi M et al (2018) Palbociclib in combination with letrozole as first-line treatment for advanced breast cancer: A Japanese phase II study. Cancer Sci 109(3):803–813

17.

Finn R, Crown J, Lang I et al (2015) The cyclin-dependent kinase 4/6 inhibitor palbociclib in combination with letrozole versus letrozole alone as first-line treatment of oestrogen receptor-positive, HER2-negative, advanced breast cancer (PALOMA-1/TRIO-18): a randomised phase 2 study. Lancet Oncol 16(1):25–35

18.

Finn R, Martin M, Rugo H et al (2016) Palbociclib and letrozole in advanced breast cancer. N Engl J Med 375(20):1925–1936

19.

Hess D, Köberle D, Thürlimann B et al (2007) Capecitabine and vinorelbine as first-line treatment in elderly patients (≥ 65 years) with metastatic breast cancer: a phase II trial (SAKK 25/99). Oncology 73(3–4):228–237

20.

Smorenburg CH, de Groot SM, van Leeuwen-Stok AE et al (2014) A randomized phase III study comparing pegylated liposomal doxorubicin with capecitabine as first-line chemotherapy in elderly patients with metastatic breast cancer: results of the OMEGA study of the Dutch Breast Cancer Research Group BOOG. Ann Oncol 25(3):599–605

21.

Easterbrook PJ, Gopalan R, Berlin JA, Matthews DR (1991) Publication bias in clinical research. Lancet 337(8746):867–872
Funding
There were no funding sources for this work.
Ethics declarations
Conflict of interest
Linda Vahdat has performed consulting for Berg Pharma, Seattle Genetics, Athenex, and Eisai and has received clinical trial research funding from Genentech and Immunomedics. Dimitris Bertsimas and John Silberholz declare that they have no conflict of interest.
Ethical approval
This article does not contain any studies with human participants or animals performed by any of the authors.
Additional information
Publisher's Note
Springer Nature remains neutral with regard to jurisdictional claims in published maps and institutional affiliations.
Electronic supplementary material
Below is the link to the electronic supplementary material.
About this article
Cite this article
Silberholz, J., Bertsimas, D. & Vahdat, L. Clinical benefit, toxicity and cost of metastatic breast cancer therapies: systematic review and meta-analysis. Breast Cancer Res Treat 176, 535–543 (2019). https://doi.org/10.1007/s10549-019-05208-w
Received:

Accepted:

Published:

Issue Date:
Keywords
Metastatic breast cancer

Network meta-analysis

Overall survival

Dose-limiting toxicity