Abstract
Purpose
Adherence to endocrine therapy for hormone positive breast cancer is a significant problem, especially in minority populations. Further, endocrine therapy reduces recurrence and thus mortality. However, little data are available on interventions to improve adherence. The authors conducted a systematic review to examine the impact of interventions, strategies, or approaches aimed to improve endocrine therapy adherence among women with breast cancer. A secondary aim was to determine if interventions had any cultural modifications.
Methods
Two of the authors examined articles published between 2006 and 2017 from a wide variety of databases using Covidence systematic review platform.
Results
In total, 16 eligible studies met criteria for review including 4 randomized controlled trials, 4 retrospective studies, and 8 with various observational designs. Eligible studies used a broad range of definitions for adherence and measured adherence by self-report, medical records, claims data, and combinations of these. All used 80% medication possession ratio as a standard for adherence. Patient information/education was the most frequent intervention strategy but did not demonstrate a significant effect except in one study. Significant results were noted when education was combined with communication strategies.
Conclusions
Researchers need a standard definition for adherence and a reliable measure that is feasible to use in a variety of studies. While education may be a necessary component of an intervention, when used alone, it is not a sufficient approach to change behavior.
Access options
Buy single article
Instant access to the full article PDF.
USD 39.95
Price excludes VAT (USA)
Tax calculation will be finalised during checkout.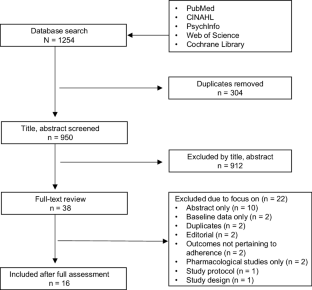 Similar content being viewed by others
References
Early Breast Cancer Clinical Trialsists' Collaborative Group (2005) Effects of chemotherapy and hormonal therapy for early breast cancer on recurrence and 15-year survival: an overview of the randomised trials. Effects of chemotherapy and hormonal therapy for early breast cancer on recurrence and 15-year survival: an overview of the randomised trials Lancet 365(9472):1687–1717

Fontein DBY, Nortier JWR, Liefers GJ et al (2012) High non-compliance in the use of letrozole after 2.5 years of extended adjuvant endocrine therapy. Results from the IDEAL randomized trial. EJSO 38(2):110–117

Kesmodel SB, Goloubeva OG, Rosenblatt PY et al (2018) Patient-reported adherence to adjuvant aromatase inhibitor therapy using the Morisky Medication Adherence Scale: an evaluation of predictors. Am J Clin Oncol 41(5):508–512

Kimmick G, Edmond SN, Bosworth HB et al (2015) Medication taking behaviors among breast cancer patients on adjuvant endocrine therapy. Breast 24(5):630–636

Makubate B, Donnan PT, Dewar JA, Thompson AM, McCowan C (2013) Cohort study of adherence to adjuvant endocrine therapy, breast cancer recurrence and mortality. Br J Cancer 108(7):1515–1524

Kimmick G, Anderson R, Camacho F, Bhosle M, Hwang W, Balkrishnan R (2009) Adjuvant hormonal therapy use among insured, low-income women with breast cancer. J Clin Oncol 27(21):3445–3451

Partridge AH, LaFountain A, Mayer E, Taylor BS, Winer E, Asnis-Alibozek A (2008) Adherence to initial adjuvant anastrozole therapy among women with early-stage breast cancer. J Clin Oncol 26(4):556–562

Partridge AH, Wang PS, Winer EP, Avorn J (2003) Nonadherence to adjuvant tamoxifen therapy in women with primary breast cancer. J Clin Oncol 21(4):602–606

Wheeler SB, Kohler RE, Reeder-Hayes KE et al (2014) Endocrine therapy initiation among Medicaid-insured breast cancer survivors with hormone receptor-positive tumors. J Cancer Surviv 8(4):603–610

Gotay C, Dunn J (2011) Adherence to long-term adjuvant hormonal therapy for breast cancer. Expert Rev Pharmacoecon Outcomes Res 11(6):709–715

Wu J, Stafkey-Mailey D, Bennett CL (2012) Long-term adherence to hormone therapy in medicaid-enrolled women with breast cancer. Health Outcomes Res Med 3(4):e195–e203

Yung RL, Hassett MJ, Chen K et al (2012) Initiation of adjuvant hormone therapy by Medicaid insured women with nonmetastatic breast cancer. J Natl Cancer Inst 104(14):1102–1105

Murphy CC, Bartholomew LK, Carpentier MY, Bluethmann SM, Vernon SW (2012) Adherence to adjuvant hormonal therapy among breast cancer survivors in clinical practice: a systematic review. Br Cancer Res Treat 134(2):459–478

McCowan C, Shearer J, Donnan PT et al (2008) Cohort study examining tamoxifen adherence and its relationship to mortality in women with breast cancer. Br J Cancer 99(11):1763–1768

Hershman DL, Kushi LH, Shao T et al (2010) Early discontinuation and nonadherence to adjuvant hormonal therapy in a cohort of 8,769 early-stage breast cancer patients. J Clin Oncol 28(27):4120–4128

Riley GF, Warren JL, Harlan LC, Blackwell SA (2011) Endocrine therapy use among elderly hormone receptor-positive breast cancer patients enrolled in Medicare Part D. Medicare Medicaid 1(4):E1–E25

Chlebowski RT, Kim J, Haque R (2014) Adherence to endocrine therapy in breast cancer adjuvant and prevention settings. Cancer Prev Res 7(4):378–387

Ursem CJ, Bosworth HB, Shelby RA, Hwang W, Anderson RT, Kimmick GG (2015) Adherence to adjuvant endocrine therapy for breast cancer: importance in women with low income. J Womens Health 24(5):403–408

Hershman DL, Tsui J, Wright JD, Coromilas EJ, Tsai WY, Neugut AI (2015) Household net worth, racial disparities, and hormonal therapy adherence among women with early-stage breast cancer. J Clin Oncol 33(9):1053–1059

Farias AJ, Du XL (2017) Association between out-of-pocket costs, race/ethnicity, and adjuvant endocrine therapy adherence among medicare patients with breast cancer. J Clin Oncol 35(1):86–95

Nekhlyudov L, Li L, Ross-Degnan D, Wagner AK (2011) Five-year patterns of adjuvant hormonal therapy use, persistence, and adherence among insured women with early-stage breast cancer. Breast Cancer Res Treat 130(2):681–689

Sheppard VB, Wallington SF, Willey SC et al (2013) A peer-led decision support intervention improves decision outcomes in black women with breast cancer. J Cancer Educ 28(2):262–269

Wheeler SB, Reeder-Hayes KE, Carey LA (2013) Disparities in breast cancer treatment and outcomes: biological, social, and health system determinants and opportunities for research. Oncologist 18(9):986–993

Moon Z, Moss-Morris R, Hunter MS, Carlisle S, Hughes LD (2017) Barriers and facilitators of adjuvant hormone therapy adherence and persistence in women with breast cancer: a systematic review. Patient Prefer Adherence 11:305–322

Cahir C, Guinan E, Dombrowski SU, Sharp L, Bennett K (2015) Identifying the determinants of adjuvant hormonal therapy medication taking behaviour in women with stages I–III breast cancer: a systematic review and meta-analysis. Patient Educ Couns 98(12):1524–1539

Van Liew J, Christensen AJ, de Moor JS (2014) Psychosocial factors in adjuvant hormone therapy for breast cancer: an emerging context for adherence research. J Cancer Surviv 8(3):521–531

McCarthy AM, Armstrong K, Yang J (2015) Increasing disparities in breast cancer mortality from 1979 to 2010 for US black women aged 20 to 49 years. Am J Public Health 105(Suppl(3):S446–S448

Reeder-Hayes KE, Meyer AM, Dusetzina SB, Liu H, Wheeler SB (2014) Racial disparities in initiation of adjuvant endocrine therapy of early breast cancer. Breast Cancer Res Treat 145(3):743–751

Covidence [computer program]. 2017

von Elm E, Altman DG, Egger M et al (2008) The strengthening the reporting of observational studies in epidemiology (STROBE) statement: guidelines for reporting observational studies. J Clin Epidemiol 61(4):344–349

Chad-Friedman E, Coleman S, Traeger LN et al (2017) Psychological distress associated with cancer screening: a systematic review. Cancer 123(20):3882–3894

Markopoulos C, Neven P, Tanner M et al (2015) Does patient education work in breast cancer? Final results from the global CARIATIDE study. Future Oncol 11(2):205–217

Neven P, Markopoulos C, Tanner M et al (2014) The impact of educational materials on compliance and persistence rates with adjuvant aromatase inhibitor treatment: first-year results from the compliance of aromatase inhibitors assessment in daily practice through educational approach (CARIATIDE) study. Breast 23(4):393–399

Jacob L, Hadji P, Albert US, Kalder M, Kostev K (2015) Impact of disease management programs on women with breast cancer in Germany. Breast Cancer Res Treat 153(2):391–395

Kostev K, May U, Hog D et al (2013) Adherence in tamoxifen therapy after conversion to a rebate pharmaceutical in breast cancer patients in Germany. Int J Clin Pharmacol Ther 51(12):969–975

Neugut AI, Subar M, Wilde ET et al (2011) Association between prescription co-payment amount and compliance with adjuvant hormonal therapy in women with early-stage breast cancer. J Clin Oncol 29(18):2534–2542

Liu Y, Malin JL, Diamant AL, Thind A, Maly RC (2013) Adherence to adjuvant hormone therapy in low-income women with breast cancer: the role of provider-patient communication. Breast Cancer Res Treat 137(3):829–836

Arriola KRJ, Mason TA, Bannon KA et al (2014) Modifiable risk factors for adherence to adjuvant endocrine therapy among breast cancer patients. Patient Educ Couns 95(1):98–103

Yu KD, Zhou Y, Liu GY et al (2012) A prospective, multicenter, controlled, observational study to evaluate the efficacy of a patient support program in improving patients' persistence to adjuvant aromatase inhibitor medication for postmenopausal, early stage breast cancer. Breast Cancer Res Treat 134(1):307–313

Hadji P, Blettner M, Harbeck N et al (2013) The Patient's Anastrozole Compliance to Therapy (PACT) Program: a randomized, in-practice study on the impact of a standardized information program on persistence and compliance to adjuvant endocrine therapy in postmenopausal women with early breast cancer. Ann Oncol 24(6):1505–1512

Ziller V, Kyvernitakis I, Knöll D, Storch A, Hars O, Hadji P (2013) Influence of a patient information program on adherence and persistence with an aromatase inhibitor in breast cancer treatment - the COMPAS study. BMC Cancer 13(1):1–9

Kahn KL, Schneider EC, Malin JL, Adams JL, Epstein AM (2007) Patient centered experiences in breast cancer: predicting long-term adherence to tamoxifen use. Med Care 45(5):431–439

Heisig SR, Shedden-Mora MC, von Blanckenburg P et al (2015) Informing women with breast cancer about endocrine therapy: effects on knowledge and adherence. Psychooncology 24(2):130–137

Lin JJ, Chao J, Bickell NA, Wisnivesky JP (2017) Patient-provider communication and hormonal therapy side effects in breast cancer survivors. Women Health 57(8):976–989

Neuner JM, Kamaraju S, Charlson JA et al (2015) The introduction of generic aromatase inhibitors and treatment adherence among Medicare D enrollees. J Natl Cancer Inst. https://doi.org/10.1093/jnci/djv130

Castaldi M, Safadjou S, Elrafei T, McNelis J (2017) A multidisciplinary patient navigation program improves compliance with adjuvant breast cancer therapy in a public hospital. Am J Med Qual 32(4):406–413

Albert US, Zemlin C, Hadji P et al (2011) The impact of breast care nurses on patients' satisfaction, understanding of the disease, and adherence to adjuvant endocrine therapy. Breast Care 6(3):221–226

Ziller V, Kalder M, Albert US et al (2009) Adherence to adjuvant endocrine therapy in postmenopausal women with breast cancer. Ann Oncol 20(3):431–436

Wing RR (2000) Cross-cutting themes in maintenance of behavior change. Health Psychol 19(1S):84–88

Hurtado-de-Mendoza A, Cabling ML, Lobo T, Dash C, Sheppard VB (2016) Behavioral interventions to enhance adherence to hormone therapy in breast cancer survivors: a systematic literature review. Clin Breast Cancer 16(4):247–255

Hugtenburg JG, Timmers L, Elders PJ, Vervloet M, van Dijk L (2013) Definitions, variants, and causes of nonadherence with medication: a challenge for tailored interventions. Patient Prefer Adherence 7:675–682

Voils CI, Hoyle RH, Thorpe CT, Maciejewski ML, Yancy WS Jr (2011) Improving the measurement of self-reported medication nonadherence. J Clin Epidemiol 64(3):250–254

Sutton S, Kinmonth A-L, Hardeman W et al (2014) Does electronic monitoring influence adherence to medication? Randomized controlled trial of measurement reactivity. Ann Behav Med 48(3):293–299

Garber MC, Nau DP, Erickson SR, Aikens JE, Lawrence JB (2004) The concordance of self-report with other measures of medication adherence: a summary of the literature. Med Care 42(7):649–652

Tre-Hardy M, Capron A, Antunes MV, Linden R, Wallemacq P (2016) Fast method for simultaneous quantification of tamoxifen and metabolites in dried blood spots using an entry level LC-MS/MS system. Clin Biochem 49(16–17):1295–1298

Rothman AJ (2000) Toward a theory-based analysis of behavioral maintenance. Health Psychol 19(1, Suppl):64–69

Given B, Given C, Sikorskii A (2007) Deconstruction of a nursing intervention to examine the mechanism of action. Oncol Nurs Forum 34(1):199

Song M-K, Ward SE (2015) Making visible a theory-guided advance care planning intervention. J Nurs Scholarsh 47(5):389–396

Irwin M (2015) Theoretical foundations of adherence behaviors: synthesis and application in adherence to oral oncology agents. Clin J Oncol Nur 19(3 Suppl):31–35

Manning M, Bettencourt A (2011) Depression and medication adherence among breast cancer survivors: bridging the gap with the theory of planned behaviour. Psychol Health 26(9):1173–1187

Latter S, Sibley A, Skinner TC et al (2010) The impact of an intervention for nurse prescribers on consultations to promote patient medicine-taking in diabetes: a mixed methods study. Int J Nurs Stud 47(9):1126–1138

World Health Organization (2003) Adherence to long-term therapies: evidence for action. Geneva, Switzerland

Gearing RE, El-Bassel N, Ghesquiere A, Baldwin S, Gillies J, Ngeow E (2011) Major ingredients of fidelity: a review and scientific guide to improving quality of intervention research implementation. Clin Psychol Rev 31(1):79–88

Bellg AJ, Borrelli B, Resnick B et al (2004) Enhancing treatment fidelity in health behavior change studies: best practices and recommendations from the NIH Behavior Change Consortium. Health Psychol 23(5):443–451

Santacroce SJ, Maccarelli LM, Grey M (2004) Intervention fidelity. Nurs Res 53(1):63–66

Kearney MH, Simonelli MC (2006) Intervention fidelity: lessons learned from an unsuccessful pilot study. Appl Nurs Res 19(3):163–166

Airhihenbuwa CO, Ford CL, Iwelunmor JI (2014) Why culture matters in health interventions: lessons from HIV/AIDS stigma and NCDs. Health Educ Behav 41(1):78–84

Fisher TL, Burnet DL, Huang ES, Chin MH, Cagney KA (2007) Cultural leverage: interventions using culture to narrow racial disparities in health care. Med Care Res Rev 64(5 Suppl):243S–282S

Hamilton JB, Agarwal M, Song L, Moore MAD, Best N (2011) Are psychosocial interventions targeting older African American cancer survivors culturally appropriate? A review of the literature. Cancer Nurs 35(2):E12–E23

Jeffe D, Perez M, Yan Y et al (2015) African American breast cancer survivor stories: trial usage of a cancer-communication video program. Ann Behav Med 49(Suppl 1):s5

Baezconde-Garbanati LA, Chatterjee JS, Frank LB et al (2014) Tamale Lesson: a case study of a narrative health communication intervention. J Commun Healthc 7(2):82–92

Champion VL, Springston JK, Zollinger TW et al (2006) Comparison of three interventions to increase mammography screening in low income African American women. Cancer Detect Prev 30(6):535–544

Heiney SP, Adams SA, Khang L (2014) Agreement between patient self-report and an objective measure of treatment among African American women with breast cancer. J Oncol Navig Surviv 5(3):21–27

Felder TM, Palmer NR, Lal LS, Mullen PD (2011) What is the evidence for pharmaceutical patient assistance programs? A systematic review. J Health Care Poor Underserved 22(1):24–49

Amaro H, Morrill AC, Dai J, Cabral H, Raj A (2005) Heterosexual behavioral maintenance and change following HIV counseling and testing. Health Psychol 10(2):287–300

Amico KR, Barta W, Konkle-Parker DJ et al (2009) The information–motivation–behavioral skills model of ART adherence in a Deep South HIV + clinic sample. AIDS Behav 13:66–75

Starace F, Massa A, Amico KR, Fisher JD (2006) Adherence to antiretroviral therapy: an empirical test of the information-motivation-behavioral skills model. Health Psychol 25(2):153–162
Funding
Dr. Felder was supported by a Mentored Research Scientist Development Award to promote diversity from the National Cancer Institute of the National Institutes of Health (K01CA193667). Parker was supported by a training Grant from the Susan G. Komen® Foundation (GTDR17500160). Babatunde was supported by grant # 1F99CA22272201 from the National Cancer Institute. Heiney received partial funding for this paper from and ASPIRE grant from the Vice President of Research Office, University of South Carolina.
Ethics declarations
Conflict of interest
The authors have no conflicts.
Ethical approval
This article does not contain any studies with human participants or animals performed by any of the authors.
About this article
Cite this article
Heiney, S.P., Parker, P.D., Felder, T.M. et al. A systematic review of interventions to improve adherence to endocrine therapy. Breast Cancer Res Treat 173, 499–510 (2019). https://doi.org/10.1007/s10549-018-5012-7
Received:

Accepted:

Published:

Issue Date:

DOI: https://doi.org/10.1007/s10549-018-5012-7
Keywords