Abstract
Purpose
The functional implications of reconstructing the breast mound with a latissimus dorsi (LD) flap or placing an implant under the pectoralis major (PM) muscle is complicated by potential comorbidities from disinserting these muscles and adjuvant radiotherapy. We utilized novel robot-assisted measures of shoulder stiffness and strength to dissociate how breast reconstruction choice and inclusion of radiation therapy impact shoulder morbidity in post-mastectomy reconstruction patients.
Methods
Shoulder strength and stiffness were collected from 10 irradiated LD flap breast reconstruction patients, 14 two-stage subpectoral implant reconstruction patients (subpectoral), and 10 irradiated deep inferior epigastric perforator (DIEP) flap patients an average of 659 days post-reconstruction. Univariate ANOVAs examined surgical group differences in strength and stiffness.
Results
There were main effects of surgical group on vertical adduction, vertical abduction, and internal rotation strength. The LD flap group was significantly weaker than the subpectoral group in all measures and significantly weaker than the DIEP group during vertical adduction. There was also a main effect of surgical group on vertical adduction stiffness, where the LD group exhibited significantly reduced stiffness while producing vertical adduction torque. No significant differences between the subpectoral and DIEP groups existed for any measure of shoulder strength or stiffness.
Conclusions
Disinsertion of the LD, not the disinsertion of the PM or radiotherapy, contributes to strength deficits following LD flap breast reconstructions. The combined disinsertion of the PM and LD compromises shoulder stability in the vertical plane. Shoulder function should be a focal point of the surgical decision-making process and postsurgical care.
This is a preview of subscription content, log in to check access.
Access options
Buy single article
Instant access to the full article PDF.
US$ 39.95
Price includes VAT for USA
Subscribe to journal
Immediate online access to all issues from 2019. Subscription will auto renew annually.
US$ 199
This is the net price. Taxes to be calculated in checkout.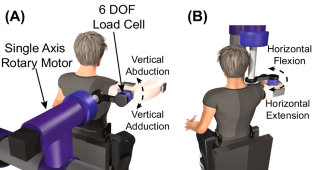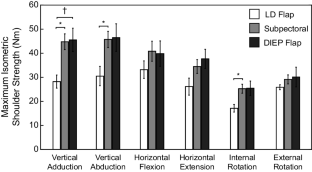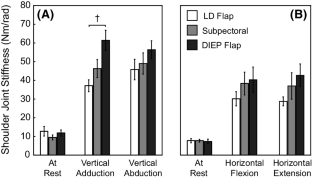 References
1.

Plastic Surgery Statistics Report (2017) American Society of Plastic Surgeons

2.

Al-Ghazal SK, Fallowfield L, Blamey RW (2000) Comparison of psychological aspects and patient satisfaction following breast conserving surgery, simple mastectomy and breast reconstruction. Eur J Cancer 36 (15):1938–1943

3.

Albornoz CR, Bach PB, Mehrara BJ, Disa JJ, Pusic AL, McCarthy CM, Cordeiro PG, Matros E (2013) A paradigm shift in U.S. Breast reconstruction: increasing implant rates. Plastic Reconst Surg 131(1):15–23. https://doi.org/10.1097/PRS.0b013e3182729cde

4.

Wilkins EG, Cederna PS, Lowery JC, Davis JA, Kim HM, Roth RS, Goldfarb S, Izenberg PH, Houin HP, Shaheen KW (2000) Prospective analysis of psychosocial outcomes in breast reconstruction: one-year postoperative results from the Michigan Breast Reconstruction Outcome Study. Plastic Reconst Surg 106(5):1014–1025; discussion 1026–1017

5.

De Angelis R, Tavilla A, Verdecchia A, Scoppa S, Hachey M, Feuer EJ, Mariotto AB (2009) Breast cancer survivors in the United States: geographic variability and time trends, 2005–2015. Cancer 115(9):1954–1966. https://doi.org/10.1002/cncr.24217

6.

Jagsi R, Jiang J, Momoh AO, Alderman A, Giordano SH, Buchholz TA, Kronowitz SJ, Smith BD (2014) Trends and variation in use of breast reconstruction in patients with breast cancer undergoing mastectomy in the United States. J Clin Oncol 32(9):919–926

7.

Albornoz CR, Bach PB, Mehrara BJ, Disa JJ, Pusic AL, McCarthy CM, Cordeiro PG, Matros E (2013) A paradigm shift in US Breast reconstruction: increasing implant rates. Plastic Reconst Surg 131(1):15–23

8.

Cemal Y, Albornoz CR, Disa JJ, McCarthy CM, Mehrara BJ, Pusic AL, Cordeiro PG, Matros E (2013) A paradigm shift in US breast reconstruction: Part 2. The influence of changing mastectomy patterns on reconstructive rate and method. Plastic Reconst Surg 131(3):320e–326e

9.

Hirsch EM, Seth AK, Dumanian GA, Kim JY, Mustoe TA, Galiano RD, Fine NA (2012) Outcomes of tissue expander/implant breast reconstruction in the setting of prereconstruction radiation. Plastic Reconst Surg 129(2):354–361

10.

Jagsi R, Momoh AO, Qi J, Hamill JB, Billig J, Kim HM, Pusic AL, Wilkins EG (2018) Impact of radiotherapy on complications and patient-reported outcomes after breast reconstruction. J Nat Cancer Inst 110(2):157–165

11.

Momoh AO, Ahmed R, Kelley BP, Aliu O, Kidwell KM, Kozlow JH, Chung KC (2014) A systematic review of complications of implant-based breast reconstruction with prereconstruction and postreconstruction radiotherapy. Ann Surg Oncol 21(1):118–124

12.

Halder A, Zhao KD, O'driscoll S, Morrey B, An K-N (2001) Dynamic contributions to superior shoulder stability. J Orthop Res 19(2):206–212

13.

Holzbaur KR, Murray WM, Delp SL (2005) A model of the upper extremity for simulating musculoskeletal surgery and analyzing neuromuscular control. Ann Biomed Eng 33(6):829–840

14.

Fraulin F, Louie G, Zorrilla L, Tilley W (1995) Functional evaluation of the shoulder following latissimus dorsi muscle transfer. Ann Plastic Surg 35(4):349–355

15.

Russell RC, Pribaz J, Zook EG, Leighton WD, Eriksson E, Smith CJ (1986) Functional evaluation of latissimus dorsi donor site. Plastic Reconst Surg 78(3):336–344

16.

Gupta R, Lee TQ (2005) Positional-dependent changes in glenohumeral joint contact pressure and force: possible biomechanical etiology of posterior glenoid wear. J Shoulder Elb Surg 14(1):S105–S110

17.

Laitung J, Peck F (1985) Shoulder function following the loss of the latissimus dorsi muscle. Br J Plastic Surg 38(3):375–379

18.

Mostaed BB (2004) Role of the shoulder muscles in controlling the glenohumeral joint and prevention of subacromial impingement in overhead activities: a meta-study. Dissertation, Union Institute & University

19.

Spear SL, Hess CL (2005) A review of the biomechanical and functional changes in the shoulder following transfer of the latissimus dorsi muscles. Plastic Reconst Surg 115(7):2070–2073

20.

Forthomme B, Heymans O, Jacquemin D, Klinkenberg S, Hoffmann S, Grandjean FX, Crielaard JM, Croisier JL (2010) Shoulder function after latissimus dorsi transfer in breast reconstruction. Clin Physiol Funct Imaging 30(6):406–412

21.

Giordano S, Kääriäinen M, Alavaikko J, Kaistila T, Kuokkanen H (2011) Latissimus dorsi free flap harvesting may affect the shoulder joint in long run. Scand J Surg 100(3):202–207

22.

Adams WP Jr, Lipschitz AH, Ansari M, Kenkel JM, Rohrich RJ (2004) Functional donor site morbidity following latissimus dorsi muscle flap transfer. Ann Plast Surg 53(1):6–11

23.

Brumback RJ, McBride M, Ortolani N (1992) Functional evaluation of the shoulder after transfer of the vascularized latissimus dorsi muscle. J Bone Joint Surg Am 74(3):377–382

24.

Clough KB, Louis-Sylvestre C, Fitoussi A, Couturaud B, Nos C (2002) Donor site sequelae after autologous breast reconstruction with an extended latissimus dorsi flap. Plastic Reconst Surg 109(6):1904–1911

25.

Salmi A, Tuominen R, Tukiainen E, Asko-Seljavaara S (1995) Morbidity of donor and recipient sites after free flap surgery: a prospective study. Scand J Plastic Reconst Surg Hand Surg 29(4):337–341

26.

Glassey N, Perks GB, McCulley SJ (2008) A prospective assessment of shoulder morbidity and recovery time scales following latissimus dorsi breast reconstruction. Plastic Reconst Surg 122(5):1334–1340

27.

de Oliveira RR, do Nascimento SL, Derchain SF, Sarian LO (2013) Immediate breast reconstruction with a latissimus dorsi flap has no detrimental effects on shoulder motion or postsurgical complications up to 1 year after surgery. Plastic Reconst Surg 131(5):673e–680e

28.

Kim H, Wiraatmadja ES, Lim S-Y, Pyon J-K, Bang S-I, Oh KS, Lee JE, Nam SJ, Mun G-H (2013) Comparison of morbidity of donor site following pedicled muscle-sparing latissimus dorsi flap versus extended latissimus dorsi flap breast reconstruction. J Plastic Reconst Aesthet Surg 66(5):640–646

29.

Rancourt D, Hogan N (2001) Dynamics of pushing. J Motor Beh 33(4):351–362

30.

McIntyre J, Mussa-Ivaldi F, Bizzi E (1996) The control of stable postures in the multijoint arm. Exp Brain Res 110(2):248–264

31.

Edwards SL, Lee JA, Bell J-E, Packer JD, Ahmad CS, Levine WN, Bigliani LU, Blaine TA (2010) Nonoperative treatment of superior labrum anterior posterior tears: improvements in pain, function, and quality of life. Am J Sports Med 38(7):1456–1461

32.

Blomqvist L, Stark B, Engler N, Malm M (2004) Evaluation of arm and shoulder mobility and strength after modified radical mastectomy and radiotherapy. Acta Oncol 43(3):280–283

33.

Johansen S, Fosså K, Nesvold IL, Malinen E, Fosså SD (2014) Arm and shoulder morbidity following surgery and radiotherapy for breast cancer. Acta Oncol 53(4):521–529

34.

Wu G, Van der Helm FC, Veeger HD, Makhsous M, Van Roy P, Anglin C, Nagels J, Karduna AR, McQuade K, Wang X (2005) ISB recommendation on definitions of joint coordinate systems of various joints for the reporting of human joint motion—Part II: shoulder, elbow, wrist and hand. J Biomech 38(5):981–992

35.

Perreault EJ, Kirsch RF, Acosta AM (1999) Multiple-input, multiple-output system identification for characterization of limb stiffness dynamics. Biol Cybern 80(5):327–337

36.

Perreault EJ, Kirsch RF, Crago PE (2002) Voluntary control of static endpoint stiffness during force regulation tasks. J Neurophysiol 87(6):2808–2816

37.

Lipps DB, Baillargeon EM, Ludvig D, Perreault EJ (2015) System identification of multidimensional shoulder impedance during volitional contractions. IFAC-PapersOnLine 48(28):1369–1374

38.

Cohen J (1969) Statistical power analysis for the behavioural sciences. Academic Press, New York

39.

Tarantino I, Banic A, Fischer T (2006) Evaluation of late results in breast reconstruction by latissimus dorsi flap and prosthesis implantation. Plastic Reconst Surg 117(5):1387–1394

40.

van Huizum MA, Hoornweg MJ, de Ruiter N, Oudenhoven E, Hage JJ, Veeger DJ (2016) Effect of latissimus dorsi flap breast reconstruction on the strength profile of the upper extremity. J Plastic Surg Hand Surg 50(4):202–207

41.

Bigliani LU, Kelkar R, Flatow EL, Pollock RG, Mow VC (1996) Glenohumeral stability: biomechanical properties of passive and active stabilizers. Clin Orthop Relat Res 330:13–30

42.

Blasier RB, Soslowsky LJ, Malicky DM, Palmer ML (1997) Posterior glenohumeral subluxation: active and passive stabilization in a biomechanical model. J Bone Joint Surg Am 79(3):433–440

43.

Hu X, Murray WM, Perreault EJ (2011) Muscle short-range stiffness can be used to estimate the endpoint stiffness of the human arm. J Neurophysiol 105(4):1633–1641

44.

Olivari N (1976) The latissimus flap. Br J Plastic Surg 29(2):126–128

45.

McCraw JB, Penix JO, Baker JW (1978) Repair of major defects of the chest wall and spine with the latissimus dorsi myocutaneous flap. Plast Reconstr Surg 62(2):197–206

46.

Quillen CG (1979) Latissimus dorsi myocutaneous flaps in head and neck reconstruction. Plastic Reconst Surg 63(5):664–670

47.

Leonardis JM, Desmet DM, Lipps DB (2017) Quantifying differences in the material properties of the fiber regions of the pectoralis major using ultrasound shear wave elastography. J Biomech 63:41–46

48.

Ackland DC, Pak P, Richardson M, Pandy MG (2008) Moment arms of the muscles crossing the anatomical shoulder. J Anat 213(4):383–390
Acknowledgements
The study was financially supported by a Susan G. Komen Clinical Fellowship (D.B.L), a Plastic Surgery Foundation pilot grant (A.O.M), and the University of Michigan Comprehensive Cancer Center Fund for Discovery (D.B.L. and A.O.M.).
Ethics declarations
Conflict of interest
The authors declare that they have no conflicts of interest.
Ethical approval
All procedures performed in studies involving human participants were in accordance with the ethical standards of the University of Michigan Institutional Review Board and with the 1964 Helsinki Declaration and its later amendments or comparable ethical standards.
Informed consent
Informed consent was obtained from all individual participants included in the study.
About this article
Cite this article
Leonardis, J.M., Diefenbach, B.J., Lyons, D.A. et al. The influence of reconstruction choice and inclusion of radiation therapy on functional shoulder biomechanics in women undergoing mastectomy for breast cancer. Breast Cancer Res Treat 173, 447–453 (2019). https://doi.org/10.1007/s10549-018-5003-8
Received:

Accepted:

Published:

Issue Date:
Keywords
Postoperative complications

Shoulder stiffness

Latissimus dorsi

Implant reconstruction

Autologous reconstruction