Abstract
Background
After experiencing a distant recurrence, breast cancer patients have a poor prognosis; fewer than 5% survive for ten or more years. However, the time to death is highly variable, ranging from a few months to many years. The purpose of this study is to identify, in a large hospital-based series of patients with early-stage breast cancer, factors which predict survival after distant recurrence.
Methods
We studied a cohort of 2312 women diagnosed with invasive breast cancer at Women's College Hospital between 1987 and 2000 (stages I–III). For each patient, we abstracted information on age at diagnosis, the initial presentation of the cancer (tumour size, lymph node status, tumour grade, ER status, PR status, HER2 status), treatment (surgery, radiotherapy, chemotherapy, hormone therapy), the dates of all tumour recurrences (local, regional, distant) and the dates and causes of death. The Cox proportional hazards model was used to estimate the univariate and multivariate hazard ratios for death from breast cancer following distant recurrence associated with the various tumour features.
Results
After a mean follow-up of 12.8 years from diagnosis, 523 distant recurrences were recorded among women in the cohort (23% of 2312) and 604 women (26%) died of breast cancer. For the 484 women who had a distant recurrence on record and died of breast cancer, the mean time from distant recurrence to death was 2.0 years (range 0–11.9 years). In a multivariate analysis, only two factors were significantly associated with time to death after distant recurrence: ER status (positive vs. negative, HR 0.56; 95% CI 0.43–0.71; p < 0.0001) and tumour grade (high vs. low, HR 1.87; 95% CI 1.16–3.01; p = 0.01). Among ER-negative patients (N = 175), high tumour grade and a short time from diagnosis to distant recurrence were associated with a rapid time to death. Among ER-positive patients (N = 336), there was no significant independent predictor of time from recurrence to death.
Conclusions
Among ER-negative breast cancer patients, the time to death after distant recurrence was predictable to some extent; women with a short time from diagnosis to recurrence and/or with high-grade tumours were more likely to succumb to breast cancer within 3 years. Among ER-positive breast cancer patients who experience a distant recurrence, the time to death varies substantially and between patients could not be predicted by tumour factors or treatment. This suggests that for ER-positive patients, the factors that determine the time from diagnosis to distant recurrence do not predict the course of the cancer post-recurrence.
This is a preview of subscription content,
to check access.
Access this article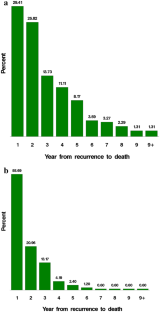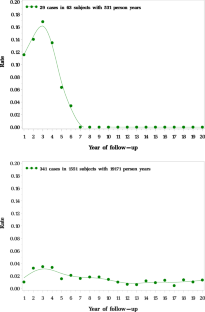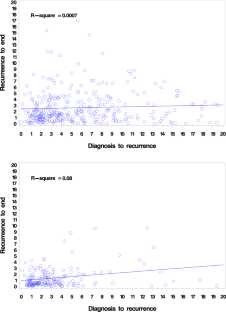 References
Schairer C, Mink PJ, Carroll L, Devesa SS (2004) Probabilities of death from breast cancer and other causes among female breast cancer patients. J Natl Cancer Inst 96:1311–1321

Narod S, Giannakeas V, Sopik V (2018) Time to death in breast cancer patients as an indicator of treatment response. Breast Cancer Res Treat. https://doi.org/10.1007/s10549-018-4935-3

Dent R, Trudeau M, Pritchard KI et al (2007) Triple-negative breast cancer: clinical features and patterns of recurrence. Clin Cancer Res 13:4429–4434

Pan H, Gray R, Braybrooke J et al (2017) 20-year risks of breast-cancer recurrence after stopping endocrine therapy at 5 years. N Engl J Med 377:1836–1846

Tevaarwerk AJ, Gray RJ, Schneider BP et al (2013) Survival in patients with metastatic recurrent breast cancer after adjuvant chemotherapy: little evidence of improvement over the past 30 years. Cancer 119:1140–1148

Redig AJ, McAllister SS (2013) Breast cancer as a systemic disease: a view of metastasis. J Intern Med 274:113–126

Kwast AB, Voogd AC, Menke-Pluijmers MB et al (2014) Prognostic factors for survival in metastatic breast cancer by hormone receptor status. Breast Cancer Res Treat 145:503–511

Kuru B, Camlibel M, Dinc S, Gulcelik MA, Gonullu D, Alagol H (2008) Prognostic factors for survival in breast cancer patients who developed distant metastasis subsequent to definitive surgery. Singapore Med J 49:904–911

Planchat E, Durando X, Abrial C et al (2011) Prognostic value of initial tumor parameters after metastatic relapse. Cancer Invest 29:635–643

Rogoz B, Houzé de l'Aulnoit A, Duhamel A, Houzé de l'Aulnoit D (2018) Thirty-year trends of survival and time-varying effects of prognostic factors in patients with metastatic breast cancer-a single institution experience. Clin Breast Cancer 18:246–253

Xiong Z, Deng G, Huang X et al (2018) Score for the survival probability in metastasis breast cancer: a nomogram-based risk assessment model. Cancer Res Treat. https://doi.org/10.4143/crt.2017.443

Kim HJ, Ahn SG, Lee HM et al (2015) Metastasis-free interval is closely related to tumor characteristics and has prognostic value in breast cancer patients with distant relapse. J Breast Cancerm 18:371–377

Largillier R, Ferrero JM, Doyen J et al (2008) Prognostic factors in 1038 women with metastatic breast cancer. Ann Oncol 19:2012–2019
Ethics declarations
Conflict of interest
The authors declare that they have no conflicts of interest.
Ethical approval
All procedures performed in studies involving human participants were in accordance with the ethical standards of the institutional and/or national research committee and with the 1964 Helsinki declaration and its later amendments or comparable ethical standards.
About this article
Cite this article
Sopik, V., Sun, P. & Narod, S.A. Predictors of time to death after distant recurrence in breast cancer patients. Breast Cancer Res Treat 173, 465–474 (2019). https://doi.org/10.1007/s10549-018-5002-9
Received:

Accepted:

Published:

Issue Date:

DOI: https://doi.org/10.1007/s10549-018-5002-9
Keywords