Abstract
Purpose
Chemotherapy-induced alopecia (CIA) is a distressing side effect for women with breast cancer undergoing chemotherapy. Scalp cooling is a method aiming to prevent CIA, but its efficacy is not well defined. Randomized trials until recently and at the time this trial was designed have been lacking.
Methods
Patients undergoing (neo)adjuvant chemotherapy for early breast cancer (EBC) were randomized to scalp cooling (CAP) or observation (NoCAP). All patients received 18–24 weeks of anthracycline- and/or taxane-based chemotherapy. The primary endpoint was patient-reported rate of alopecia according to a modified version of the Dean Scale. Hair preservation was defined as hair loss ≤ grade 2 (≤ 50%). Secondary endpoints were rate of alopecia determined by medical staff, rate of wig/scarf use, tolerability as well as quality of life (QoL).
Results
Seventy-nine patients were randomized. Hair preservation was observed in 39.3% of patients in the CAP arm versus 0% in the NoCAP arm (p < 0.001). Wig/scarf use was significantly less frequent in the CAP group (40.7% vs 95.5% outside home before cycle 3, p < 0.001). The drop-out rate was 31.7% and 34.2% in the CAP and NoCAP arm, respectively. Main reasons for drop-out were hair loss, adverse events (CAP), and randomization into control arm. We observed no differences in efficacy between anthracycline-based and non-anthracycline-based regimens. QoL did not differ between the study arms.
Conclusions
This trial adds to the evidence that scalp cooling effectively prevents CIA in a meaningful number of patients. This option should be made available for patients undergoing (neo)adjuvant chemotherapy for EBC.
Access options
Buy single article
Instant access to the full article PDF.
US$ 39.95
Tax calculation will be finalised during checkout.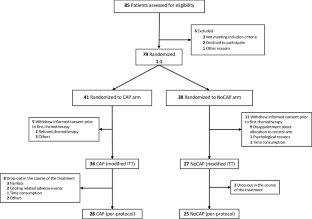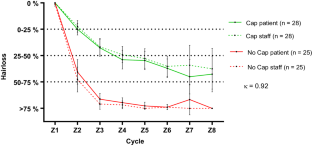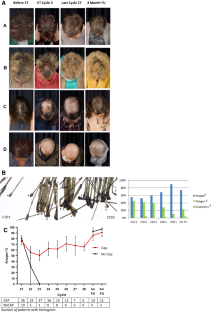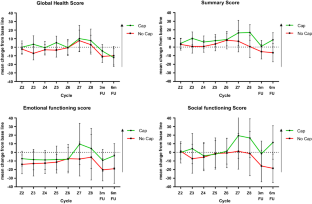 References
1.

Torre LA et al (2012) Global cancer statistics. CA Cancer J Clin 65(2):87–108

2.

Hennigs A et al (2016) Changes in chemotherapy usage and outcome of early breast cancer patients in the last decade. Breast Cancer Res Treat 160(3):491–499

3.

Dua P et al (2017) Cancer-related hair loss: a selective review of the alopecia research literature. Psychooncology 26(4):438–443

4.

Rosman S (2004) Cancer and stigma: experience of patients with chemotherapy-induced alopecia. Patient Educ Couns 52(3):333–339

5.

Choi EK et al (2014) Impact of chemotherapy-induced alopecia distress on body image, psychosocial well-being, and depression in breast cancer patients. Psychooncology 23(10):1103–1110

6.

Edelstyn GA, MacDonald M, MacRae KD (1977) Doxorubicin-induced hair loss and possible modification by scalp cooling. Lancet 2(8031):253–254

7.

Bulow J et al (1985) Frontal subcutaneous blood flow, and epi- and subcutaneous temperatures during scalp cooling in normal man. Scand J Clin Lab Invest 45(6):505–508

8.

Moebus V et al (2010) Intense dose-dense sequential chemotherapy with epirubicin, paclitaxel, and cyclophosphamide compared with conventionally scheduled chemotherapy in high-risk primary breast cancer: mature results of an AGO phase III study. J Clin Oncol 28(17):2874–2880

9.

Martin M et al (2005) Adjuvant docetaxel for node-positive breast cancer. N Engl J Med 352(22):2302–2313

10.

van den Hurk CJ et al (2012) Scalp cooling for hair preservation and associated characteristics in 1411 chemotherapy patients—results of the Dutch Scalp Cooling Registry. Acta Oncol 51(4):497–504

11.

Serrano-Falcon C, Fernandez-Pugnaire MA, Serrano-Ortega S (2013) Hair and scalp evaluation: the trichogram. Actas Dermosifiliogr 104(10):867–876

12.

Dean JC, Salmon SE, Griffith KS (1979) Prevention of doxorubicin-induced hair loss with scalp hypothermia. N Engl J Med 301(26):1427–1429

13.

Rugo HS, Serrurier K, Melisko M, Glencer A, Hwang J, D'Agostino R Jr, Hutchens S, Esserman L, Melin S (2013) Use of the DigniCap™ System to Prevent Hair Loss in Women Receiving Chemotherapy for Stage I Breast Cancer. BCC, St. Gallen

14.

Breed WPM, van den Hurk CJG, Peerbooms M (2011) Presentation, impact and prevention of chemotherapy-induced hair loss: scalp cooling potentials and limitations. Exp Rev Dermatol 6:109–125. https://doi.org/10.1586/edm.10.76

15.

Aaronson NK et al (1993) The European Organization for Research and Treatment of Cancer QLQ-C30: a quality-of-life instrument for use in international clinical trials in oncology. J Natl Cancer Inst 85(5):365–376

16.

Sprangers MA et al (1996) The European Organization for Research and Treatment of Cancer breast cancer-specific quality-of-life questionnaire module: first results from a three-country field study. J Clin Oncol 14(10):2756–2768

17.

Giesinger JM et al (2016) Replication and validation of higher order models demonstrated that a summary score for the EORTC QLQ-C30 is robust. J Clin Epidemiol 69:79–88

18.

Komen MM et al (2013) Factors influencing the effectiveness of scalp cooling in the prevention of chemotherapy-induced alopecia. Oncologist 18(7):885–891

19.

van den Hurk CJ et al (2013) Impact of scalp cooling on chemotherapy-induced alopecia, wig use and hair growth of patients with cancer. Eur J Oncol Nurs 17(5):536–540

20.

Schaffrin-Nabe D et al (2015) The influence of various parameters on the success of sensor-controlled scalp cooling in preventing chemotherapy-induced alopecia. Oncol Res Treat 38(10):489–495

21.

Nangia J et al (2017) effect of a scalp cooling device on alopecia in women undergoing chemotherapy for breast cancer: the SCALP randomized clinical trial. JAMA 317(6):596–605

22.

Friedrichs K, Carstensen MH (2014) Successful reduction of alopecia induced by anthracycline and taxane containing adjuvant chemotherapy in breast cancer—clinical evaluation of sensor-controlled scalp cooling. Springerplus 3:500

23.

Rugo HS et al (2017) Association between use of a scalp cooling device and alopecia after chemotherapy for breast cancer. JAMA 317(6):606–614

24.

Blume-Peytavi U, Hillmann K, Guarrera M (2008) Hair growth assessment techniques. Hair growth and disorders. Springer, Berlin Heidelberg, p 125–157

25.

Kanti V et al (2014) Analysis of quantitative changes in hair growth during treatment with chemotherapy or tamoxifen in patients with breast cancer: a cohort study. Br J Dermatol 170(3):643–650

26.

Lindley C et al (1998) Quality of life and preferences for treatment following systemic adjuvant therapy for early-stage breast cancer. J Clin Oncol 16(4):1380–1387

27.

Ganz PA et al (1998) Life after breast cancer: understanding women's health-related quality of life and sexual functioning. J Clin Oncol 16(2):501–514

28.

Palmer BV et al (1980) Adjuvant chemotherapy for breast cancer: side effects and quality of life. Br Med J 281(6255):1594–1597

29.

Heil J et al (2010) Aesthetic and functional results after breast conserving surgery as correlates of quality of life measured by a German version of the Breast Cancer Treatment Outcome Scale (BCTOS). Breast 19(6):470–474

30.

Cho J et al (2014) Development and validation of Chemotherapy-Induced Alopecia Distress Scale (CADS) for breast cancer patients. Ann Oncol 25(2):346–351
Funding
This research did not receive any specific grant from funding agencies in the public, commercial, or not-for-profit sectors.
Ethics declarations
Conflict of interest
Jessica C. Hassel has had a paid consulting role with Merck and Amgen, and has received honoraria from Bristol-Myers Squibb, Merck, Novartis, Roche, and Pfizer. Dirk Jaeger received honoraria from Bayer, Amgen, MSD, CureVac, Roche, BMS, and Definiens. Andreas Schneeweiss received honoraria from Roche, Celgene, Pfizer, AstraZeneca, and Novartis. Frederik Marmé has received honoraria and travel expenses from Roche, Amgen, AstraZeneca, Eisai, and Celgene. Novartis, Pfizer, PharmaMar, Genomic Health, and CureVac. All remaining authors have declared no conflicts of interest.
Ethical approval
All procedures performed in studies involving human participants were in accordance with the ethical standards of the institution and/or national research committee and with the 1964 Helsinki Declaration and its later amendments or comparable ethical standards.
Informed consent
Informed consent was obtained from all individual participants included in the study.
Additional information
Awards:
Katharina Smetanay received a Merit Award at the American Society of Clinical Oncology (ASCO) Annual Meeting for the submitted abstract.
About this article
Cite this article
Smetanay, K., Junio, P., Feißt, M. et al. COOLHAIR: a prospective randomized trial to investigate the efficacy and tolerability of scalp cooling in patients undergoing (neo)adjuvant chemotherapy for early breast cancer. Breast Cancer Res Treat 173, 135–143 (2019). https://doi.org/10.1007/s10549-018-4983-8
Received:

Accepted:

Published:

Issue Date:
Keywords
Alopecia

Breast cancer

Chemotherapy

Scalp cooling

Quality of life