Abstract
Purpose
We examined whether demographic and tumour characteristics (including subtype) were different for women with breast cancer diagnosed via mammography screening compared with women with interval breast cancers, lapsed attenders of the screening programme and non-participants of the screening programme. In addition, we explored whether there were survival differences between the groups, taking into account lead time bias.
Methods
We used linked data from National Cancer Registry Ireland and the national breast screening programme BreastCheck. Multinomial logistic regression was used to test the association of covariates with screening status. For survival analysis, we corrected the survival time for screen-detected cases for lead time bias, examined Kaplan–Meier curves and then used Cox regression to investigate differences in survival by screening status.
Results
Subtype (HER2 over-expressing, triple negative), stage (III/IV), grade (poor), having co-morbidities, area of deprivation, smoking status and age were associated with having interval cancer or being a non-participant of the screening programme in the multivariable model. After correcting for lead time bias, and adjusting for variables associated with screening status, there was no evidence that risk of breast-cancer death for women with screen-detected cancer was different from women with interval cancer (HR = 0.76, 95% CI 0.56–1.03), non-participants (HR = 1.07, 95% CI 0.84–1.37) and lapsed attenders (HR = 0.97, 95% CI 0.65–1.45).
Conclusions
Screening status was strongly associated with subtype and this association persisted after adjustment for covariates including tumour stage and grade. After correcting for lead-time bias and adjusting for stage, subtype, grade and socio-demographic variables, no significant survival difference was demonstrated for women with screen-detected cancer in the 5-year period post-diagnosis. Since we are adjusting for stage, subtype and other variables, the lack of difference between these groups would be expected but has not been demonstrated in studies which do not correct for lead time bias.
Access options
Buy single article
Instant access to the full article PDF.
US$ 39.95
Tax calculation will be finalised during checkout.
Subscribe to journal
Immediate online access to all issues from 2019. Subscription will auto renew annually.
US$ 119
Tax calculation will be finalised during checkout.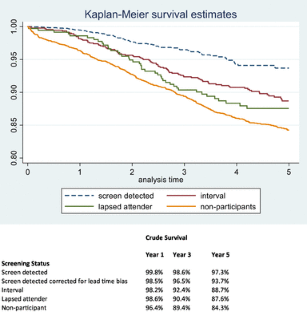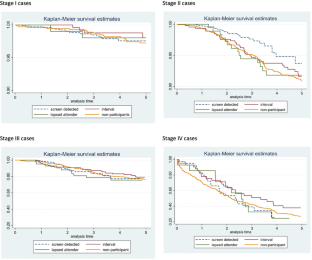 References
1.

Bleyer A, Baines C, Miller AB (2016) Impact of screening mammography on breast cancer mortality. Int J Cancer 138(8):2003–2012

2.

Nyström L, Bjurstam N, Jonsson H, Zackrisson S, Frisell J (2016) Reduced breast cancer mortality after 20+ years of follow-up in the Swedish randomized controlled mammography trials in Malmö, Stockholm, and Göteborg. J Med Screen 24(1):34–42

3.

Weedon-Fekjær H, Romundstad PR, Vatten LJ (2014) Modern mammography screening and breast cancer mortality: population study. BMJ 348:g3701

4.

Independent UK Panel on Breast Cancer Screening (2012) The benefits and harms of breast cancer screening: an independent review. Lancet 380(9855):1778–1786

5.

Hanley JA, Hannigan A, O'Brien KM (2017) Mortality reductions due to mammography screening: contemporary population-based data. PLoS ONE 12(12):e0188947

6.

Gøtzsche PC, Jørgensen KJ (2013) Screening for breast cancer with mammography. Cochrane Database Syst Rev (6):CD001877

7.

Myers ER, Moorman P, Gierisch JM, Havrilesky LJ, Grimm LJ, Ghate S et al (2015). Benefits and harms of breast cancer screening: a systematic review. JAMA 314(15):1615–1634

8.

Rothman KJ (2012) Epidemiology: an introduction, 2nd edn. Oxford University Press, Oxford

9.

Onitilo AA, Engel JM, Greenlee RT, Mukesh BN (2009) Breast cancer subtypes based on ER/PR and Her2 expression: comparison of clinicopathologic features and survival. Clin Med Res 7(1–2):4–13

10.

Ihemelandu CU, Leffall LD, Dewitty RL, Naab TJ, Mezghebe HM, Makambi KH et al (2007) Molecular breast cancer subtypes in premenopausal and postmenopausal African-American women: age-specific prevalence and survival. J Surg Res 143(1):109–118

11.

Hofvind S, Holen Å, Román M, Sebuødegård S, Puig-Vives M, Akslen L (2016) Mode of detection: an independent prognostic factor for women with breast cancer. J Med Screen 23(2):89–97

12.

Baré M, Torà N, Salas D, Sentís M, Ferrer J, Ibáñez J et al (2015) Mammographic and clinical characteristics of different phenotypes of screen-detected and interval breast cancers in a nationwide screening program. Breast Cancer Res Treat 154(2):403–415

13.

Boyd NF, Huszti E, Melnichouk O, Martin LJ, Hislop G, Chiarelli A et al (2014) Mammographic features associated with interval breast cancers in screening programs. Breast Cancer Res 16:417

14.

O'Brien KM, Dwane F, Kelleher T, Sharp L, Comber H (2015) Interval cancer rates in the Irish national breast screening programme. J Med Screen 22(3):136–143

15.

Törnberg S, Codd M, Rodrigues V, Segnan N, Ponti A (2005) Ascertainment and evaluation of interval cancers in population-based mammography screening programmes: a collaborative study in four European centres. J Med Screen 12(1):43–49

16.

de Camargo Cancela M, Comber H, Sharp L (2015) Which women with breast cancer do, and do not, undergo receptor status testing? A population-based study. Cancer Epidemiol N Y 39(5):778–782

17.

Goldhirsch A, Wood WC, Coates AS, Gelber RD, Thürlimann B, Senn H-J (2011) Strategies for subtypes—dealing with the diversity of breast cancer: highlights of the St Gallen International Expert Consensus on the Primary Therapy of Early Breast Cancer 2011. Ann Oncol 22(8):1736–1747

18.

Wiley MM (2005) Using HIPE data as a research and planning tool: limitations and opportunities: a response. Ir J Med Sci 174(2):52–57

19.

Black R, Brewster D, Brown H, Fraser L, Harris V, Kidd J et al (2000) Trends in cancer survival in Scotland 1971–1995. ISD NHS in Scotland, Edinburgh (Scottish Cancer Intelligence Unit)

20.

Walsh PM, Byrne J, Kelly M, McDevitt J, Comber H (2014) Socioeconomic disparity in survival after breast cancer in Ireland: observational study. PLoS ONE 9(11):e111729

21.

Small Area Health Research Unit (SAHRU) (1997) A National Deprivation Index for health and health services research. Technical Report No. 2. Dublin. http://hdl.handle.net/10147/264013

22.

Kruskal WH, Wallis WA (1952) Use of ranks in one-criterion variance analysis. J Am Stat Assoc 47(260):583–621

23.

Allgood PC, Duffy SW, Kearins O, O'Sullivan E, Tappenden N, Wallis MG et al (2011) Explaining the difference in prognosis between screen-detected and symptomatic breast cancers. Br J Cancer 104(11):1680–1685

24.

Tabár L, Vitak B, Chen HH, Duffy SW, Yen MF, Chiang CF et al (2000) The Swedish Two-County Trial twenty years later. Updated mortality results and new insights from long-term follow-up. Radiol Clin N Am 38(4):625–651

25.

Bellio G, Marion R, Giudici F, Kus S, Tonutti M, Zanconati F et al (2017) Interval breast cancer versus screen-detected cancer: comparison of clinicopathologic characteristics in a single-center analysis. Clin Breast Cancer 17(7):564–571

26.

Kim J, Lee S, Bae S, Choi M-Y, Lee J, Jung SP et al (2012) Comparison between screen-detected and symptomatic breast cancers according to molecular subtypes. Breast Cancer Res Treat 131(2):527–540

27.

Pollán M, Ascunce N, Ederra M, Murillo A, Erdozáin N, Alés-Martínez J et al (2013) Mammographic density and risk of breast cancer according to tumor characteristics and mode of detection: a Spanish population-based case-control study. Breast Cancer Res (BCR) 15(1):R9

28.

Aro AR, de Koning HJ, Absetz P, Schreck M (2001) Two distinct groups of non-attenders in an organized mammography screening program. Breast Cancer Res Treat 70(2):145–153

29.

Aro AR, de Koning HJ, Absetz P, Schreck M (1999) Psychosocial predictors of first attendance for organised mammography screening. J Med Screen 6(2):82–88

30.

Coyle C, Kinnear H, Rosato M, Mairs A, Hall C, O'Reilly D (2014) Do women who intermittently attend breast screening differ from those who attend every invitation and those who never attend? J Med Screen 21(2):98–103
Acknowledgements
We thank the tumour registration officers and other staff of the National Cancer Registry for their work in collecting and quality-assuring the data used in this analysis. We would like to thank Tracy Kelleher (NCRI) for matching the data.
Funding
The authors received no specific funding for this work.
Ethics declarations
Conflict of interest
The authors declare that they have no conflicts of interest.
Ethical approval
The NCRI has permission under the Health (Provision of Information) Act 1997 to collect and hold data on all persons diagnosed with cancer in Ireland without requiring individual consent. The use of that data for research is covered by the Statutory Instrument which established the Registry Board in 1991. All datasets were anonymised prior to analysis.
Informed consent
At the time of screening, consent for data being shared with the National Cancer Registry was obtained by BreastCheck.
Electronic supplementary material
Below is the link to the electronic supplementary material.
About this article
Cite this article
O'Brien, K.M., Mooney, T., Fitzpatrick, P. et al. Screening status, tumour subtype, and breast cancer survival: a national population-based analysis. Breast Cancer Res Treat 172, 133–142 (2018). https://doi.org/10.1007/s10549-018-4877-9
Received:

Accepted:

Published:

Issue Date:
Keywords
Breast cancer

Screening

Subtypes

Survival

Non-proportional hazards