Abstract
Purpose
Aromatase inhibitor (AI)-induced joint symptoms negatively impact drug adherence and quality of life in breast cancer survivors. Mechanisms underlying symptoms may include inflammation. It is hypothesized that n − 3 polyunsaturated fatty acids (PUFAs) have anti-inflammatory properties and may reduce symptoms.
Methods
We conducted a randomized, double-blind, placebo-controlled study comparing 4.3 g/day n − 3 PUFA supplements vs placebo for 24 weeks in postmenopausal breast cancer patients starting adjuvant AIs. Primary endpoints were adherence and tolerability; secondary outcomes included inflammatory cytokines and symptoms assessed by the Brief Pain Inventory short form (BPI-SF) and Functional Assessment of Cancer Treatment-Endocrine Symptoms (FACT-ES) at 0, 12, and 24 weeks.
Results
Forty-four women were randomized, of which 35 completed the study. Adherence was ≥ 88% based on these 35 patients with pill counts as well as change in red blood cell (RBC) n − 3 PUFAs. Common toxicities included grade 1 flatulence (55% of both groups) and belching (45% of n − 3 group). Mean pain severity scores (BPI-SF) did not change significantly by time or treatment arm. Quality of life, based on FACT-ES scores, significantly decreased within placebo (p = 0.04), but not the n − 3 group (p = 0.58), with a trend toward between-group differences (p = 0.06) at 12 weeks, but no significant differences at 24 weeks. RBC n − 3 levels were strongly positively correlated with FACT-ES at 12 weeks, but attenuated at 24 weeks.
Conclusion
High-dose n − 3 PUFA supplementation is feasible and well tolerated when administered with AIs. Additional studies are needed to evaluate efficacy in prevention of joint symptoms.
This is a preview of subscription content, log in to check access.
Access options
Buy single article
Instant access to the full article PDF.
US$ 39.95
Price includes VAT for USA
Subscribe to journal
Immediate online access to all issues from 2019. Subscription will auto renew annually.
US$ 199
This is the net price. Taxes to be calculated in checkout.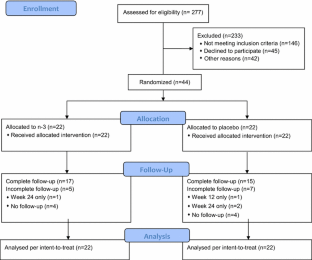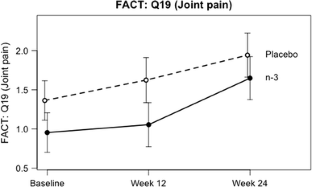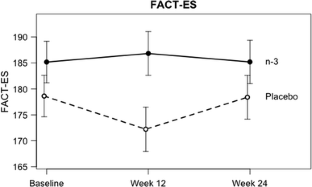 References
1.

Hershman DL, Unger JM, Crew KD, Awad D, Dakhil SR, Gralow J, Greenlee H, Lew DL, Minasian LM, Till C et al (2015) Randomized multicenter placebo-controlled trial of omega-3 fatty acids for the control of aromatase inhibitor-induced musculoskeletal pain: SWOG S0927. J Clin Oncol 33(17):1910–1917

2.

Henry NL, Giles JT, Ang D, Mohan M, Dadabhoy D, Robarge J, Hayden J, Lemler S, Shahverdi K, Powers P et al (1999) Prospective characterization of musculoskeletal symptoms in early stage breast cancer patients treated with aromatase inhibitors. Breast Cancer Res Treat 111(2):365–372

3.

Fallowfield LJ, Leaity SK, Howell A, Benson S, Cella D (1999) Assessment of quality of life in women undergoing hormonal therapy for breast cancer: validation of an endocrine symptom subscale for the FACT-B. Breast Cancer Rese Treat 55(2):189–199

4.

Bruce B, Fries JF (2003) The stanford health assessment questionnaire: dimensions and practical applications. Health Qual Life Outcomes 1:20

5.

Bruce B, Fries JF (2003) The Stanford Health Assessment Questionnaire: a review of its history, issues, progress, and documentation. J Rheumatol 30(1):167–178

6.

Morales L, Pans S, Paridaens R, Westhovens R, Timmerman D, Verhaeghe J, Wildiers H, Leunen K, Amant F, Berteloot P, Smeets A, Van Limbergen E, Weltens C, Van den Bogaert W, De Smet L, Vergote I, Christiaens MR, Neven P (2007) Debilitating musculoskeletal pain and stiffness with letrozole and exemestane: associated tenosynovial changes on magnetic resonance imaging. Breast Cancer Res Treat 104(1):87–91

7.

Morales L, Pans S, Verschueren K, Van Calster B, Paridaens R, Westhovens R, Timmerman D, De Smet L, Vergote I, Christiaens MR, Neven P (2008) Prospective study to assess short-term intra-articular and tenosynovial changes in the aromatase inhibitor-associated arthralgia syndrome. J Clin Oncol 26(19):3147–3152

8.

Hershman DL, Kushi LH, Shao T, Buono D, Kershenbaum A, Tsai WY, Fehrenbacher L, Gomez SL, Miles S, Neugut AI (2010) Early discontinuation and nonadherence to adjuvant hormonal therapy in a cohort of 8769 early-stage breast cancer patients. J Clin Oncol 28(27):4120–4128

9.

Fallowfield LJ, Bliss JM, Porter LS, Price MH, Snowdon CF, Jones SE, Coombes RC, Hall E (2006) Quality of life in the intergroup exemestane study: a randomized trial of exemestane versus continued tamoxifen after 2–3 years of tamoxifen in postmenopausal women with primary breast cancer. J Clin Oncol 24(6):910–917

10.

Goldberg RJ, Katz J (2007) A meta-analysis of the analgesic effects of omega-3 polyunsaturated fatty acid supplementation for inflammatory joint pain. Pain 129(1–2):210–223

11.

Fusi C, Materazzi S, Benemei S, Coppi E, Trevisan G, Marone IM, Minocci D, De Logu F, Tuccinardi T, Di Tommaso MR et al (2014) Steroidal and non-steroidal third-generation aromatase inhibitors induce pain-like symptoms via TRPA1. Nat Commun 5:5736

12.

Park CK, Lu N, Xu ZZ, Liu T, Serhan CN, Ji RR (2011) Resolving TRPV1- and TNF-Â -mediated spinal cord synaptic plasticity and inflammatory pain with Neuroprotectin D1. J Neurosci 31(42):15072–15085

13.

Ervin RB, Wright JD, Wang CY, Kennedy-Stephenson J (2004) Dietary intake of fats and fatty acids for the United States population: 1999–2000. Adv Data 348:1–6

14.

Harris WS, Lemke SL, Hansen SN, Goldstein DA, DiRienzo MA, Su H, Nemeth MA, Taylor ML, Ahmed G, George C (2008) Stearidonic acid-enriched soybean oil increased the omega-3 index, an emerging cardiovascular risk marker. Lipids 43(9):805–811

15.

Belury MA, Kempa-Steczko A (1997) Conjugated linoleic acid modulates hepatic lipid composition in mice. Lipids 32(2):199–204

16.

Cao J, Schwichtenberg KA, Hanson NQ, Tsai MY (2006) Incorporation and clearance of omega-3 fatty acids in erythrocyte membranes and plasma phospholipids. Clin Chem 52(12):2265–2272

17.

Katan MB, Deslypere JP, vanBirgelen APJM, Penders M, Zegwaard M (1997) Kinetics of the incorporation of dietary fatty acids into serum cholesteryl esters, erythrocyte membranes, and adipose tissue: an 18-month controlled study. J Lipid Res 38(10):2012–2022

18.

Diggle P, Heagerty P, Liang KY, Zeger SL (2002) Analysis of longitudinal data. Claredon Press, USA, Oxford

19.

Kenward MG, Roger JH (1997) Small sample inference for fixed effects from restricted maximum likelihood. Biometrics 53(3):983–997

20.

Harris W (2007) Omega-3 fatty acids and cardiovascular disease: a case for omega-3 index as a new risk factor. Pharmacol Res 55(3):217–223

21.

Henry NL, Griggs JJ (2015) The power of the placebo in symptom management. J Clin Oncol 33(17):1870–1872

22.

Hill CL, March LM, Aitken D, Lester SE, Battersby R, Hynes K, Fedorova T, Proudman SM, James M, Cleland LG et al (2016) Fish oil in knee osteoarthritis: a randomized clinical trial of low dose versus high dose. Ann Rheum Dis 75(1):23–29

23.

Proudman SM, James MJ, Spargo LD, Metcalf RG, Sullivan TR, Rischmueller M, Flabouris K, Wechalekar MD, Lee AT, Cleland LG (2015) Fish oil in recent onset rheumatoid arthritis: a randomised, double-blind controlled trial within algorithm-based drug use. Ann Rheum Dis 74(1):89–95

24.

Goldberg RJ, Katz J (2007) A meta-analysis of the analgesic effects of omega-3 polyunsaturated fatty acid supplementation for inflammatory joint pain. Pain 129(1–2):210–223

25.

Roke K, Mutch DM (2014) The role of FADS1/2 polymorphisms on cardiometabolic markers and fatty acid profiles in young adults consuming fish oil supplements. Nutrients 6(6):2290–2304

26.

Rapaport MH, Nierenberg AA, Schettler PJ, Kinkead B, Cardoos A, Walker R, Mischoulon D (2016) Inflammation as a predictive biomarker for response to omega-3 fatty acids in major depressive disorder: a proof-of-concept study. Mol Psychiatr 21(1):71–79
Acknowledgements
OSU Study #11022; ClinicalTrials.gov Identifier: NCT01478477.
Funding
Research reported in this publication was supported by the National Cancer Institute of the National Institutes of Health under the Award Number UG1CA189823 (Alliance for Clinical Trials in Oncology NCORP Grant). The content is solely the responsibility of the authors and does not necessarily represent the official views of the National Institutes of Health.
Ethics declarations
Conflict of interest
All authors declare that they have no conflict of interest.
Ethical approval
All procedures performed in studies involving human participants were in accordance with the ethical standards of the institutional and/or national research committee and with the 1964 Helsinki declaration and its later amendments or comparable ethical standards.
Informed consent
Informed consent was obtained from all individual participants included in the study.
Electronic supplementary material
Below is the link to the electronic supplementary material.
About this article
Cite this article
Lustberg, M.B., Orchard, T.S., Reinbolt, R. et al. Randomized placebo-controlled pilot trial of omega 3 fatty acids for prevention of aromatase inhibitor-induced musculoskeletal pain. Breast Cancer Res Treat 167, 709–718 (2018). https://doi.org/10.1007/s10549-017-4559-z
Received:

Accepted:

Published:

Issue Date:
Keywords
Aromatase inhibitors

Arthralgias

Joint symptoms

Omega-3 fatty acids

Breast cancer survivors