Abstract
Background
Pelareorep, a serotype 3 reovirus, has demonstrated preclinical and early clinical activity in breast cancer and synergistic cytotoxic activity with microtubule targeting agents. This multicentre, randomized, phase II trial was undertaken to evaluate the efficacy and safety of adding pelareorep to paclitaxel for patients with metastatic breast cancer (mBC).
Methods
Following a safety run-in of 7 patients, 74 women with previously treated mBC were randomized either to paclitaxel 80 mg/m2 intravenously on days 1, 8, and 15 every 4 weeks plus pelareorep 3 × 1010 TCID50 intravenously on days 1, 2, 8, 9, 15, and 16 every 4 weeks (Arm A) or to paclitaxel alone (Arm B). Primary endpoint was progression-free survival (PFS). Secondary endpoints were objective response rate, overall survival (OS), circulating tumour cell counts, safety, and exploratory correlative analyses. All comparisons used a two-sided test at an alpha level of 20%. Survival analyses were adjusted for prior paclitaxel.
Results
Final analysis was performed after a median follow-up of 29.5 months. Pelareorep was well tolerated. Patients in Arm A had more favourable baseline prognostic variables. Median adjusted PFS (Arm A vs B) was 3.78 mo vs 3.38 mo (HR 1.04, 80% CI 0.76–1.43, P = 0.87). There was no difference in response rate between arms (P = 0.87). Median OS (Arm A vs B) was 17.4 mo vs 10.4 mo (HR 0.65, 80% CI 0.46–0.91, P = 0.1).
Conclusions
This first, phase II, randomized study of pelareorep and paclitaxel in previously treated mBC did not show a difference in PFS (the primary endpoint) or RR. However, there was a significantly longer OS for the combination. Further exploration of this regimen in mBC may be of interest.
This is a preview of subscription content, log in to check access.
Access options
Buy single article
Instant access to the full article PDF.
US$ 39.95
Price includes VAT for USA
Subscribe to journal
Immediate online access to all issues from 2019. Subscription will auto renew annually.
US$ 199
This is the net price. Taxes to be calculated in checkout.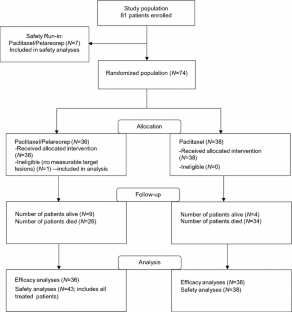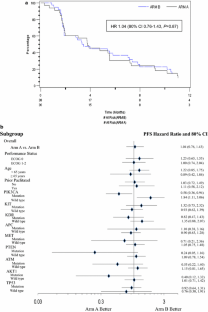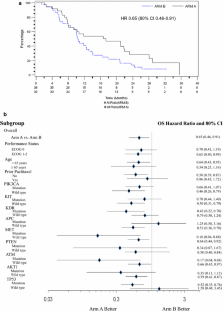 References
1.

American Cancer Society. Cancer facts and figures. 2017

2.

Chakrabarty R, Tran H, Selvaggi G et al (2015) The oncolytic virus, pelareorep, as a novel anticancer agent: a review. Invest New Drugs 33:761–774

3.

Norman KL, Coffey MC, Hirasawa K et al (2002) Reovirus oncolysis of human breast cancer. Hum Gene Ther 13(5):641–652

4.

Marcato P, Shmulevitz M, Pan D et al (2007) Ras transformation mediates reovirus oncolysis by enhancing virus uncoating, particle infectivity and apoptosis-dependent release. Mol There 15(8):1522–1530

5.

Strong JE, Coffey MC, Tang D et al (1998) The molecular basis of viral oncolysis: usurpation of the Ras signaling pathway by reovirus. EMBO J 17:3351–3362

6.

Mahalingam D, Fountzilas C, Moseley J et al (2017) A phase II study of Reolysin (pelareorep) in combination with carboplatin and paclitaxel for patients with advanced malignant melanoma. Cancer Chemother Pharmacol 79(4):697–703. https://doi.org/10.1007/s00280-017-3260-6

7.

Villalona-Calero MA, Lam E, Otterson GA et al (2016) Oncolytic reovirus in combination with chemotherapy in metastatic or recurrent non-small cell lung cancer patients with KRAS-activated tumors. Cancer 122(6):875–883. https://doi.org/10.1002/cncr.29856

8.

Noonan AM, Farren MR, Geyer SM et al (2016) Randomized phase 2 trial of the oncolytic virus pelareorep (Reolysin) in upfront treatment of metastatic pancreatic adenocarcinoma. Mol Ther 24(6):1150–1158. https://doi.org/10.1038/mt.2016.66

9.

Gollamudi R, Ghalib MH, Desai KK et al (2010) Intravenous administration of Reolysin, a live replication competent RNA virus is safe in patients with advanced solid tumours. Invest New Drugs 28:641–649

10.

Vidal L, Pandha H, Yup A et al (2008) A phase I study of Reolysin given intravenously to patients with advanced malignancies. Clin Cancer Res 14:7127–7137

11.

Galanis E, Markovic SN, Suman VJ et al (2012) Phase II Trial of Intravenous Administration of Reolysin® (Reovirus Serotype-3-dearing Strain) in Patients with Metastatic Melanoma. Mol Ther 20(10):1998–2003. https://doi.org/10.1038/mt.2012.146

12.

Comins C, Spicer J, Protheroe A et al (2010) REO-10, a phase I study of intravenous reovirus and docetaxel in patients with advanced cancer. Clin Cancer Res 16:5564–5572

13.

Karapanagiotou EM, Roulstone V, Twigger K et al (2012) Phase I/II trial of carboplatin and paclitaxel in combination with intravenous oncolytic reovirus in patients with advanced malignancies. Clin Cancer Res 18:2080–2089

14.

Lolkemia M, Arkenau H, Harrington K et al (2011) A Phase I study of the combination of intravenous reovirus Type 3 Dearing and gemcitabine in patients with advanced cancer. Can Res 17(3):581–588

15.

Eisenhauer E, Therasse P, Bogaerts J et al (2009) New response evaluation criteria in solid tumors: revised RECIST guideline (version 1.1). Eur J Cancer 45(2):228–247

16.

Cristofanilli M, Budd GT, Ellis MJ et al (2004) Circulating tumor cells, disease progression, and survival in metastatic breast cancer. N Engl J Med 351:781–791

17.

Kaufman P, Awada A, Twelves C et al (2015) Phase III open-label randomized study of eribulin mesylate versus capecitabine in patients with locally advanced or metastatic breast cancer previously treated with an anthracycline and a taxane. J Clin Oncol 33(6):594–601

18.

Cortes J, O'Shaughnessy J, Loesch D et al (2011) Eribulin monotherapy versus treatment of physician's choice in patients with metastatic breast cancer (EMBRACE): a phase 3 open-label randomised study. Lancet 377:914–923

19.

Kantoff PW, Higano CS, Shore ND, et al. Sipuleucel-T immunotherapy for castration-resistant prostate cancer. N Engl J Med 2010; 363:411–22; http://dx.doi.org/10.1056/NEJMoa1001294

20.

Reyno L, Seymour L, Tu D et al (2004) Phase III study of N, N-diethyl-2-[4-(phenylmethyl) phenoxy]ethanamine (BMS-217380-01) combined with doxorubicin versus doxorubicin alone in metastatic/recurrent breast cancer: national Cancer Institute of Canada Clinical Trials Group Study MA.19. J Clin Oncol 22(2):264–276

22.

Small EJ, Schellhammer PF, Higano CS, et al. Placebo-controlled phase III trial of immunologic therapy with sipuleucel-T (APC8015) in patients with metastatic, asymptomatic hormone refractory prostate cancer. J Clin Oncol 2006; 24:3089–94; http://dx.doi.org/10.1200/JCO.2005.04.5252

23.

Kantoff PW, Higano CS, Shore ND, et al. Sipuleucel-T immunotherapy for castration-resistant prostate cancer. N Engl J Med 2010; 363:411–22; http://dx.doi.org/10.1056/NEJMoa1001294

24.

Hodi S, O'Day SJ, McDermott DF et al (2010) Improved survival with ipilimumab in patients with metastatic melanoma. N Engl J Med 363:711–723

25.

Borghaei H, Paz-Ares L, Horn L et al (2015) Nivolumab versus Docetaxel in Advanced Nonsquamous Non–Small-Cell Lung Cancer. N Engl J Med 373:1627–1639

26.

Ferris RL, Blumenschein G, Fayette J et al (2016) Nivolumab for Recurrent Squamous-Cell Carcinoma of the Head and Neck. N Engl J Med 375:1856–1867

27.

Thirukkumaran C and Morris D. Chapter 12: Oncolytic Viral Therapy Using Reovirus. Gene Therapy of Solid Cancers: Methods and Protocols, Methods in Molecular Biology, vol 1317. pp 187–223

28.

Tang P, Jonker D, Kennecke H et al. IND.210: A randomized phase 2 trial of FOLFOX6/bevacizumab with or without reovirus (Reo) in patients (pts) with metastatic colorectal cancer (mCRC). Proc ASCO 2016

29.

Cohn DE, Sill M, Walker JL, et al. GOG 186H: A randomized phase II evaluation of weekly paclitaxel versus weekly paclitaxel with oncolytic reovirus (Reolysin) in the treatment of recurrent or persistent ovarian, fallopian tube, or primary peritoneal cancer. Society of Gynecologic Oncology Annual General Meeting 2016: Abstract 10
Acknowledgements
The authors wish to acknowledge Andrew Arnold for his contribution. The authors would like to thank Meredith Carty and Jean Powers for assistance with the manuscript preparation.
Funding
This work was supported by the Canadian Cancer Society Research Institute [grant numbers 021039, 704970] and Oncolytics Biotech Inc.
Ethics declarations
Conflicts of interest
The CCTG (L Seymour) received partial financial support from Oncolytics Biotech to offset the costs of the trial. K Gelmon reports having acted as an advisor to Oncolytics Biotech. All the remaining authors have declared no relevant conflicts of interest.
Ethical standards
The experiments in this study comply with the current laws of the country in which they were performed.
Informed consent
Informed consent was obtained from all individual participants included in the study.
Electronic supplementary material
Below is the link to the electronic supplementary material.
About this article
Cite this article
Bernstein, V., Ellard, S.L., Dent, S.F. et al. A randomized phase II study of weekly paclitaxel with or without pelareorep in patients with metastatic breast cancer: final analysis of Canadian Cancer Trials Group IND.213.. Breast Cancer Res Treat 167, 485–493 (2018). https://doi.org/10.1007/s10549-017-4538-4
Received:

Accepted:

Published:

Issue Date:
Keywords
Breast cancer

Paclitaxel

Oncolytic virus

Reovirus

Phase 2

Randomized