Abstract
Purpose
Urban women in certain Washington, DC neighborhoods present with advanced breast cancer at high rates despite access to health insurance and health care.
Methods
Through a two-phase intervention, community health workers (CHWs) educated and surveyed individuals regarding healthcare utilization and breast health and cancer awareness. In phase I, CHWs educated and administered a survey to 1092 women, of whom 95.1% had health insurance, in an attempt to explain the high rate of advanced breast cancer despite having health insurance. In phase II, a targeted CHW-administered intervention was designed based on data collected from the phase I survey, and provided to 658 women. Preintervention and postintervention surveys were administered to assess its impact on knowledge and beliefs about breast health and cancer screening.
Results
During phase I, respondents most often identified personal factors (28.7%) and fear (27.7%) to explain the high rate of advanced breast cancer despite health insurance status. In phase II, the intervention improved perceptions of the safety and efficacy of mammograms with an absolute 15.4% increase in the respondents who believed that "A mammogram is the safest and most effective test available for finding early breast cancer." Perceived barriers discouraging mammograms were access (17.0%), pain (13.2%), and education (13.1%).
Conclusions
Among an urban population of predominantly insured women with high rates of advanced breast cancer at diagnosis, personal factors and fear were cited as the greatest barriers to breast cancer screening. Educational intervention by CHWs showed a positive impact on respondents' perceptions regarding mammogram safety and efficacy.
Access options
Buy single article
Instant access to the full article PDF.
US$ 39.95
Tax calculation will be finalised during checkout.
Subscribe to journal
Immediate online access to all issues from 2019. Subscription will auto renew annually.
US$ 119
Tax calculation will be finalised during checkout.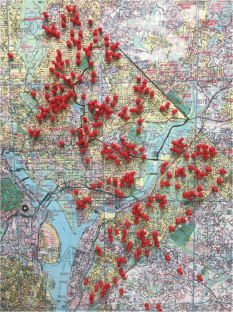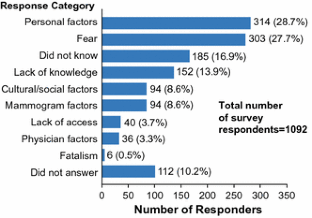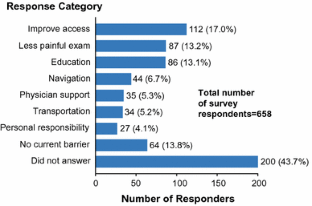 References
1.

Affordable Health California. Affordable Care Act history. http://affordablehealthca.com/history-affordable-care-act/. Accessed 2 Aug 2017

2.

McDavid K, Tucker TC, Sloggett A, Coleman MP (2003) Cancer survival in Kentucky and health insurance coverage. Arch Intern Med 163:2135–2144

3.

Ward E, Halpern M, Schrag N et al (2008) Association of insurance with cancer care utilization and outcomes. CA Cancer J Clin 58:9–31

4.

Rong X, Yang W, Garzon-Muvdi T et al (2016) Influence of insurance status on survival of adults with glioblastoma multiforme: a population-based study. Cancer 122:3157–3165

5.

Markt SC, Lago-Hernandez CA, Miller RE et al (2016) Insurance status and disparities in disease presentation, treatment, and outcomes for men with germ cell tumors. Cancer 122:3127–3135

6.

Singh P, Sachs JD (2013) 1 Million community health workers in sub-Saharan Africa by 2015. Lancet 382:363–365

7.

Bhutta Z, Lassi Z, Pariyo G, Huicho L (2010) Global experience of community health workers for delivery of health related millennium development goals: a systematic review, country case studies, and recommendations for integration into national health systems. Geneva: World Health Organization. http://www.who.int/workforcealliance/knowledge/resources/chwreport/en/. Accessed 2 Aug 2017

8.

Singh P, Chokshi DA (2013) Community health workers—a local solution to a global problem. N Engl J Med 369:894–896

9.

Maxwell AE, Bastani R, Danao LL et al (2010) Results of a community-based randomized trial to increase colorectal cancer screening among Filipino Americans. Am J Public Health 100:2228–2234

10.

Carney PA, Lee-Lin F, Mongoue-Tchokote S et al (2014) Improving colorectal cancer screening in Asian Americans: results of a randomized intervention study. Cancer 120:1702–1712

11.

Nguyen BH, Stewart SL, Nguyen TT et al (2015) Effectiveness of lay health worker outreach in reducing disparities in colorectal cancer screening in Vietnamese Americans. Am J Public Health 105:2083–2089

12.

Feltner FJ, Ely GE, Whitler ET et al (2012) Effectiveness of community health workers in providing outreach and education for colorectal cancer screening in Appalachian Kentucky. Soc Work Health Care 51:430–440

13.

Han HR, Song Y, Kim M et al (2017) Breast and cervical cancer screening literacy among Korean American Women: a community health worker-led intervention. Am J Public Health 107:159–165

14.

Mojica CM, Morales-Campos DY, Carmona CM et al (2016) Breast, cervical, and colorectal cancer education and navigation: results of a community health worker intervention. Health Promot Pract 17:353–363

15.

Nguyen TT, Le G, Nguyen T et al (2009) Breast cancer screening among Vietnamese Americans: a randomized controlled trial of lay health worker outreach. Am J Prev Med 37:306–313

16.

Wells KJ, Luque JS, Miladinovic B et al (2011) Do community health worker interventions improve rates of screening mammography in the United States? A systematic review. Cancer Epidemiol Biomark Prev 20:1580–1598

17.

DC office of planning. Demographic and housing profiles 2010 by ward. https://planning.dc.gov/node/596612. Accessed 2 Aug 2017

18.

District of Columbia Cancer Registry Bureau of Cancer and Chronic Diseases Community Health Administration. Burden of cancer in the District of Columbia. April 2014. https://doh.dc.gov/sites/default/files/dc/sites/doh/DOH_BurdenOfCancer_V5.pdf. Accessed 14 Aug 2017

19.

American Cancer Society. Cancer facts & figures for African Americans: 2016–2018. https://www.cancer.org/content/dam/cancer-org/research/cancer-facts-and-statistics/cancer-facts-and-figures-for-african-americans/cancer-facts-and-figures-for-african-americans-2016-2018.pdf. Accessed 2 Aug 2017

20.

Jatoi I, Chen BE, Anderson WF, Rosenberg PS (2007) Breast cancer mortality trends in the United States according to estrogen receptor status and age at diagnosis. J Clin Oncol 25:1683–1690

21.

Halpern MT, Brawley OW (2016) Insurance status, health equity, and the cancer care continuum. Cancer 122:3106–3109

22.

Crump SR, Mayberry RM, Taylor BD et al (2000) Factors related to noncompliance with screening mammogram appointments among low-income African American women. J Natl Med Assoc 92:237–246

23.

Steele SL, Lewis-Jack O (2005) Psychological and neuropsychological predictors of non-compliance to mammography screening among high-risk African American women. Annual Summary Report. US Army Medical Research and Materiel Command, Fort Derick

24.

Davis C (2014) A comparison of compliance and noncompliance in breast cancer screening among African American women. Presented at the Annual Conference of the Society for Social Work and Research. January 18, 2014. San Antonio, TX
Acknowledgements
The authors wish to thank the patients and investigators who participated in this study, T. Blaise Springfield of Georgetown University for his help with manuscript development, and Phillips Gilmore Oncology Communications for editorial assistance.
Funding
The work was funded by the Avon Foundation for Women (Breast Cancer Safety Net Grants 05-2014-018 and 05-2015-015); the Four Seasons Hotel, Washington, DC; and MedStar Health Research Institute, Washington, DC.
Ethics declarations
Conflict of interest
The authors declare that they have no financial relationships or conflicts of interest to report.
Ethical approval
All human investigations were performed after approval by the MedStar Health Research Institute Institutional Review Board ("IRB") in accordance with an assurance registered under FWA00000504 filed with and approved by the U.S. Department of Health and Human Services.
Informed consent
Documentation of consent was waived by the IRB given that all surveys administered during study implementation were anonymized.
Electronic supplementary material
Below is the link to the electronic supplementary material.
About this article
Cite this article
Huerta, E.E., Weeks-Coulthurst, P., Williams, C. et al. Take care of your neighborhood. Breast Cancer Res Treat 167, 225–234 (2018). https://doi.org/10.1007/s10549-017-4492-1
Received:

Accepted:

Published:

Issue Date:
Keywords
Breast cancer

Community health worker

Disparity

Health insurance

Mammogram