Abstract
Purpose
We previously identified small molecules that fit into a BRCA1-binding pocket within estrogen receptor-alpha (ERα), mimic the ability of BRCA1 to inhibit ERα activity ("BRCA1-mimetics"), and overcome antiestrogen resistance. One such compound, the hydrochloride salt of NSC35446 ("NSC35446.HCl"), also inhibited the growth of antiestrogen-resistant LCC9 tumor xenografts. The purpose of this study was to investigate the down-stream effects of NSC35446.HCl and its mechanism of action.
Methods
Here, we studied antiestrogen-resistant (LCC9, T47DCO, MCF-7/RR, LY2), ERα-negative (MDA-MB-231, HCC1806, MDA-MB-468), and antiestrogen-sensitive (MCF-7) cell lines. Techniques utilized include RNA-seq, qRT-PCR, cell growth analysis, cell-cycle analysis, Western blotting, luciferase reporter assays, TUNEL assays, in silico analysis of the IKKB gene, and ChIP assays.
Results
SC35446.HCl inhibited proliferation and induced apoptosis in antiestrogen-resistant LCC9, T47DCO, MCF-7/RR, and LY2 cells but not in ERα-negative breast cancer cell lines. IKKB (IKKβ, IKBKB), an upstream activator of NF-κB, was identified as a BRCA1-mimetic-regulated gene based on an RNA-seq analysis. NSC35446.HCl inhibited IKKB, IKKA, and IKKG/NEMO mRNA and protein expression in LCC9 cells. NSC35446.HCl also inhibited NF-κB activity and expression of NF-κB target genes. In silico analysis of the IKKB promoter identified nine estrogen response element (ERE) half-sites and one ERE-like full-site. ChIP assays revealed that ERα was recruited to the ERE-like full-site and five of the nine half-sites and that ERα recruitment was inhibited by NSC35446.HCl in LCC9 and T47DCO cells.
Conclusions
These studies identify functional EREs in the IKKB promoter and identify IKKB as an ERα and NSC35446.HCl-regulated gene, and they suggest that NF-κB and IKKB, which were previously linked to antiestrogen resistance, are targets for NSC35446.HCl in reversing antiestrogen resistance.
This is a preview of subscription content, log in to check access.
Access options
Buy single article
Instant access to the full article PDF.
US$ 39.95
Price includes VAT for USA
Subscribe to journal
Immediate online access to all issues from 2019. Subscription will auto renew annually.
US$ 199
This is the net price. Taxes to be calculated in checkout.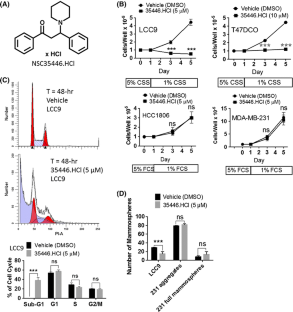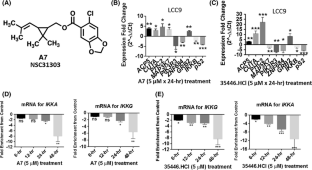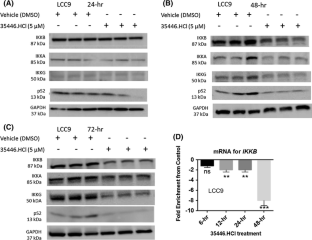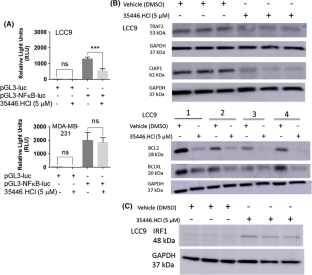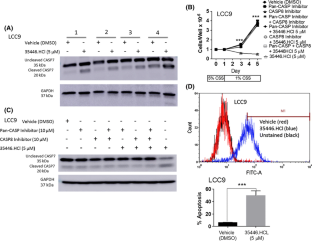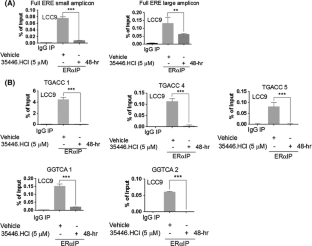 Abbreviations
BCL2:

B-cell leukemia 2

BCLXL:

BCL2-related protein, long isoform

BRCA1:

Breast cancer susceptibility gene 1

CASP:

Caspase

ChIP:

Chromatin immunoprecipitation

CIAP1:

Baculoviral IAP repeat-containing protein 1

CSS:

Charcoal-stripped serum

DMSO:

Dimethyl sulfoxide

E2:

17β-estradiol

ERα:

Estrogen receptor α

ERE:

Estrogen response element

GAPDH:

Glyceraldehyde-3-phosphate dehydrogenase

IKKB (IKBKB):

I kappa B kinase-β

IRF1:

Interferon regulatory factor-1

NCI/DTP:

National Cancer Institute/Developmental Therapeutics Program)

NF-κB:

Nuclear factor-kappa B

PVDF:

Polyvinylidene difluoride

qRT-PCR:

Quantitative reverse transcriptase polymerase chain reaction

TdT:

Terminal deoxytransferase

TRAF2:

TNF receptor-associated factor 2

XBP1:

X-box binding protein-1
References
1.

Roy R, Chun J, Powell SN (2011) BRCA1 and BRCA2: different roles in a common pathway of genome protection. Nat Rev Cancer 12:68–78 Review

2.

Li ML, Greenberg RA (2012) Links between genome integrity and BRCA1 tumor suppression. Trends Biochem Sci 37:418–424

3.

Fan S, Wang J, Yuan R, Ma Y, Meng Q, Erdos MR, Pestell RG, Yuan F, Auborn KJ, Goldberg ID, Rosen EM (1999) BRCA1 inhibition of estrogen receptor signaling in transfected cells. Science 284:1354–1356

4.

Fan S, Ma YX, Wang C, Yuan RQ, Meng Q, Wang JA, Erdos M, Goldberg ID, Webb P, Kushner PJ, Pestell RG, Rosen EM (2001) Role of direct interaction in BRCA1 inhibition of estrogen receptor activity. Oncogene 20:77–87

5.

Fan S, Ma YX, Wang C, Yuan RQ, Meng Q, Wang JA, Erdos M, Goldberg ID, Webb P, Kushner PJ, Pestell RG, Rosen EM (2002) p300 Modulates the BRCA1 inhibition of estrogen receptor activity. Cancer Res 62:141–151

6.

Xu J, Fan S, Rosen EM (2005) Regulation of the estrogen-inducible gene expression profile by the breast cancer susceptibility gene BRCA1. Endocrinology 146:2031–2047

7.

Ma YX, Tomita Y, Fan S, Wu K, Tong Y, Zhao Z, Song LN, Goldberg ID, Rosen EM (2005) Structural determinants of the BRCA1: estrogen receptor interaction. Oncogene 24:1831–1846

8.

Jones LP, Li M, Halama ED, Ma Y, Lubet R, Grubbs CJ, Deng CX, Rosen EM, Furth PA (2005) Promotion of mammary cancer development by Tam in a mouse model of Brca1-mutation-related breast cancer. Oncogene 24:3554–3562

9.

Jones LP, Tilli MT, Assefnia S, Torre K, Halama ED, Parrish A, Rosen EM, Furth PA (2008) Activation of estrogen signaling pathways collaborates with loss of Brca1 to promote development of ERalpha negative and ERalpha-positive mammary preneoplasia and cancer. Oncogene 27:794–802

10.

Ma Y, Fan S, Hu C, Meng Q, Fuqua SA, Pestell RG, Tomita YA, Rosen EM (2010) BRCA1 regulates acetylation and ubiquitination of estrogen receptor-alpha. Mol Endocrinol 24:76–90

11.

Wen J, Li R, Lu Y, Shupnik MA (2009) Decreased BRCA1 confers Tam resistance in breast cancer cells by altering estrogen receptor-co-regulator interactions. Oncogene 28:575–586

12.

Ma Y, Preet A, Tomita Y, De Oliveira E, Zhang L, Ueda Y, Clarke R, Brown M, Rosen EM (2015) A new class of small molecule estrogen receptor-alpha antagonists that overcome antiestrogen resistance. Oncotarget 6:40388–40404

13.

Brünner N, Boysen B, Jirus S, Skaar TC, Holst-Hansen C, Lippman J, Frandsen T, Spang-Thomsen M, Fuqua SA, Clarke R (1997) MCF7/LCC9: an antiestrogen-resistant MCF-7 variant in which acquired resistance to the steroidal antiestrogen ICI 182,780 confers an early cross-resistance to the nonsteroidal antiestrogen Tam. Cancer Res 57:3486–3493

14.

Clarke R, Leonessa F, Welch JN, Skaar TC (2001) Cellular and molecular pharmacology of antiestrogen action and resistance. Pharmacol Rev 53:25–71 Review

15.

Ma Y, Tomita Y, Preet A, Clarke R, Englund E, Grindrod S, Nathan S, De Oliveira E, Brown ML, Rosen EM (2014) Small molecule "BRCA1-Mimetics" are antagonists of estrogen receptor-alpha. Mol Endocrinol 28:1971–1986

16.

Krieg AJ, Krieg SA, Ahn BS, Shapiro DJ (2004) Interplay between estrogen response element sequence and ligands controls in vivo binding of estrogen receptor to regulated genes. J Biol Chem 279:5025–5034

17.

Sun J, Nawaz Z, Slingerland JM (2007) Long-range activation of GREB1 by estrogen receptor via three distal consensus estrogen-responsive elements in breast cancer cells. Mol Endocrinol 21:2651–2662 Epub 2007 Jul 31

18.

Fan Y, Dutta J, Gupta N, Fan G, Gélinas C (2008) Regulation of programmed cell death by NF-kappaB and its role in tumorigenesis and therapy. Adv Exp Med Biol 615:223–250

19.

Massa PT, Wu H (1995) Interferon regulatory factor element and interferon regulatory factor 1 in the induction of major histocompatibility complex class I genes in neural cells. J Interferon Cytokine Res 15:799–810

20.

Bouker KB, Skaar TC, Riggins RB, Harburger DS, Fernandez DR, Zwart A, Wang A, Clarke R (2005) Interferon regulatory factor-1 (IRF1) exhibits tumor suppressor activities in breast cancer associated with caspase activation and induction of apoptosis. Carcinogenesis 26:1527–1535

21.

Bouker KB, Skaar TC, Fernandez DR, O'Brien KA, Riggins RB, Cao D, Clarke R (2004) Interferon regulatory factor-1 mediates the proapoptotic but not cell cycle arrest effects of the steroidal antiestrogen ICI 182,780 (faslodex, fulvestrant). Cancer Res 64:4030–4039

22.

Wakeling AE, Dukes M, Bowler J (1991) A potent specific pure antiestrogen with clinical potential. Cancer Res 51:3867–3873

23.

Parker MG (1993) Action of "pure" antiestrogens in inhibiting estrogen receptor action. Breast Cancer Res Treat 26:131–137

24.

Bronzert DA, Greene GL, Lippman ME (1985) Selection and characterization of a breast cancer cell line resistant to the antiestrogen LY 117018. Endocrinology 117:1409–1417

25.

Singh RK, Ruh MF, Butler WB, Ruh TS (1986) Acceptor sites on chromatin for receptor bound by estrogen versus antiestrogen in antiestrogen-sensitive and -resistant MCF-7 cells. Endocrinology 118:1087–1095

26.

Graham ML 2nd, Krett NL, Miller LA, Leslie KK, Gordon DF, Wood WM, Wei LL, Horwitz KB (1990) T47DCO cells, genetically unstable and containing estrogen receptor mutations, are a model for the progression of breast cancers to hormone resistance. Cancer Res 50:6208–6217

27.

Riggins RB, Zwart A, Nehra R, Clarke R (2005) The nuclear factor kappa B inhibitor parthenolide restores ICI 182,780 (Faslodex, fulvestrant)-induced apoptosis in antiestrogen-resistant breast cancer cells. Mol Cancer Ther 4:33–41

28.

Nehra R, Riggins RB, Shajahan AN, Zwart A, Crawford AC, Clarke R (2010) BCL2 and CASP8 regulation by NF-kappaB differentially affect mitochondrial function and cell fate in antiestrogen-sensitive and -resistant breast cancer cells. FASEB J 24:2040–2055

29.

Chadwick CC, Chippari S, Matelan E, Borges-Marcucci L, Eckert AM, Keith JC Jr, Albert LM, Leathurby Y, Harris HA, Bhat RA, Ashwell M, Trybulski E, Winneker RC, Adelman SJ, Steffan RJ (2005) Harnish DC Identification of pathway-selective estrogen receptor ligands that inhibit NF-κB transcriptional activity. Proc Natl Acad Sci USA 102:2543–2548

30.

Valentine JE, Kalkhoven E, White R, Hoare S, Parker MG (2000) Mutations in the estrogen receptor ligand binding domain discriminate between hormone-dependent transactivation and transrepression. J Biol Chem 275:25322–25329

31.

Nettles KW, Gil G, Nowak J, Métivier R, Sharma VB, Greene GL (2008) CBP Is a dosage-dependent regulator of nuclear factor-kappaB suppression by the estrogen receptor. Mol Endocrinol 22:263–272

32.

Hamilton KL, Mbai FN, Gupta S, Knowlton AA (2004) Estrogen, heat shock proteins, and NFkappaB in human vascular endothelium. Arterioscler Thromb Vasc Biol 24:1628–1633

33.

Benezra M, Chevallier N, Morrison DJ, MacLachlan TK, El-Deiry WS, Licht JD (2003) BRCA1 augments transcription by the NF-kappaB transcription factor by binding to the Rel domain of the p65/RelA subunit. J Biol Chem 278:26333–26441

34.

Ning Y, Riggins RB, Mulla JE, Chung H, Zwart A, Clarke R (2010) IFNgamma restores breast cancer sensitivity to fulvestrant by regulating STAT1, IFN regulatory factor 1, NF-kappaB, BCL2 family members, and signaling to caspase-dependent apoptosis. Mol Cancer Ther 9:1274–1285

35.

Gu Z, Lee RY, Skaar TC, Bouker KB, Welch JN, Lu J, Liu A, Zhu Y, Davis N, Leonessa F, Brünner N, Wang Y, Clarke R (2002) Association of interferon regulatory factor-1, nucleophosmin, nuclear factor-kappaB, and cyclic AMP response element binding with acquired resistance to Faslodex (ICI 182,780). Cancer Res 62:3428–3437

36.

Tora L, Gaub MP, Mader S, Dierich A, Bellard M, Chambon P (1988) Cell-specific activity of a GGTCA half-palindromic oestrogen-responsive element in the chicken ovalbumin gene promoter. EMBO J 7:3771–3778

37.

Petz LN, Nardulli AM (2000) Sp1 binding sites and an estrogen response element half-site are involved in regulation of the human progesterone receptor A promoter. Mol Endocrinol 14:972–985

38.

Ediger TR, Park SE, Katzenellenbogen BS (2002) Estrogen receptor inducibility of the human Na +/H + exchanger regulatory factor/ezrin-radixin-moesin binding protein 50 (NHE-RF/EBP50) gene involving multiple half-estrogen response elements. Mol Endocrinol 16:1828–1839

39.

Anderson I, Gorski J (2000) Estrogen receptor α interaction with estrogen response element half-sites from the rat prolactin gene. Biochemistry 39:3842–3847

40.

Neo SJ, Su X, Thomsen JS (2009) Surface plasmon resonance study of cooperative interactions of estrogen receptor alpha and transcriptional factor Sp1 with composite DNA elements. Anal Chem 81:3344–3349

41.

Mandal S, Davie JR (2010) Estrogen regulated expression of the p21 Waf1/Cip1 gene in estrogen receptor positive human breast cancer cells. J Cell Physiol 224:28–32

42.

Sisci D, Middea E, Morelli C, Lanzino M, Aquila S, Rizza P, Catalano S, Casaburi I, Maggiolini M, Andò S (2010) 17β-estradiol enhances α(5) integrin subunit gene expression through ERα-Sp1 interaction and reduces cell motility and invasion of ERα-positive breast cancer cells. Breast Cancer Res Treat 124:63–77

43.

Joshi SR, Ghattamaneni RB, Scovell WM (2011) Expanding the paradigm for estrogen receptor binding and transcriptional activation. Mol Endocrinol 25:980–994

44.

Su X, Song HY (2016) Surface plasmon resonance study of cooperative interactions of estrogen receptor α and specificity protein 1 with composite DNA elements. Methods Mol Biol 1366:261–270

45.

Martinez E, Wahli W (1989) Cooperative binding of estrogen receptor to imperfect estrogen-responsive DNA elements correlates with their synergistic hormone-dependent enhancer activity. EMBO J 8:3781–3791

46.

Mason CE, Shu FJ, Wang C, Session RM, Kallen RG, Sidell N, Yu T, Liu MH, Cheung E, Kallen CB (2010) Location analysis for the estrogen receptor-alpha reveals binding to diverse ERE sequences and widespread binding within repetitive DNA elements. Nucleic Acids Res 38:2355–2368

47.

Clarke R, Shajahan AN, Riggins RB, Cho Y, Crawford A, Xuan J, Wang Y, Zwart A, Nehra R, Liu MC (2009) Gene network signaling in hormone responsiveness modifies apoptosis and autophagy in breast cancer cells. J Steroid Biochem Mol Biol 114:8–20

48.

Stender JD, Nwachukwu JC, Kastrati I, Frasor J, Nettles KW, Glass CK (2017) Structural and molecular mechanisms of cytokine-mediated endocrine resistance in human breast cancer cells. Mol Cell 65:1122–1135

49.

Normanno N, Di Maio M, De Maio E, De Luca A, de Matteis A, Giordano A, Perrone F, on behalf of the NCI-Naples Breast Cancer Group (2005) Mechanisms of endocrine resistance and novel therapeutic strategies in breast cancer. Endocrine-Related Cancer 12:721–747
Acknowledgments
The authors wish to thank Garret Graham for his in silico contribution to the paper, Karen Creswell in the Flow Cytometry Shared Resource at the Lombardi Comprehensive Cancer Center (LCCC), and David Goerlitz, Archana Kishore, and MD Islam of the Genomics and Epigenomics Shared Resource at the LCCC. We also thank Dr. James Li for assisting with the data analysis of the RNA-seq experiment. And we thank Drs. Priscilla A. Furth, Anna Riegel, Steven J. Metallo, and Robert Clarke (LCCC and Georgetown University) for their helpful advice during the performance of these studies and the preparation of this manuscript.
Funding
This research was supported, in part, by grants from Susan G. Komen for the Cure (KG110580), the United States Public Health Service (R01-CA150646), and the Living in Pink Foundation.
Ethics declarations
Competing interests
Drs. Tomita, Brown, and Rosen have submitted a patent application based on the compounds described in this manuscript.
Electronic supplementary material
Below is the link to the electronic supplementary material.
About this article
Cite this article
Nathan, S., Ma, Y., Tomita, Y.A. et al. BRCA1-mimetic compound NSC35446.HCl inhibits IKKB expression by reducing estrogen receptor-α occupancy in the IKKB promoter and inhibits NF-κB activity in antiestrogen-resistant human breast cancer cells. Breast Cancer Res Treat 166, 681–693 (2017). https://doi.org/10.1007/s10549-017-4442-y
Received:

Accepted:

Published:

Issue Date:
Keywords
BRCA1-mimetic

Estrogen receptor-alpha (ER-alpha)

Antiestrogen resistant

IKKB

NF-kappaB

NSC35446.HCl

A7 (NSC31303)