Abstract
Purpose
Although gene expression profiling provides critical information, knowledge remains limited regarding the differential effects of molecular subtype on clinical course. This study evaluated the impact of molecular status on long-term patterns of failure in patients with non-metastatic breast cancer.
Methods
We analyzed data from 1181 individuals with invasive breast cancer undergoing surgery plus PORT from 2003 to 2011. Molecular subtypes were defined as luminal A (LA), luminal B (LB)-HER2(−), LB-HER2(+), HER2, and triple-negative (TN) based on the 2013 St. Gallen Consensus criteria. Competing risks analysis and baseline hazard rate function plots were used to explore subtype-specific recurrence patterns.
Results
The 10-year overall survival rates of LA, LB-HER2(−), LB-HER2(+), HER2, and TN groups were 96, 93, 94, 84, and 85%, respectively (P < 0.001). Distant metastatic events differed significantly according to molecular subtype (P < 0.001). In competing risks regression analysis, initial development of distant metastasis was the highest with TN tumors, followed by HER2, LB-HER2(−), and LB-HER2(+) subtypes (P = 0.005). Regarding preferential sites of distant metastasis, the risk of initial brain metastasis was significantly higher with HER2 tumors, followed by TN tumors (P = 0.001). A low-level but sustained metastatic risk increment was observed in luminal tumors, whereas TN and HER2 subtypes showed a short-term risk surge within 5 years.
Conclusion
From the significant impact of molecular profile on distant metastasis, subtype-specific individualization of systemic treatment and close surveillance are suggested. The preferential and long-term risk of brain metastasis in the HER2 subtype underlines the importance of alternative anti-HER2 therapies.
Access options
Buy single article
Instant access to the full article PDF.
USD 39.95
Price excludes VAT (USA)
Tax calculation will be finalised during checkout.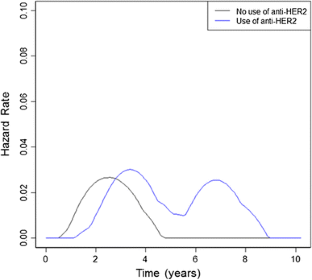 References
Weigelt B, Baehner FL, Reis-Filho JS (2010) The contribution of gene expression profiling to breast cancer classification, prognostication and prediction: a retrospective of the last decade. J Pathol 220:263–280

van de Vijver MJ, He YD, van't Veer LJ et al (2002) A gene-expression signature as a predictor of survival in breast cancer. N Engl J Med 347:1999–2009

Sotiriou C, Neo SY, McShane LM et al (2003) Breast cancer classification and prognosis based on gene expression profiles from a population-based study. Proc Natl Acad Sci USA 100:10393–10398

Goldhirsch A, Winer EP, Coates AS et al (2013) Personalizing the treatment of women with early breast cancer: highlights of the St Gallen International Expert Consensus on the Primary Therapy of Early Breast Cancer 2013. Ann Oncol 24:2206–2223

Yersal O, Barutca S (2014) Biological subtypes of breast cancer: prognostic and therapeutic implications. World J Clin Oncol 5:412–424

National Comprehensive Cancer Network® (2016) Breast Cancer. Version 2.2016. In: NCCN Clinical Practice Guidelines in Oncology (NCCN Guidelines®). https://www.nccn.org/professionals/physician_gls/pdf/breast.pdf. Accessed 10 Mar 2017

Tran B, Bedard PL (2011) Luminal-B breast cancer and novel therapeutic targets. Breast Cancer Res 13:221

Anders C, Carey LA (2008) Understanding and treating triple-negative breast cancer. Oncology 22:1233–1239

Ross JS, Slodkowska EA, Symmans WF et al (2009) The HER-2 receptor and breast cancer: ten years of targeted anti-HER-2 therapy and personalized medicine. Oncologist 14:320–368

Sorlie T, Perou CM, Tibshirani R et al (2001) Gene expression patterns of breast carcinomas distinguish tumor subclasses with clinical implications. Proc Natl Acad Sci USA 98:10869–10874

Loibl S, Gianni L (2016) HER2-positive breast cancer. Lancet. doi:10.1016/S0140-6736(16)32417-5

Satagopan JM, Ben-Porat L, Berwick M (2004) A note on competing risks in survival data analysis. Br J Cancer 91:1229–1235

Scrucca L, Santucci A, Aversa F (2007) Competing risk analysis using R: an easy guide for clinicians. Bone Marrow Transplant 40:381–387

Scrucca L, Santucci A, Aversa F (2010) Regression modeling of competing risk using R: an in depth guide for clinicians. Bone Marrow Transplant 45:1388–1395

Voduc KD, Cheang MC, Tyldesley S et al (2010) Breast cancer subtypes and the risk of local and regional relapse. J Clin Oncol 28:1684–1691

Lee Y, Kang E, Lee AS et al (2015) Outcomes and recurrence patterns according to breast cancer subtypes in Korean women. Breast Cancer Res Treat 151:183–190

Hennigs A, Riedel F, Gondos A et al (2016) Prognosis of breast cancer molecular subtypes in routine clinical care: a large prospective cohort study. BMC Cancer 16:734

Shim HJ, Kim SH, Kang BJ et al (2014) Breast cancer recurrence according to molecular subtype. Asian Pac J Cancer Prev 15:5539–5544

Haffty BG, Yang Q, Reiss M et al (2006) Locoregional relapse and distant metastasis in conservatively managed triple negative early-stage breast cancer. J Clin Oncol 24:5652–5657

Millar EK, Graham PH, O'Toole SA et al (2009) Prediction of local recurrence, distant metastases, and death after breast-conserving therapy in early-stage invasive breast cancer using a five-biomarker panel. J Clin Oncol 27:4701–4708

Sihto H, Lundin J, Lundin M et al (2011) Breast cancer biological subtypes and protein expression predict for the preferential distant metastasis sites: a nationwide cohort study. Breast Cancer Res 13:R87

Soni A, Ren Z, Hameed O et al (2015) Breast cancer subtypes predispose the site of distant metastases. Am J Clin Pathol 143:471–478

Alqaisi A, Chen L, Romond E et al (2014) Impact of estrogen receptor (ER) and human epidermal growth factor receptor-2 (HER2) co-expression on breast cancer disease characteristics: implications for tumor biology and research. Breast Cancer Res Treat 148:437–444

Kaplan MA, Arslan UY, Isikdogan A et al (2016) Biological subtypes and distant relapse pattern in breast cancer patients after curative surgery (Study of anatolian society of medical oncology). Breast Care 11:248–252

Park HS, Kim S, Kim K et al (2012) Pattern of distant recurrence according to the molecular subtypes in Korean women with breast cancer. World J Surg Oncol 10:4

Wu SG, Sun JY, Yang LC et al (2016) Patterns of distant metastasis in Chinese women according to breast cancer subtypes. Oncotarget 7:47975–47984

Smid M, Wang Y, Zhang Y et al (2008) Subtypes of breast cancer show preferential site of relapse. Cancer Res 68:3108–3114

Kimbung S, Loman N, Hedenfalk I (2015) Clinical and molecular complexity of breast cancer metastases. Semin Cancer Biol 35:85–95

Musolino A, Ciccolallo L, Panebianco M et al (2011) Multifactorial central nervous system recurrence susceptibility in patients with HER2-positive breast cancer: epidemiological and clinical data from a population-based cancer registry study. Cancer 117:1837–1846

Kennecke H, Yerushalmi R, Woods R et al (2010) Metastatic behavior of breast cancer subtypes. J Clin Oncol 28:3271–3277

Gaedcke J, Traub F, Milde S et al (2007) Predominance of the basal type and HER-2/neu type in brain metastasis from breast cancer. Mod Pathol 20:864–870

Gabos Z, Sinha R, Hanson J et al (2006) Prognostic significance of human epidermal growth factor receptor positivity for the development of brain metastasis after newly diagnosed breast cancer. J Clin Oncol 24:5658–5663

Palmieri D, Bronder JL, Herring JM et al (2007) Her-2 overexpression increases the metastatic outgrowth of breast cancer cells in the brain. Cancer Res 67:4190–4198

Yonemori K, Tsuta K, Ono M et al (2010) Disruption of the blood brain barrier by brain metastases of triple-negative and basal-type breast cancer but not HER2/neu-positive breast cancer. Cancer 116:302–308

Romond EH, Perez EA, Bryant J et al (2005) Trastuzumab plus adjuvant chemotherapy for operable HER2-positive breast cancer. N Engl J Med 353:1673–1684

Koo T, Kim IA (2016) Brain metastasis in human epidermal growth factor receptor 2-positive breast cancer: from biology to treatment. Radiat Oncol J 34:1–9

Whole-brain radiation therapy or stereotactic radiosurgery with or without lapatinib ditosylate in treating patients with brain metastasis from HER2-positive breast cancer. In: ClinicalTrials.gov. National Institutes of Health. https://clinicaltrials.gov/ct2/show/NCT01622868?term=01622868&rank=1. Accessed 10 Mar 2017

Ribelles N, Perez-Villa L, Jerez JM et al (2013) Pattern of recurrence of early breast cancer is different according to intrinsic subtype and proliferation index. Breast Cancer Res 15:R98
Acknowledgements
This work supported by grants from the Korean Ministry of Health and Welfare and to Kim IA (No. 0820010).
Ethics declarations
Conflict of interest
The authors declare that they have no conflict of interest.
Ethical approval
This study was approved by the Institutional Review Board (B-1505/298-116). The retrospective design exempted this study from the requirement to obtain written informed consent from the patients.
Electronic supplementary material
Below is the link to the electronic supplementary material.
About this article
Cite this article
Lim, Y.J., Lee, SW., Choi, N. et al. Failure patterns according to molecular subtype in patients with invasive breast cancer following postoperative adjuvant radiotherapy: long-term outcomes in contemporary clinical practice. Breast Cancer Res Treat 163, 555–563 (2017). https://doi.org/10.1007/s10549-017-4206-8
Received:

Accepted:

Published:

Issue Date:

DOI: https://doi.org/10.1007/s10549-017-4206-8
Keywords
Breast neoplasms

Subtype

Adjuvant radiotherapy

Recurrence

Neoplasm metastasis