Abstract
Purpose
The Oncotype DX® Breast Recurrence Score™ (RS) assay is validated to predict breast cancer (BC) recurrence and adjuvant chemotherapy benefit in select patients with lymph node-positive (LN+), hormone receptor-positive (HR+), HER2-negative BC. We assessed 5-year BC-specific survival (BCSS) in LN+ patients with RS results in SEER databases.
Methods
In this population-based study, BC cases in SEER registries (diagnosed 2004–2013) were linked to RS results from assays performed by Genomic Health (2004–2014). The primary analysis included only patients (diagnosed 2004–2012) with LN+ (including micrometastases), HR+ (per SEER), and HER2-negative (per RT-PCR) primary invasive BC (N = 6768). BCSS, assessed by RS category and number of positive lymph nodes, was calculated using the actuarial method.
Results
The proportion of patients with RS results and LN+ disease (N = 8782) increased over time between 2004 and 2013, and decreased with increasing lymph node involvement from micrometastases to ≥4 lymph nodes. Five-year BCSS outcomes for those with RS < 18 ranged from 98.9% (95% CI 97.4–99.6) for those with micrometastases to 92.8% (95% CI 73.4–98.2) for those with ≥4 lymph nodes. Similar patterns were found for patients with RS 18–30 and RS ≥ 31. RS group was strongly predictive of BCSS among patients with micrometastases or up to three positive lymph nodes (p < 0.001).
Conclusions
Overall, 5-year BCSS is excellent for patients with RS < 18 and micrometastases, one or two positive lymph nodes, and worsens with additionally involved lymph nodes. Further analyses should account for treatment variables, and longitudinal updates will be important to better characterize utilization of Oncotype DX testing and long-term survival outcomes.
This is a preview of subscription content, log in to check access.
Access options
Buy single article
Instant access to the full article PDF.
US$ 39.95
Price includes VAT for USA
Subscribe to journal
Immediate online access to all issues from 2019. Subscription will auto renew annually.
US$ 199
This is the net price. Taxes to be calculated in checkout.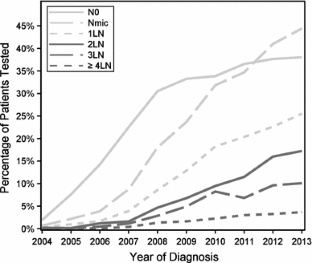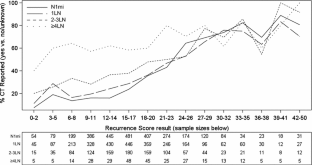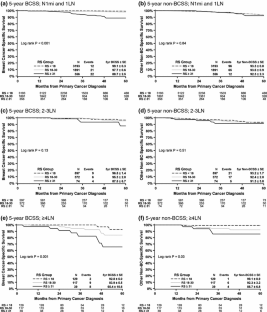 Abbreviations
1LN:

One positive lymph node

1–3LN:

One to three positive lymph nodes

2LN:

Two positive lymph nodes

2–3LN:

Two to three positive lymph nodes

3LN:

Three positive lymph nodes

≥4LN:

Four or more positive lymph nodes

ANOVA:

Analysis of variance

BC:

Breast cancer

BCSS:

Breast cancer-specific survival

CI:

Confidence interval

ER:

Estrogen receptor

HER2:

Human epidermal growth factor receptor 2

HR+:

Hormone receptor-positive (ER-positive, PR-positive, or both)

LN+:

Lymph node-positive

N1mi:

Micrometastases

PR:

Progesterone receptor

RS:

Recurrence Score®

RT-PCR:

Reverse transcription-polymerase chain reaction

RxPONDER:

Treatment (Rx) for positive node, endocrine-responsive breast cancer

SD:

Standard deviation

SEER:

Surveillance, epidemiology, and end results

SES:

Socioeconomic status
Acknowledgements
We acknowledge Anna Lau for medical writing and editorial assistance. The ideas and opinions expressed herein are those of the author(s) and endorsement by any State, Department of Public Health, the National Cancer Institute, the Centers for Disease Control and Prevention, or their Contractors and Subcontractors is not intended nor should be inferred. The Surveillance, Epidemiology and End Results (SEER) Program is funded by the National Cancer Institute (NCI). Genomic Health performed the work to electronically submit the Recurrence Score results, but provided no funding for this study. We acknowledge the SEER registries for collecting the SEER data.
Ethics declarations
Conflict of interest
Dr. Roberts and Dr. Petkov declare no conflicts of interest. Mr. Dave Miller and Dr. Stephen Shak are employed by and have stock ownership in Genomic Health Inc.
Electronic supplementary material
Below is the link to the electronic supplementary material.
About this article
Cite this article
Roberts, M.C., Miller, D.P., Shak, S. et al. Breast cancer-specific survival in patients with lymph node-positive hormone receptor-positive invasive breast cancer and Oncotype DX Recurrence Score results in the SEER database. Breast Cancer Res Treat 163, 303–310 (2017). https://doi.org/10.1007/s10549-017-4162-3
Received:

Accepted:

Published:

Issue Date:
Keywords
Breast cancer

Disease-specific survival

Lymph node-positive

Oncotype DX

Recurrence Score

SEER