Abstract
Purpose
The current American Joint Committee on Cancer (AJCC) staging manual uses tumor size, lymph node, and metastatic status to stage breast cancer across different subtypes. We examined the prognosis of triple-negative breast cancer (TNBC) versus non-TNBC within the same stages and sub-stages to evaluate whether TNBC had worse prognosis than non-TNBC.
Methods
We reviewed the National Cancer Institute Surveillance, Epidemiology, and End Results (SEER) data and identified 158,358 patients diagnosed with breast cancer from 2010 to 2012. The overall survival (OS) time and breast cancer cause-specific survival time were compared between patients with TNBC and non-TNBC in each stage and sub-stages. The results were validated using a dataset of 2049 patients with longer follow-up from our institution.
Results
Compared with patients with non-TNBC, patients with TNBC had worse OS and breast cancer cause-specific survival time in every stage and sub-stage in univariate and multivariate analyses adjusting for age, race, tumor grade, and surgery and radiation treatments in the SEER data. The worse OS time in patients with TNBC was validated in our institutional dataset.
Conclusions
Patients with TNBC have worse survival than patients with non-TNBC. The new AJCC staging manual should consider breast cancer biomarker information.
Access options
Buy single article
Instant access to the full article PDF.
US$ 39.95
Tax calculation will be finalised during checkout.
Subscribe to journal
Immediate online access to all issues from 2019. Subscription will auto renew annually.
US$ 119
Tax calculation will be finalised during checkout.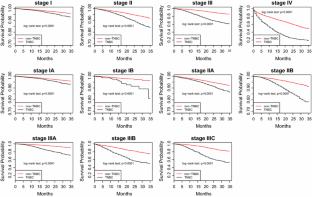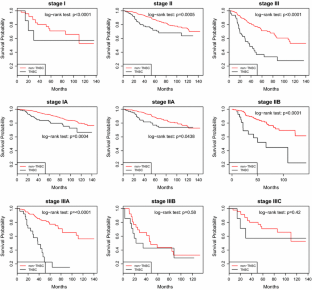 References
1.

Ismail-Khan R, Bui MM (2010) A review of triple-negative breast cancer. Cancer Control 17(3):173–176

2.

Millikan RC, Newman B, Tse CK, Moorman PG, Conway K, Dressler LG, Smith LV, Labbok MH, Geradts J, Bensen JT et al (2008) Epidemiology of basal-like breast cancer. Breast Cancer Res Treat 109(1):123–139

3.

Gonzalez-Angulo AM, Timms KM, Liu S, Chen H, Litton JK, Potter J, Lanchbury JS, Stemke-Hale K, Hennessy BT, Arun BK et al (2011) Incidence and outcome of BRCA mutations in unselected patients with triple receptor-negative breast cancer. Clin Cancer Res 17(5):1082–1089

4.

Davis DG, Siddiqui MT, Oprea-Ilies G, Stevens K, Osunkoya AO, Cohen C, Li XB (2016) GATA-3 and FOXA1 expression is useful to differentiate breast carcinoma from other carcinomas. Hum Pathol 47(1):26–31

5.

Foulkes WD, Smith IE, Reis-Filho JS (2010) Triple-negative breast cancer. New Engl J Med 363(20):1938–1948

6.

Lin NU, Vanderplas A, Hughes ME, Theriault RL, Edge SB, Wong YN, Blayney DW, Niland JC, Winer EP, Weeks JC (2012) Clinicopathologic features, patterns of recurrence, and survival among women with triple-negative breast cancer in the National Comprehensive Cancer Network. Cancer 118(22):5463–5472

7.

Edge SB (2010) American Joint Committee on cancer: AJCC cancer staging manual, 7th edn. Springer, New York

8.

Yi M, Mittendorf EA, Cormier JN, Buchholz TA, Bilimoria K, Sahin AA, Hortobagyi GN, Gonzalez-Angulo AM, Luo S, Buzdar AU et al (2011) Novel staging system for predicting disease-specific survival in patients with breast cancer treated with surgery as the first intervention: time to modify the current American Joint Committee on Cancer staging system. J Clin Oncol 29(35):4654–4661

9.

Mittendorf EA, Ballman KV, McCall LM, Yi M, Sahin AA, Bedrosian I, Hansen N, Gabram S, Hurd T, Giuliano AE et al (2015) Evaluation of the stage IB designation of the American Joint Committee on Cancer staging system in breast cancer. J Clin Oncol 33(10):1119–1127

10.

Sobin LH (2001) TNM: principles, history, and relation to other prognostic factors. Cancer 91(8 Suppl):1589–1592

11.

Perez EA, Romond EH, Suman VJ, Jeong JH, Sledge G, Geyer CE Jr, Martino S, Rastogi P, Gralow J, Swain SM et al (2014) Trastuzumab plus adjuvant chemotherapy for human epidermal growth factor receptor 2-positive breast cancer: planned joint analysis of overall survival from NSABP B-31 and NCCTG N9831. J Clin Oncol 32(33):3744–3752

12.

Davies C, Godwin J, Gray R, Clarke M, Cutter D, Darby S, McGale P, Pan HC, Taylor C, Wang YC et al (2011) Relevance of breast cancer hormone receptors and other factors to the efficacy of adjuvant tamoxifen: patient-level meta-analysis of randomised trials. Lancet 378(9793):771–784

13.

Byrski T, Gronwald J, Huzarski T, Grzybowska E, Budryk M, Stawicka M, Mierzwa T, Szwiec M, Wisniowski R, Siolek M et al (2010) Pathologic complete response rates in young women with BRCA1-positive breast cancers after neoadjuvant chemotherapy. J Clin Oncol 28(3):375–379

14.

Silver DP, Richardson AL, Eklund AC, Wang ZC, Szallasi Z, Li Q, Juul N, Leong CO, Calogrias D, Buraimoh A et al (2010) Efficacy of neoadjuvant Cisplatin in triple-negative breast cancer. J Clin Oncol 28(7):1145–1153

15.

Choi JE, Kang SH, Lee SJ, Bae YK (2015) Androgen receptor expression predicts decreased survival in early stage triple-negative breast cancer. Ann Surg Oncol 22(1):82–89

16.

Gucalp A, Traina TA (2010) Triple-negative breast cancer: role of the androgen receptor. Cancer J 16(1):62–65

17.

Creighton CJ, Li X, Landis M, Dixon JM, Neumeister VM, Sjolund A, Rimm DL, Wong H, Rodriguez A, Herschkowitz JI et al (2009) Residual breast cancers after conventional therapy display mesenchymal as well as tumor-initiating features. Proc Natl Acad Sci USA 106(33):13820–13825

18.

Li X, Lewis MT, Huang J, Gutierrez C, Osborne CK, Wu MF, Hilsenbeck SG, Pavlick A, Zhang X, Chamness GC et al (2008) Intrinsic resistance of tumorigenic breast cancer cells to chemotherapy. J Natl Cancer Inst 100(9):672–679

19.

Denkert C, Loibl S, Noske A, Roller M, Muller BM, Komor M, Budczies J, Darb-Esfahani S, Kronenwett R, Hanusch C et al (2010) Tumor-associated lymphocytes as an independent predictor of response to neoadjuvant chemotherapy in breast cancer. J Clin Oncol 28(1):105–113

20.

Pardoll DM (2012) The blockade of immune checkpoints in cancer immunotherapy. Nat Rev Cancer 12(4):252–264

21.

Li XB, Krishnamurti U, Bhattarai S, Klimov S, Reid MD, O'Regan R, Aneja R (2016) Biomarkers predicting pathologic complete response to neoadjuvant chemotherapy in breast cancer. Am J Clin Pathol 145(6):871–878

22.

Li X, Wetherilt CS, Krishnamurti U, Yang J, Ma Y, Styblo TM, Meisel JL, Peng L, Siddiqui MT, Cohen C et al (2016) Stromal PD-L1 expression is associated with better disease-free survival in triple-negative breast cancer. Am J Clin Pathol 146(4):496–502

23.

Lehmann BD, Bauer JA, Chen X, Sanders ME, Chakravarthy AB, Shyr Y, Pietenpol JA (2011) Identification of human triple-negative breast cancer subtypes and preclinical models for selection of targeted therapies. J Clin Investig 121(7):2750–2767

24.

Lehmann BD, Pietenpol JA (2015) Clinical implications of molecular heterogeneity in triple negative breast cancer. Breast 24(Suppl 2):S36–S40

25.

Dent R, Trudeau M, Pritchard KI, Hanna WM, Kahn HK, Sawka CA, Lickley LA, Rawlinson E, Sun P, Narod SA (2007) Triple-negative breast cancer: clinical features and patterns of recurrence. Clinical Cancer Res 13(15 Pt 1):4429–4434
Authors Contributions
Conception and design: XL, LP, LH, JLM. Analysis and interpretation of data: All authors. Manuscript drafting and reviewing: All authors. XL is responsible for the overall content.
Ethics declarations
Conflict of interest
All authors declare no conflict of interest.
Human and animal rights
This article does not contain any studies with human participants or animals performed by any of the authors.
Electronic supplementary material
Below is the link to the electronic supplementary material.
Kaplan-Meier survival curves of all four subtype breast cancers in different stages from the National Cancer Institute Surveillance, Epidemiology and End Result (SEER) data. Triple negative breast cancer had worse overall survival times than other subtypes in all sub-stages except for in stage IA and IB when compared with the hormonal receptor posive/HER2- breast cancer. Hazard ratio and P values are summerized in table 5 (PDF 20 kb)
About this article
Cite this article
Li, X., Yang, J., Peng, L. et al. Triple-negative breast cancer has worse overall survival and cause-specific survival than non-triple-negative breast cancer. Breast Cancer Res Treat 161, 279–287 (2017). https://doi.org/10.1007/s10549-016-4059-6
Received:

Accepted:

Published:

Issue Date:
Keywords
Triple-negative breast cancer

TNBC

Prognosis

Overall survival

Cause-specific survival

AJCC

Cancer staging