Abstract
Purpose
Although racial disparities in health-related quality of life (HRQOL) among women with breast cancer (BC) are well documented, less is known about HRQOL changes over time among women of different races. Our objective was to assess racial differences in HRQOL during active treatment and survivorship phases of BC care.
Methods
We used data from the third phase of the Carolina Breast Cancer Study (CBCS-III). CBCS-III enrolled 3000 women in North Carolina aged 20–74 years diagnosed with BC between 2008 and 2013. HRQOL assessments occurred 5 and 25 months post diagnosis, representing distinct phases of care. HRQOL measures included the Functional Assessment of Cancer Therapy for BC and Functional Assessment of Chronic Illness Therapy for Spiritual Well-Being. Analysis of covariance models were employed to assess racial differences in changes in HRQOL.
Results
The cohort included 2142 Non-Hispanic White (n = 1105) and Black women (n = 1037) who completed both HRQOL assessments. During active treatment, Whites reported physical and functional scores 2–2.5 points higher than Blacks (p < 0.0001). Spiritual HRQOL was 2.1 points higher for Blacks (p < 0.0001). During survivorship, differences persisted. After adjusting for demographic, socioeconomic, tumor, and treatment characteristics, physical and functional HRQOL gaps narrowed, but spiritual HRQOL gaps widened.
Conclusions
Racial differences in physical and functional HRQOL during active treatment and survivorship may be largely mediated by socioeconomic factors. However, our results suggest that among Black women, spiritual HRQOL is well supported throughout the BC care continuum. These results inform opportunities for improving the quality and equity of supportive services for women with BC.
Access options
Buy single article
Instant access to the full article PDF.
USD 39.95
Price includes VAT (USA)
Tax calculation will be finalised during checkout.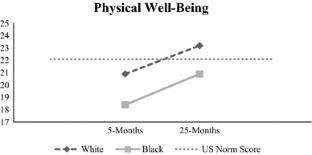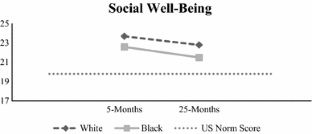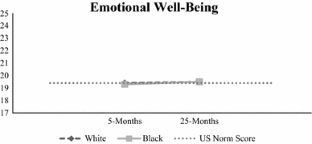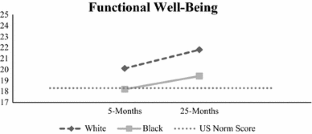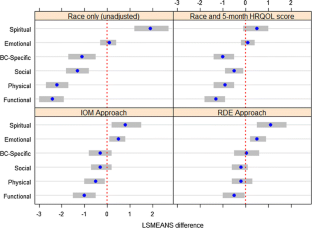 References
1.

DeSantis CE, Lin CC, Mariotto AB, Siegel RL, Stein KD, Kramer JL, Alteri R, Robbins AS, Jemal A (2014) Cancer treatment and survivorship statistics, 2014. CA Cancer J Clin 64(4):252–271. doi:10.3322/caac.21235

2.

Howlader N NA, Krapcho M, et al. SEER Cancer Statistics, Review-hscgc, based on 2014 SEER data submission pttSws, April 2015. Bethesda MNCI, 2015. SEER Cancer Statistics Review, 1975–2012. National Cancer Institute, Bethesda

3.

Smith AW, Alfano CM, Reeve BB, Irwin ML, Bernstein L, Baumgartner K, Bowen D, McTiernan A, Ballard-Barbash R (2009) Race/ethnicity, physical activity, and quality of life in breast cancer survivors. Cancer Epidemiol, Biomark Prev 18(2):656–663. doi:10.1158/1055-9965.epi-08-0352

4.

Hegel MT, Moore CP, Collins ED, Kearing S, Gillock KL, Riggs RL, Clay KF, Ahles TA (2006) Distress, psychiatric syndromes, and impairment of function in women with newly diagnosed breast cancer. Cancer 107(12):2924–2931. doi:10.1002/cncr.22335

5.

Ganz PA, Kwan L, Stanton AL, Krupnick JL, Rowland JH, Meyerowitz BE, Bower JE, Belin TR (2004) Quality of life at the end of primary treatment of breast cancer: first results from the moving beyond cancer randomized trial. J Natl Cancer Inst 96(5):376–387

6.

Ganz PA, Rowland JH, Meyerowitz BE, Desmond KA (1998) Impact of different adjuvant therapy strategies on quality of life in breast cancer survivors. Recent Results Cancer Res Fortschritte der Krebsforschung Progres dans les recherches sur le cancer 152:396–411

7.

Tomich PL, Helgeson VS (2002) Five years later: a cross-sectional comparison of breast cancer survivors with healthy women. Psycho-Oncology 11(2):154–169

8.

Bloom JR, Petersen DM, Kang SH (2007) Multi-dimensional quality of life among long-term (5 + years) adult cancer survivors. Psycho-Oncology 16(8):691–706. doi:10.1002/pon.1208

9.

Harper S, Lynch J, Meersman SC, Breen N, Davis WW, Reichman MC (2009) Trends in area-socioeconomic and race-ethnic disparities in breast cancer incidence, stage at diagnosis, screening, mortality, and survival among women ages 50 years and over (1987–2005). Cancer Epidemiol, Biomark Prev 18(1):121–131. doi:10.1158/1055-9965.epi-08-0679

10.

Reeder-Hayes KE, Wheeler SB, Mayer DK (2015) Health disparities across the breast cancer continuum. Semin Oncol Nurs 31(2):170–177. doi:10.1016/j.soncn.2015.02.005

11.

Gwyn K, Bondy ML, Cohen DS, Lund MJ, Liff JM, Flagg EW, Brinton LA, Eley JW, Coates RJ (2004) Racial differences in diagnosis, treatment, and clinical delays in a population-based study of patients with newly diagnosed breast carcinoma. Cancer 100(8):1595–1604. doi:10.1002/cncr.20169

12.

McGee SA, Durham DD, Tse CK, Millikan RC (2013) Determinants of breast cancer treatment delay differ for African American and White women. Cancer Epidemiol, Biomark Prev 22(7):1227–1238. doi:10.1158/1055-9965.epi-12-1432

13.

Maly RC, Stein JA, Umezawa Y, Leake B, Anglin MD (2008) Racial/ethnic differences in breast cancer outcomes among older patients: effects of physician communication and patient empowerment. Health Psychology 27(6):728–736. doi:10.1037/0278-6133.27.6.728

14.

Matthews AK, Tejeda S, Johnson TP, Berbaum ML, Manfredi C (2012) Correlates of quality of life among African American and white cancer survivors. Cancer Nurs 35(5):355–364. doi:10.1097/NCC.0b013e31824131d9

15.

Pinheiro LC, Wheeler SB, Chen RC, Mayer DK, Lyons JC, Reeve BB (2015) The effects of cancer and racial disparities in health-related quality of life among older Americans: a case-control, population-based study. Cancer 121(8):1312–1320. doi:10.1002/cncr.29205

16.

Janz NK, Mujahid MS, Hawley ST, Griggs JJ, Alderman A, Hamilton AS, Graff J, Katz SJ (2009) Racial/ethnic differences in quality of life after diagnosis of breast cancer. J cancer survivorship 3(4):212–222. doi:10.1007/s11764-009-0097-y

17.

Ashing-Giwa K, Ganz PA, Petersen L (1999) Quality of life of African-American and white long term breast carcinoma survivors. Cancer 85(2):418–426

18.

Ashing-Giwa K (2000) Quality of life and psychosocial outcomes in long-term survivors of breast cancer. J Psychosoc Oncol 17(3–4):47–62. doi:10.1300/J077v17n03_03

19.

Newman B, Moorman PG, Millikan R, Qaqish BF, Geradts J, Aldrich TE, Liu ET (1995) The Carolina Breast Cancer Study: integrating population-based epidemiology and molecular biology. Breast Cancer Res Treat 35(1):51–60

20.

Brady MJ, Cella DF, Mo F, Bonomi AE, Tulsky DS, Lloyd SR, Deasy S, Cobleigh M, Shiomoto G (1997) Reliability and validity of the Functional Assessment of Cancer Therapy-Breast quality-of-life instrument. J Clin Oncol 15(3):974–986

21.

Cella D, Hahn EA, Dineen K (2002) Meaningful change in cancer-specific quality of life scores: differences between improvement and worsening. Qual life Res 11(3):207–221

22.

Peterman AH, Fitchett G, Brady MJ, Hernandez L, Cella D (2002) Measuring spiritual well-being in people with cancer: the functional assessment of chronic illness therapy–Spiritual Well-being Scale (FACIT-Sp). Ann Behav Med 24(1):49–58

23.

Brucker PS, Yost K, Cashy J, Webster K, Cella D (2005) General population and cancer patient norms for the Functional Assessment of Cancer Therapy-General (FACT-G). Eval Health Prof 28(2):192–211. doi:10.1177/0163278705275341

24.

Kawachi I, Daniels N, Robinson DE (2005) Health disparities by race and class: why both matter. Health Aff (Proj Hope) 24(2):343–352. doi:10.1377/hlthaff.24.2.343

25.

McGuire TG, Alegria M, Cook BL, Wells KB, Zaslavsky AM (2006) Implementing the Institute of Medicine definition of disparities: an application to mental health care. Health Serv Res 41(5):1979–2005. doi:10.1111/j.1475-6773.2006.00583.x

26.

Le Cook B, McGuire TG, Zuvekas SH (2009) Measuring trends in racial/ethnic health care disparities. Med Care Res Rev 66(1):23–48. doi:10.1177/1077558708323607

27.

Williams DR (1997) Race and health: basic questions, emerging directions. Ann Epidemiol 7(5):322–333

28.

Bradley CJ, Wilk A (2014) Racial differences in quality of life and employment outcomes in insured women with breast cancer. J Cancer Survivorship 8(1):49–59. doi:10.1007/s11764-013-0316-4

29.

Chornokur G, Dalton K, Borysova ME, Kumar NB (2011) Disparities at presentation, diagnosis, treatment, and survival in African American men, affected by prostate cancer. Prostate 71(9):985–997. doi:10.1002/pros.21314

30.

Ashing-Giwa KT, Padilla G, Tejero J, Kraemer J, Wright K, Coscarelli A, Clayton S, Williams I, Hills D (2004) Understanding the breast cancer experience of women: a qualitative study of African American, Asian American Latina and Caucasian cancer survivors. Psycho-Oncology 13(6):408–428. doi:10.1002/pon.750

31.

Russell KM, Von Ah DM, Giesler RB, Storniolo AM, Haase JE (2008) Quality of life of African American breast cancer survivors: how much do we know? Cancer Nurs 31(6):36–45. doi:10.1097/01.NCC.0000339254.68324.d7

32.

Mandelblatt JS, Luta G, Kwan ML, Makgoeng SB, Ergas IJ, Roh JM, Sternfeld B, Adams-Campbell LL, Kushi LH (2011) Associations of physical activity with quality of life and functional ability in breast cancer patients during active adjuvant treatment: the Pathways Study. Breast Cancer Res Treat 129(2):521–529. doi:10.1007/s10549-011-1483-5

33.

Von Ah DM, Russell KM, Carpenter J, Monahan PO, Qianqian Z, Tallman E, Ziner KW, Storniolo AM, Miller KD, Giesler RB, Haase J, Otte J, Champion VL (2012) Health-related quality of life of african american breast cancer survivors compared with healthy African American women. Cancer Nurs 35(5):337–346. doi:10.1097/NCC.0b013e3182393de3

34.

Northouse LL (1988) Social support in patients' and husbands' adjustment to breast cancer. Nurs Res 37(2):91–95

35.

Hamilton JB, Powe BD, Pollard AB, III, Lee KJ, Felton AM (2007) Spirituality among African American cancer survivors: having a personal relationship with God. Cancer Nurs 30(4):309–316. doi:10.1097/01.NCC.0000281730.17985.f5

36.

Gibson LM, Parker V (2003) Inner resources as predictors of psychological well-being in middle-income african american breast cancer survivors. Cancer Control 10(5):52–59

37.

Holt CL, Schulz E, Caplan L, Blake V, Southward VL, Buckner AV (2012) Assessing the role of spirituality in coping among African Americans diagnosed with cancer. J Relig Health 51(2):507–521. doi:10.1007/s10943-011-9453-0

38.

Woods-Giscombe CL (2010) Superwoman schema: African American women's views on stress, strength, and health. Qual Health Res 20(5):668–683. doi:10.1177/1049732310361892
Acknowledgments
Melissa Troester, Jessica Tse, and Mary Beth Bell.
Funding
This study was supported by the University Cancer Research Fund of North Carolina, the National Cancer Institute Specialized Program of Research Excellence in Breast Cancer at UNC (NIH/NCI P50-CA58223), and the Susan G. Komen for the Cure Foundation (3 R01 CA150980 05S1).
Author contribution
All authors have read and approved the manuscript for submission to Breast Cancer Research and Treatment. This manuscript has not been published elsewhere and is not under consideration by another journal.
Ethics declarations
Conflict of Interest
Authors Dr. Samuel and Dr. Wheeler have received a research grant from Pfizer for another unrelated study. All other authors (Ms. Pinheiro, Dr. Reeder-Hayes, Dr. Olshan, and Dr. Reeve) declare that they have no conflicts of interest to disclose.
Informed consent
Informed consent was obtained from all individual participants included in the study.
Research involving animal and human rights
All procedures performed in studies involving human participants were in accordance with the ethical standards of the institutional and/or national research committee and with the 1964 Helsinki Declaration and its later amendments or comparable ethical standards. This article does not contain any studies with animals performed by any of the authors.
About this article
Cite this article
Pinheiro, L.C., Samuel, C.A., Reeder-Hayes, K.E. et al. Understanding racial differences in health-related quality of life in a population-based cohort of breast cancer survivors. Breast Cancer Res Treat 159, 535–543 (2016). https://doi.org/10.1007/s10549-016-3965-y
Received:

Accepted:

Published:

Issue Date:
Keywords
Health-related quality of life

Racial disparities

Breast cancer outcomes