Abstract
Chemotherapy-induced peripheral neuropathy (CIPN) is a common toxicity associated with chemotherapy, but researchers rarely study its risk factors, fall risk, and prevalence in long-term breast cancer survivors. We aimed to determine CIPN prevalence, risk factors, and association with psychological distress and falls among long-term breast cancer survivors. We conducted Cross-sectional analyses among postmenopausal women with a history of stage I–III breast cancer who received taxane-based chemotherapy. Participants reported neuropathic symptoms of tingling/numbness in hands and/or feet on a 0–10 numerical rating scale. We conducted multivariate logistic regression analyses to evaluate risk factors associated with the presence of CIPN and the relationship between CIPN and anxiety, depression, insomnia, and patient-reported falls. Among 296 participants, 173 (58.4 %) reported CIPN symptoms, 91 (30.7 %) rated their symptoms as mild, and 82 (27.7 %) rated them moderate to severe. Compared with women of normal weight, being obese was associated with increased risk of CIPN (adjusted OR 1.94, 95 % CI: 1.03–3.65). Patients with CIPN reported greater insomnia severity, anxiety, and depression than those without (all p < 0.05). Severity of CIPN was associated with higher rates of falls, with 23.8, 31.9, and 41.5 % in the "no CIPN," "mild," and "moderate-to-severe" groups, respectively, experiencing falls (p = 0.028). The majority of long-term breast cancer survivors who received taxane-based chemotherapy reported CIPN symptoms; obesity was a significant risk factor. Those with CIPN also reported increased psychological distress and falls. Interventions need to target CIPN and comorbid psychological symptoms, and incorporate fall prevention strategies for aging breast cancer survivors.
Access options
Buy single article
Instant access to the full article PDF.
USD 39.95
Price includes VAT (USA)
Tax calculation will be finalised during checkout.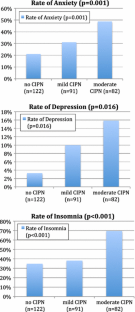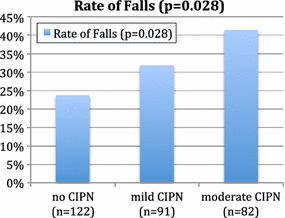 References
1.

Cavaletti G, Marmiroli P (2010) Chemotherapy-induced peripheral neurotoxicity. Nat Rev Neurol 6(12):657–666

2.

Miltenburg NC, Boogerd W (2014) Chemotherapy-induced neuropathy: a comprehensive survey. Cancer Treat Rev 40(7):872–882

3.

Seretny M et al (2014) Incidence, prevalence, and predictors of chemotherapy-induced peripheral neuropathy: a systematic review and meta-analysis. Pain 155(12):2461–2470

4.

Hershman DL et al (2011) Association between patient reported outcomes and quantitative sensory tests for measuring long-term neurotoxicity in breast cancer survivors treated with adjuvant paclitaxel chemotherapy. Breast Cancer Res Treat 125(3):767–774

5.

Eckhoff L et al (2015) Persistence of docetaxel-induced neuropathy and impact on quality of life among breast cancer survivors. Eur J Cancer 51(3):292–300

6.

Tanabe Y et al (2013) Paclitaxel-induced peripheral neuropathy in patients receiving adjuvant chemotherapy for breast cancer. Int J Clin Oncol 18(1):132–138

7.

Bhatnagar B et al (2014) Chemotherapy dose reduction due to chemotherapy induced peripheral neuropathy in breast cancer patients receiving chemotherapy in the neoadjuvant or adjuvant settings: a single-center experience. Springerplus 3:366

8.

Badros A et al (2007) Neurotoxicity of bortezomib therapy in multiple myeloma: a single-center experience and review of the literature. Cancer 110(5):1042–1049

9.

Kawakami K et al (2012) Factors exacerbating peripheral neuropathy induced by paclitaxel plus carboplatin in non-small cell lung cancer. Oncol Res 20(4):179–185

10.

Hershman DL et al.(2016) Comorbidities and risk of chemotherapy-induced peripheral neuropathy among participants 65 years or older in southwest oncology group clinical trials. J Clin Oncol

11.

Mao JJ et al (2011) Association of functional polymorphisms in CYP19A1 with aromatase inhibitor associated arthralgia in breast cancer survivors. Breast Cancer Res 13(1):R8

12.

Zelman DC et al (2005) Identification of cut-points for mild, moderate and severe pain due to diabetic peripheral neuropathy. Pain 115(1–2):29–36

13.

Oldenmenger WH et al (2013) Cut points on 0–10 numeric rating scales for symptoms included in the edmonton symptom assessment scale in cancer patients: a systematic review. J Pain Symptom Manage 45(6):1083–1093

14.

Zigmond AS, Snaith RP (1983) The hospital anxiety and depression scale. Acta Psychiatr Scand 67(6):361–370

15.

Morin CM et al (2011) The insomnia severity index: psychometric indicators to detect insomnia cases and evaluate treatment response. Sleep 34(5):601–608

16.

Blyth FM et al (2007) Pain and falls in older people. Eur J Pain 11(5):564–571

17.

Lamb SE et al (2005) Development of a common outcome data set for fall injury prevention trials: the prevention of falls network Europe consensus. J Am Geriatr Soc 53(9):1618–1622

18.

Winters-Stone KM, Hilton C, Luoh S-W, Jacobs P, Faithfull S, Horak FB (2016) Comparison of physical function and falls among women with persistent symptoms of chemotherapy-induced peripheral neuropathy. J Clin Oncol 34:130

19.

Schneider BP et al (2015) Genome-wide association studies for taxane-induced peripheral neuropathy in ECOG-5103 and ECOG-1199. Clin Cancer Res 21(22):5082–5091

20.

Schneider BP et al (2012) Neuropathy is not associated with clinical outcomes in patients receiving adjuvant taxane-containing therapy for operable breast cancer. J Clin Oncol 30(25):3051–3057

21.

Shahriari-Ahmadi A et al (2015) Prevalence of oxaliplatin-induced chronic neuropathy and influencing factors in patients with colorectal cancer in Iran. Asian Pac J Cancer Prev 16(17):7603–7606

22.

Ottaiano A et al (2016) Diabetes and body mass index are associated with neuropathy and prognosis in colon cancer patients treated with capecitabine and oxaliplatin adjuvant chemotherapy. Oncology 90(1):36–42

23.

Papanas N, Ziegler D (2015) Risk factors and comorbidities in diabetic neuropathy: an update 2015. Rev Diabet Stud 12(1–2):48–62

24.

Smith AG, Singleton JR (2012) Diabetic neuropathy. Continuum (Minneap Minn) 18(1):60–84

25.

Verbraecken J et al (2006) Body surface area in normal-weight, overweight, and obese adults. A comparison study. Metabolism 55(4):515–524

26.

Baldwin RM et al (2012) A genome-wide association study identifies novel loci for paclitaxel-induced sensory peripheral neuropathy in CALGB 40101. Clin Cancer Res 18(18):5099–5109

27.

Abraham JE et al (2014) Replication of genetic polymorphisms reported to be associated with taxane-related sensory neuropathy in patients with early breast cancer treated with paclitaxel. Clin Cancer Res 20(9):2466–2475

28.

Apellaniz-Ruiz M et al (2015) Whole-exome sequencing reveals defective CYP3A4 variants predictive of paclitaxel dose-limiting neuropathy. Clin Cancer Res 21(2):322–328

29.

Hertz DL et al (2013) CYP2C8*3 increases risk of neuropathy in breast cancer patients treated with paclitaxel. Ann Oncol 24(6):1472–1478

30.

Chhibber A et al (2014) Polygenic inheritance of paclitaxel-induced sensory peripheral neuropathy driven by axon outgrowth gene sets in CALGB 40101 (Alliance). Pharmacogenomics J 14(4):336–342

31.

Beutler AS et al (2014) Sequencing of charcot-marie-tooth disease genes in a toxic polyneuropathy. Ann Neurol 76(5):727–737

32.

Windebank AJ, Grisold W (2008) Chemotherapy-induced neuropathy. J Peripher Nerv Syst 13(1):27–46

33.

Wang XM et al (2009) Upregulation of IL-6, IL-8 and CCL2 gene expression after acute inflammation: correlation to clinical pain. Pain 142(3):275–283

34.

Howren MB, Lamkin DM, Suls J (2009) Associations of depression with C-reactive protein, IL-1, and IL-6: a meta-analysis. Psychosom Med 71(2):171–186

35.

Vgontzas AN et al (1997) Elevation of plasma cytokines in disorders of excessive daytime sleepiness: role of sleep disturbance and obesity. J Clin Endocrinol Metab 82(5):1313–1316

36.

von Kanel R et al (2006) Poor sleep is associated with higher plasma proinflammatory cytokine interleukin-6 and procoagulant marker fibrin D-dimer in older caregivers of people with alzheimer's disease. J Am Geriatr Soc 54(3):431–437

37.

Pallavi P et al (2015) Serum cytokines and anxiety in adolescent depression patients: gender effect. Psychiatry Res 229(1–2):374–380

38.

Schmidt FM et al (2015) Inflammatory cytokines in general and central obesity and modulating effects of physical activity. PLoS One 10(3):e0121971

39.

Gewandter JS et al (2013) Falls and functional impairments in cancer survivors with chemotherapy-induced peripheral neuropathy (CIPN): a University of rochester CCOP study. Support Care Cancer 21(7):2059–2066

40.

Tofthagen C, Overcash J, Kip K (2012) Falls in persons with chemotherapy-induced peripheral neuropathy. Support Care Cancer 20(3):583–589
Acknowledgments
This study was funded in part by a National Cancer Institute R01CA158243 (Mao) and R21CA173263 (Bao), and by a Memorial Sloan Kettering Cancer Center P30 grant (P30-CA008748).
Ethics declarations
Conflict of interest
The authors declare that they have no conflict of interest.
Ethical approval
All procedures performed in studies involving human participants were in accordance with the ethical standards of the institutional and/or national research committee and with the 1964 Helsinki Declaration and its later amendments or comparable ethical standards.
Experiments comply with the current laws of the United States.
Informed consent
Informed consent was obtained from all individual participants included in the study.
About this article
Cite this article
Bao, T., Basal, C., Seluzicki, C. et al. Long-term chemotherapy-induced peripheral neuropathy among breast cancer survivors: prevalence, risk factors, and fall risk. Breast Cancer Res Treat 159, 327–333 (2016). https://doi.org/10.1007/s10549-016-3939-0
Received:

Accepted:

Published:

Issue Date:
Keywords
Chemotherapy

Breast cancer

Peripheral neuropathy

Falls

Obesity