Abstract
In breast cancer (BC), the prognostic value of Ki67 expression is well-documented. Intratumoural heterogeneity (ITH) of Ki67 expression is amongst the several technical issues behind the lag of its inclusion into BC prognostic work-up. The immunohistochemical (IHC) expression of anti-Ki67 antibody (MIB1 clone) was assessed in four full-face (FF) sections from different primary tumour blocks and their matched axillary nodal (LN) metastases in a series of 55 BC. Assessment was made using the highest expression hot spots (HS), lowest expression (LS), and overall/average expression scores (AS) in each section. Heterogeneity score (Hes), co-efficient of variation, and correlation co-efficient were used to assess the levels of Ki67 ITH. Ki67 HS, LS, and AS scores were highly variable within the same section and between different sections of the primary tumour, with maximal variation observed in the LS (P < 0.001). The least variability between the different slides was observed with HS scoring. Although the associations between Ki67 and clinicopathological and molecular variables were similar when using HS or AS, the best correlation between AS and HS was observed in tumours with high Ki67 expression only. Ki67 expression in LN deposits was less heterogeneous than in the primary tumours and was perfectly correlated with the HS Ki67 expression in the primary tumour sections (r = 0.98, P < 0.001). In conclusion, assessment of Ki67 expression using HS scoring method on a full-face BC tissue section can represent the primary tumour growth fraction that is likely to metastasise. The association between Ki67 expression pattern in the LN metastasis and the HS in the primary tumour may reflect the temporal heterogeneity through clonal expansion.
Access options
Buy single article
Instant access to the full article PDF.
US$ 39.95
Tax calculation will be finalised during checkout.
Subscribe to journal
Immediate online access to all issues from 2019. Subscription will auto renew annually.
US$ 119
Tax calculation will be finalised during checkout.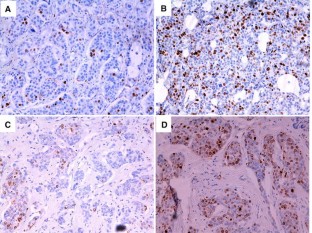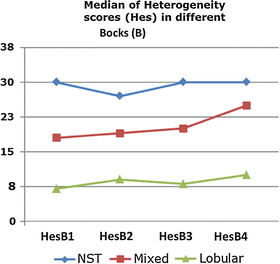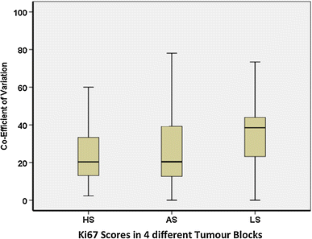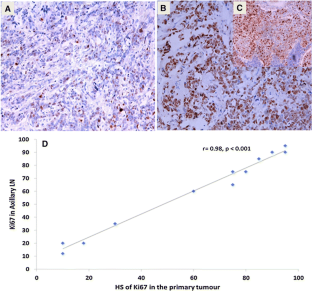 References
1.

Park D, Karesen R, Noren T, Sauer T (2007) Ki-67 expression in primary breast carcinomas and their axillary lymph node metastases: clinical implications. Virchows Arch 451(1):11–18

2.

Brown DC, Gatter KC (2002) Ki67 protein: the immaculate deception? Histopathology 40:2–11

3.

Heidebrecht HJ, Buck F, Haas K, Wacker HH, Parwaresch R (1996) Monoclonal antibodies Ki-S3 and Ki-S5 yield new data on the 'Ki-67′ proteins. Cell Prolif 29(7):413–425

4.

Wu YL, Luo HY, Kanaan N, Wu JP (2000) The proteasome controls the expression of a proliferation-associated nuclear antigen Ki-67. J Cell Biochem 76(4):596–604

5.

Colozza M, Azambuja E, Cardoso F, Sotiriou C, Larsimont D, Piccart MJ (2005) Proliferative markers as prognostic and predictive tools in early breast cancer: where are we now? Ann Oncol 16:1723–1739

6.

Lehr HA, Hansen DA, Kussick S, Li M, Hwang H, Krummenauer F, Trouet S, Gown AM (1999) Assessment of proliferative activity in breast cancer: MIB-1 immunohistochemistry versus mitotic figure count. Hum Pathol 30(11):1314–1320

7.

Thor AD, Liu S, Moore DH 2nd, Edgerton SM (1999) Comparison of mitotic index, in vitro bromodeoxyuridine labeling, and MIB-1 assays to quantitate proliferation in breast cancer. J Clin Oncol 17(2):470–477

8.

Trihia H, Murray S, Price K, Gelber RD, Golouh R, Goldhirsch A, Coates AS, Collins J, Castiglione-Gertsch M, Gusterson BA (2003) Ki-67 expression in breast carcinoma: its association with grading systems, clinical parameters, and other prognostic factors–a surrogate marker? Cancer 97(5):1321–1331

9.

Domagala W, Markiewski M, Harezga B, Dukowicz A, Osborn M (1996) Prognostic significance of tumor cell proliferation rate as determined by the MIB-1 antibody in breast carcinoma: its relationship with vimentin and p53 protein. Clin Cancer Res 2(1):147–154

10.

de Azambuja E, Cardoso F, de Castro G, Colozza M, Mano MS, Durbecq V, Sotiriou C, Larsimont D, Piccart-Gebhart MJ, Paesmans M (2007) Ki-67 as prognostic marker in early breast cancer: a meta-analysis of published studies involving 12,155 patients. Br J Cancer 96(10):1504–1513

11.

Viale G, Giobbie-Hurder A, Regan MM, Coates AS, Mastropasqua MG, Dell'Orto P, Maiorano E, MacGrogan G, Braye SG, Ohlschlegel C et al (2008) Prognostic and predictive value of centrally reviewed Ki-67 labeling index in postmenopausal women with endocrine-responsive breast cancer: results from Breast International Group Trial 1-98 comparing adjuvant tamoxifen with letrozole. J Clin Oncol 26(34):5569–5575

12.

Aleskandarany MA, Green AR, Rakha EA, Mohammed RA, Elsheikh SE, Powe DG, Paish EC, Macmillan RD, Chan S, Ahmed SI et al (2010) Growth fraction as a predictor of response to chemotherapy in node negative breast cancer. Int J Cancer 126(7):1761–1769

13.

Brown JR, DiGiovanna MP, Killelea B, Lannin DR, Rimm DL (2014) Quantitative assessment Ki-67 score for prediction of response to neoadjuvant chemotherapy in breast cancer. Lab Invest 94(1):98–106

14.

Ingolf J-B, Russalina M, Simona M, Julia R, Gilda S, Bohle RM, Andrea H, Erich S, Daniel H (2014) Can Ki-67 play a role in prediction of breast cancer patients' response to neoadjuvant chemotherapy? BioMed Res Int 2014:628217

15.

Takei H, Kurosumi M, Yoshida T, Hayashi Y, Higuchi T, Uchida S, Ninomiya J, Oba H, Inoue K, Nagai S et al (2011) Neoadjuvant endocrine therapy of breast cancer: which patients would benefit and what are the advantages? Breast cancer 18(2):85–91

16.

von Minckwitz G, Schmitt WD, Loibl S, Muller BM, Blohmer JU, Sinn BV, Eidtmann H, Eiermann W, Gerber B, Tesch H et al (2013) Ki67 measured after neoadjuvant chemotherapy for primary breast cancer. Clin Cancer Res 19(16):4521–4531

17.

Untch M, Gerber B, Harbeck N, Jackisch C, Marschner N, Mobus V, von Minckwitz G, Loibl S, Beckmann MW, Blohmer JU et al (2013) 13th st. Gallen international breast cancer conference 2013: primary therapy of early breast cancer evidence, controversies, consensus-opinion of a german team of experts (zurich 2013) (1661–3791)

18.

Senkus E, Kyriakides S, Ohno S, Penault-Llorca F, Poortmans P, Rutgers E, Zackrisson S, Cardoso F, Committee EG (2015) Primary breast cancer: ESMO clinical practice guidelines for diagnosis, treatment and follow-up. Ann Oncol 26(Suppl 5):v8–30

19.

Paik S, Shak S, Tang G, Kim C, Baker J, Cronin M, Baehner FL, Walker MG, Watson D, Park T et al (2004) A multigene assay to predict recurrence of tamoxifen-treated, node-negative breast cancer. N Engl J Med 351(27):2817–2826

20.

Cuzick J, Dowsett M, Wale C, Salter J, Quinn E, Zabaglo L, Howell A, Buzdar A, Forbes JF (2009) Prognostic value of a combined ER, PgR, Ki67, HER2 immunohistochemical (IHC4) score and comparison with the GHI recurrence score–results from TransATAC. Cancer Res 69(Suppl 24):74

21.

Cuzick J, Dowsett M, Pineda S, Wale C, Salter J, Quinn E, Zabaglo L, Mallon E, Green AR, Ellis IO et al (2011) Prognostic value of a combined estrogen receptor, progesterone receptor, Ki-67, and human epidermal growth factor receptor 2 immunohistochemical score and comparison with the genomic health recurrence score in early breast cancer. J Clin Oncol 29(32):4273–4278

22.

Aleskandarany MA, Rakha EA, Macmillan RD, Powe DG, Ellis IO, Green AR (2011) MIB1/Ki-67 labelling index can classify grade 2 breast cancer into two clinically distinct subgroups. Breast Cancer Res Treat 127(3):591–599

23.

Cserni G, Vörös A, Liepniece-Karele I, Bianchi S, Vezzosi V, Grabau D, Sapino A, Castellano I, Regitnig P, Foschini MP et al (2014) Distribution pattern of the Ki67 labelling index in breast cancer and its implications for choosing cut-off values. The Breast 23(3):259–263

24.

Dowsett M, Nielsen To, A'Hern R, Bartlett J, Coombes RC, Cuzick J, Ellis M, Henry NL, Hugh JC, Lively T, McShane L et al (2011) Assessment of Ki67 in breast cancer: recommendations from the international Ki67 in breast cancer working group (1460–2105 (Electronic))

25.

Polley MY, Leung Sc, McShane LM, Gao D, Hugh JC, Mastropasqua MG, Viale G, Zabaglo LA, Penault-Llorca F, Bartlett JMS, Gown AM et al (2013) An international Ki67 reproducibility study (1460–2105 (Electronic))

26.

Voduc KD, Cheang MCU, Tyldesley S, Gelmon K, Nielsen TO, Kennecke H (2010) Breast cancer subtypes and the risk of local and regional relapse. J Clin Oncol 28(10):1684–1691

27.

Abd El-Rehim DM, Ball G, Pinder SE, Rakha E, Paish C, Robertson JFR, Macmillan D, Blamey RW, Ellis IO (2005) High-throughput protein expression analysis using tissue microarray technology of a large well-characterised series identifies biologically distinct classes of breast cancer confirming recent cDNA expression analyses (0020–7136)

28.

Rakha EA, Elsheikh SE, Aleskandarany MA, Habashi HO, Green AR, Powe DG, El-Sayed ME, Benhasouna A, Brunet JS, Akslen LA et al (2009) Triple-negative breast cancer: distinguishing between basal and nonbasal subtypes. Clin Cancer Res 15(7):2302–2310

29.

Rakha EA, El-Sayed ME, Green AR, Paish EC, Lee AH, Ellis IO (2007) Breast carcinoma with basal differentiation: a proposal for pathology definition based on basal cytokeratin expression. Histopathology 50(4):434–438

30.

Rakha EA, Martin S, Lee AH, Morgan D, Pharoah PD, Hodi Z, Macmillan D, Ellis IO (2012) The prognostic significance of lymphovascular invasion in invasive breast carcinoma. Cancer 118(15):3670–3680

31.

Yerushalmi R, Woods R, Ravdin PM, Hayes MM, Gelmon KA (2010) Ki67 in breast cancer: prognostic and predictive potential. Lancet Oncol 11(2):174–183

32.

Gerdes J, Schwab U, Lemke H, Stein H (1983) Production of a mouse monoclonal-antibody reactive with a human nuclear antigen associated with cell-proliferation. Int J Cancer 31(1):13–20

33.

Mitchison TJ (2012) The proliferation rate paradox in antimitotic chemotherapy. Mol Biol Cell 23(1):1–6

34.

Cheang MC, Chia SK, Voduc D, Gao D, Leung S, Snider J, Watson M, Davies S, Bernard PS, Parker JS et al (2009) Ki67 index, HER2 status, and prognosis of patients with luminal B breast cancer. J Natl Cancer Inst 101(10):736–750

35.

Abubakar M, Howat WJ, Daley F, Zabaglo L, McDuffus L-A, Blows F, Coulson P, Raza Ali H, Benitez J, Milne R et al (2016) High-throughput automated scoring of Ki67 in breast cancer tissue microarrays from the Breast Cancer Association Consortium. J Pathol

36.

Feeley LP, Mulligan AM, Pinnaduwage D, Bull SB, Andrulis IL (2014) Distinguishing luminal breast cancer subtypes by Ki67, progesterone receptor or TP53 status provides prognostic information. Mod Pathol 27(4):554–561

37.

Sapino A, Marchio C, Senetta R, Castellano I, Macri L, Cassoni P, Ghisolfi G, Cerrato M, D'Ambrosio E, Bussolati G (2006) Routine assessment of prognostic factors in breast cancer using a multicore tissue microarray procedure. Virchows Arch 449(3):288–296

38.

Knutsvik G, Stefansson IM, Aziz S, Arnes J, Eide J, Collett K, Akslen LA (2014) Evaluation of Ki67 expression across distinct categories of breast cancer specimens: a population-based study of matched surgical specimens, core needle biopsies and tissue microarrays (1932–6203 (Electronic))

39.

Greer LT, Rosman M, Mylander WC, Hooke J, Kovatich A, Sawyer K, Buras RR, Shriver CD, Tafra L (2013) Does breast tumor heterogeneity necessitate further immunohistochemical staining on surgical specimens? J Am Coll Surg 216(2):239–251

40.

Mu K, Li L, Yang Q, Yun H, Kharaziha P, Ye DW, Auer G, Lagercrantz SB, Zetterberg A (2015) A standardized method for quantifying proliferation by Ki-67 and cyclin a immunohistochemistry in breast cancer. Ann Diagn Pathol 19(4):243–248

41.

Nguyen DX, Massague J (2007) Genetic determinants of cancer metastasis. Nat Rev Genet 8(5):341–352
Ethics declarations
Conflict of interest
The Authors have no conflicts of interest to declare.
About this article
Cite this article
Aleskandarany, M.A., Green, A.R., Ashankyty, I. et al. Impact of intratumoural heterogeneity on the assessment of Ki67 expression in breast cancer. Breast Cancer Res Treat 158, 287–295 (2016). https://doi.org/10.1007/s10549-016-3893-x
Received:

Accepted:

Published:

Issue Date:
Keywords
Ki67

Proliferation

Breast cancer

Heterogeneity