Abstract
Non-metastatic breast cancer patients often experience psychological distress which may influence disease progression and survival. Cognitive-behavioral stress management (CBSM) improves psychological adaptation and lowers distress during breast cancer treatment and long-term follow-ups. We examined whether breast cancer patients randomized to CBSM had improved survival and recurrence 8–15 years post-enrollment. From 1998 to 2005, women (N = 240) 2–10 weeks post-surgery for non-metastatic Stage 0–IIIb breast cancer were randomized to a 10-week, group-based CBSM intervention (n = 120) or a 1-day psychoeducational seminar control (n = 120). In 2013, 8–15 years post-study enrollment (11-year median), recurrence and survival data were collected. Cox Proportional Hazards Models and Weibull Accelerated Failure Time tests were used to assess group differences in all-cause mortality, breast cancer-specific mortality, and disease-free interval, controlling for biomedical confounders. Relative to the control, the CBSM group was found to have a reduced risk of all-cause mortality (HR = 0.21; 95 % CI [0.05, 0.93]; p = .040). Restricting analyses to women with invasive disease revealed significant effects of CBSM on breast cancer-related mortality (p = .006) and disease-free interval (p = .011). CBSM intervention delivered post-surgery may provide long-term clinical benefit for non-metastatic breast cancer patients in addition to previously established psychological benefits. Results should be interpreted with caution; however, the findings contribute to the limited evidence regarding physical benefits of psychosocial intervention post-surgery for non-metastatic breast cancer. Additional research is necessary to confirm these results and investigate potential explanatory mechanisms, including physiological pathways, health behaviors, and treatment adherence changes.
This is a preview of subscription content, log in to check access.
Access options
Buy single article
Instant access to the full article PDF.
US$ 39.95
Price includes VAT for USA
Subscribe to journal
Immediate online access to all issues from 2019. Subscription will auto renew annually.
US$ 199
This is the net price. Taxes to be calculated in checkout.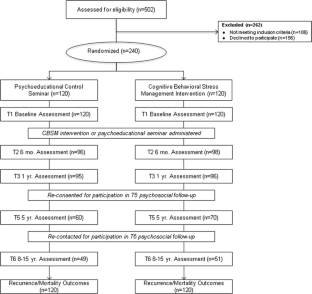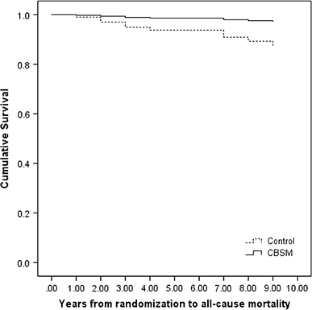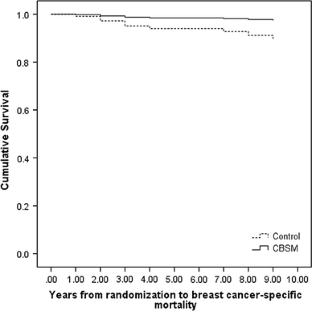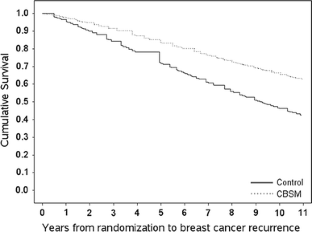 References
1.

Ferlay J, Soerjomataram I, Ervik M, et al. GLOBOCAN 2012 v1.0, Cancer Incidence and Mortality Worldwide: IARC CancerBase No. 11. Lyon, France: International Agency for Research on Cancer. 2013. http://globocan.iarc.fr, accessed 17 Sept 2014

2.

Coleman MP, Quaresma M, Berrino F et al (2008) Cancer survival in five continents: a worldwide population-based study (CONCORD). Lancet Oncol 9:730–756

3.

Lauzier S, Maunsell E, Levesque P et al (2010) Psychological distress and physical health in the year after diagnosis of DCIS or invasive breast cancer. Breast Cancer Res Treat 120:685–691

4.

Herschbach P, Keller M, Knight L et al (2004) Psychological problems of cancer patients: a cancer distress screening with a cancer-specific questionnaire. Br J Cancer 91:504–511

5.

Lutgendorf SK, Sood AK, Antoni MH (2010) Host factors and cancer progression: biobehavioral signaling pathways and interventions. J Clin Oncol 28:4094–4099

6.

Hjerl K, Andersen EW, Keiding N, Mouridsen HT, Mortensen PB, Jorgensen T (2003) Depression as a prognostic factor for breast cancer mortality. Psychosomatics 44:24–30

7.

Giese-Davis J, Collie K, Rancourt KMS, Neri E, Kraemer HC, Spiegel D (2011) Decrease in depression symptoms is associated with longer survival in patients with metastatic breast cancer: a secondary analysis. J Clin Oncol 29:413–420

8.

Spiegel D, Bloom JR, Kraemer HC, Gottheil E (1989) Effect of psychosocial treatment on survival of patients with metastatic breast cancer. Lancet 2:888–891

9.

Mustafa M, Carson-Stevens A, Gillespie D, Edwards AG (2013) Psychological interventions for women with metastatic breast cancer. Cochrane Db Syst Rev 6:CD004253

10.

Andersen BL, Yang H, Farrar WB et al (2008) Psychologic intervention improves survival for breast cancer patients: a randomized clinical trial. Cancer 113:3450–3458

11.

Phillips KM, Antoni MH, Carver CS et al (2011) Stress management skills and reductions in serum cortisol across the year after surgery for non-metastatic breast cancer. Cogn Therapy Res 35:595–600

12.

Antoni MH, Lutgendorf SK, Blomberg B et al (2012) Cognitive-behavioral stress management reverses anxiety-related leukocyte transcriptional dynamics. Biol Psychiatry 71:366–372

13.

Antoni MH, Wimberly SR, Lechner SC et al (2006) Reduction of cancer-specific thought intrusions and anxiety symptoms with a stress management intervention among women undergoing treatment for breast cancer. The Am J Psychiatry 163:1791–1797

14.

Antoni MH, Lechner SC, Kazi A et al (2006) How stress management improves quality of life after treatment for breast cancer. J Consult Clin Psychol 74:1143–1152

15.

Stagl JM, Antoni MH, Lechner SC et al (2015) Randomized controlled trial of cognitive behavioral stress management in breast cancer: a brief report of effects on 5-year depressive symptoms. Health Psychol 34:176–180

16.

Stagl JM, Bouchard LC, Lechner SC et al (2015) Long-term psychological benefits of cognitive-behavioral stress management for women with breast cancer: 11-year follow-up on a randomized controlled trial. Cancer 121:1873–1881

17.

Vargas S, Antoni MH, Carver CS et al (2014) Sleep quality and fatigue after a stress management intervention for women with early-stage breast cancer in Southern Florida. Int J Behav Med 21:971–981

18.

Antoni MH (2003) Stress management for women with breast cancer. American Psychological Association Press, Washington, DC

19.

Cox DR (1972) Regression models and life-tables. J R Stat Soc B Met 34:187–220

20.

Clark TG, Bradburn MJ, Love SB, Altman DG (2003) Survival analysis part IV: further concepts and methods in survival analysis. Br J Cancer 89:781–786

21.

Anderson KM (1991) A nonproportional hazards Weibull accelerated failure time regression model. Biometrics 47:281–288

22.

Babyak MA (2004) What you see may not be what you get: a brief, nontechnical introduction to overfitting in regression-type models. Psychosom Med 66:411–421

23.

Sobin L, Gospodarowicz M, Wittekind C et al (2009) TNM classification of malignant tumors, 7th edn. Wiley, Hoboken, NJ

24.

Phillips KM, Jim HSL, Small BJ, Tanvetyanon T, Roberts WS, Jacobsen PB (2012) Effects of self-directed stress management training and home-based exercise on stress management skills in cancer patients receiving chemotherapy. Stress Health 28:368–375

25.

Bigatti SM, Steiner JL, Miller KD (2012) Cognitive appraisals, coping and depressive symptoms in breast cancer patients. Stress Health 28:355–361

26.

Kissane D (2009) Beyond the psychotherapy and survival debate: the challenge of social disparity, depression and treatment adherence in psychosocial cancer care. PsychoOncol 18:1–5

27.

Danaei G, Vander Hoorn S, Lopez AD, Murray CJ, Ezzati M (2005) Causes of cancer in the world: comparative risk assessment of nine behavioural and environmental risk factors. Lancet 366:1784–1793

28.

Hershman DL, Kushi LH, Shao T et al (2010) Early discontinuation and nonadherence to adjuvant hormonal therapy in a cohort of 8769 early-stage breast cancer patients. J Clin Oncol 28:4120–4128

29.

Ross L, Boesen EH, Dalton SO, Johansen C (2002) Mind and cancer: does psychosocial intervention improve survival and psychological well-being? Eur J Cancer 38:1447–1457
Acknowledgements
MA, SL, and CC were responsible for the original study conception and design. JS, MA, CC, and LB were responsible for the follow-up study conception and design. JS and MA obtained funding. JS, LB, LG, and DJ collected the data and provided administrative support. AD, BB, SL, GI, SG, and CC provided technical and material support. JS, MA, and QY conducted the statistical analysis. JS, LB, LG, DJ, AD, BB, SL, GI, SG, CC, QY, and MA interpreted the data. JS, LB, LG, DJ, SL, AD, BB, GI, SG, CC, QY, and MA drafted and reviewed the manuscript. JS, CC, SG, SL, GI, and MA provided critical revision of the manuscript for important intellectual content. We are grateful to all of the women who participated in this study. We are appreciative for study coordination efforts from Stephanie Montarroyos, Janny Rodriguez, and the NCI Network of Biobehavioral Pathways in Cancer Steering Committee.
Ethics declarations
Conflict of interest
Dr. Antoni reports receiving publication royalties from a book he co-authored on cognitive-behavioral stress management. Dr. Glück is employed at Celgene Corporation. Other co-authors declare that they have no conflicts of interest.
Funding
This project has been funded in whole or in part with Federal funds from the National Cancer Institute (NCI), National Institutes of Health, under Contract No. HHSN261200800001E and NCI grant R01-CA-064710. The content of this publication does not necessarily reflect the views of policies of the Department of Health and Human Services, nor does mention of trade names, commercial products, or organizations imply endorsement by the U.S. Government. The NCI Network of Biobehavioral Pathways in Cancer (under Contract No. HHSN261200800001E) was involved in the design of the study, provided funding for data collection, provided statistical support for data analysis and interpretation through Westat, reviewed and approved the manuscript and the decision to submit the manuscript for publication. The corresponding author had full access to all the data in the study and takes responsibility for the integrity of the data and the accuracy of the data analysis.
Ethical approval
All procedures performed in studies involving human participants were in accordance with the ethical standards of the institutional and/or national research committee and with the 1964 Helsinki declaration and its later amendments or comparable ethical standards.
Informed consent
Informed consent was obtained from all individual participants included in the study.
About this article
Cite this article
Stagl, J.M., Lechner, S.C., Carver, C.S. et al. A randomized controlled trial of cognitive-behavioral stress management in breast cancer: survival and recurrence at 11-year follow-up. Breast Cancer Res Treat 154, 319–328 (2015). https://doi.org/10.1007/s10549-015-3626-6
Received:

Accepted:

Published:

Issue Date:
Keywords
Breast neoplasm

Survival

Recurrence

Cognitive therapy

Behavior therapy

Breast cancer