Abstract
Over one-third of breast cancer survivors experience upper extremity disability. Black women present with factors associated with greater upper extremity disability, including: increased body mass index (BMI), more advanced disease stage at diagnosis, and varying treatment type compared with Whites. No prior research has evaluated the relationship between race and upper extremity disability using validated tools and controlling for these factors. Data were drawn from a survey study among 610 women with stage I–III hormone receptor positive breast cancer. The disabilities of the arm, shoulder and hand (QuickDASH) is an 11-item self-administered questionnaire that has been validated for breast cancer survivors to assess global upper extremity function over the past 7 days. Linear regression and mediation analysis estimated the relationships between race, BMI and QuickDASH score, adjusting for demographics and treatment types. Black women (n = 98) had 7.3 points higher average QuickDASH scores than White (n = 512) women (p < 0.001). After adjusting for BMI, age, education, cancer treatment, months since diagnosis, and aromatase inhibitor status, Black women had an average 4-point (95 % confidence interval 0.18–8.01) higher QuickDASH score (p = 0.04) than White women. Mediation analysis suggested that BMI attenuated the association between race and disability by 40 %. Even several years post-treatment, Black breast cancer survivors had greater upper extremity disability, which was partially mediated by higher BMIs. Close monitoring of high BMI Black women may be an important step in reducing disparities in cancer survivorship. More research is needed on the relationship between race, BMI, and upper extremity disability.
This is a preview of subscription content, log in to check access.
Access options
Buy single article
Instant access to the full article PDF.
US$ 39.95
Price includes VAT for USA
Subscribe to journal
Immediate online access to all issues from 2019. Subscription will auto renew annually.
US$ 199
This is the net price. Taxes to be calculated in checkout.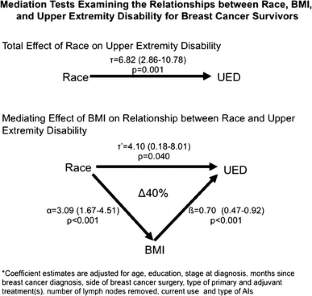 Abbreviations
AI:

Aromatase inhibitor

BMI:

Body mass index

QuickDASH:

Disabilities of the arm, shoulder and hand

UED:

Upper extremity disability
References
1.

Levy EW, Pfalzer LA, Danoff J, Springer BA, McGarvey C, Shieh C-Y, Morehead-Gee A, Gerber LH, Stout NL (2012) Predictors of functional shoulder recovery at 1 and 12 months after breast cancer surgery. Breast Cancer Res Treat 134(1):315–324

2.

Banks E, Byles JE, Gibson RE, Rodgers B, Latz IK, Robinson IA, Williamson AB, Jorm LR (2010) Is psychological distress in people living with cancer related to the fact of diagnosis, current treatment or level of disability? Findings from a large Australian study. Med J Aust 193(5):S62

3.

Braithwaite D, Satariano WA, Sternfeld B, Hiatt RA, Ganz PA, Kerlikowske K, Moore DH, Slattery ML, Tammemagi M, Castillo A (2010) Long-term prognostic role of functional limitations among women with breast cancer. J Natl Cancer Inst 102(19):1468–1477

4.

Rietman J, Dijkstra P, Hoekstra H, Eisma W, Szabo B, Groothoff J, Geertzen J (2003) Late morbidity after treatment of breast cancer in relation to daily activities and quality of life: a systematic review. Eur J Surg Oncol 29(3):229–238

5.

Voskuil D, van Nes J, Junggeburt J, van de Velde C, Van Leeuwen F, de Haes J (2010) Maintenance of physical activity and body weight in relation to subsequent quality of life in postmenopausal breast cancer patients. Ann Oncol 21(10):2094

6.

Rietman J, Geertzen J, Hoekstra H, Baas P, Dolsma W, De Vries J, Groothoff J, Eisma W, Dijkstra P (2006) Long term treatment related upper limb morbidity and quality of life after sentinel lymph node biopsy for stage I or II breast cancer. Eur J Surg Oncol 32(2):148–152

7.

Mao JJ, Stricker C, Bruner D, Xie S, Bowman MA, Farrar JT, Greene BT, DeMichele A (2009) Patterns and risk factors associated with aromatase inhibitor-related arthralgia among breast cancer survivors. Cancer 115(16):3631–3639

8.

Mao JJ, Chung A, Benton A, Hill S, Ungar L, Leonard CE, Hennessy S, Holmes JH (2013) Online discussion of drug side effects and discontinuation among breast cancer survivors. Pharmacoepidemiol Drug Saf 22(3):256–262

9.

Henry NL, Azzouz F, Desta Z, Li L, Nguyen AT, Lemler S, Hayden J, Tarpinian K, Yakim E, Flockhart DA (2012) Predictors of aromatase inhibitor discontinuation as a result of treatment-emergent symptoms in early-stage breast cancer. J Clin Oncol 30(9):936–942

10.

Coleman R, Bolten W, Lansdown M, Dale S, Jackisch C, Merkel D, Maass N, Hadji P (2008) Aromatase inhibitor-induced arthralgia: clinical experience and treatment recommendations. Cancer Treat Rev 34(3):275–282

11.

Yoon J, Malin JL, Tao ML, Tisnado DM, Adams JL, Timmer MJ, Ganz PA, Kahn KL (2008) Symptoms after breast cancer treatment: are they influenced by patient characteristics? Breast Cancer Res Treat 108(2):153–165

12.

Campbell KL, Pusic AL, Zucker DS, McNeely ML, Binkley JM, Cheville AL, Harwood KJ (2012) A prospective model of care for breast cancer rehabilitation: function. Cancer 118(S8):2300–2311

13.

Blinder VS, Griggs JJ (2013) Health disparities and the cancer survivor. In: Seminars in Oncology, Elsevier: 796–803

14.

Paskett ED, Alfano CM, Davidson MA, Andersen BL, Naughton MJ, Sherman A, McDonald PG, Hays J (2008) Breast cancer survivors' health-related quality of life. Cancer 113(11):3222–3230

15.

Green CR, Hart-Johnson T, Loeffler DR (2011) Cancer-related chronic pain. Cancer 117(9):1994–2003

16.

Schmitz K, Neuhouser ML, Agurs-Collins T, Zanetti KA, Cadmus-Bertram L, Dean LT, Drake BF (2013) Impact of obesity on cancer survivorship and the potential relevance of race and ethnicity. J Natl Cancer Inst 105(18):1344–1354

17.

Schmitz KH, Agurs-Collins T, Neuhouser ML, Pollack L, Gehlert S (2014) Impact of obesity, race, and ethnicity on cancer survivorship. In: Impact of Energy Balance on Cancer Disparities, Springer: 63–90

18.

Rock CL, Flatt SW, Newman V, Caan BJ, Haan MN, Stefanick ML, Faerber S, Pierce JP (1999) Factors associated with weight gain in women after diagnosis of breast cancer. Women's Healthy Eating and Living Study Group. J Am Diet Assoc 99(10):1212–1221

19.

Haas JS, Earle CC, Orav JE, Brawarsky P, Keohane M, Neville BA, Williams DR (2008) Racial segregation and disparities in breast cancer care and mortality. Cancer 113(8):2166–2172

20.

Dai D (2010) Black residential segregation, disparities in spatial access to health care facilities, and late-stage breast cancer diagnosis in metropolitan Detroit. Health Place 16(5):1038–1052

21.

Russell EF, Kramer MR, Cooper H, Gabram-Mendola S, Senior-Crosby D (2012) Jacob Arriola KR: Metropolitan area racial residential segregation, neighborhood racial composition, and breast cancer mortality. PubMed Cancer Causes Control 23(9):1519–1527

22.

Warner ET, Lin Gomez S (2010) Impact of neighborhood racial composition and metropolitan residential segregation on disparities in breast cancer stage at diagnosis and survival between black and white women in California. J Community Health 35(4):398–408

23.

Wheeler SB, Reeder-Hayes KE, Carey LA (2013) Disparities in breast cancer treatment and outcomes: biological, social, and health system determinants and opportunities for research. Oncol 18(9):986–993

24.

Siegel R, DeSantis C, Virgo K, Stein K, Mariotto A, Smith T, Cooper D, Gansler T, Lerro C, Fedewa S (2012) Cancer treatment and survivorship statistics. CA: Cancer J Clin 62(4):220–241

25.

Bickell NA, Wang JJ, Oluwole S, Schrag D, Godfrey H, Hiotis K, Mendez J, Guth AA (2006) Missed opportunities: racial disparities in adjuvant breast cancer treatment. J Clin Oncol 24(9):1357–1362

26.

Togawa K, Ma H, Sullivan-Halley J, Neuhouser ML, Imayama I, Baumgartner KB, Smith AW, Alfano CM, McTiernan A, Ballard-Barbash R (2014) Risk factors for self-reported arm lymphedema among female breast cancer survivors: a prospective cohort study. Breast Cancer Res 16(4):414

27.

Mak SS, Yeo W, Lee YM et al (2009) Risk factors for the initiation and aggravation of lymphoedema after axillary lymph node dissection for breast cancer. Hong Kong Med J 15(3):8–12

28.

Reeder-Hayes K, Bainbridge J, Meyer A, Amos K, Weiner B, Godley P, Carpenter W (2011) Race and age disparities in receipt of sentinel lymph node biopsy for early-stage breast cancer. Breast Cancer Res Treat 128(3):863–871

29.

American Cancer Society (2013) Breast cancer facts & figures 2013–2014. American Cancer Society, Inc, In., Atlanta

30.

Morehead-Gee AJ, Pfalzer L, Levy E, McGarvey C, Springer B, Soballe P, Gerber L, Stout NL (2012) Racial disparities in physical and functional domains in women with breast cancer. Support Care Cancer: Off J Multinatl Assoc Support Care Cancer 20(8):1839–1847

31.

Ness KK, Wall MM, Oakes JM, Robison LL, Gurney JG (2006) Physical performance limitations and participation restrictions among cancer survivors: a population-based study. Ann Epidemiol 16(3):197–205

32.

Gallicchio L, Calhoun C, Helzlsouer KJ (2014) Association between race and physical functioning limitations among breast cancer survivors. Support Cancer: off J Multinatl Assoc Support Care Cancer 22(4):1081–1088

33.

Mao JJ, Su HI, Feng R, Donelson ML, Aplenc R, Rebbeck TR, Stanczyk F, DeMichele A (2011) Association of functional polymorphisms in CYP19A1 with aromatase inhibitor associated arthralgia in breast cancer survivors. Breast Cancer Res 13(1):R8

34.

Hudak PL, Amadio PC, Bombardier C (1996) Development of an upper extremity outcome measure: the DASH (disabilities of the arm, shoulder and hand)[corrected]. The upper extremity collaborative group (UECG). Am J Ind Med 29:602–608

35.

LeBlanc M, Stineman M, DeMichele A, Stricker C, Mao JJ (2014) Validation of QuickDASH outcome measure in breast cancer survivors for upper extremity disability. Arch Phys Med Rehabil 95(3):493–498

36.

Baron RM, Kenny DA (1986) The moderator–mediator variable distinction in social psychological research: conceptual, strategic, and statistical considerations. J Pers Soc Psychol 51:1173–1182

37.

Judd CM, Kenny DA (1981) Process analysis estimating mediation in treatment evaluations. Evaluation Rev 5(5):602–619

38.

James LR, Brett JM (1984) Mediators, moderators, and tests for mediation. J Appl Psychol 69(2):307

39.

Mediation [http://davidakenny.net/cm/mediate.htm]

40.

Flegal KM, Carroll MD, Kit BK, Ogden CL (2012) Prevalence of obesity and trends in the distribution of body mass index among US adults, 1999–2010. J Am Med Assoc 307(5):491–497

41.

Ogden CL, Carroll MD, Curtin LR, McDowell MA, Tabak CJ, Flegal KM (2006) Prevalence of overweight and obesity in the United States, 1999-2004. J Am Med Assoc 295(13):1549–1555

42.

Kumanyika S (1987) Obesity in black women. Epidemiol Rev 9:31–50

43.

Dignam JJ, Wieand K, Johnson KA, Raich P, Anderson SJ, Somkin C, Wickerham DL (2006) Effects of obesity and race on prognosis in lymph node-negative, estrogen receptor-negative breast cancer. Breast Cancer Res Treat 97(3):245–254

44.

Irwin ML, McTiernan A, Bernstein L, Gilliland FD, Baumgartner R, Baumgartner K, Ballard-Barbash R (2004) Physical activity levels among breast cancer survivors. Med Sci Sports Exerc 36(9):1484

45.

Ferraro KF, Su Y, Gretebeck RJ, Black DR, Badylak SF (2002) Body mass index and disability in adulthood: a 20-year panel study. Am J Public Health 92(5):834–840

46.

Kwan ML, Darbinian J, Schmitz KH, Citron R, Partee P, Kutner SE, Kushi LH (2010) Risk factors for lymphedema in a prospective breast cancer survivorship study: the pathways study. Arch Surg 145(11):1055

47.

Meeske KA, Sullivan-Halley J, Smith AW, McTiernan A, Baumgartner KB, Harlan LC, Bernstein L (2009) Risk factors for arm lymphedema following breast cancer diagnosis in Black women and White women. Breast Cancer Res Treat 113(2):383–391

48.

Young A, Weltzien E, Kwan M, Castillo A, Caan B, Kroenke CH (2014) Pre-to post-diagnosis weight change and associations with physical functional limitations in breast cancer survivors. J Cancer Surviv 8(4):539–547

49.

Abdel-Moneim R (1984) The hazards of surgery in the obese. Int Surg 70(2):101–103

50.

Choban PS, Flancbaum L (1997) The impact of obesity on surgical outcomes: a review. J Am Coll Surg 185(6):593–603

51.

Bamgbade OA, Rutter TW, Nafiu OO, Dorje P (2007) Postoperative complications in obese and nonobese patients. World J Surg 31(3):556–560

52.

Demark-Wahnefried W, Campbell KL, Hayes SC (2012) Weight management and its role in breast cancer rehabilitation. Cancer 118(S8):2277–2287

53.

Davenport DL, Xenos ES, Hosokawa P, Radford J, Henderson WG, Endean ED (2009) The influence of body mass index obesity status on vascular surgery 30-day morbidity and mortality. J Vasc Surg 49(1):140–147. e141

54.

Schuster JM, Rechtine G, Norvell DC, Dettori JR (2010) The influence of perioperative risk factors and therapeutic interventions on infection rates after spine surgery: a systematic review. Spine 35(9S):S125–S137

55.

Anaya DA, Dellinger EP (2006) The obese surgical patient: a susceptible host for infection. Surg Infect 7(5):473–480

56.

Poirier P, Alpert MA, Fleisher LA, Thompson PD, Sugerman HJ, Burke LE, Marceau P, Franklin BA (2009) Cardiovascular evaluation and management of severely obese patients undergoing surgery a science advisory from the American Heart Association. Circulation 120(1):86–95

57.

Chen CL, Shore AD, Johns R, Clark JM, Manahan M, Makary MA (2011) The impact of obesity on breast surgery complications. Plast Reconstr Surg 128(5):395e–402e

58.

McCarthy CM, Mehrara BJ, Riedel E, Davidge K, Hinson A, Disa JJ, Cordeiro PG, Pusic AL (2008) Predicting complications following expander/implant breast reconstruction: an outcomes analysis based on preoperative clinical risk. Plast Reconstr Surg 121(6):1886–1892

59.

Selber JC, Kurichi JE, Vega SJ, Sonnad SS, Serletti JM (2006) Risk factors and complications in free TRAM flap breast reconstruction. Ann Plast Surg 56(5):492–497

60.

Hong S, Bardwell WA, Natarajan L, Flatt SW, Rock CL, Newman VA, Madlensky L, Mills PJ, Dimsdale JE, Thomson CA (2007) Correlates of physical activity level in breast cancer survivors participating in the Women's Healthy Eating and Living (WHEL) Study. Breast Cancer Res Treat 101(2):225–232

61.

Paxton RJ, Phillips KL, Jones LA, Chang S, Taylor WC, Courneya KS, Pierce JP (2012) Associations among physical activity, body mass index, and health-related quality of life by race/ethnicity in a diverse sample of breast cancer survivors. Cancer 118(16):4024–4031

62.

McCormack VA, Perry N, Vinnicombe SJ, dos Santos Silva I (2008) Ethnic variations in mammographic density: a British multiethnic longitudinal study. Am J Epidemiol 168(4):412–421

63.

Ursin G, Ma H, Wu AH, Bernstein L, Salane M, Parisky YR, Astrahan M, Siozon CC, Pike MC (2003) Mammographic density and breast cancer in three ethnic groups. Cancer Epidemiol Biomark Prev 12(4):332–338

64.

del Carmen MG, Halpern EF, Kopans DB, Moy B, Moore RH, Goss PE, Hughes KS (2007) Mammographic breast density and race. Am J Roentgenol 188(4):1147–1150

65.

Krieger N (2000) Refiguring "race" epidemiology: epidemiology, racialized biology, and biological expressions of race relations. Int J Health Serv 30(1):211–216

66.

Krieger N (2001) A glossary for social epidemiology. J Epidemiol Community Health 55(10):693–700

67.

Campesino M, Saenz DS, Choi M, Krouse RS (2012) Perceived discrimination and ethnic identity among breast cancer survivors. In: Oncology Nursing Forum. Onc Nurs Society: E91–E100

68.

Quach T, Nuru-Jeter A, Morris P, Allen L, Shema SJ, Winters JK, Le GM, Gomez SL (2012) Experiences and perceptions of medical discrimination among a multiethnic sample of breast cancer patients in the Greater San Francisco Bay Area, California. Am J Public Health 102(5):1027–1034

69.

Oberst K, Bradley CJ, Schenk M (2008) Breast and prostate cancer patient's reliability of treatment reporting. J Reg Manag 36(1):12–15
Acknowledgments
This study was supported by National Institutes of Health/National Cancer Institute 1R01CA158243. Dr. Dean is supported in part by the National Institutes of Health and National Cancer Institute Grant No. 1K01CA184288.
Ethics declarations
Conflict of Interest
The authors declare that they have no conflict of interest.
About this article
Cite this article
Dean, L.T., DeMichele, A., LeBlanc, M. et al. Black breast cancer survivors experience greater upper extremity disability. Breast Cancer Res Treat 154, 117–125 (2015). https://doi.org/10.1007/s10549-015-3580-3
Received:

Accepted:

Published:

Issue Date:
Keywords
Breast cancer

Upper extremity function

Disability

Black/African-American

Philadelphia, Pa