Abstract
Stemming from breast density notification legislation in Massachusetts effective 2015, we sought to develop a collaborative evidence-based approach to density notification that could be used by practitioners across the state. Our goal was to develop an evidence-based consensus management algorithm to help patients and health care providers follow best practices to implement a coordinated, evidence-based, cost-effective, sustainable practice and to standardize care in recommendations for supplemental screening. We formed the Massachusetts Breast Risk Education and Assessment Task Force (MA-BREAST) a multi-institutional, multi-disciplinary panel of expert radiologists, surgeons, primary care physicians, and oncologists to develop a collaborative approach to density notification legislation. Using evidence-based data from the Institute for Clinical and Economic Review, the Cochrane review, National Comprehensive Cancer Network guidelines, American Cancer Society recommendations, and American College of Radiology appropriateness criteria, the group collaboratively developed an evidence-based best-practices algorithm. The expert consensus algorithm uses breast density as one element in the risk stratification to determine the need for supplemental screening. Women with dense breasts and otherwise low risk (<15 % lifetime risk), do not routinely require supplemental screening per the expert consensus. Women of high risk (>20 % lifetime) should consider supplemental screening MRI in addition to routine mammography regardless of breast density. We report the development of the multi-disciplinary collaborative approach to density notification. We propose a risk stratification algorithm to assess personal level of risk to determine the need for supplemental screening for an individual woman.
This is a preview of subscription content,
to check access.
Access this article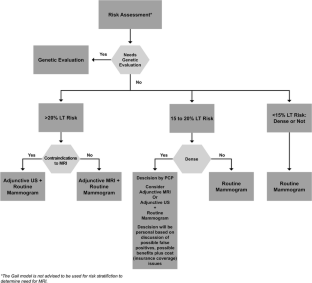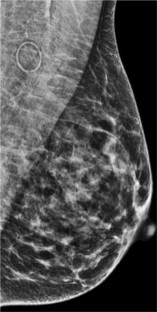 References
Are You Dense Advocacy, Inc. D.E.N.S.E.® State Efforts. http://areyoudenseadvocacy.org/dense/. Accessed Jan 2015

Hooley RJ, Greenberg KL, Stackhouse RM, Geisel JL, Butler RS, Philpotts LE (2012) Screening US in patients with mammographically dense breasts: initial experience with Connecticut Public Act 09-41. Radiology 265(1):59–69

Tice JA, Ollendorf DA, Lee JM, Pearson SD. The comparative clinical effectiveness and value of supplemental screening tests following negative Mammography in women with dense breast tissue. Institute for clinical and economic review (ICER) 2013. http://www.ctaf.org/sites/default/files/assessments/ctaf-final-report-dense-breast-imaging-11.04.2013-b.pdf. Accessed 5 Dec 2014

California Technology Assessment Forum (CTAF) supplemental cancer screening for women with dense breasts: questions for deliberation and results. September 25, 2013. http://www.ctaf.org/sites/default/files/u39/Voting%20question%20main_results.pdf. Accessed 5 Dec 2014

New England Comparative Effectiveness Public Advisory Council (CEPAC). An action guide for supplemental cancer screening for women with dense breasts: next steps for patients, clinicians, and insurers. http://cepac.icer-review.org/wp-content/uploads/2013/11/Action-Guide-Dense-Breast-Final.pdf. Date of publication March 2014. Accessed 5 Dec 2014

Gartlehner G, Thaler KJ, Chapman A et al (2013) Adjunct ultrasonography for breast cancer screening in women at average risk: a systematic review. Int J Evid Based Healthc 11(2):87–93

Gartlehner G, Thaler KJ, Chapman A et al (2013) Mammography in combination with breast ultrasonography versus mammography for breast cancer screening in women at average risk. Cochrane Database Syst Rev 4:CD009632

National Comprehensive Cancer Network (NCCN) Guidelines Version 1.2014 Breast cancer screening and diagnosis. Breast Cancer. http://www.nccn.org/professionals/physician_gls/pdf/breast-screening.pdf. Published 5/30/14. Accessed 5 Dec 2014

Saslow D, Boetes C, Burke W et al (2007) American Cancer Society guidelines for breast screening with MRI as an adjunct to mammography. CA Cancer J Clin 57(2):75–89

Maniero MB, Lourenco A, Mahoney MC et al (2013) ACR appropriateness criteria breast cancer screening. J Am Coll Radiol 10(1):11–14

Price ER, Hargreaves J, Lipson JA et al (2013) The California Breast Density Information Group: a collaborative response to the issues of breast density, breast cancer risk, and breast density notification legislation. Radiology 269(3):887–892

Boren WL, Hunter TB, Bjelland JC, Hunt KR (1990) Comparison of breast consistency at palpation with breast density at mammography. Investig Radiol 25:1010–1011

Swann CA, Kopans DB, Mccarthy KA, White G, Hall DA (1987) Mammographic density and physical assessment of the breast. Am J Roentgenol 148:525–526

D'Orsi CJ, Mendelson EB, Morris EA et al (2012) ACR BI-RADS: Breast Imaging Reporting and Data System, 5th edn. Am Coll Radiol, Reston

Nicholson BT, LoRusso AP, Smolkin M, Bovbjerg VE, Petroni GR, Harvey JA (2006) Accuracy of assigned BI-RADS breast density category definitions. Acad Radiol 13(9):1143–1149

Kerlikowske K, Grady D, Barclay J, Frankel SD, Ominsky SH, Sickles EA, Ernster V (1998) Variability and accuracy in mammographic interpretation using the American college of radiology breast imaging reporting and data system. J Natl Cancer Inst 90:1801–1809

Vachon CM, Kushi LH, Cerhan JR, Kuni CC, Sellers TA (2000) Association of diet and mammographic breast density in the Minnesota breast cancer family cohort. Cancer Epidemiol Biomarkers Prev 9:151–160

Boyd NF, Martin LJ, Yaffe MJ, Minkin S (2011) Mammographic density and breast cancer risk: current understanding and future prospects. Breast Cancer Res 13(6):223

McCormack VA, dos Santos Silva I (2006) Breast density and parenchymal patterns as markers of breast cancer risk: a meta-analysis. Cancer Epidemiol Biomarkers Prev 15:1159–1169

Bae MS, Moon WK, Chang JM et al (2014) Breast cancer detected with screening US: reasons for nondetection at mammography. Radiology 270(2):369–377

Kerlikowke K, Hubbard RA, Miglioretti DL et al (2011) Comparative effectiveness of digital versus film-screen mammography in community practice in the United States: a cohort study. Ann Intern Med 155(8):493–502

Pisano ED, Hendrick RE, Yaffe MJ et al (2008) Diagnostic accuracy of digital versus film mammography: exploratory analysis of selected population subgroups in DMIST. Radiology 246(2):376–383

Skaane P, Osteras BH, Eben EB, Gullien R.VSBR31-16: Comparison of digital mammography (FFDM) and FFDM plus tomosynthesis in mammography screening for cancer detection according to breast parenchyma density. Abstract, Radiological Society North America, Chicago, IL. December 2014

Haas BM, Kalra V, Geisel J, Raghu M, Durand M, Philpotts LE (2013) Comparison of tomosynthesis plus digital mammography and digital mammography alone for breast cancer screening. Radiology 269(3):694–700

Sickles EA (2010) The use of breast imaging to screen women at high risk for cancer. Radiol Clin North Am 48(5):859–878

Sprague BL, Stout NK, Schechter C et al (2014) Benefits, harms, and cost-effectiveness of supplemental ultrasonography screening for women with dense breasts. Ann Int Med. doi:10.7326/M14-0692

McCormack VA, dos Santos Silva I (2006) Breast density and parenchymal patterns as markers of breast cancer risk: a meta-analysis. Cancer Epidemiol Biomarkers Prev 15:1159–1169

Boyd NF, Guo H, Martin LJ et al (2007) Mammographic density and the risk and detection of breast cancer. N Engl J Med 356(3):227–236

The 188th General Court of the Commonwealth of Massachusetts. Session Laws, Acts of 2014. Chapter 150: An Act Relative to Breast Cancer Early Detection. https://malegislature.gov/Laws/SessionLaws/Acts/2014/Chapter150. Accessed 4 Jan 2015

Freer PE, Kopans DB (2010) Screening for breast cancer: mammography and other modalities. In: Taghian AG, Smith BL, Erban JK (eds) Breast Cancer: A Multidisciplinary Approach to Diagnosis and Management (Current Multidisciplinary Oncology). Demos Medical, New York, pp 18–36

Smith RA, Duffy SW, Gabe R, Tabar L, Yen AM, Chen TH (2004) The randomized trials of breast cancer screening: what have we learned? Radiol Clin North Am 42(5):793–806

Kerlikowske K (1997) Efficacy of screening mammography among women aged 40 to 49 years and 50 to 69 years: comparison of relative and absolute benefit. J Natl Cancer Inst Monogr 22:79–86

Rosenberg RD, Yankaskas BC, Abraham LA et al (2006) Performance benchmarks for screening mammography. Radiology 241(1):55–66

Hubbard RA, Kerlikowske K, Flowers CI, Yankaskas BC, Zhu W, Miglioretti DL (2011) Cumulative probability of false-positive recall or biopsy recommendation after 10 years of screening mammography: a cohort study. Ann Intern Med 155(8):481–492

Carney PA, Miglioretti DL, Yankaskas BC et al (2003) Individual and combined effects of age, breast density, and hormone replacement therapy use on the accuracy of screening mammography. Ann Intern Med 138(3):168–175

Berg WA, Blume JD, Cormack JB et al (2008) Combined screening with ultrasound and mammography vs mammography alone in women at elevated risk of breast cancer: results of the first year screen in ACRIN 6666. JAMA 299(18):2151–2163

Parris T, Wakefield D, Frimmer H (2013) Real world performance of screening breast ultrasound following enactment of Connecticut Bill 458. Breast J 19(1):64–70

Berg WA, Zhang Z, Lehrer D et al (2012) Detection of breast cancer with addition of annual screening ultrasound or a single screening MRI to mammography in women with elevated breast cancer risk. JAMA 307(13):1394–1404

Berg WA, Blume JD, Adams AM et al (2010) Reasons women at elevated risk of breast cancer refuse breast MRI imaging screening: ACRIN 6666. Radiology 254(1):79–87

Amir E, Freedman OC, Seruga B, Evans DG (2010) Assessing women at high risk of breast cancer: a review of risk assessment models. J Natl Cancer Inst 102:680–691

Tice JA, Cummings SR, Smith-Bindman R, Ichikawa L, Barlow WE, Kerlikowske K (2008) Using clinical factors and mammographic breast density to estimate breast cancer risk: development and validation of a new predictive model. Ann Intern Med. 148(5):337–347. Summary for patients in: Ann Intern Med. 2008 Mar 4;148(5):I34

Rosner BA, Colditz GA, Hankinson SE, Sullivan-Halley J, Lacey JV Jr, Bernstein L (2013) Validation of Rosner-Colditz breast cancer incidence model using an independent data set, the California Teachers Study. Breast Cancer Res Treat 142(1):187–202

Wernli KJ, DeMartini WB, Ichikawa L et al (2014) Patterns of breast magnetic resonance use in community practice. JAMA Intern Med 174(1):125–132

United States Preventive Task Force (USPSTF) (2009) Screening for breast cancer: U.S. Preventive Task Force recommendation statement. Ann Intern Med 151(10):716–726

The American Society of Breast Surgeons position on mammography. Approved Aug 15, 2011. https://www.breastsurgeons.org/statements/PDF_Statements/Screening_Mammography.pdf.Accessed 4 Dec 2015

Mann RM, Kuhl CK, Kinkel K, Boetes C (2008) Breast MRI: guidelines from the European Society of Breast Imaging. Eur Radiol 18(7):1307–1318

Committee on Gynecologic Practice, The American College of Obstetricians and Gynecology Committee Opinion Number 593 (2014) Management of women with dense breasts diagnosed by mammography. Obstet Gynecol 123(4):910–911

Friedewald SM, Rafferty EA, Rose SL et al (2014) Breast cancer screening using tomosynthesis in combination with digital mammography. JAMA 311(24):2499–2507

Jochelson MS, Dershaw DD, Sung JS, Heerdt AS, Thorton C, Moskowitz CS, Ferrara J, Morris EA (2013) Bilateral contrast-enhanced dual-energy digital mammography: feasibility and comparison with conventional digital mammography and MR imaging in women with known breast carcinoma. Radiology 266:743–751

Kuhl CK, Schrading S, Strobel K, Schild HH, Hilgers RD, Bieling HB (2014) Abbreviated breast magnetic resonance imaging (MRI): first postcontrast subtracted images and maximum-intensity projection—a novel approach to breast cancer screening with MRI. J Clin Oncol 32(22):2304–2310
Acknowledgements
The authors would like to acknowledge Edward J. Brennan, JD and Valerie Fein-Zachary, MD for their assistance.
Ethics declarations
Conflict of Interest
A. Alan Semine is a consultant/advisory role for Hologic, Inc. Kevin S. Hughes is a member of the Myriad Genetics Speaker Bureau and is a founder of and has a financial interest in Hughes Risk Apps, LLC. Dr. Hughes's interests were reviewed and are managed by Massachusetts General Hospital and Partners Health Care in accordance with their conflict of interest policies. The remaining authors declare no conflict of interest.
Additional information
Paper drafted while was Instructor in Radiology at Harvard Medical School/Massachusetts General Hospital. Will be Associate Prof of Radiology at University of Utah/Huntsman Cancer Institute Summer 2015.
Electronic supplementary material
Below is the link to the electronic supplementary material.
About this article
Cite this article
Freer, P.E., Slanetz, P.J., Haas, J.S. et al. Breast cancer screening in the era of density notification legislation: summary of 2014 Massachusetts experience and suggestion of an evidence-based management algorithm by multi-disciplinary expert panel. Breast Cancer Res Treat 153, 455–464 (2015). https://doi.org/10.1007/s10549-015-3534-9
Received:

Accepted:

Published:

Issue Date:

DOI: https://doi.org/10.1007/s10549-015-3534-9
Keywords