Abstract
Clinical outcome of patients with stage IV breast cancer is dependent on tumor biology, extent, and localization of metastases. Routine imaging diagnostics for distant metastasis is not recommended by the national guidelines for breast cancer follow-up. In this study, we evaluated different patterns of metastases of cancer subtypes in order to generate hypotheses on individualization of follow-up after breast cancer in the adjuvant setting. Patients of the Regional Breast Cancer Center Dresden diagnosed within the years 2006–2011 were classified into the five intrinsic subtypes luminal A (ER+, Her2−, G1/2), luminal B/Her2 negative (ER+, Her2−, G3), triple positive (ER+, PR+, Her2+), Her2-enriched (ER−, Her2+), and triple negative (ER−, PR−, Her2−) and with a median follow-up of 45 months. Tumor stage at time of first diagnosis of breast cancer as well as time and site of metastasis at first diagnosis of distant metastatic disease was analyzed. Tumor specimen of 2284 female patients with primary breast cancer was classified into five subtypes. Distant recurrence-free survival at 3 years was most unfavorable in Her2-enriched (66.8 %), triple negative (75.9 %), and triple-positive breast cancer (81.7 %). The same subtypes most frequently presented with visceral metastases only at first presentation: Her2-enriched 46.9 %, triple negative 45.5 %, and triple-positive breast cancer 37.5 %. Longest median survival of 2.3 years was seen in luminal A and in Her2-enriched metastatic disease, respectively. Median survival was significantly better in the luminal A, Her2-enriched, and triple-positive subtype compared to triple-negative breast cancer (p < 0.005). Differences in time to metastatic disease, first localization of metastases, and overall survival after diagnosis of metastatic disease were shown. Considering new targeted therapies and the option of surgery of oligometastases, screening for visceral metastases might be reasonable after diagnosis of Her2-positive subtypes.
Access options
Buy single article
Instant access to the full article PDF.
US$ 39.95
Tax calculation will be finalised during checkout.
Subscribe to journal
Immediate online access to all issues from 2019. Subscription will auto renew annually.
US$ 119
Tax calculation will be finalised during checkout.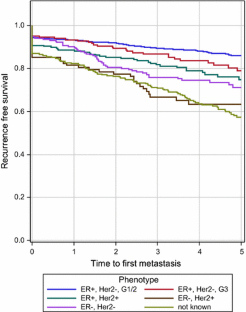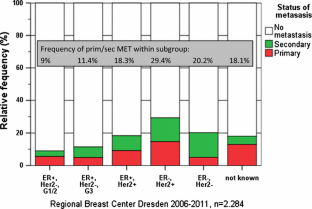 References
1.

Sant M, Allemani C, Berrino F, Coleman MP, Aareleid T, Chaplain G, Coebergh JW, Colonna M, Crosignani P, Danzon A et al (2004) Breast carcinoma survival in Europe and the United States. Cancer 100(4):715–722

2.

Thomssen C, Diel I, Gnant M, Goldmann-Posch U, Goschke C, Haidinger R, Janni W, Lin NU (2012) Follow-up after breast cancer diagnosis. Breast Care (Basel, Switzerland) 8(6):457–460

3.

Andre F, Slimane K, Bachelot T, Dunant A, Namer M, Barrelier A, Kabbaj O, Spano JP, Marsiglia H, Rouzier R et al (2004) Breast cancer with synchronous metastases: trends in survival during a 14-year period. J Clin Oncol 22(16):3302–3308

4.

Adam R, Aloia T, Krissat J, Bralet MP, Paule B, Giacchetti S, Delvart V, Azoulay D, Bismuth H, Castaing D (2006) Is liver resection justified for patients with hepatic metastases from breast cancer? Ann Surg 244(6):897–907 discussion 907-898

5.

Clark GM, Sledge GW Jr, Osborne CK, McGuire WL (1987) Survival from first recurrence: relative importance of prognostic factors in 1015 breast cancer patients. J Clin Oncol 5(1):55–61

6.

Falkson G, Gelman R, Falkson CI, Glick J, Harris J (1991) Factors predicting for response, time to treatment failure, and survival in women with metastatic breast cancer treated with DAVTH: a prospective Eastern Cooperative Oncology Group study. J Clin Oncol 9(12):2153–2161

7.

Vogel CL, Azevedo S, Hilsenbeck S, East DR, Ayub J (1992) Survival after first recurrence of breast cancer. The Miami experience. Cancer 70(1):129–135

8.

Largillier R, Ferrero JM, Doyen J, Barriere J, Namer M, Mari V, Courdi A, Hannoun-Levi JM, Ettore F, Birtwisle-Peyrottes I et al (2008) Prognostic factors in 1038 women with metastatic breast cancer. Ann Oncol: Off J Eur Soc Med Oncol/ESMO 19(12):2012–2019

9.

Rudat V, El-Sweilmeen H, Brune-Erber I, Nour AA, Almasri N, Altuwaijri S, Fadel E (2014) Identification of breast cancer patients with a high risk of developing brain metastases: a single-institutional retrospective analysis. BMC Cancer 14(1):289

10.

Vona-Davis L, Rose DP, Gadiyaram V, Ducatman B, Hobbs G, Hazard H, Kurian S, Abraham J (2014) Breast cancer pathology, receptor status, and patterns of metastasis in a rural appalachian population. J Cancer Epidemiol 2014:170634

11.

Pagani O, Price KN, Gelber RD, Castiglione-Gertsch M, Holmberg SB, Lindtner J, Thurlimann B, Collins J, Fey MF, Coates AS et al (2009) Patterns of recurrence of early breast cancer according to estrogen receptor status: a therapeutic target for a quarter of a century. Breast Cancer Res Treat 117(2):319–324

12.

Sorlie T, Tibshirani R, Parker J, Hastie T, Marron JS, Nobel A, Deng S, Johnsen H, Pesich R, Geisler S et al (2003) Repeated observation of breast tumor subtypes in independent gene expression data sets. Proc Natl Acad Sci USA 100(14):8418–8423

13.

Goldhirsch A, Wood WC, Coates AS, Gelber RD, Thurlimann B, Senn HJ (2011) Strategies for subtypes–dealing with the diversity of breast cancer: highlights of the St. Gallen International Expert Consensus on the Primary Therapy of Early Breast Cancer 2011. Ann Oncol: Off J Eur Soc Med Oncol/ESMO 22(8):1736–1747

14.

Finn RS, Crown JP, Lang I, Boer K, Bondarenko IM, Kulyk SO, Ettl J, Patel R, Pinter T, Schmidt M et al (2015) The cyclin-dependent kinase 4/6 inhibitor palbociclib in combination with letrozole versus letrozole alone as first-line treatment of oestrogen receptor-positive, HER2-negative, advanced breast cancer (PALOMA-1/TRIO-18): a randomised phase 2 study. Lancet Oncol 16(1):25–35

15.

Giordano SH, Temin S, Kirshner JJ, Chandarlapaty S, Crews JR, Davidson NE, Esteva FJ, Gonzalez-Angulo AM, Krop I, Levinson J et al (2014) Systemic therapy for patients with advanced human epidermal growth factor receptor 2-positive breast cancer: American Society of Clinical Oncology clinical practice guideline. J Clin Oncol 32(19):2078–2099

16.

von Minckwitz G, Untch M, Blohmer JU, Costa SD, Eidtmann H, Fasching PA, Gerber B, Eiermann W, Hilfrich J, Huober J et al (2012) Definition and impact of pathologic complete response on prognosis after neoadjuvant chemotherapy in various intrinsic breast cancer subtypes. J Clin Oncol 30(15):1796–1804

17.

Carlson RW, Moench SJ, Hammond ME, Perez EA, Burstein HJ, Allred DC, Vogel CL, Goldstein LJ, Somlo G, Gradishar WJ et al (2006) HER2 testing in breast cancer: NCCN Task Force report and recommendations. J Nat Compr Cancer Netw 4(Suppl 3):S1–22 quiz S23-24

18.

Perou CM, Sorlie T, Eisen MB, van de Rijn M, Jeffrey SS, Rees CA, Pollack JR, Ross DT, Johnsen H, Akslen LA et al (2000) Molecular portraits of human breast tumours. Nature 406(6797):747–752

19.

Smid M, Wang Y, Zhang Y, Sieuwerts AM, Yu J, Klijn JG, Foekens JA, Martens JW (2008) Subtypes of breast cancer show preferential site of relapse. Cancer Res 68(9):3108–3114

20.

Dawood S, Broglio K, Buzdar AU, Hortobagyi GN, Giordano SH (2010) Prognosis of women with metastatic breast cancer by HER2 status and trastuzumab treatment: an institutional-based review. J Clin Oncol 28(1):92–98

21.

Ribelles N, Perez-Villa L, Jerez JM, Pajares B, Vicioso L, Jimenez B, de Luque V, Franco L, Gallego E, Marquez A et al (2013) Pattern of recurrence of early breast cancer is different according to intrinsic subtype and proliferation index. Breast Cancer Res 15(5):R98

22.

Liedtke C, Mazouni C, Hess KR, Andre F, Tordai A, Mejia JA, Symmans WF, Gonzalez-Angulo AM, Hennessy B, Green M et al (2008) Response to neoadjuvant therapy and long-term survival in patients with triple-negative breast cancer. J Clin Oncol 26(8):1275–1281

23.

Fiteni F, Villanueva C, Bazan F, Perrin S, Chaigneau L, Dobi E, Montcuquet P, Cals L, Meneveau N, Nerich V et al (2013) Long-term follow-up of patients with metastatic breast cancer treated by trastuzumab: impact of institutions. Breast (Edinburgh, Scotland) 23:165–169

24.

Santini D, Vincenzi B, Pantano F, Tonini G, Bertoldo F (2011) Targeting bone metastases starting from the preneoplastic niche: home sweet home. Breast Cancer Res 13(4):111

25.

Ignatiadis M, Dawson SJ (2014) Circulating tumor cells and circulating tumor DNA for precision medicine: dream or reality? Ann Oncol: Off J Eur Soc Med Oncol/ESMO 25:2304–2313
Acknowledgments
Tumorzentrum e.V. Dresden.
Conflict of interest
The authors declare that they have no competing interests.
Electronic supplementary material
Below is the link to the electronic supplementary material.
About this article
Cite this article
Kast, K., Link, T., Friedrich, K. et al. Impact of breast cancer subtypes and patterns of metastasis on outcome. Breast Cancer Res Treat 150, 621–629 (2015). https://doi.org/10.1007/s10549-015-3341-3
Received:

Accepted:

Published:

Issue Date:
Keywords
Breast cancer

Subtypes

Metastases

Recurrence pattern