Abstract
Women with diabetes have higher breast cancer incidence and mortality. The purpose of this study was to examine the impact of diabetes on stage at breast cancer diagnosis, as a possible reason for their higher mortality. Using population-based health databases from Ontario, Canada, this retrospective cohort study examined stage at diagnosis (II, III, or IV vs I) among women aged 20–105 years who were newly diagnosed with invasive breast cancer between 2007 and 2012. We compared those with diabetes to those without diabetes. Diabetes was defined based on medical records using a validated algorithm. Among 38,407 women with breast cancer, 6115 (15.9 %) women had diabetes. Breast cancer patients with diabetes were significantly more likely to present with advanced-stage breast cancer than those without diabetes. After adjustment for mammograms and other covariates, diabetes was associated with a significantly increased risk of Stage II [adjusted odds ratio (aOR) 1.14, 95 % confidence interval (CI) 1.07, 1.22], Stage III (aOR 1.21, 95 % CI 1.11, 1.33), and Stage IV (aOR 1.16, 95 % CI 1.01, 1.33) versus Stage I breast cancer. Women with diabetes had a higher risk of lymph node metastases (aOR 1.16, 95 % CI 1.06, 1.27) and tumors with size over 2 cm (aOR 1.16, 95 % CI 1.06, 1.28). Diabetes was associated with more advanced-stage breast cancer, even after accounting for differences in screening mammogram use and other factors. Our findings suggest that diabetes may predispose to more aggressive breast cancer, which may be a contributor to their higher cancer mortality.
Access options
Buy single article
Instant access to the full article PDF.
USD 39.95
Price excludes VAT (USA)
Tax calculation will be finalised during checkout.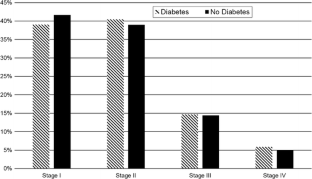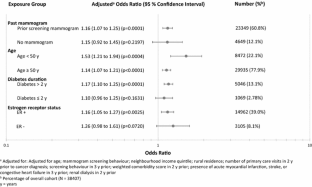 References
Noto H et al (2011) Significantly increased risk of cancer in patients with diabetes mellitus: a systematic review and meta-analysis. Endocr. Pract. 17(4):616–628

Barone BB et al (2008) Long-term all-cause mortality in cancer patients with preexisting diabetes mellitus: a systematic review and meta-analysis. JAMA 300(23):2754–2764

Peairs KS et al (2011) Diabetes mellitus and breast cancer outcomes: a systematic review and meta-analysis. J. Clin. Oncol. 29(1):40–46

Lipscombe LL et al (2008) The impact of diabetes on survival following breast cancer. Breast Cancer Res. Treat. 109(2):389–395

Emerging Risk Factors C. et al, (2011) Diabetes mellitus, fasting glucose, and risk of cause-specific death. N. Engl. J. Med. 364(9):829–841

van de Poll-Franse LV et al (2006) Increased health care utilisation among 10-year breast cancer survivors. Support Care Cancer 14(5):436–443

Lee L et al (2011) Impact of comorbidity on chemotherapy use and outcomes in solid tumors: a systematic review. J. Clin. Oncol. 29(1):106–117

Gross CP et al (2007) The impact of chronic illnesses on the use and effectiveness of adjuvant chemotherapy for colon cancer. Cancer 109(12):2410–2419

Howlader N et al ((1975–2008)) SEER cancer statistics review. National Cancer Institute. Bethesda, MD. 2011 2011/08/20/. http://seer.cancer.gov/csr/1975_2008/

Chan W et al (2014) Impact of socioeconomic status on breast cancer screening in women with diabetes: a population-based study. Diabet. Med. 31(7):806–812

Lipscombe LL, Hux JE, Booth GL (2005) Reduced screening mammography among women with diabetes. Arch. Intern. Med. 165(18):2090–2095

McBean AM, Yu X (2007) The underuse of screening services among elderly women with diabetes. Diabetes Care 30(6):1466–1472

Beckman TJ et al (2001) Screening mammogram utilization in women with diabetes. Diabetes Care 24(12):2049–2053

Jimenez-Garcia R et al (2009) Prevalence and predictors of breast and cervical cancer screening among Spanish women with diabetes. Diabetes Care 32(8):1470–1472

Marshall JG et al (2010) Regional variations in cancer screening rates found in women with diabetes. Nurs. Res. 59(1):34–41

Zhao G et al (2009) Prevalence and trends of receipt of cancer screenings among US women with diagnosed diabetes. J. Gen. Intern. Med. 24(2):270–275

Hernandez AV et al (2014) Association between insulin resistance and breast carcinoma: a systematic review and meta-analysis. PLoS One 9(6):e99317

Godsland IF (2010) Insulin resistance and hyperinsulinaemia in the development and progression of cancer. Clin. Sci. 118(5):315–332

Lawlor DA, Smith GD, Ebrahim S (2004) Hyperinsulinaemia and increased risk of breast cancer: findings from the British Women's Heart and Health Study. Cancer Causes Control 15(3):267–275

Belfiore A et al (2009) Insulin receptor isoforms and insulin receptor/insulin-like growth factor receptor hybrids in physiology and disease. Endocr. Rev. 30(6):586–623

Milazzo G et al (1992) Insulin receptor expression and function in human breast cancer cell lines. Cancer Res. 52(14):3924–3930

De Meyts P et al (1995) Role of the time factor in signaling specificity: application to mitogenic and metabolic signaling by the insulin and insulin-like growth factor-I receptor tyrosine kinases. Metabolism 44(10 Suppl 4):2–11

Fleming ST et al (2005) Comorbidity as a predictor of stage of illness for patients with breast cancer. Med. Care 43(2):132–140

Srokowski TP et al (2009) Impact of diabetes mellitus on complications and outcomes of adjuvant chemotherapy in older patients with breast cancer. J. Clin. Oncol. 27(13):2170–2176

van de Poll-Franse LV et al (2007) Less aggressive treatment and worse overall survival in cancer patients with diabetes: a large population based analysis. Int. J. Cancer 120(9):1986–1992

Hou G et al (2013) Clinical pathological characteristics and prognostic analysis of 1,013 breast cancer patients with diabetes. Breast Cancer Res. Treat. 137(3):807–816

Yancik R et al (2001) Effect of age and comorbidity in postmenopausal breast cancer patients aged 55 years and older. JAMA 285(7):885–892

Taplin SH et al (2004) Reason for late-stage breast cancer: absence of screening or detection, or breakdown in follow-up? J. Natl. Cancer Inst. 96(20):1518–1527

van Rossum LG et al (2009) Earlier stages of colorectal cancer detected with immunochemical faecal occult blood tests. Neth. J. Med. 67(5):182–186

Robles SC et al (1988) An application of capture-recapture methods to the estimation of completeness of cancer registration. J. Clin. Epidemiol. 41(5):495–501

Cancer Care Ontario (2009) Appendix C2 - Stage: Frequently Asked Questions. https://www.cancercare.on.ca/ext/databook/db1011/Appendix/Appendix_C2_-_CCO_Staging_FAQs_2008-09_FINAL_4_%28Dec-08%29.htm. Accessed 9 Dec 2013

Hux JE et al (2002) Diabetes in Ontario: determination of prevalence and incidence using a validated administrative data algorithm. Diabetes Care 25(3):512–516

Canadian Task Force on Preventive Health Care: Screening for breast cancer: recommendations for clinicians and policy-makers. Health, Canada (2011)

Austin PD, Henderson SE (2011) Biopsychosocial assessment criteria for functional chronic visceral pain: a pilot review of concept and practice. Pain Med. 12(4):552–564

Lipscombe LL, Hux JE (2007) Trends in diabetes prevalence, incidence, and mortality in Ontario, Canada 1995–2005: a population-based study. Lancet 369(9563):750–756

S.I. Inc., (2011) Base SAS® 9.3 Procedures Guide. SAS Institute Inc.: Cary

Smith U, Gale EA (2010) Cancer and diabetes: are we ready for prime time? Diabetologia 53(8):1541–1544

Stein KB et al (2010) Colorectal cancer outcomes, recurrence, and complications in persons with and without diabetes mellitus: a systematic review and meta-analysis. Dig. Dis. Sci. 55(7):1839–1851

Renehan AG et al (2012) Diabetes and cancer (2): evaluating the impact of diabetes on mortality in patients with cancer. Diabetologia 55(6):1619–1632

Kerlikowske K et al (2008) Obesity, mammography use and accuracy, and advanced breast cancer risk. J. Natl. Cancer Inst. 100(23):1724–1733

Geiss LS et al (2014) Prevalence and incidence trends for diagnosed diabetes among adults aged 20 to 79 years, United States, 1980–2012. JAMA 312(12):1218–1226

Iqbal J et al (2015) Differences in breast cancer stage at diagnosis and cancer-specific survival by race and ethnicity in the United States. JAMA 313(2):165–173
Acknowledgments
Dr. Lipscombe is supported by a Canadian Institutes of Health Research (CIHR) New Investigator Award. Dr. Peter Austin is supported in part by a Career Investigator award from the Heart and Stroke Foundation. This study was conducted with the support from a CIHR operating Grant (MOP#123263), and from the Ontario Institute for Cancer Research and Cancer Care Ontario. This study was supported by the Institute for Clinical Evaluative Sciences (ICES), which is funded by an annual Grant from the Ontario Ministry of Health and Long-Term Care (MOHLTC). The design and conduct of the study; collection, management, analysis, and interpretation of the data; and preparation, review, or approval of the manuscript were the responsibilities of the authors. No endorsement by ICES or the Ontario MOHLTC is intended or should be inferred. Parts of this material are based on data and information provided by Cancer Care Ontario. However, the analysis, conclusions, opinions and statements expressed herein are those of the authors and not necessarily those of Cancer Care Ontario. Dr. Lipscombe had full access to all of the data in the study and takes responsibility for the integrity of the data and the accuracy of the data analysis. The authors would like to thank Lauren McNicol, MA, Women's College Research Institute, for help with manuscript preparation.
Disclosures
None.
About this article
Cite this article
Lipscombe, L.L., Fischer, H.D., Austin, P.C. et al. The association between diabetes and breast cancer stage at diagnosis: a population-based study. Breast Cancer Res Treat 150, 613–620 (2015). https://doi.org/10.1007/s10549-015-3323-5
Received:

Accepted:

Published:

Issue Date:

DOI: https://doi.org/10.1007/s10549-015-3323-5
Keywords
Diabetes

Breast cancer

Stage at diagnosis

Administrative databases