Abstract
The 70-gene signature (MammaPrint™) has been developed to predict the risk of distant metastases in breast cancer and select those patients who may benefit from adjuvant treatment. Given the strong association between locoregional and distant recurrence, we hypothesize that the 70-gene signature will also be able to predict the risk of locoregional recurrence (LRR). 1,053 breast cancer patients primarily treated with breast-conserving treatment or mastectomy at the Netherlands Cancer Institute between 1984 and 2006 were included. Adjuvant treatment consisted of radiotherapy, chemotherapy, and/or endocrine therapy as indicated by guidelines used at the time. All patients were included in various 70-gene signature validation studies. After a median follow-up of 8.96 years with 87 LRRs, patients with a high-risk 70-gene signature (n = 492) had an LRR risk of 12.6 % (95 % CI 9.7–15.8) at 10 years, compared to 6.1 % (95 % CI 4.1–8.5) for low-risk patients (n = 561; P < 0.001). Adjusting the 70-gene signature in a competing risk model for the clinicopathological factors such as age, tumour size, grade, hormone receptor status, LVI, axillary lymph node involvement, surgical treatment, endocrine treatment, and chemotherapy resulted in a multivariable HR of 1.73 (95 % CI 1.02–2.93; P = 0.042). Adding the signature to the model based on clinicopathological factors improved the discrimination, albeit non-significantly [C-index through 10 years changed from 0.731 (95 % CI 0.682–0.782) to 0.741 (95 % CI 0.693–0.790)]. Calibration of the prognostic models was excellent. The 70-gene signature is an independent prognostic factor for LRR. A significantly lower local recurrence risk was seen in patients with a low-risk 70-gene signature compared to those with high-risk 70-gene signature.
Access options
Buy single article
Instant access to the full article PDF.
USD 39.95
Price excludes VAT (USA)
Tax calculation will be finalised during checkout.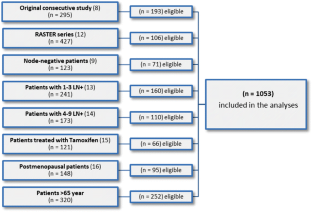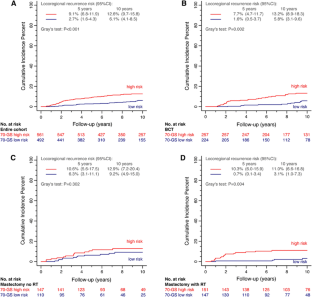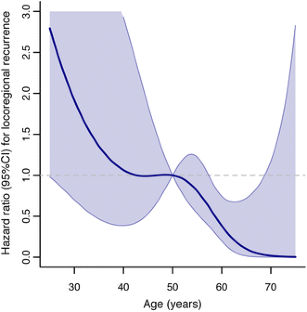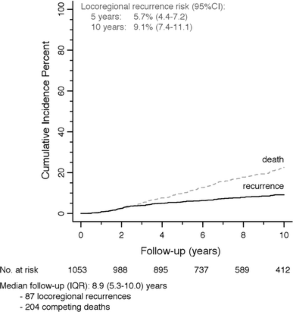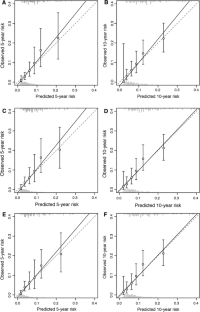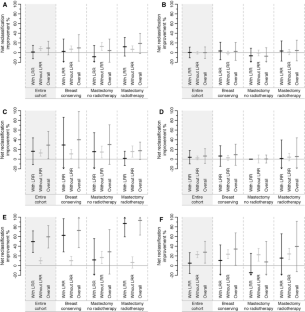 References
Canavan J, Truong PT, Smith SL et al (2014) Local recurrence in women with stage I breast cancer: declining rates over time in a large, population-based cohort. Int J Radiat Oncol Biol Phys 88:80–86. doi:10.1016/j.ijrobp.2013.10.001

van der Heiden-van der Loo M, Ho VKY, Damhuis RAM (2010) Percentage of local recurrence following treatment for breast cancer is not a suitable performance indicator. Ned Tijdschr Geneeskd 154:A1984

Early Breast Cancer Trialists' Collaborative Group (EBCTCG), Darby S, McGale P, et al. (2011) Effect of radiotherapy after breast-conserving surgery on 10-year recurrence and 15-year breast cancer death: meta-analysis of individual patient data for 10,801 women in 17 randomised trials. Lancet 378:1707–1716. doi:10.1016/S0140-6736(11)61629-2

Nijenhuis MV, Rutgers EJT (2013) Who should not undergo breast conservation? Breast 22(Suppl 2):S110–S114. doi:10.1016/j.breast.2013.07.021

Van't Veer LJ, Paik S, Hayes DF (2005) Gene expression profiling of breast cancer: a new tumor marker. J Clin Oncol 23:1631–1635. doi:10.1200/JCO.2005.12.005

van t Veer LJ, Dai H, van de Vijver MJ (2002) Gene expression profiling predicts clinical outcome of breast cancer. Nature 415:530–536. doi:10.1038/415530a

Drukker CA, Bueno-de-Mesquita JM, Retèl VP et al (2013) A prospective evaluation of a breast cancer prognosis signature in the observational RASTER study. Int J Cancer 133:929–936. doi:10.1002/ijc.28082

van de Vijver MJ, He YD, Van't Veer LJ et al (2002) A gene-expression signature as a predictor of survival in breast cancer. N Engl J Med 347:1999–2009. doi:10.1056/NEJMoa021967

Bueno-de-Mesquita JM, Linn SC, Keijzer R et al (2009) Validation of 70-gene prognosis signature in node-negative breast cancer. Breast Cancer Res Treat 117:483–495. doi:10.1007/s10549-008-0191-2

Buyse M, Loi S, van't Veer L et al (2006) Validation and clinical utility of a 70-gene prognostic signature for women with node-negative breast cancer. J Natl Cancer Inst 98:1183–1192. doi:10.1093/jnci/djj329

Wapnir IL, Anderson SJ, Mamounas EP et al (2006) Prognosis after ipsilateral breast tumor recurrence and locoregional recurrences in five national surgical adjuvant breast and bowel project node-positive adjuvant breast cancer trials. J Clin Oncol 24:2028–2037. doi:10.1200/JCO.2005.04.3273

Bueno-de-Mesquita JM, van Harten WH, Retèl VP et al (2007) Use of 70-gene signature to predict prognosis of patients with node-negative breast cancer: a prospective community-based feasibility study (RASTER). Lancet Oncol 8:1079–1087. doi:10.1016/S1470-2045(07)70346-7

Mook S, Schmidt MK, Viale G et al (2009) The 70-gene prognosis-signature predicts disease outcome in breast cancer patients with 1-3 positive lymph nodes in an independent validation study. Breast Cancer Res Treat 116:295–302. doi:10.1007/s10549-008-0130-2

Saghatchian M, Mook S, Pruneri G et al (2013) Additional prognostic value of the 70-gene signature (MammaPrint(®)) among breast cancer patients with 4–9 positive lymph nodes. Breast. doi:10.1016/j.breast.2012.12.002

Kok M, Koornstra RH, Mook S et al (2012) Additional value of the 70-gene signature and levels of ER and PR for the prediction of outcome in tamoxifen-treated ER-positive breast cancer. Breast 21:769–778. doi:10.1016/j.breast.2012.04.010

Mook S, Schmidt MK, Weigelt B et al (2010) The 70-gene prognosis signature predicts early metastasis in breast cancer patients between 55 and 70 years of age. Ann Oncol 21:717–722. doi:10.1093/annonc/mdp388

Glas AM, Floore A, Delahaye LJMJ et al (2006) Converting a breast cancer microarray signature into a high-throughput diagnostic test. BMC Genomics 7:278. doi:10.1186/1471-2164-7-278

Wolbers M, Koller MT, Witteman JCM, Steyerberg EW (2009) Prognostic models with competing risks: methods and application to coronary risk prediction. Epidemiology 20:555–561. doi:10.1097/EDE.0b013e3181a39056

Aalen O (1978) Nonparametric estimation of partial transition in multiple decrement models. Ann Stat 6:534–545

Gray RJ (1988) A class of K-samples tests for comparing the cumulative incidence of a competing risk. Ann Stat 16:1141–1154

Fine JP, Gray RJ (1999) A proportional hazards model for the subdistribution of a competing risk. J Am Stat Assoc 94:496–509

Pencina MJ, D'Agostino RB, Steyerberg EW (2011) Extensions of net reclassification improvement calculations to measure usefulness of new biomarkers. Stat Med 30:11–21. doi:10.1002/sim.4085

Rutgers EJ, EUSOMA Consensus Group (2001) Quality control in the locoregional treatment of breast cancer. Eur J Cancer 37:447–453

Clarke M, Collins R, Darby S et al (2005) Effects of radiotherapy and of differences in the extent of surgery for early breast cancer on local recurrence and 15-year survival: an overview of the randomised trials. Lancet 366:2087–2106. doi:10.1016/S0140-6736(05)67887-7

Donders ART, van der Heijden GJMG, Stijnen T, Moons KGM (2006) Review: a gentle introduction to imputation of missing values. J Clin Epidemiol 59:1087–1091. doi:10.1016/j.jclinepi.2006.01.014

Mamounas EP, Tang G, Fisher B et al (2010) Association between the 21-gene recurrence score assay and risk of locoregional recurrence in node-negative, estrogen receptor-positive breast cancer: results from NSABP B-14 and NSABP B-20. J Clin Oncol 28:1677–1683. doi:10.1200/JCO.2009.23.7610

Solin LJ, Gray R, Goldstein LJ et al (2012) Prognostic value of biologic subtype and the 21-gene recurrence score relative to local recurrence after breast conservation treatment with radiation for early stage breast carcinoma: results from the eastern cooperative oncology group E2197 study. Breast Cancer Res Treat 134:683–692. doi:10.1007/s10549-012-2072-y

Tinterri C, Gatzemeier W, Costa A et al (2013) Breast-conservative surgery with and without radiotherapy in patients aged 55–75 years with early-stage breast cancer: a prospective, randomized, multicenter trial analysis after 108 months of median follow-up. Ann Surg Oncol. doi:10.1245/s10434-013-3233-x
Acknowledgments
No financial support was received to perform this study. We acknowledge the enormous efforts of M. van de Vijver, M. Buyse, P. Bedard, J. Bueno-de-Mesquita, S. Mook, M. Kok, M. Saghatchian, and colleagues to perform the various 70-gene signature studies included in this study. We thank N. Russell for her input on the interpretation of the preliminary data. We especially thank the data-managers at the Netherlands Cancer Institute for all their efforts in collection of the follow-up data.
Conflict of interest
LvtV is named inventor on the patent for the 70-gene signature used in this study. LvtV reports being shareholder in and part-time employed by Agendia Inc, the commercial company that markets the 70-gene signature as MammaPrint™. LvtV was supported by the Dutch Genomics Initiative 'Cancer Genomics Centre'. FdS is director medical affairs of Agendia Inc. HB is a non-remunerated, non-stake holding member of the supervisory board of Agendia Inc. All other authors declare that they have no conflict of interest.
Additional information
C.A. Drukker, S.G. Elias, and M.V. Nijenhuis have contributed equally to this study.
About this article
Cite this article
Drukker, C.A., Elias, S.G., Nijenhuis, M.V. et al. Gene expression profiling to predict the risk of locoregional recurrence in breast cancer: a pooled analysis. Breast Cancer Res Treat 148, 599–613 (2014). https://doi.org/10.1007/s10549-014-3188-z
Received:

Accepted:

Published:

Issue Date:

DOI: https://doi.org/10.1007/s10549-014-3188-z
Keywords
Breast cancer

Risk prediction

Locoregional recurrence

70-gene signature

Surgery

Radiation oncology