Abstract
To estimate the effect of boost radiotherapy on local recurrence-free survival (LRFS) in patients with ductal carcinoma in situ (DCIS) breast cancer. We included patients from nine institutions who met the following criteria: having Tis, age 18 years or older, having breast conserving surgery (BCS) and radiotherapy within 12 weeks after surgery. From 1995 through 2006, 728 patients were analyzed retrospectively by the Korean Radiation Oncology Group. All patients received whole-breast radiation therapy (WBRT) after BCS. 232 patients (31.9 %) also received boost radiation therapy (RT) (median 10 Gy). After median follow-up of 82 months, 5-year LRFS was 98.4 % and 10-year LRFS was 95.8 % for all patients. There was no statistically significant difference of LRFS between the boost and no-boost groups. Nineteen (2.6 %) patients had ipsilateral breast recurrences, including 12 of invasive recurrence and 7 DCIS. The presence of the HER2 receptor was associated with more invasive recurrences. Nine (1.2 %) patients developed contralateral breast cancer, including six invasive breast cancer and three DCIS. In the multivariate analysis, only the margin status was a significant prognostic factor for LRFS. Boost RT was not associated with further improvement of local control in DCIS after BCS and WBRT. HER2 receptor-positive patients may need further treatment with the anti-HER2 agents.
This is a preview of subscription content, log in to check access.
Access options
Buy single article
Instant access to the full article PDF.
US$ 39.95
Tax calculation will be finalised during checkout.
Subscribe to journal
Immediate online access to all issues from 2019. Subscription will auto renew annually.
US$ 199
Tax calculation will be finalised during checkout.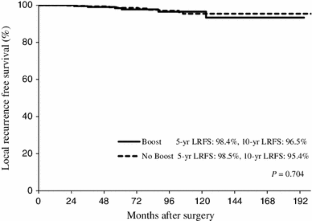 References
1.

Virnig BA, Tuttle TM, Shamliyan T et al (2010) Ductal carcinoma in situ of the breast: a systematic review of incidence, treatment, and outcomes. J Natl Cancer Inst 102(3):170–178. doi:10.1093/jnci/djp482

2.

Jung YS, Na KY, Kim KS et al (2011) Nation-wide Korean breast cancer data from 2008 using the breast cancer registration program J. Breast Cancer 14(3):8

3.

Riou O, Lemanski C, Guillaumon V et al (2012) Role of the radiotherapy boost on local control in ductal carcinoma in situ. Int J Surg Oncol 2012:748196. doi:10.1155/2012/748196

4.

Schwartz GF, Solin LJ, Olivotto IA et al (2000) The consensus conference on the treatment of in situ ductal carcinoma of the breast, 22–25 April 1999. Breast 9(4):177–186

5.

Holmberg L, Garmo H, Granstrand B et al (2008) Absolute risk reductions for local recurrence after postoperative radiotherapy after sector resection for ductal carcinoma in situ of the breast. J Clin Oncol 26(8):1247–1252. doi:10.1200/JCO.2007.12.7969

6.

Wapnir I, Dignam J, Fisher B et al (2011) Long-term outcomes of invasive ipsilateral breast tumor recurrences after lumpectomy in NSABP B-17 and B-24 randomized clinical trials for DCIS. J Natl Cancer Inst 103(6):478–488. doi:10.1093/jnci/djr027

7.

Cuzick J, Sestak I, Pinder S et al (2011) Effect of tamoxifen and radiotherapy in women with locally excised ductal carcinoma in situ: long-term results from the UK/ANZ DCIS trial. Lancet Oncol 12(1):21–29. doi:10.1016/S1470-2045(10)70266-7

8.

Bijker N, Meijnen P, Peterse J et al (2006) Breast-conserving treatment with or without radiotherapy in ductal carcinoma-in situ: ten-year results of European Organisation for Research and Treatment of Cancer randomized phase III trial 10853 a study by the EORTC Breast Cancer Cooperative Group and EORTC Radiotherapy Group. J Clin Oncol 24(21):7

9.

Bijker N, Peterse J, Duchateau L et al (2001) Risk factors for recurrence and metastasis after breast-conserving therapy for ductal carcinoma-in situ: analysis of European Organization for Research and Treatment of Cancer Trial 10853. J Clin Oncol 19(8):2263–2271

10.

Correa C, McGale P, Taylor C et al (2010) Overview of the randomized trials of radiotherapy in ductal carcinoma in situ of the breast. J Natl Cancer Inst Monogr 41:162–177. doi:10.1093/jncimonographs/lgq039

11.

Emdin S, Granstrand B, Ringberg A et al (2006) SweDCIS: radiotherapy after sector resection for ductal carcinoma in situ of the breast. Results of a randomised trial in a population offered mammography screening. Acta Oncol 45(5):536–543. doi:10.1080/02841860600681569

12.

Poortmans PM, Collette L, Bartelink H et al (2008) The addition of a boost dose on the primary tumour bed after lumpectomy in breast conserving treatment for breast cancer. A summary of the results of EORTC 22881-10882 "boost versus no boost" trial. Cancer Radiother 12(6–7):565–570. doi:10.1016/j.canrad.2008.07.014

13.

Omlin A, Amichetti M, Azria D et al (2006) Boost radiotherapy in young women with ductal carcinoma in situ: a multicentre, retrospective study of the rare cancer network. Lancet Oncol 7(8):652–656. doi:10.1016/S1470-2045(06)70765-3

14.

Wong P, Lambert C, Agnihotram R et al (2012) Ductal carcinoma in situ—the influence of the radiotherapy boost on local control. Int J Radiat Oncol Biol Phys 82(2):e153–e158. doi:10.1016/j.ijrobp.2011.03.045

15.

Meattini I, Livi L, Franceschini D et al (2013) Role of radiotherapy boost in women with ductal carcinoma in situ: a single-center experience in a series of 389 patients. Eur J Surg Oncol 39(6):613–618. doi:10.1016/j.ejso.2013.03.002

16.

Yerushalmi R, Sulkes A, Mishaeli M et al (2006) Radiation treatment for ductal carcinoma in situ (DCIS): is a boost to the tumor bed necessary? Neoplasma 53(6):507–510

17.

Wai E, Lesperance M, Alexander C et al (2011) Effect of radiotherapy boost and hypofractionation on outcomes in ductal carcinoma in situ. Cancer 117(1):54–62. doi:10.1002/cncr.25344

18.

Tb Julian, Land SR, Wang Y (2008) Is boost therapy necessary in the treatment of DCIS? [Abstract]. J Clin Oncol 26(Suppl. 15):537

19.

Monteau A, Sigal-Zafrani B, Kirova YM et al (2009) Ductal carcinoma in situ of the breast with close or focally involved margins following breast-conserving surgery: treatment with reexcision or radiotherapy with increased dosage. Int J Radiat Oncol Biol Phys 75(4):1021–1028. doi:10.1016/j.ijrobp.2008.12.014

20.

Hathout L, Hijal T, Theberge V, Fortin B, Vulpe H, Hogue JC, Lambert C, Bahig H, Provencher L, Vavassis P, Yassa M (2013) Hypofractionated radiation therapy for breast ductal carcinoma in situ. Int J Radiat Oncol Biol Phys 87(5):1058–1063. doi:10.1016/j.ijrobp.2013.08.026

21.

Faverly DR, Burgers L, Bult P et al (1994) Three dimensional imaging of mammary ductal carcinoma in situ: clinical implications. Semin Diagn Pathol 11(3):193–198

22.

Dunne C, Burke JP, Morrow M et al (2009) Effect of margin status on local recurrence after breast conservation and radiation therapy for ductal carcinoma in situ. J Clin Oncol 27(10):1615–1620. doi:10.1200/JCO.2008.17.5182

23.

Lim YJ, Kim K, Chie EK, Han W, Noh DY, Ha SW (2014) Treatment outcome of ductal carcinoma in situ patients treated with postoperative radiation therapy. Radiat Oncol J 32(1):1–6. doi:10.3857/roj.2014.32.1.1

24.

Holland P, Gandhi A, Knox W et al (1998) The importance of complete excision in the prevention of local recurrence of ductal carcinoma in situ. Br J Cancer 77(1):110–114

25.

Wen X, Yang G, Mao W et al (2006) HER2 signaling modulates the equilibrium between pro- and antiangiogenic factors via distinct pathways: implications for HER2-targeted antibody therapy. Oncogene 25(52):6986–6996

26.

Park K, Han S, Kim HJ et al (2006) HER2 status in pure ductal carcinoma in situ and in the intraductal and invasive components of invasive ductal carcinoma determined by fluorescence in situ hybridization and immunohistochemistry. Histopathology 48(6):702–707. doi:10.1111/j.1365-2559.2006.02403.x

27.

Noh J, Lee J, Choi D et al (2013) HER-2 overexpression is not associated with increased ipsilateral breast tumor recurrence in DCIS treated with breast-conserving surgery followed by radiotherapy. Breast 22(5):894–897. doi:10.1016/j.breast.2013.04.001

28.

Piccart-Gebhart M, Procter M, Leyland-Jones B et al (2005) Trastuzumab after adjuvant chemotherapy in HER2-positive breast cancer. N Engl J Med 353(16):1673–1684

29.

Romond E, Perez E, Bryant J et al (2005) Trastuzumab plus adjuvant chemotherapy for operable HER2-positive breast cancer. N Engl J Med 353(16):1673–1685

30.

Kuerer H, Buzdar A, Mittendorf E et al (2011) Biologic and immunologic effects of preoperative trastuzumab for ductal carcinoma in situ of the breast. Cancer 117(1):39–48

31.

Von Minckwitz G, Darb-Esfahani S, Loibl S et al (2012) Responsiveness of adjacent ductal carcinoma in situ and changes in HER2 status after neoadjuvant chemotherapy/trastuzumab treatment in early breast cancer—results from the GeparQuattro study (GBG 40). Breast Cancer Res Treat 132(3):863–871
About this article
Cite this article
Kim, J.H., Choi, D.H., Park, W. et al. Influence of boost radiotherapy in patients with ductal carcinoma in situ breast cancer: a multicenter, retrospective study in Korea (KROG 11-04). Breast Cancer Res Treat 146, 341–345 (2014). https://doi.org/10.1007/s10549-014-3025-4
Received:

Accepted:

Published:

Issue Date:
Keywords
Breast cancer

Ductal carcinoma in situ

Radiation therapy

Boost

HER2