Abstract
RAD51C plays a key role in homologous recombination-mediated DNA repair and maintenance of genomic stability. Biallelic RAD51C mutations cause Fanconi anemia, and monoallelic mutations predispose women to breast and ovarian cancer. Genetic variability of RAD51C and its impact in Asian populations have been poorly studied. Here, we report the results of comprehensive mutational screening of the RAD51C gene in 348 BRCA1/2-negative breast and/or ovarian cancer patients from Pakistan. Mutation analysis of the complete RAD51C-coding region was performed using denaturing high-performance liquid chromatography analysis, followed by DNA sequencing of variant fragments. Three novel protein-truncating mutations, c.204T>A, c.225T>G, and c.701C>G, were identified. c.204T>A was found in one out of 22 (4.5 %) early-onset (≤45 years of age) ovarian cancer patients and c.225T>G in one out of 119 (0.8 %) patients from breast cancer only families. c.701C>G was found in a 60-year-old control with no family history of breast/ovarian cancer. Furthermore, three novel in silico-predicted potentially functional mutations, a missense mutation, c.873T>G, a variant in 5′UTR, c.1-34T>G, and a recurrent intronic variant, c.965+21A>G, were identified. The missense mutation was observed in a patient with bilateral breast cancer from a breast and ovarian cancer family (HBOC), the 5′UTR variant was noted in an early-onset breast cancer patient, and the intronic variant in one early-onset breast cancer patient and one ovarian cancer patient from a HBOC family. Five of the six mutations described were not detected in 400 healthy controls. These findings suggest that RAD51C plays a marginal role in breast and ovarian cancer predisposition in Pakistan. Reliable estimation of the clinical implications of carrying a deleterious RAD51C mutation will require identification of additional mutation-positive patients/families.
Access options
Buy single article
Instant access to the full article PDF.
US$ 39.95
Tax calculation will be finalised during checkout.
Subscribe to journal
Immediate online access to all issues from 2019. Subscription will auto renew annually.
US$ 119
Tax calculation will be finalised during checkout.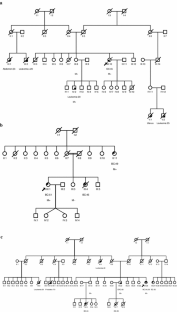 References
1.

Howlett NG, Taniguchi T, Olson S, Cox B, Waisfisz Q, De Die-Smulders C, Persky N, Grompe M, Joenje H, Pals G, Ikeda H, Fox EA, D'Andrea AD (2002) Biallelic inactivation of BRCA2 in Fanconi anemia. Science 297(5581):606–609

2.

Xia B, Dorsman JC, Ameziane N, de Vries Y, Rooimans MA, Sheng Q, Pals G, Errami A, Gluckman E, Llera J, Wang W, Livingston DM, Joenje H, de Winter JP (2007) Fanconi anemia is associated with a defect in the BRCA2 partner PALB2. Nat Genet 39(2):159–161

3.

Levran O, Attwooll C, Henry RT, Milton KL, Neveling K, Rio P, Batish SD, Kalb R, Velleuer E, Barral S, Ott J, Petrini J, Schindler D, Hanenberg H, Auerbach AD (2005) The BRCA1-interacting helicase BRIP1 is deficient in Fanconi anemia. Nat Genet 37(9):931–933

4.

Vaz F, Hanenberg H, Schuster B, Barker K, Wiek C, Erven V, Neveling K, Endt D, Kesterton I, Autore F, Fraternali F, Freund M, Hartmann L, Grimwade D, Roberts RG, Schaal H, Mohammed S, Rahman N, Schindler D, Mathew CG (2010) Mutation of the RAD51C gene in a Fanconi anemia-like disorder. Nat Genet 42(5):406–409

5.

Meindl A, Hellebrand H, Wiek C, Erven V, Wappenschmidt B, Niederacher D, Freund M, Lichtner P, Hartmann L, Schaal H, Ramser J, Honisch E, Kubisch C, Wichmann HE, Kast K, Deissler H, Engel C, Muller-Myhsok B, Neveling K, Kiechle M, Mathew CG, Schindler D, Schmutzler RK, Hanenberg H (2010) Germline mutations in breast and ovarian cancer pedigrees establish RAD51C as a human cancer susceptibility gene. Nat Genet 42(5):410–414

6.

Akbari MR, Tonin P, Foulkes WD, Ghadirian P, Tischkowitz M, Narod SA (2010) RAD51C germline mutations in breast and ovarian cancer patients. Breast Cancer Res 12(4):404–405

7.

De Leeneer K, Van BM, De BS, Swietek N, Schietecatte P, Sabbaghian N, Van den EJ, Willocx S, Storm K, Blaumeiser B, van Asperen CJ, Wijnen JT, Leunen K, Legius E, Michils G, Matthijs G, Blok MJ, Gomez-Garcia E, De PA, Tischkowitz M, Poppe B, Claes K (2012) Evaluation of RAD51C as cancer susceptibility gene in a large breast-ovarian cancer patient population referred for genetic testing. Breast Cancer Res Treat 133(1):393–398

8.

Lu W, Wang X, Lin H, Lindor NM, Couch FJ (2012) Mutation screening of RAD51C in high-risk breast and ovarian cancer families. Fam Cancer 11(3):381–385

9.

Zheng Y, Zhang J, Hope K, Niu Q, Huo D, Olopade OI (2010) Screening RAD51C nucleotide alterations in patients with a family history of breast and ovarian cancer. Breast Cancer Res Treat 124(3):857–861

10.

Wong MW, Nordfors C, Mossman D, Pecenpetelovska G, Very-Kiejda KA, Talseth-Palmer B, Bowden NA, Scott RJ (2011) BRIP1, PALB2, and RAD51C mutation analysis reveals their relative importance as genetic susceptibility factors for breast cancer. Breast Cancer Res Treat 127(3):853–859

11.

Kushnir A, Laitman Y, Shimon SP, Berger R, Friedman E (2012) Germline mutations in RAD51C in Jewish high cancer risk families. Breast Cancer Res Treat 136(3):869–874

12.

Osorio A, Endt D, Fernandez F, Eirich K, de la Hoya M, Schmutzler R, Caldes T, Meindl A, Schindler D, Benitez J (2012) Predominance of pathogenic missense variants in the RAD51C gene occurring in breast and ovarian cancer families. Hum Mol Genet 21(13):2889–2898

13.

Romero A, Perez-Segura P, Tosar A, Garcia-Saenz JA, Az-Rubio E, Caldes T, de la Hoya M (2011) A HRM-based screening method detects RAD51C germ-line deleterious mutations in Spanish breast and ovarian cancer families. Breast Cancer Res Treat 129(3):939–946

14.

Loveday C, Turnbull C, Ruark E, Xicola RM, Ramsay E, Hughes D, Warren-Perry M, Snape K, Eccles D, Evans DG, Gore M, Renwick A, Seal S, Antoniou AC, Rahman N (2012) Germline RAD51C mutations confer susceptibility to ovarian cancer. Nat Genet 44(5):475–476

15.

Thompson ER, Boyle SE, Johnson J, Ryland GL, Sawyer S, Choong DYH, kConFab, Chenevix-Trench G, Trainer AH, Lindeman GJ, Mitchell G, James PA, Campbell IG (2012) Analysis of RAD51C germline mutations in high-risk breast and ovarian cancer families and ovarian cancer patients. Hum Mutat 33(1):95–99

16.

Coulet F, Fajac A, Colas C, Eyries M, Dion-Miniere A, Rouzier R, Uzan S, Lefranc JP, Carbonnel M, Cornelis F, Cortez A, Soubrier F (2013) Germline RAD51C mutations in ovarian cancer susceptibility. Clin Genet 83(4):332–336

17.

Vuorela M, Pylkas K, Hartikainen JM, Sundfeldt K, Lindblom A, von Wachenfeldt WA, Haanpaa M, Puistola U, Rosengren A, Anttila M, Kosma VM, Mannermaa A, Winqvist R (2011) Further evidence for the contribution of the RAD51C gene in hereditary breast and ovarian cancer susceptibility. Breast Cancer Res Treat 130(3):1003–1010

18.

Pelttari LM, Heikkinen T, Thompson D, Kallioniemi A, Schleutker J, Holli K, Blomqvist C, Aittomaki K, Butzow R, Nevanlinna H (2011) RAD51C is a susceptibility gene for ovarian cancer. Hum Mol Genet 20(16):3278–3288

19.

Pang Z, Yao L, Zhang J, Ouyang T, Li J, Wang T, Fan Z, Fan T, Lin B, Xie Y (2011) RAD51C germline mutations in Chinese women with familial breast cancer. Breast Cancer Res Treat 129(3):1019–1020

20.

Rashid MU, Zaidi A, Torres D, Sultan F, Benner A, Naqvi B, Shakoori AR, Seidel-Renkert A, Farooq H, Narod S, Amin A, Hamann U (2006) Prevalence of BRCA1 and BRCA2 mutations in Pakistani breast and ovarian cancer patients. Int J Cancer 119(12):2832–2839

21.

Rashid MU, Gull S, Asghar K, Muhammad N, Amin A, Hamann U (2012) Prevalence of TP53 germ line mutations in young Pakistani breast cancer patients. Fam Cancer 11(2):307–311

22.

Rashid MU, Muhammad N, Faisal S, Amin A, Hamann U (2013) Constitutional CHEK2 mutations are infrequent in early-onset and familial breast/ovarian cancer patients from Pakistan. BMC Cancer 13(6):312–318

23.

Silvestri V, Rizzolo P, Falchetti M, Zanna I, Masala G, Palli D, Ottini L (2011) Mutation screening of RAD51C in male breast cancer patients. Breast Cancer Res 13(1):404–405

24.

Schnurbein G, Hauke J, Wappenschmidt B, Weber-Lassalle N, Engert S, Hellebrand H, Garbes L, Becker A, Neidhardt G, Rhiem K, Meindl A, Schmutzler RK, Hahnen E (2013) RAD51C deletion screening identifies a recurrent gross deletion in breast cancer and ovarian cancer families. Breast Cancer Res 15(6):R120

25.

Petitjean A, Mathe E, Kato S, Ishioka C, Tavtigian SV, Hainaut P, Olivier M (2007) Impact of mutant p53 functional properties on TP53 mutation patterns and tumor phenotype: lessons from recent developments in the IARC TP53 database. Hum Mutat 28(6):622–629

26.

Chan PA, Duraisamy S, Miller PJ, Newell JA, McBride C, Bond JP, Raevaara T, Ollila S, Nystrom M, Grimm AJ, Christodoulou J, Oetting WS, Greenblatt MS (2007) Interpreting missense variants: comparing computational methods in human disease genes CDKN2A, MLH1, MSH2, MECP2, and tyrosinase (TYR). Hum Mutat 28(7):683–693

27.

Usmani K, Khanum A, Afzal H, Ahmad N (1996) Breast carcinoma in Pakistani women. J Environ Pathol Toxicol Oncol 15(2–4):251–253

28.

Bhurgri Y, Kayani N, Faridi N, Pervez S, Usman A, Bhurgri H, Malik J, Bashir I, Bhurgri A, Hasan SH, Zaidi SH (2007) Patho-epidemiology of breast cancer in Karachi '1995–1997'. Asian Pac J Cancer Prev 8(2):215–220

29.

Kakarala M, Rozek L, Cote M, Liyanage S, Brenner DE (2010) Breast cancer histology and receptor status characterization in Asian Indian and Pakistani women in the U.S—a SEER analysis. BMC Cancer 10:191

30.

Moran MS, Gonsalves L, Goss DM, Ma S (2011) Breast cancers in U.S. residing Indian-Pakistani versus non-Hispanic White women: comparative analysis of clinical-pathologic features, treatment, and survival. Breast Cancer Res Treat 128(2):543–551

31.

Scheckenbach K, Baldus SE, Balz V, Freund M, Pakropa P, Sproll C, Schafer KL, Wagenmann M, Schipper J, Hanenberg H (2014) RAD51C—a new human cancer susceptibility gene for sporadic squamous cell carcinoma of the head and neck (HNSCC). Oral Oncol 50(3):196–199

32.

Clague J, Wilhoite G, Adamson A, Bailis A, Weitzel JN, Neuhausen SL (2011) RAD51C germline mutations in breast and ovarian cancer cases from high-risk families. PLoS ONE 6(9):e25632
Acknowledgments
We are grateful to all family members for their participation in this study. This study was supported by the Shaukat Khanum Memorial Cancer Hospital and Research Centre and the German Cancer Research Center.
Conflict of interest
The authors declare that they have no conflicts of interest.
About this article
Cite this article
Rashid, M.U., Muhammad, N., Faisal, S. et al. Deleterious RAD51C germline mutations rarely predispose to breast and ovarian cancer in Pakistan. Breast Cancer Res Treat 145, 775–784 (2014). https://doi.org/10.1007/s10549-014-2972-0
Received:

Accepted:

Published:

Issue Date:
Keywords
RAD51C

Germline mutations

Familial breast and/or ovarian cancer

Pakistan