Abstract
Early and late effects of cancer treatment are of increasing concern with growing survivor populations, but relevant data are sparse. We sought to determine the prevalence and hazard ratio of such effects in breast cancer cases. Women with invasive breast cancer and women with no cancer history recruited for a cancer research cohort completed a mailed questionnaire at a median of 10 years post-diagnosis or matched reference year (for the women without cancer). Reported medical conditions including lymphedema, osteopenia, osteoporosis, and heart disease (congestive heart failure, myocardial infarction, coronary heart disease) were assessed in relation to breast cancer therapy and time since diagnosis using Cox regression. The proportion of women currently receiving treatment for these conditions was calculated. Study participants included 2,535 women with breast cancer and 2,428 women without cancer (response rates 66.0 % and 50.4 %, respectively) Women with breast cancer had an increased risk of lymphedema (Hazard ratio (HR) 8.6; 95 % confidence interval (CI) 6.3–11.6), osteopenia (HR 2.1; 95 % CI 1.8–2.4), and osteoporosis (HR 1.5; 95 % CI 1.2–1.9) but not heart disease, compared to women without cancer Hazard ratios varied by treatment and time since diagnosis. Overall, 49.3 % of breast cancer cases reported at least one medical condition, and at 10 or more years post-diagnosis, 37.7 % were currently receiving condition-related treatment. Responses from survivors a decade following cancer diagnosis demonstrate substantial treatment-related morbidity, and emphasize the need for continued medical surveillance and follow-up care into the second decade post-diagnosis.
Access options
Buy single article
Instant access to the full article PDF.
US$ 39.95
Tax calculation will be finalised during checkout.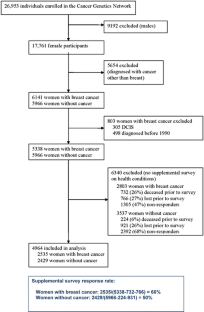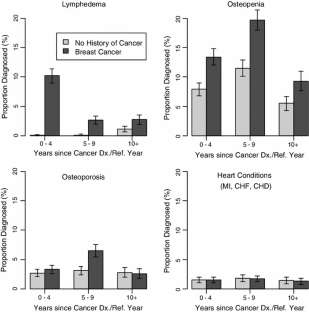 References
1.

Siegel R, DeSantis C, Virgo K, Stein K, Mariotto A, Smith T, Cooper D, Gansler T, Lerro C, Fedewa S, Lin C, Leach C, Cannady RS, Cho H, Scoppa S, Hachey M, Kirch R, Jemal A, Ward E (2012) Cancer treatment and survivorship statistics. CA Cancer J Clin 62(4):220–241. doi:10.3322/caac.21149

2.

Dictionary of Cancer Terms. http://www.cancer.gov/dictionary?cdrid=390292. Accessed 14 Sept 2013

3.

Norman SA, Localio AR, Kallan MJ, Weber AL, Torpey HA, Potashnik SL, Miller LT, Fox KR, DeMichele A, Solin LJ (2010) Risk factors for lymphedema after breast cancer treatment. Cancer Epidemiol Biomarkers Prev 19(11):2734–2746. doi:10.1158/1055-9965

4.

Ahmed RL, Schmitz KH, Prizment AE, Folsom AR (2011) Risk factors for lymphedema in breast cancer survivors, the Iowa Women's Health Study. Breast Cancer Res Treat 130(3):981–991. doi:10.1007/s10549-011-1667-z

5.

Goss PE, Ingle JN, Pater JL, Martino S, Robert NJ, Muss HB, Piccart MJ, Castiglione M, Shepherd LE, Pritchard KI, Livingston RB, Davidson NE, Norton L, Perez EA, Abrams JS, Cameron DA, Palmer MJ, Tu D (2008) Late extended adjuvant treatment with letrozole improves outcome in women with early-stage breast cancer who complete 5 years of tamoxifen. J Clin Oncol 26(12):1948–1955. doi:10.1200/JCO.2007.11.6798

6.

Eastell R, Adams JE, Coleman RE, Howell A, Hannon RA, Cuzick J, Mackey JR, Beckmann MW, Clack G (2008) Effect of anastrozole on bone mineral density: 5-year results from the anastrozole, tamoxifen, alone or in combination trial 18233230. J Clin Oncol 26(7):1051–1057. doi:10.1200/JCO.2007.11.0726

7.

Winters-Stone KM, Schwartz AL, Hayes SC, Fabian CJ, Campbell KL (2012) A prospective model of care for breast cancer rehabilitation: bone health and arthralgia. Cancer 118(8 Suppl):2288–2299. doi:10.1002/cncr.27465

8.

Smith LA, Cornelius VR, Plummer CJ, Levitt G, Verrill M, Canney P, Jones A (2010) Cardiotoxicity of anthracycline agents for the treatment of cancer: systematic review and meta-analysis of randomised controlled trials. BMC Cancer 10:337. doi:10.1186/1471-2407-10-337

9.

Russell SD, Blackwell KL, Lawrence J, Pippen JE Jr, Roe MT, Wood F, Paton V, Holmgren E, Mahaffey KW (2010) Independent adjudication of symptomatic heart failure with the use of doxorubicin and cyclophosphamide followed by trastuzumab adjuvant therapy: a combined review of cardiac data from the National Surgical Adjuvant breast and Bowel Project B-31 and the North Central Cancer Treatment Group N9831 clinical trials. J Clin Oncol 28(21):3416–3421. doi:10.1200/JCO.2009.23.6950

10.

Pinder MC, Duan Z, Goodwin JS, Hortobagyi GN, Giordano SH (2007) Congestive heart failure in older women treated with adjuvant anthracycline chemotherapy for breast cancer. J Clin Oncol 25(25):3808–3815. doi:10.1200/jco.2006.10.4976

11.

Ganz PA, Hussey MA, Moinpour CM, Unger JM, Hutchins LF, Dakhil SR, Giguere JK, Goodwin JW, Martino S, Albain KS (2008) Late cardiac effects of adjuvant chemotherapy in breast cancer survivors treated on Southwest Oncology Group protocol s8897. J Clin Oncol 26(8):1223–1230. doi:10.1200/JCO.2007.11.8877

12.

Giordano SH, Kuo YF, Freeman JL, Buchholz TA, Hortobagyi GN, Goodwin JS (2005) Risk of cardiac death after adjuvant radiotherapy for breast cancer. J Natl Cancer Inst 97(6):419–424. doi:10.1093/jnci/dji067

13.

Darby SC, McGale P, Taylor CW, Peto R (2005) Long-term mortality from heart disease and lung cancer after radiotherapy for early breast cancer: prospective cohort study of about 300,000 women in US SEER cancer registries. Lancet Oncol 6(8):557–565. doi:10.1016/S1470-2045(05)70251-5

14.

Bonneterre J, Roche H, Kerbrat P, Fumoleau P, Goudier MJ, Fargeot P, Montcuquet P, Clavere P, Barats JC, Monnier A, Veyret C, Datchary J, Van Praagh I, Chapelle-Marcillac I (2004) Long-term cardiac follow-up in relapse-free patients after six courses of fluorouracil, epirubicin, and cyclophosphamide, with either 50 or 100 mg of epirubicin, as adjuvant therapy for node-positive breast cancer: French adjuvant study group. J Clin Oncol 22(15):3070–3079. doi:10.1200/JCO.2004.03.098-22/15/3070

15.

Petrek JA, Senie RT, Peters M, Rosen PP (2001) Lymphedema in a cohort of breast carcinoma survivors 20 years after diagnosis. Cancer 92(6):1368–1377. doi:10.1002/1097-0142(20010915)92:6<1368:aid-cncr1459>3.0.co;2-9

16.

McLaughlin SA, Wright MJ, Morris KT, Giron GL, Sampson MR, Brockway JP, Hurley KE, Riedel ER, Van Zee KJ (2008) Prevalence of lymphedema in women with breast cancer 5 years after sentinel lymph node biopsy or axillary dissection: objective measurements. J Clin Oncol 26(32):5213–5219. doi:10.1200/JCO.2008.16.3725

17.

Powles TJ, Hickish T, Kanis JA, Tidy A, Ashley S (1996) Effect of tamoxifen on bone mineral density measured by dual-energy X-ray absorptiometry in healthy premenopausal and postmenopausal women. J Clin Oncol 14(1):78–84

18.

Vehmanen L, Elomaa I, Blomqvist C, Saarto T (2006) Tamoxifen treatment after adjuvant chemotherapy has opposite effects on bone mineral density in premenopausal patients depending on menstrual status. J Clin Oncol 24(4):675–680. doi:10.1200/JCO.2005.02.3515

19.

Howell A, Cuzick J, Baum M, Buzdar A, Dowsett M, Forbes JF, Hoctin-Boes G, Houghton J, Locker GY, Tobias JS (2005) Results of the ATAC (Arimidex, Tamoxifen, Alone or in Combination) trial after completion of 5 years' adjuvant treatment for breast cancer. Lancet 365(9453):60–62. doi:10.1016/S0140-6736(04)17666-6

20.

Coleman RE, Banks LM, Girgis SI, Kilburn LS, Vrdoljak E, Fox J, Cawthorn SJ, Patel A, Snowdon CF, Hall E, Bliss JM, Coombes RC (2007) Skeletal effects of exemestane on bone-mineral density, bone biomarkers, and fracture incidence in postmenopausal women with early breast cancer participating in the Intergroup Exemestane Study (IES): a randomised controlled study. Lancet Oncol 8(2):119–127. doi:10.1016/S1470-2045(07)70003-7

21.

Doyle JJ, Neugut AI, Jacobson JS, Grann VR, Hershman DL (2005) Chemotherapy and cardiotoxicity in older breast cancer patients: a population-based study. J Clin Oncol 23(34):8597–8605. doi:10.1200/JCO.2005.02.5841

22.

Anton-Culver H, Ziogas A, Bowen D, Finkelstein D, Griffin C, Hanson J, Isaacs C, Kasten-Sportes C, Mineau G, Nadkarni P, Rimer B, Schildkraut J, Strong L, Weber B, Winn D, Hiatt R, Nayfield S (2003) The Cancer Genetics Network: recruitment results and pilot studies. Commun Genet 6(3):171–177

23.

Gupta V, Gu K, Chen Z, Lu W, Shu XO, Zheng Y (2011) Concordance of self-reported and medical chart information on cancer diagnosis and treatment. BMC Med Res Methodol 11:72. doi:10.1186/1471-2288-11-72

24.

Phillips KA, Milne RL, Buys S, Friedlander ML, Ward JH, McCredie MR, Giles GG, Hopper JL (2005) Agreement between self-reported breast cancer treatment and medical records in a population-based Breast Cancer Family Registry. J Clin Oncol 23(21):4679–4686. doi:10.1200/JCO.2005.03.002

25.

Okura Y, Urban LH, Mahoney DW, Jacobsen SJ, Rodeheffer RJ (2004) Agreement between self-report questionnaires and medical record data was substantial for diabetes, hypertension, myocardial infarction and stroke but not for heart failure. J Clin Epidemiol 57(10):1096–1103. doi:10.1016/j.jclinepi.2004.04.005

26.

Colditz GA, Martin P, Stampfer MJ, Willett WC, Sampson L, Rosner B, Hennekens CH, Speizer FE (1986) Validation of questionnaire information on risk factors and disease outcomes in a prospective cohort study of women. Am J Epidemiol 123(5):894–900

27.

Norman SA, Localio AR, Potashnik SL, Simoes Torpey HA, Kallan MJ, Weber AL, Miller LT, DeMichele A, Solin LJ (2009) Lymphedema in breast cancer survivors: incidence, degree, time course, treatment, and symptoms. J Clin Oncol 27(3):390–397. doi:10.1200/jco.2008.17.9291

28.

Bowles EJ, Wellman R, Feigelson HS, Onitilo AA, Freedman AN, Delate T, Allen LA, Nekhlyudov L, Goddard KA, Davis RL, Habel LA, Yood MU, McCarty C, Magid DJ, Wagner EH (2012) Risk of heart failure in breast cancer patients after anthracycline and trastuzumab treatment: a retrospective cohort study. J Natl Cancer Inst 104(17):1293–1305. doi:10.1093/jnci/djs317

29.

Harris EE, Correa C, Hwang WT, Liao J, Litt HI, Ferrari VA, Solin LJ (2006) Late cardiac mortality and morbidity in early-stage breast cancer patients after breast-conservation treatment. J Clin Oncol 24(25):4100–4106. doi:10.1200/JCO.2005.05.1037

30.

Bouillon K, Haddy N, Delaloge S, Garbay JR, Garsi JP, Brindel P, Mousannif A, Le MG, Labbe M, Arriagada R, Jougla E, Chavaudra J, Diallo I, Rubino C, de Vathaire F (2011) Long-term cardiovascular mortality after radiotherapy for breast cancer. J Am Coll Cardiol 57(4):445–452. doi:10.1016/j.jacc.2010.08.638

31.

Roychoudhuri R, Robinson D, Putcha V, Cuzick J, Darby S, Moller H (2007) Increased cardiovascular mortality more than fifteen years after radiotherapy for breast cancer: a population-based study. BMC Cancer 7:9. doi:10.1186/1471-2407-7-9
Acknowledgments
This study was supported by grants U01CA078284, U24CA078134, U24CA078142, U24CA078146, U24CA078148, U24CA078156, U24CA078157, U24CA078164, U24CA078174; and contract HHSN2612007440000C from the National Cancer Institute.
Additional information
For the Cancer Genetics Network.
Constance A. Griffin Deceased.
About this article
Cite this article
Hill, D.A., Horick, N.K., Isaacs, C. et al. Long-term risk of medical conditions associated with breast cancer treatment. Breast Cancer Res Treat 145, 233–243 (2014). https://doi.org/10.1007/s10549-014-2928-4
Received:

Accepted:

Published:

Issue Date:
Keywords
Breast neoplasms

Lymphedema

Osteoporosis

Heart disease

Chemotherapy

Radiotherapy