Abstract
The aim of this study was to establish if risk-reducing surgery (RRS) increases survival among BRCA1/2 carriers without breast/ovarian cancer at the time of family referral. Female BRCA1/2 carriers were identified from the Manchester Genetic Medicine Database. Those patients alive and unaffected at the date of first family ascertainment were included in this study. Female first-degree relatives (FDRs) without predictive genetic testing who otherwise met eligibility criteria were also included. The effect of breast and ovarian RRS on survival was analysed. The survival experiences of RRS and non-RRS patients, stratified by BRCA status, were examined with Kaplan–Meier curves and contrasted using log-rank tests and Cox models. 691 female BRCA1/2 mutation carriers without breast or ovarian cancer at time of family ascertainment were identified; 346 BRCA1 and 345 BRCA2. 105 BRCA1 carriers and 122 BRCA2 carriers developed breast cancer during follow-up. The hazard of death was statistically significantly lower (P < 0.001) following RRS versus no RRS. 10-year survival for women having RRS was 98.9 % (92.4–99.8 %) among BRCA1 and 98.0 % (92.2–99.5 %) among BRCA2 carriers. This survival benefit with RRS remained significant after FDRs were added. Women who had any form of RRS had increased survival compared to those who did not have RRS; a further increase in survival was seen among women who had both types of surgery. However, formal evidence for a survival advantage from bilateral mastectomy alone requires further research.
Access options
Buy single article
Instant access to the full article PDF.
US$ 39.95
Tax calculation will be finalised during checkout.
Subscribe to journal
Immediate online access to all issues from 2019. Subscription will auto renew annually.
US$ 119
Tax calculation will be finalised during checkout.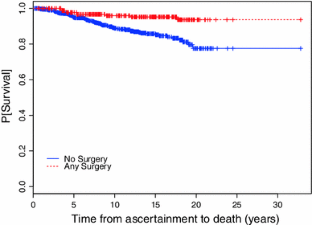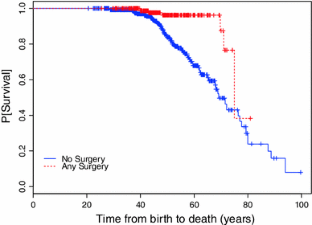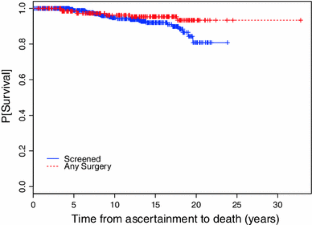 References
1.

Schrag D, Kuntz KM, Garber JE et al (1997) Decision analysis—effects of prophylactic mastectomy and oophorectomy on life expectancy among women with BRCA1 or BRCA2 mutations. N Engl J Med 336(20):1465–1471

2.

Kurian AW, Munoz DF, Rust P et al (2012) An online tool to guide decisions for BRCA1/2 mutation carriers. J Clin Oncol 30(5):497–506

3.

Sigal BM, Munoz DF, Kurian AW et al (2012) A simulation model to predict the impact of prophylactic surgery and screening on the life expectancy of BRCA1 and BRCA2 mutation carriers. Cancer Epidemiol Biomarkers Prev 21(7):1066–1077

4.

Byrd LM, Shenton A, Maher ER et al (2008) Better life expectancy in women with BRCA2 compared to BRCA1 mutations is attributable to lower frequency, later onset and better cure rates of ovarian cancer. Cancer Epidemiol Biomarkers Prev 17(6):1535–1542

5.

Domchek SM, Friebel TM, Singer CF et al (2010) Association of risk-reducing surgery in BRCA1 or BRCA2 mutation carriers with cancer risk and mortality. JAMA 304(9):967–975

6.

Domchek S, Friebel-Klingner T, Neuhausen SL et al (2006) Mortality after bilateral salpingo-oophorectomy in BRCA1 and BRCA2 mutation carriers: a prospective cohort study. Lancet Oncol 7(3):223–229

7.

Moller P, Borg A, Evans DG et al (2002) Survival in prospectively ascertained familial breast cancer: analysis of a series stratified by tumour characteristics, BRCA mutations and oophorectomy. Int J Cancer 101(6):555–559

8.

Rebbeck TR, Lynch HT, Neuhausen SL et al (2002) Prevention and observation of Surgical End Points Study Group. Reduction in cancer risk after bilateral prophylactic BSO in BRCA1 and BRCA2 mutation carriers. N Engl J Med 346:1616–1622

9.

Evans DG, Clayton R, Donnai P, Shenton A, Lalloo F (2009) Risk-reducing surgery for ovarian cancer: outcomes in 300 surgeries suggest a low peritoneal primary risk. Eur J Hum Genet 17(11):1381–1385

10.

Evans DGR, Baildam AD, Anderson E, Brain A, Shenton A, Vasen HFA, Eccles D, Lucassen A, Pichert G, Hamed H, Moller P, Maehle L, Morrison PJ, Stoppat-Lyonnet D, Gregory H, Smyth E, Niederacher D, Nestle-Krämling C, Campbell J, Hopwood P, Lalloo F, Howell A (2009) Risk reducing mastectomy: outcomes in 10 European Centres. J Med Genet 46(4):254–258

11.

R Core Team (2013) R: a language and environment for statistical computing. R Foundation for Statistical. Computing, Vienna, Austria. http://www.R-project.org/. Accessed 20 Sep 2013

12.

Sperrin M, Buchan I (2003) Modelling time to event with observations made at arbitrary times. Stat Med 32(1):99–109

13.

Smith A, Moran A, Boyd MC et al (2007) The trouble with phenocopies: are those testing negative for a family BRCA1/2 mutation really at population risk? J Med Genet 44(1):10–15

14.

Evans DG, Shenton A, Woodward E et al (2008) Penetrance estimates for BRCA1 and BRCA2 based on genetic testing in a clinical cancer genetics service setting. BMC Cancer 8(1):155

15.

Grambsch P, Therneau T (1994) Proportional hazards tests and diagnostics based on weighted residuals. Biometrika 81:515–526

16.

Evans DG, Gaarenstroom KN, Stirling D et al (2009) Screening for familial ovarian cancer: poor survival of BRCA1/2 related cancers. J Med Genet 46(9):593–597

17.

Passaperuma K, Warner E, Causer PA et al (2012) Long-term results of screening with magnetic resonance imaging in women with BRCA mutations. Br J Cancer 107(1):24–30

18.

Chéreau E, Uzan C, Balleyguier C et al (2010) Characteristics, treatment, and outcome of breast cancers diagnosed in BRCA1 and BRCA2 gene mutation carriers in intensive screening programs including magnetic resonance imaging. Clin Breast Cancer 10(2):113–118

19.

Møller P, Stormorken A, Jonsrud C, Holmen MM, Hagen AI, Clark N, Vabø A, Sun P, Narod SA, Mæhle L (2013) Survival of patients with BRCA1-associated breast cancer diagnosed in an MRI-based surveillance program. Breast Cancer Res Treat 139(1):155–161

20.

Evans DG, Howell A (2012) Are we ready for online tools in decision making for BRCA1/2 mutation carriers? J Clin Oncol 30(5):471–473

21.

Hagen AI, Kvistad KA, Maehle L et al (2007) Sensitivity of MRI versus conventional screening in the diagnosis of BRCA-associated breast cancer in a national prospective series. Breast 16:367–374

22.

Kriege M, Brekelmans CT, Peterse H et al (2007) Tumor characteristics and detection method in the MRISC screening program for the early detection of hereditary breast cancer. Breast Cancer Res Treat 102:357–363

23.

Kuhl CK, Schrading S, Leutner CC et al (2005) Mammography, breast ultrasound, and magnetic resonance imaging for surveillance of women at high familial risk for breast cancer. J Clin Oncol 23:8469–8476

24.

Leach MO, Boggis CR, Dixon AK et al (2005) Screening with magnetic resonance imaging and mammography of a UK population at high familial risk of breast cancer: a prospective multicentre cohort study (MARIBS). Lancet 365:1769–1778

25.

Trecate G, Vergnaghi D, Bergonzi S et al (2003) Breast MRI screening in patients with increased familial and/or genetic risk for breast cancer: a preliminary experience. Tumori 89:125–131

26.

Stirling D, Evans DG, Pichert G et al (2005) Familial ovarian cancer screening: current protocols are ineffective in detecting early stage ovarian malignancy. J Clin Oncol 23(24):5588–5596

27.

Sidon L, Ingham S, Clancy T et al (2012) Uptake of risk-reducing salpingo-oophorectomy in women carrying a BRCA1 or BRCA2 mutation: evidence for lower uptake in women affected by breast cancer and older women. Br J Cancer 106(4):775–779

28.

Evans DG, Lalloo F, Ashcroft L, Shenton A, Clancy T, Baildam AD, Brain A, Hopwood P, Howell A (2009) Uptake of risk reducing surgery in unaffected women at high risk of breast and ovarian cancer is risk, age and time dependent. Cancer Epidemiol Biomarkers Prev 18(8):2318–2324
Acknowledgments
FL and DGE are supported by the Manchester Biomedical Research Centre, DGE, AH and AB by the Genesis Breast Cancer Prevention Appeal. AH is supported by Breakthrough Breast Cancer DGE is an NIHR Senior Investigator.
Conflict of interest
The authors declare no conflict of interest.
Ethical standards
We declare that the work carried out in this manuscript comply with the current laws of the United Kingdom.
Funding
This study is unfunded research.
Electronic supplementary material
Below is the link to the electronic supplementary material.
About this article
Cite this article
Ingham, S.L., Sperrin, M., Baildam, A. et al. Risk-reducing surgery increases survival in BRCA1/2 mutation carriers unaffected at time of family referral. Breast Cancer Res Treat 142, 611–618 (2013). https://doi.org/10.1007/s10549-013-2765-x
Received:

Accepted:

Published:

Issue Date:
Keywords
Survival

Surgery

BRCA

Breast cancer